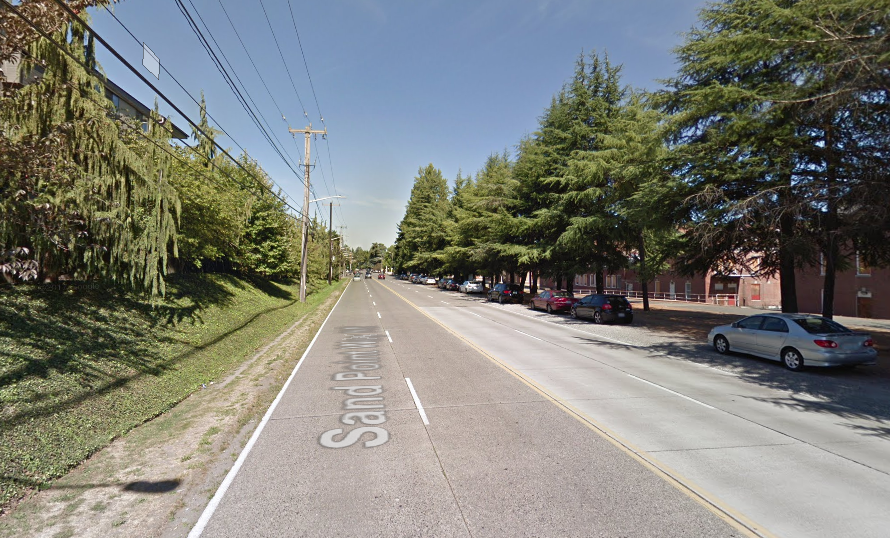 Sand Point Way NE has long been a busy street with high speeds, unpleasant intersections, and major gaps in the pedestrian network. In response to these issues, the local community requested that the city study safety improvements on the street through the Neighborhood Parks and Streets Fund in 2016. Last year, the Seattle Department of Transportation (SDOT) completed a study on how the corridor could be improved. The study had suggested enhancing intersection signals and crossings as well as slight rechannelizations to the street configuration. SDOT's study also recommended new sidewalks where they are missing, new bike facilities, and other lane adjustments to the street.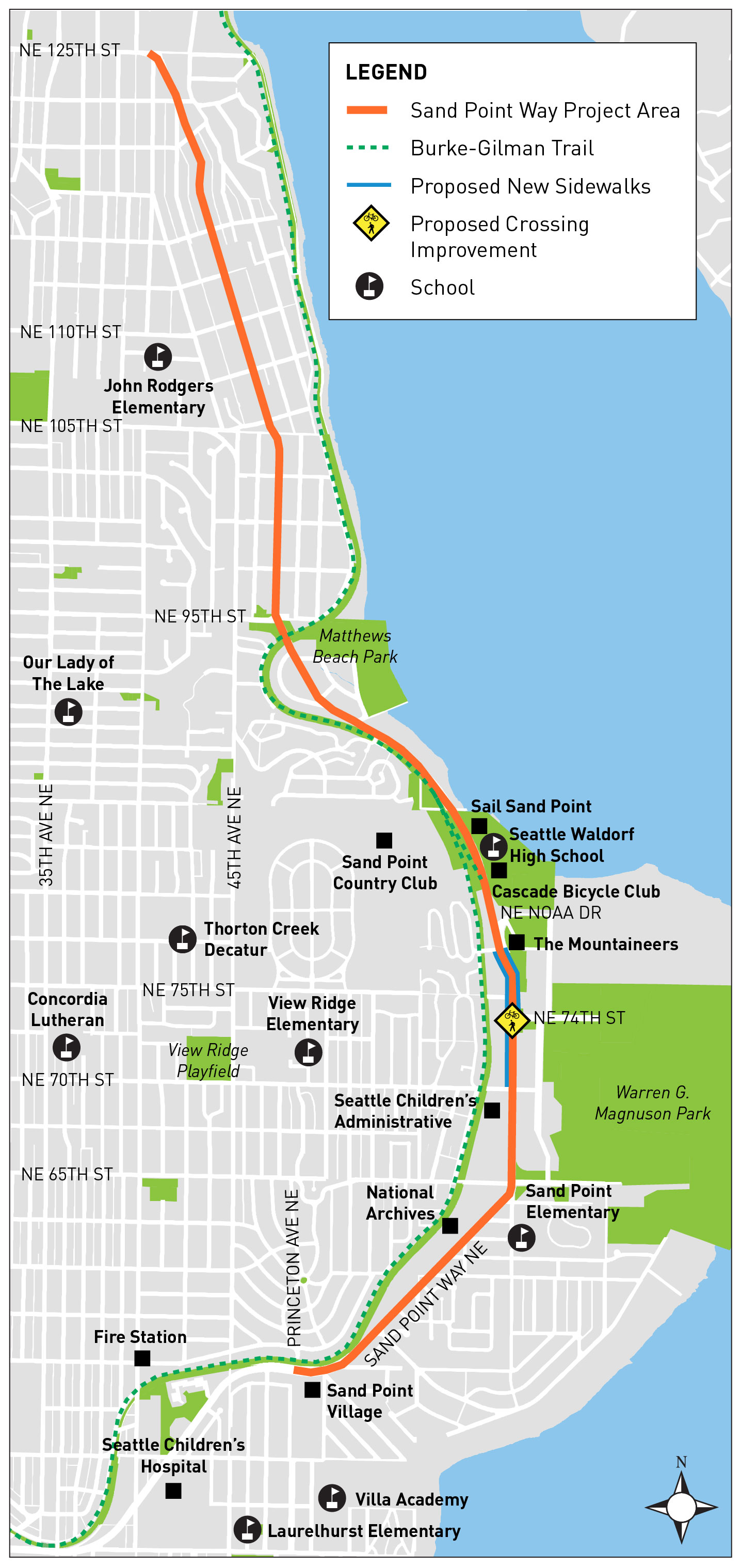 The changes that SDOT has suggested more recently, however, show that the project scope has been significantly pared back with only a small segment of new sidewalks and one enhanced crossing poised for implementation, both near Magnuson Park.
Sand Point Way NE carries over 16,000 vehicles daily and has had dozens of collisions in recent years, including several serious ones. A street with this level of traffic volume is ordinarily eligible for significant rechanelizations, depending upon the street configuration. There are several street configurations currently in use on Sand Point Way NE, such as: two lanes in each direction, two lanes in each direction with a median landscaping, two lanes in each direction with median turn pocket, and one lane in each direction.
Where there are two lanes in each direction, SDOT could convert the street to one lane in each direction with a median turn pocket and add bike lanes or on-street parking. Similarly, where there is median landscaping with two lanes in each direction, SDOT could remove a general purpose lane in each direction and allocate the lanes for other uses.
The conceptual plans do not indicate what will happen along the corridor except for new sidewalks and an improved crossing near NE 74th St. However, an online survey highlights several topics that may still get attention, depending upon public feedback. These include:
The level of satisfaction with the number and quality of marked pedestrian crossings;
Any significant concerns related to walking, such as consistent failure to yield by motorists, lack of marked crossings and pedestrian signals, and gaps in sidewalks;
Preferred improvements on the corridor, such as reducing travel lanes, more sidewalks, lowered speed limits, and additional pedestrian crossings; and
General concerns about safety like drunk driving, lighting, speeding, and quality of pavement.
The survey does provide options to give more specific feedback that may not be asked directly in the choices offered. Community feedback could be critical in making deeper improvements than the conceptual corridor map indicates.
SDOT expects to construct improvements next year, which will be funded through the Move Seattle levy. The survey is open to public feedback through the end of today.

Stephen is a professional urban planner in Puget Sound with a passion for sustainable, livable, and diverse cities. He is especially interested in how policies, regulations, and programs can promote positive outcomes for communities. With stints in great cities like Bellingham and Cork, Stephen currently lives in Seattle. He primarily covers land use and transportation issues and has been with The Urbanist since 2014.