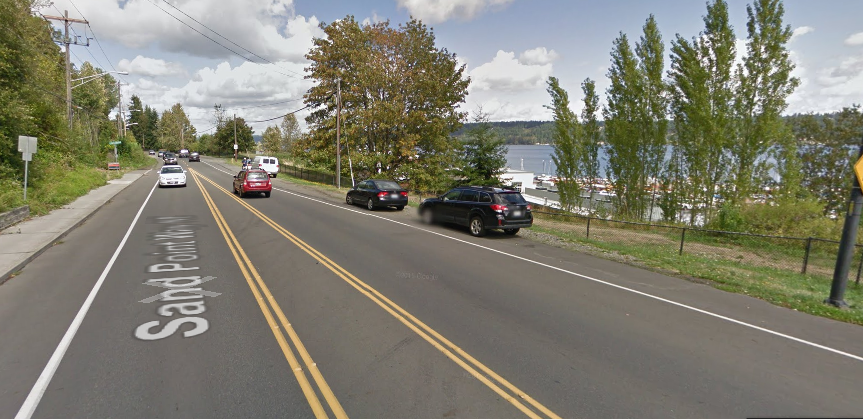 If a street in Seattle has "Way" in the title, you know that it's more likely than most streets to be heavily car-centric. Denny Way, Leary Way, and Marginal Way all have this in common. Northeast Seattle's stroad is Sand Point Way, which follows the contours of Lake Washington and is an easy way for drivers to get around that quadrant of the city. Sand Point Way also has a lot of amenities along it: Seattle Children's Hospital, Magnuson Park, and the University Village shopping center at the south end. Unfortunately, it is not set up to handle people not in cars very well. The Burke-Gilman Trail follows Sand Point Way pretty closely, and is heavily used by people walking and biking, but a multi-use trail is not a good replacement for a complete street.
Many segments of Sand Point Way currently lack sidewalks on both sides of the street, with some segments having no real sidewalks. Pedestrians on those segments are basically walking on planting strips on the side of the road.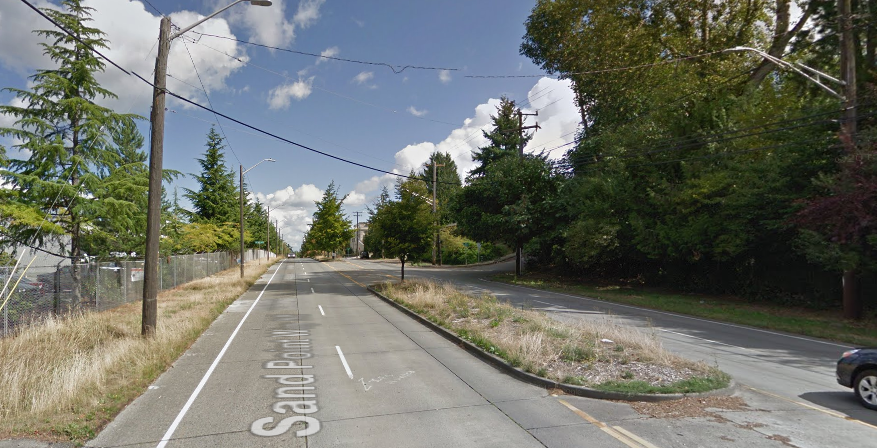 The good news is that the Seattle Department of Transportation (SDOT) is conducting a study on how to improve the street, and they appear to be leaning toward a road diet solution. This is a good call: the street is currently two lanes in each direction, with traffic volumes at low enough levels that many vehicles are speeding. SDOT also proposes lowering the speed limit from 35 (with some segments signed 40) to 30 MPH, which wouldn't do much if not coupled with the intense street changes that they are proposing. With the lane reduction comes the opportunity to use the space currently occupied by excess lanes to create pedestrian walkways: low-cost sidewalks using already existing pavement. Now, these walkways in what is currently the street will have to feel safe for people walking. Using inexpensive curbs or dividers will be the easiest way to make this happen, but it will be interesting to see what SDOT proposes.
SDOT is also considering a protected bike lane on the west side of Sand Point Way for a stretch south of NE 65th St. The Burke-Gilman Trail is close by, but if you need to access businesses along Sand Point Way it won't do you that much good.
Below is the full map of changes that SDOT is proposing along the corridor: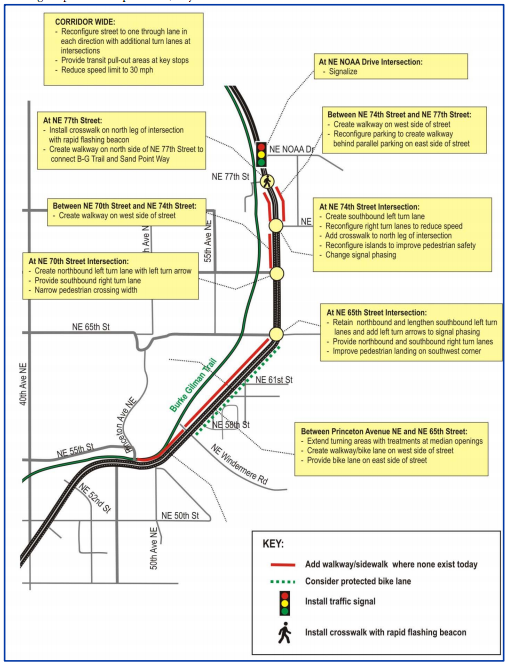 A road diet on Sand Point Way is a no-brainer, and it is exciting to see the department deciding to use excess roadway capacity to expand pedestrian access in lieu of adding proper sidewalks. Now they need to hear from Seattle residents that these are the right changes to make, as they are likely to get pushback from people who are used to using Sand Point Way as a fast car route through Northeast Seattle.
These changes will also be good for route 62–no matter which direction it turns onto Sand Point Way.
SDOT is hosting a meeting on Wednesday night, January 25th, at 7:00 in the Officer's Club (Building 30) at Magnuson Park. Because this project does not even appear to have a project website yet, you can e-mail supportive comments on the road diet to 684-Road@seattle.gov, SDOT's general comment address.
It is time for a new era on Sand Point Way.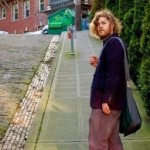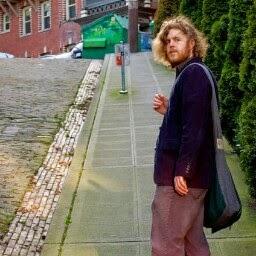 Ryan Packer lives in the Summit Slope neighborhood of Capitol Hill and has been writing for the The Urbanist since 2015. They report on multimodal transportation issues, #VisionZero, preservation, and local politics. They believe in using Seattle's history to help attain the vibrant, diverse city that we all wish to inhabit. Ryan's writing has appeared in Capitol Hill Seattle Blog, Bike Portland, and Seattle Bike Blog, where they also did a four-month stint as temporary editor.