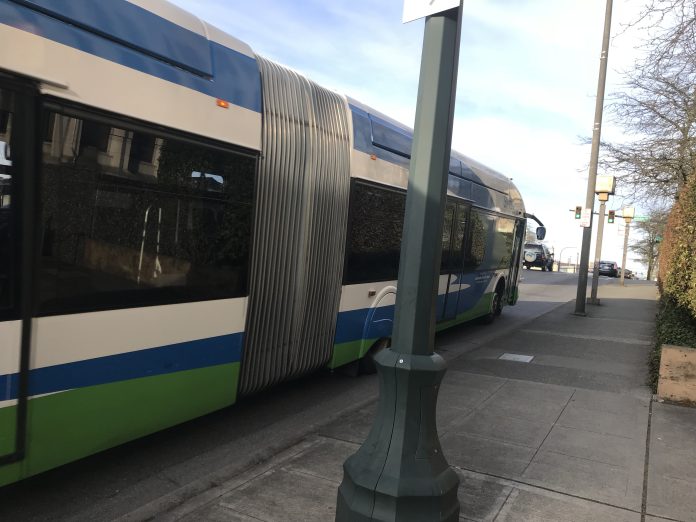 Community Transit intends to make several service changes in the fall and will soon open a new queue jump at a key chokepoint for buses crossing I-5. The fall service change begins on September 23rd and will include higher frequency on the Swift Blue Line on weekdays and extra trips on Routes 120 and 413.
Service Changes
The service changes will shake out as follows:
The Swift Blue Line, a bus rapid transit route, will have 10-minute frequencies on weekdays from 6am to 7pm. Outside of those hours, service will be maintained at 20-minute frequencies on weekdays. One additional morning roundtrip will be added to start service at 4.20am in both directions. Overall, the service improvement adds one trip per hour during the 6am to 7pm period to lower headways from every 12 minutes.
Route 120, a local route, will get three additional weekday roundtrips during weekdays to offer continue 30-minute headways until 6pm.
Route 413, a weekday express route to Seattle, will get more midday and evening trips to provide service outside of peak commute times.
Several changes will be made to Community Transit-operated Sound Transit routes. Two Route 510 and one Route 513 trip from Seattle will be deleted and one trip on Route 511 from Seattle will be added in an effort to improve reliability.
Route 109, a local route, will be moved off of SR-9 to 99th Ave in Lake Stevens to better serve businesses and communities. Community Transit also added one stop pair near Cathcart last week and intends to add another soon to better serve the community, particularly local students attending Glacier Peak High School and Little Cedars Elementary School.
Route 196, a local route, will deviate off of 196th St SW briefly to better serve riders wanting to connect with other transit services at the Lynnwood Transit Center.
This slideshow requires JavaScript.
In preparation of the Swift Green Line opening in 2019, Community Transit has installed a new westbound queue jump on the east side of the 128th St SW overpass in South Everett. The overpass is part of a larger interchange at I-5. Buses will be able to use a special lane to skip ahead of westbound traffic once the queue jump is activated. The lane is expected open later this month after the Washignton State Department of Transportation completes repaving work. Local and express buses operating along the busy corridor will be able to take immediate advantage of the lanes once it opens. An eastbound version was installed earlier this year.
Community Transit Adds Queue Jump on 128th St SW in South Everett

Stephen is a professional urban planner in Puget Sound with a passion for sustainable, livable, and diverse cities. He is especially interested in how policies, regulations, and programs can promote positive outcomes for communities. With stints in great cities like Bellingham and Cork, Stephen currently lives in Seattle. He primarily covers land use and transportation issues and has been with The Urbanist since 2014.