On October 18th the Queen Anne Community Council filed an appeal to the City of Seattle's Environmental Impact Statement (EIS) on Accessory Dwelling Units (ADUs), better known as backyard cottages, basement apartments, and mother-in-law suites. The organization is currently raising money to finance the environmental and legal counsel needed to defend their appeal, and it plans to hold a open community meeting on November 1st.
The lynchpin of the disagreement between the Queen Anne Community Council and the City can be traced back to the City's statement that the impacts of ADU policy under the Preferred Alternative "would be negligible when considered in the context of changes occurring throughout the city."
The Queen Anne Council sees things differently. Instead of "negligible" changes, they foresee major impacts sweeping across the Seattle. In their own words:
The Queen Anne Community Council is appealing Councilmember Mike O'Brien's attempt to eliminate all single-family zoning in every Seattle neighborhood!!  He favors converting every neighborhood and property to multi-family and encouraging 3 houses and tri-plexes on every single family property.  If advanced, we will lose the very heart and soul of our city and our cherished neighborhoods as we know them.

Queen Anne Community Council homepage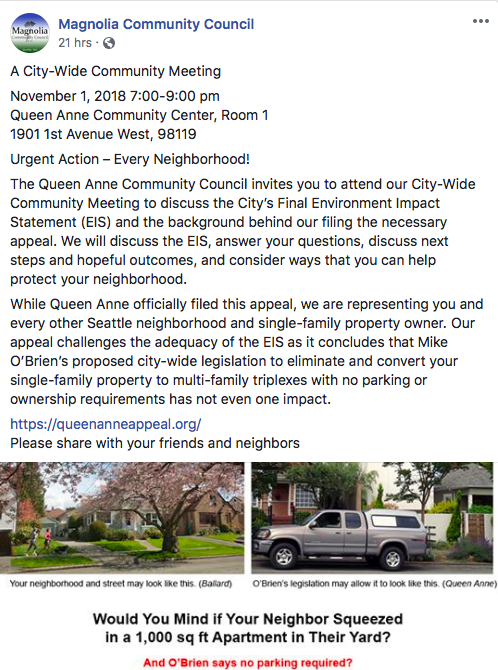 Appeal Cites "New" Environmental Impacts
The EIS was required because of a previous lawsuit in 2016 by the Queen Anne Community Council in which the judge ruled that the City was responsible to disclose the potential environmental impacts of a change to ADU policy. 
The City produced EIS provides in-depth information on the issues of concerned related to the initial lawsuit:
Housing and socioeconomics
Land use
Aesthetics
Parking and transportation
Public services and utilities
The EIS also presents alternatives to the City's current ADU policy, including a "Preferred Alternative." According to the City's analysis, in comparison with Alternative 1 (No Action) the Preferred Alternative would result in 4,430 new ADUs constructed between 2020 and 2027, while also reducing the number of teardowns of existing houses, particularly in lower-income areas, by 1,580 during the same period.
Fear that the proposed ADU policy would lead to an acceleration of teardowns, particularly of affordably priced single-family homes, was a major argument of the initial lawsuit. 
The City also completed a Race and Equity Toolkit (RET) to accompany the EIS, which found that benefits of the policy would largely go to wealthy, white homeowners who possess both single-family homes and the finances to develop ADUs on their property. 
At this time, the Queen Anne Community Council has not addressed the RET findings.
Appeal Cites New Environmental Impacts
In "Why Our Appeal" section, the Queen Anne Community Council makes the case that new conditions included in the City's proposed policy "add additional environmental impacts." Additionally, they propose that "many of the City's studies and conclusions fail to consider significant impacts to every neighborhood and property owner."
Aspects of policy they specifically cite as falling into those categories include:
Removal of the owner occupancy requirement;
Removal of parking requirements for ADUS;
Increase in number of ADUs permitted on a property;
Increase in number of unrelated people who can live on a property;
Establishment of a maximum size limit for single-family homes–which they argue "takes away rights' from property owners.
The full list of issues, accompanied by detailed concerns, can be read here.
Additionally, the appeal argues that by implementing a city-wide ADU policy, the City has ignored the differences between "the distinct and diverse neighborhoods that form the heart and soul of our City" and "disrespects" and "eliminates" the neighborhood plans that Seattleites created over 30 years ago. 
Additional Time May Open the Door to More Radical Solutions
The City had anticipated that an appeal would be made against the EIS and is already exploring some strategies, such as allowing low-income home owners to access home repair funds to build ADUs, aimed at increasing ADU production during the waiting period.
However, as Erica C. Barnet noted on The C is for Crank, this additional time may allow housing advocates to "point to more radical solutions."
In particular, councilmember Teresa Mosqueda has called for the City to conduct a race and social justice analysis of its urban village strategy, which resulted from the neighborhood planning process and the need to accommodate the Growth Management Act. The urban village strategy concentrates growth on narrow arterial bands and preserves the bulk of land for single-family zoning. In fact, an analysis done at Fancy Beans found that 80.3% of housing acres in Seattle were zoned for single-family residences. 
The call for an examination of the race and social justice impacts of the urban village strategy is in keeping with Mosqueda's platform for housing policy, which includes the implementation of Low-Density Family Zoning.  Such zoning would allow for more housing types in areas where only detached-single-family housing is allowed, including duplexes, triplexes, row houses, and stacked flats. Mosqueda's goal for such zoning is to create affordable homeownership and land-trust opportunities throughout Seattle.
These radical solutions might very well point Seattle toward Low-Density Family Zoning or similar alternatives, that would push the Queen Anne Community Council further from its objective of ensuring City land use policies continue to enshrine single-family zoned neighborhoods, which Queen Anne Community Council defines as the "foundation and soul of our city!"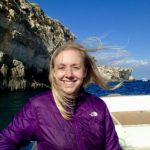 Natalie Bicknell Argerious (she/her) is a reporter and podcast host at The Urbanist. She previously served as managing editor. A passionate urban explorer since childhood, she loves learning how to make cities more inclusive, vibrant, and environmentally resilient. You can often find her wandering around Seattle's Central District and Capitol Hill with her dogs and cat. Email her at natalie [at] theurbanist [dot] org.