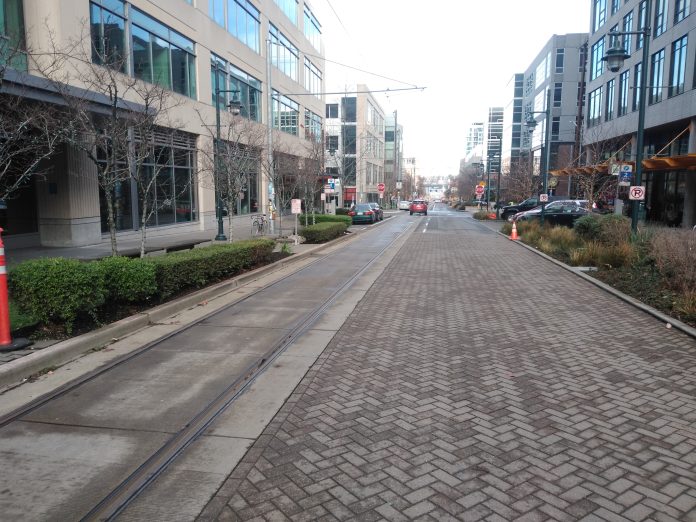 In November, the Seattle Department of Transportation (SDOT) rolled out the first of three rounds of planned speed and reliability improvements to the north end of the streetcar line in South Lake Union. The changes impose new lane and turn restrictions along Terry Ave N, including three intersections.

From Thomas Street to Mercer Street, Terry Ave N had generally been a northbound three-lane street on this segment of the corridor with one parking lane (west side), shared streetcar/general purpose lane (center), and general purpose lane (east side) for most of its length.
From Republican Street to Mercer Street, SDOT established a streetcar-only lane that operates all hours and all days of the week while a streetcar-only lane applies to the block between Harrison Street and Republican Street on weekdays from 3pm to 7pm.
SDOT also added turn and parking restrictions along this small corridor on weekdays from 3pm to 7pm:
No parking will be available on west side of the Terry Ave N from Thomas Street to Mercer Street; and
No left turns from Terry Ave N to Harrison Street and Republican Street will be allowed during these times.
These changes should eventually deliver faster travel times, which could be reduced by one and two minutes depending upon time of day.
SDOT plans to implement further changes to Terry Ave N, pending completion of construction along the street. In July, SDOT will install streetcar icons and paint the streetcar lane red, similar to the type of treatment that bus lanes receive. Then in mid-2020, SDOT will expand the streetcar-only lane restrictions to the block between Thomas Street and Harrison Street. This will apply on weekdays from 3pm to 7pm. Left turn restrictions from Terry Ave N to Thomas Street will also apply during the same time of day. The total cost for the full suite of Terry Ave N speed and reliability improvements for the streetcar are projected at just above $100,000.
Last year, Mayor Jenny Durkan halted construction of the Center City Connector project–a project designed to unify the city's two separate streetcar lines through Downtown Seattle–to give time for a cost and value review of the project after modest project increases came to light. According to early analysis from consultant KPMG, projected ridership and farebox recovery far outweighs the project cost increases. However, with that project put on hold, streetcar speed and reliability improvement projects apparently became hamstrung, albeit temporarily it seems.
In the summer, SDOT revealed that the proposed speed and reliability improvements to the streetcar on the Broadway corridor had been put on hold due to the Center City Connector pause, pending direction by the Mayor. SDOT reported last week that the department is still awaiting a decision from the Mayor. According to the Mayor's Office, SDOT anticipates releasing a revised proposal, based on public feedback, in the next several weeks. The Mayor's Office did not provide comment on whether or not the Mayor supports the project, instead saying that the Mayor would weigh in once the proposal reaches its final form.
Streetcar improvements on Broadway would mean adding several new turn restrictions, retiming signals, and adding business access and transit lanes in an effort to shave off two to three minutes of travel time. Trains on the First Hill Streetcar line are regularly delayed due to queuing motorists at peak hours, which makes the streetcar a less attractive transit option for many commuters between Pioneer Square and Capitol Hill.
It stands to reason that constant delays increase ongoing operational costs and negatively impact ridership. The total cost for the Broadway corridor improvements is a meager $200,000, making it a huge bang for the buck since travel times could be reduced by up to 10%.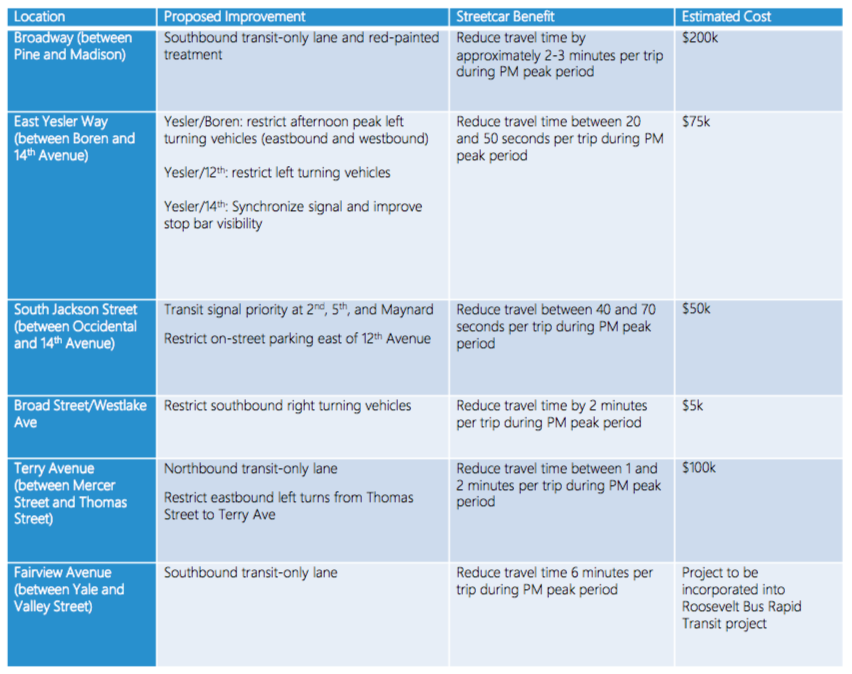 SDOT has already accomplished improvements to the First Hill Streetcar line. New on-street parking restrictions were completed on S Jackson St east of 12th Ave S. Left turn restrictions were added to E Yesler Way at Boren Ave and 12th Ave S as well as signal synchronization and stop bar visibility improvements at 14th Ave S.
The department also has a slate of other streetcar speed and reliability improvement projects on deck, including:
Signal priority on S Jackson St at 2nd Ave S, 5th Ave S, and Maynard Ave S, which is planned for later this year;
Right turn restrictions at Westlake Ave N and Valley Street/Roy Street, also planned for this year; and
A new transit-only lane on Fairview Ave N, which will be folded into the Roosevelt RapidRide project.
In the next couple of weeks, Mayor Durkan is supposed to make a decision on the fate of the Center City Connector project, which could affect what happens to other speed and reliability projects for the streetcar system.

Stephen is a professional urban planner in Puget Sound with a passion for sustainable, livable, and diverse cities. He is especially interested in how policies, regulations, and programs can promote positive outcomes for communities. With stints in great cities like Bellingham and Cork, Stephen currently lives in Seattle. He primarily covers land use and transportation issues and has been with The Urbanist since 2014.