CITY OF LOS ANGELES DEPARTMENT OF CITY PLANNING RECORDS AND MANAGEMENT UNIT. Fake spiderwebs and a plastic skeleton hanging from the ceiling. Every corner of LA is ready for Halloween. The Figeuora St planning department office is not an exception.
The first coffee shop opened when I was here. 'Insomnia'. It was a big deal. Coffee shops, for me, are an indicator of the urban environment.
That's one of the images Senior City Planner Claire Bowin brings when thinking about the last 30 years living in Los Angeles. Bowin holds a Bachelor of Science in Architecture from the University of Virginia. She's been in the Citywide Policy Planning Division for 13 years.

I've lived here for about 32 years. It was a very different city: parking was free and plentiful. You could ask anyone how much would it take you to get anywhere, and they'd tell you: '20 minutes'. How much the city has changed?
A lot. LA has gotten increasingly not only denser but also tenser. 'There are more things close by. But what's coupled with that in people's memories is: 'I used to very fast and now I can't… However, younger people are embracing those things. They don't care that it takes five minutes to drive a few blocks: they are walking.
They could also use transit. But apparently to some people, that's not an option in Los Angeles.

How do you explain the decline in transit ridership, despite the investments?
Right, right! Metro folks have been trying to understand that as well. There's a number of reasons. Our financial institutions, especially auto companies, have made it very, very inexpensive to get a car: 0% down lawns, 0% interest lawns.
I've heard that illegal immigrants can get a driver license. The access to a car enables somebody to access better jobs or get to a greater range of jobs. If more people are having more economic options, that is a very good thing.
The metro systems right now are recognizing that they need to re-think their system based on those factors, as well as effective different mobility platforms (bike share, scooters, etc.). We have to continue building the rail. The younger generation is more sensitive to climate change. They understand the negative impact of gas-powered cars.

Why officials don't agree on bus-only lanes?
Yeah, that's a good question. In the Mobility Plan, that we did a couple of years ago, we identified a number of quarters that we thought were good potential candidates for doing a transit-only lane. What happens when you take a lane away for a bike/ transit lane, people freak out. In Beverly Hills, they are still fighting metro come in. I like to think that with changing demographics, there will be more appetite to do bus-only lanes, road dieting. By providing more of these options you can actually move more people. A bicycle lane can move more people per hour than a particular car, and it's definitely healthier.

Is it possible to turn the existing parking lots into open public spaces?
You know, I love that idea…The challenge for us is that parking lots are privately owned. We can't just say: 'We turn that parking into a park,' which it'd be kind of ideal. Land has also gotten super expensive.
The Quimby ordinance requires that the developers building housing, apartments, or condos have to contribute a fee for park space. We are thinking about getting rid of those parking structures and turning those into parks. Or selling off that part and generating housing on it. Those are possibilities, in theory… in many generations. But definitely public space, open space is really, really critical, especially in a city that is building out.

There have been written studies around the world about the mental health benefits of green spaces. It's really, really critical. I've been thinking about how we can use streets: that's a public space, they are pretty wide here. We can start to make linear parks. We introduced more trees for urban cooling and including biodiversity, and creating habitat. At the same time, we start to make recreational loops. So people are able to walk, meditate, stroll, or walk to the local library. That's kind of my utopian version of the future. We might not have a lot of money to buy parks. But we think about the spaces that we do own and they could be re-purposed. Or they could be employed to create multiple benefits out of them. We have 75 miles of streets in our city.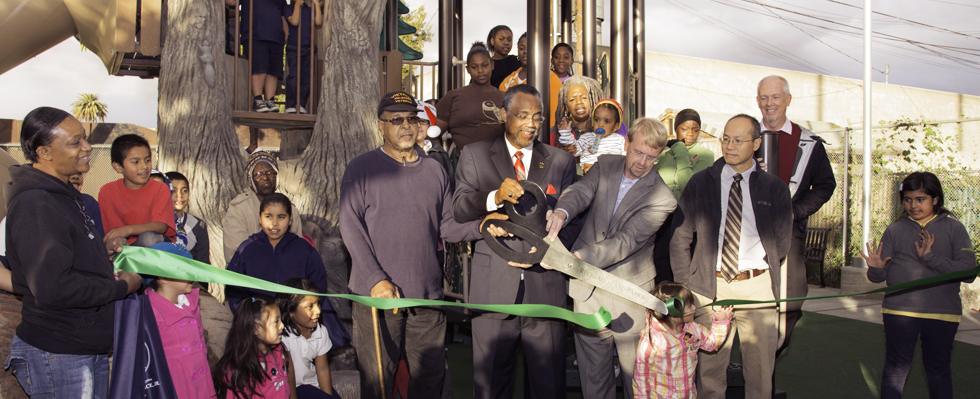 Public space is important and so it is to take care of it. The number of typhus infections is growing. Could it be solved with better urban design?
Yeah. I think the typhus outbreak is a response to the number of homeless that are here. There are a lot of people with a lot of addictions. A lot of homelessness driven by the lack of housing is an economic issue as well. If we had more supportive services and more opportunities to work with those individuals who are experiencing homelessness, they are not gonna be urinating and defecating on the street. We're going to have a much better opportunity to prevent a typhus outbreak in the first place.

Providing housing for them would be a solution. But, redevelopment agencies have been eliminated…
Right! One of the first things that Jerry Brown did a number of years ago was to eliminate the redevelopment agency statewide. Since last year, we charge developers a fee for every unit they do. That helps us create our own revenue source for affordable housing. Part of the reason we felt it was so urgent for us to do that is we've seen dwindling resources from the State.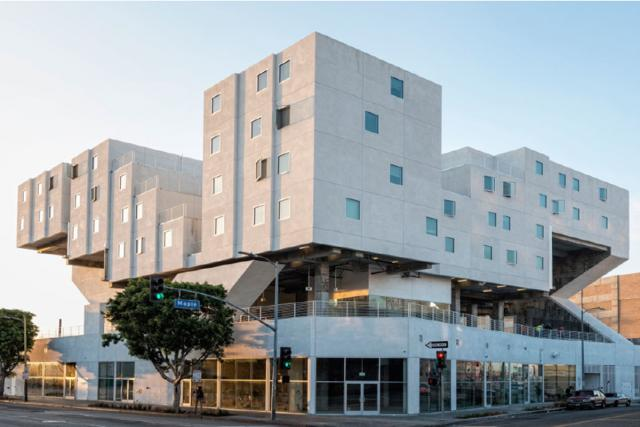 How do you manage community participation in LA planning?
The older populations are more actively engaged. They also tend to be wealthier and own their homes. Because they have the deepest memories (free parking and driving very fast), they are angry about the changes that are occurring. They don't seem to care that if we don't build more housing, things are gonna keep getting more expensive. When we say they we are not gonna have housing for their grandchildren they don't seem to care. It's really interesting.
They are engaged in terms of neighbors council. We created that council in the early 90s. It was done because there was a lot of agitation. Leaders wanted to have a participatory role in government. They created this neighborhood council process. So neighborhoods around the city were encouraged to define their own boundaries. They have elections and set neighborhood councils. Today, we have almost 100 neighborhood councils.

From your experience, is community participation sometimes overrated?
That's a tough one. Community engagement and community input are important. But we have to be mindful: Are those voices representative of all Angelenos? I think they represent a perspective that's valid, that's their perspective. Maybe other groups don't have the time to participate. Or they are fearful of participating, especially given our climate today with immigration.
Our department, with that in mind, over the last years, has tried to blend that community engagement process. We still hold meetings, we still go to the council neighborhood that is still important. And we are trying to attract younger participants. The faces we are trying to look up are perhaps less white. We are trying to get some more diversity in those neighborhood councils because the city is not a majority white city anymore. We've been working with community groups or non-profits. We've been going to the community or talking to a religious organization. We've been going to where people are. We don't just expect everybody will be able to come to us at ten o'clock in the morning.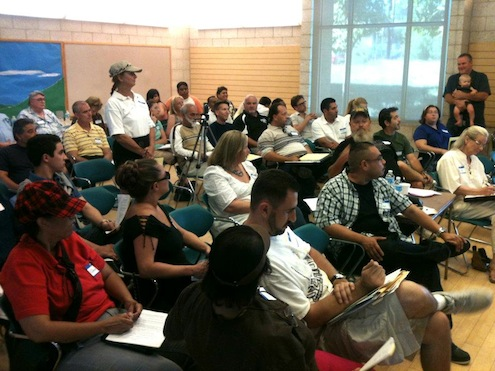 It doesn't mean that council people aren't still swayed by their money and interests. Unfortunately, the higher voting block is coming from that whiter, wealthier, older group. There was an article I was reading the other day about millennials. They have voted in the last elections, we wouldn't have this situation. 75-80% of baby boomers, who are tending to be more conservative, voted. The younger, more diverse population isn't voting, even when they can. How you get this generation to be more engaged? Voting is not mandatory here. Also, the more young people see things happening that they don't like about the government, they lose confidence in it.

Calvin Hamilton brought (1974) the innovative poly-nuclear city model. Was it the best for LA?
Yeah, I think that he was responding to a pattern that already existed. Polycentric nature LA goes way back to even the first rail cars. Those rail cars really enabled the sprawl.

From the very early days of Los Angeles was really polycentric. In the ideal world, by having these different centers, people who work in the centers are living around that center. But what happens, is that people change careers or jobs throughout their lives. They may start off their first job in the central city. Then they may change it but they've bought a house. So now they're gonna commute up in the hill. In theory, it might make sense if you could have these completely self-sufficient.

Does the poly-nuclear layout bring extra difficulties to the transit system?
I'm not sure if we had made a monocentric we wouldn't have the same problems. We have a lot of people living in Downtown and they commute to Silicon Beach. They like the Downtown energy and nightlife of Downtown. If you are working on Silicon Beach you are probably making a lot of money so you're driving a car.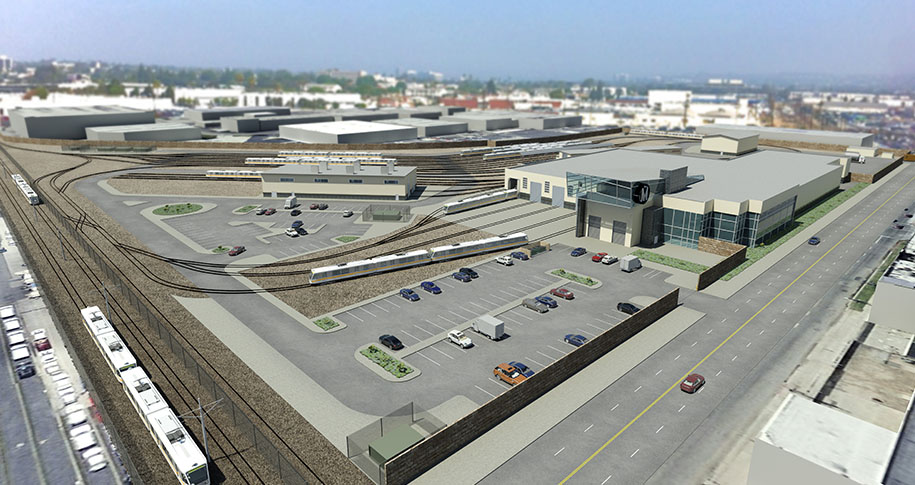 I once read Los Angeles isn't anti-urban but its urbanism is different. What do you think?
Yes! I would think the biggest problem with LA. Our infrastructure, especially our freeway infrastructure, has divided communities. In Europe, there's a cohesion of the urban fabric. Here, within the neighborhood, you might be out of the walk and suddenly get to a major boulevard or a freeway that discourages you. It doesn't feel pleasant. It doesn't feel safe.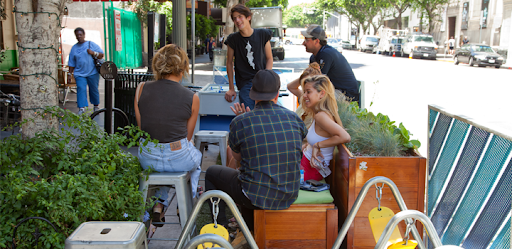 Manhattan is pretty big, right? But people may walk all the length of Manhattan. There's a character to it. There are things to look at. There's a vibrancy, whereas if you have to walk here, there's an underpass. We tend to have a higher or lower tolerance for walking just because the urban fabric supports it. We tend to get in our car to go fairly short distances because that environment isn't necessarily encouraging. I'm really interested in looking at underpasses and overpasses.

Underpasses can be designed to be an amazing space, with light and music. That could be really exciting. You could go from one neighborhood to this amazing space and then commute to another neighborhood. People would be experiencing LA in a different way because it is an amazing city to walk through. But I have a pretty high tolerance for what I'm willing to put up with. I like to experience different neighborhoods. But I really see how those infrastructures are real boundaries.

Wouldn't a mono-centered city have a more effective water management?
In LA we have loads of wealthy people and they build really big homes–30,000 square feet, and some are even larger, right? 10, 12 thousand is not uncommon–. This is not the majority but there's still a lot. Often the owners of those homes have electric vehicles and solar panels. They'll come and show how they're doing and then feel good about themselves. But they have to drive everywhere. The development of their home required tons of grading and destroyed the ecosystem.
I'm a proponent of smaller living. It's disappointing that people don't take the environment as an emergency. I don't think people understand their direct role in helping change. Somehow people don't want to change. People are very stuck on their own personal behaviors and it's more comfortable to stay where you are.
The mayor has a goal of us to be more independent with water. We've done pretty well on our water consumption. As we had densified, an apartment is going to use a lot less water than a single-family home. That's a good thing. Our water consumption continues to go down. But we also know that the water supply from our outside sources is increasingly a risk. Due to climate change, it is very critical for the city to figure out ways to capture more or less water. And there's a lot of efforts to do that. The valley aquifers are the biggest, but the western part of them are very polluted. I believe those are being cleaned up. But that's obviously a long term effort. That's being done because we need access to those aquifers.

Today, LA walk score is 67. In your opinion, which would it be within five years?
Walkability has to do with the range of uses around an area. There are parts around LA that have high walk scores. I think you'll never get LA over the 90s, as long as you measure a range of uses because we have so much kill zone areas. I'd like to see us certainly get up in the average 70s.

How would you do that?
We won't change the character of a single-family neighborhood. But we're looking for opportunities to improve walkability by changing the character of streets and improving parks. Also, we can introduce a local grocery or a cafe.
The score is based on a mix of uses. I think a lot has to do with the quality of the streets like the bike infrastructure. We continue to invest in our city streets and making them a place that is not just for cars. We can widen sidewalks, get street trees, and rolling lanes for the bikes and the scooters. Those are all gonna go a long way towards increasing the quality of the neighborhoods.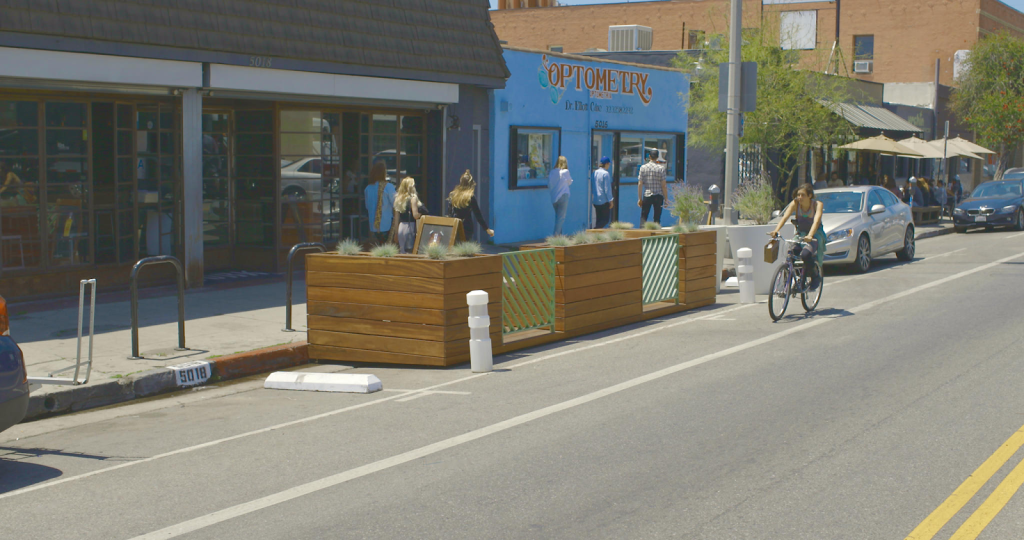 Roads that aren't exclusively for cars. Streets that are pleasant and feel safe.
What does LA need to be walkable? First, a revision on the transit system. It must be adequate for the users' needs. Second, less parking lots and more public spaces. Third, to save money and make better use of the city's streets, linear parks will work too. Fourth, residents should aim smaller, and sustainable housing. Also, the government must provide affordable options. That'd kickstart LA's metamorphosis.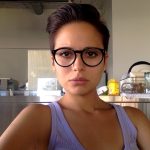 Jennifer Micó (Guest Contributor)
Jennifer Micó is an Argentine writer and journalist who travels and interviews urbanism experts in USA, Europe, and Asia. Right now she's working on a book about comparative urbanism.