Sound Transit has opened an early scoping for the Tacoma Dome Link light rail extension. This is an integral process for the required environmental review process to identify issues that should be evaluated under the process. Typically, a scoping report highlighting comments and synthesizing issues identified is subsequently issued after the comment period has ended.
The online open house for the early scoping process shows each of the four segments that will make up the extension. Each segment highlights the options drafted as part of the Level 2 screening process for alternatives that we discussed in a report on the extension last week. The options are also ranked according to potential and challenge.
Online open house visitors can weigh in on which options by segment should be further studied. Visitors can also provide detailed comments on the stations, alignment concepts, and other issues.
To get a sense of what each segment option might mean, Sound Transit has created a suite of visualizations for the stations at Tacoma Dome, East Tacoma, Fife, and South Federal Way. All of the visualizations depict elevated stations and elevated guideway, an indication that the corridor will be fully grade-separated. The Tacoma Dome Station options all provide for future expandability further west into central Tacoma.
The renderings above depict the two options with highest potential for the Tacoma Dome segment. Both would be highly integrated with the Sounder and Amtrak station and Tacoma Link streetcar as well as the bus bays and parking facilities that form Tacoma Dome Station. Under the TD 2 option, the bus bays could be relocated to a more central location for all transit modes. Conversely, the TD 3 option could allow for a new plaza and spur a transit-oriented development project by Sound Transit. Arguably, the latter is still possible under the TD 2 option above and around the conceptual bus bay area.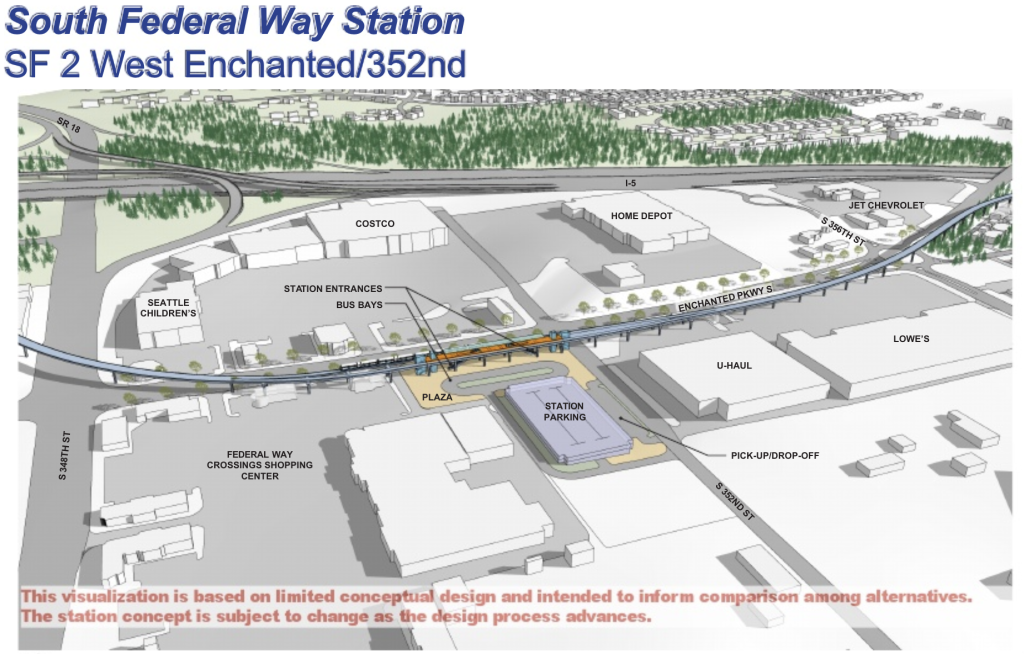 Sound Transit has put out a helpful video explaining the extension planning effort and scoping process:
The early scoping period is open through May 1, 2019. Comments can be provided through the online open house during this period. Sound Transit will also hold three public meetings in Fife, Tacoma, and Federal Way during mid- and late-April. A preferred alternative for study could be selected by the Sound Transit Board of Directors as early as July.

Stephen is a professional urban planner in Puget Sound with a passion for sustainable, livable, and diverse cities. He is especially interested in how policies, regulations, and programs can promote positive outcomes for communities. With stints in great cities like Bellingham and Cork, Stephen currently lives in Seattle. He primarily covers land use and transportation issues and has been with The Urbanist since 2014.