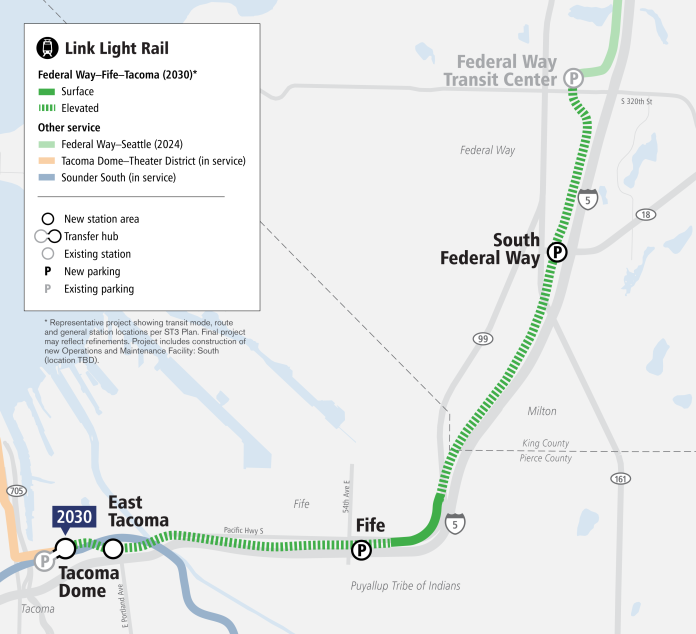 In January, Sound Transit released updated alternatives for the Tacoma Dome Link Extension as part of the Level 2 screening process. The alternatives are broken up into four general segments between Federal Way and Tacoma Dome Station. Each segment has several options, which could be used to distill down a preferred alternative to the ST3 Representative Project alignment voters saw during the Sound Transit 3 referendum.
South Federal Way Segment Options
Sound Transit has devised two primary options to shuttle passengers from the main Federal Way Station to a South Federal Way Station. The SF 2 and 3 options would send trains toward I-5 right-of-way and then back toward a station near the major commercial center off of Enchanted Pkwy S and S 352nd St where a station would be located. Another variation (SF 8 and 9) on this could put a station on I-5. Meanwhile, option SF 4 would route trains over to SR-99 with a stop just on the edge of the commercial center.
The SF 2 an 3 options would be similar to how communities further up the line have chosen to have trains weave back on and off I-5 rather than sticking with a more linear line, ideally using right-of-way on or near SR-99. This weaving tends to increase travel times for riders and reduce overall train speeds.
The SF 2, 3, 4C, 4C, 8, or 9 options would all send trains along the I-5 right-of-way south of the South Federal Way Station. Meanwhile, the SF 4A or 4B options would both send trains along the SR-99 right-of-way toward Milton and Fife.
Sound Transit has highlighted the various advantages and disadvantages of all options below, including which options have better potential. The SF 2 option appears to come out on top due to its transit-oriented development and multimodal access potential:
Fife Segment Options
The Fife segment options are a little tighter and straightforward than the South Federal Way segment. All South Federal Way segment options would converge near the I-5 bend before splintering near the commercial heart of Fife. The Fife 1 option would put a station the furtherest north at 12th St E, away from the Emerald Queen Casino–the biggest commercial activity driver in the area. Heading to Tacoma, the route would primarily run along SR-99 until reaching the Puyallup River where it would converge back toward the I-5 right-of-way. This is a common approach amongst the options, presumably due to the railway bridge north of I-5.
The Fife 3A and 3B options have two options for a station in Fife: one a block north of 15th St E and one on 15th St E. Both options put a station closer to the heart of the commercial area, if ever so slightly. The Fife 3A option would send trains along the I-5 right-of-way after the Fife station instead of running along SR-99. Conversely, the Fife 3B option would primarily put trains on SR-99 until reaching the Puyallup River crossing.
Two options rise to the top for the best potential. The Fife 3A option, north of 15th St E, ranks best under Sound Transit's analysis because it has lower impacts than other options and presents better transit-oriented development options. Alternatively, the Fife 3B option, north of 15th St E, ranks high as well for the same reasons: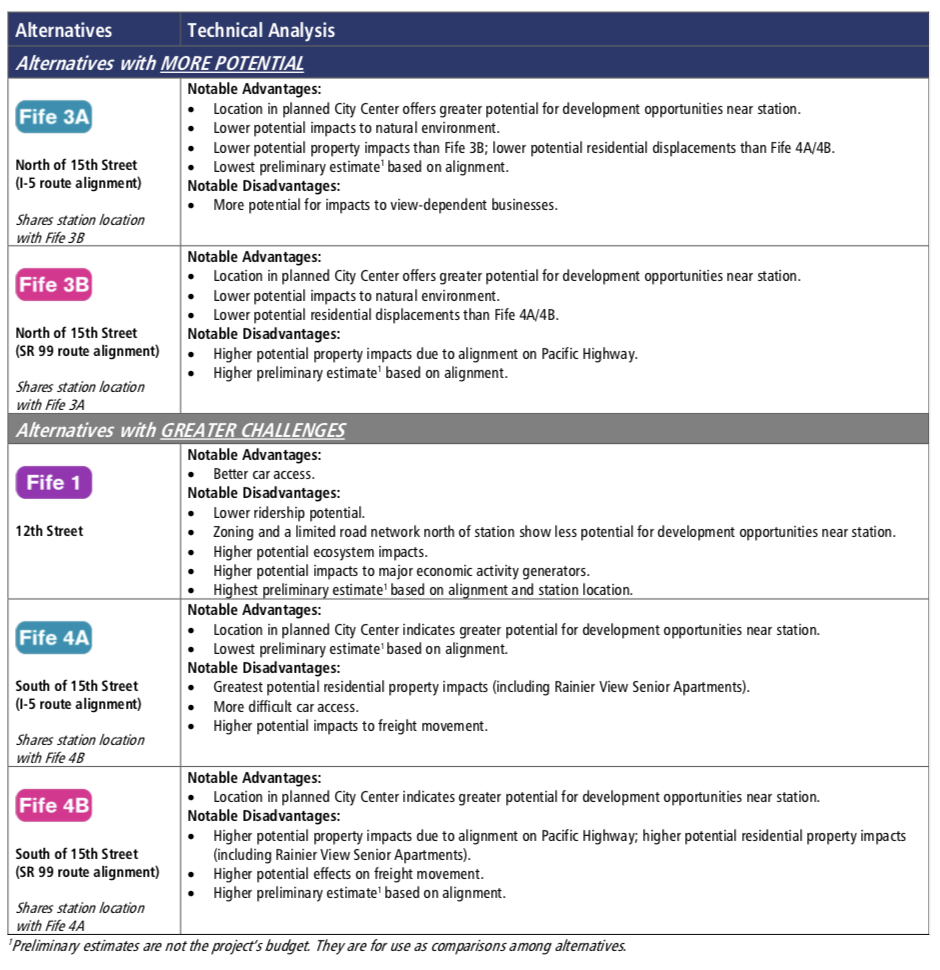 East Tacoma and Tacoma Dome Segment Options
Reaching the East Tacoma Station area, Sound Transit has provide a spread of options, which could put stations on Puyallup Ave, E 25th St, E 26th St, and E 27th St at around E N St. Generally speaking, these options would also mean putting a station near Tacoma Dome Station on the same streets. The ET 2 option would put the East Tacoma Station most central in the area, perhaps allowing better transit-oriented development options. And, of the two Tacoma Dome Station options on E 25th St (the TD 2 option) would put a station closest to the existing Tacoma Link streetcar line, Sounder/Amtrak station, and bus facilities.
All of the Tacoma Dome Station options provide high potential for transit-oriented development, but the TD 4 options would bring stations closest to the Tacoma Dome (a major events center) and TD 1 would provide slightly shorter walks to the city center and the Thea Foss Waterway mixed-use district. Sound Transit, however, ranks the ET 3A option (centered on E 26th St and east of Portland Ave E) and TD 2 option (centered on E 25th St and the existing Tacoma Dome Station) as the highest potential options: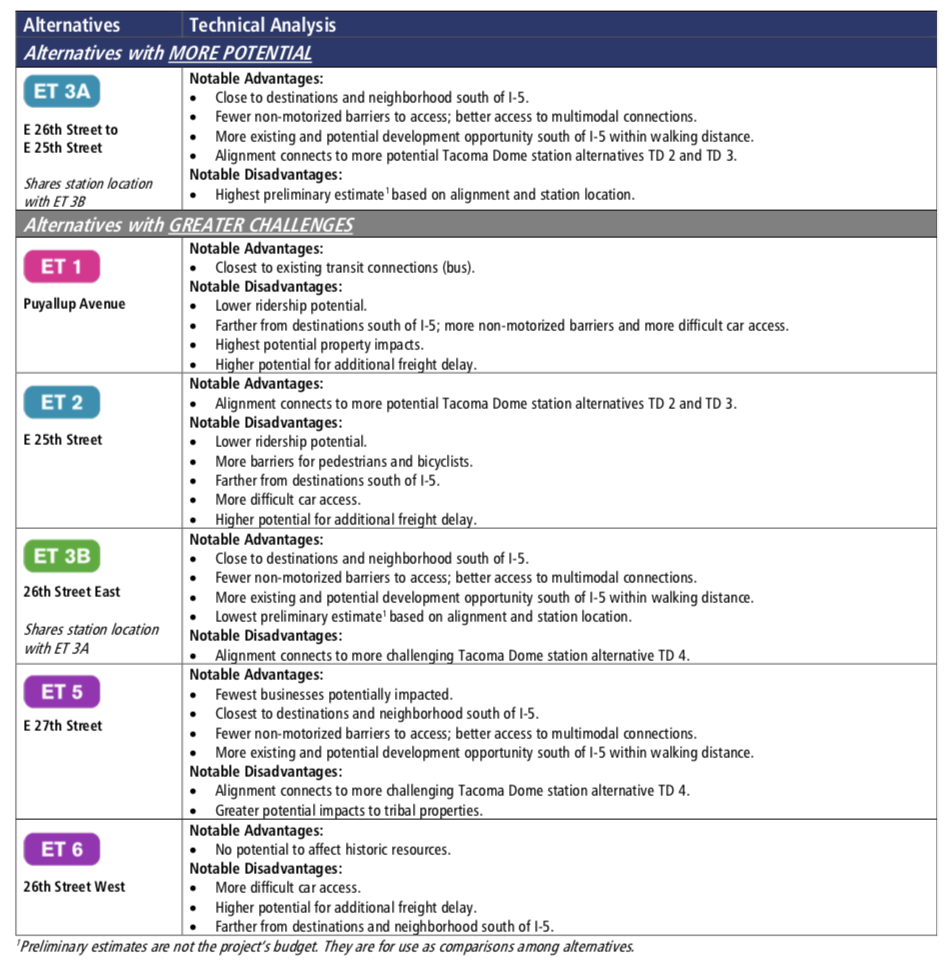 Looking Ahead
An early scoping process will begin in April. In the summer, the Sound Transit Board of Directors is slated to select an end-to-end alternative as a preferred alternative to the ST3 Representative Project alternative. That preferred alternative will then be taken into the environmental review process for consideration and refinement before detailed engineering commences on the project for actual construction. The extension is planned for a 2030 opening.

Stephen is a professional urban planner in Puget Sound with a passion for sustainable, livable, and diverse cities. He is especially interested in how policies, regulations, and programs can promote positive outcomes for communities. With stints in great cities like Bellingham and Cork, Stephen currently lives in Seattle. He primarily covers land use and transportation issues and has been with The Urbanist since 2014.