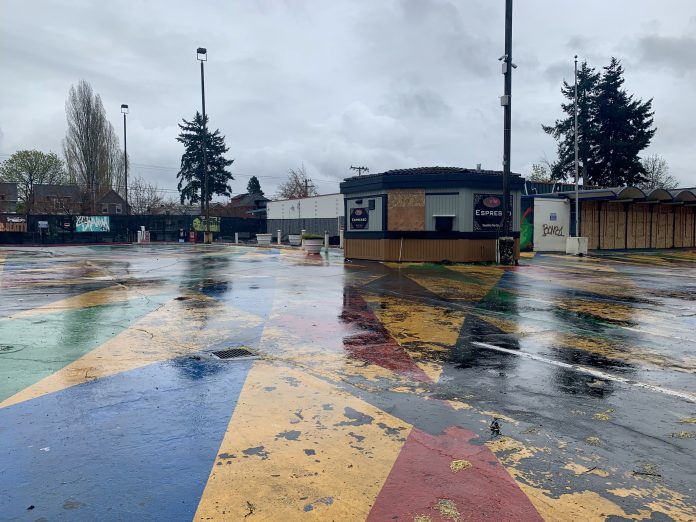 Lake Union Partners' mega-project will bring the most sweeping change yet to an intersection with a complicated past.
In 2009, a group of artists, journalists, and community activists erected an open air photography and audio recording installation on an abandoned lot on the corner of 23rd and Union. Simply called "The Corner," the installation was a source of community curiosity, pride, and criticism for about a year.
The website for The Corner still exists, and it provides a fascinating time travel experience. Dozens of audio recordings saved on the website address questions of belonging, memory, and change. The makers of The Corner called it a "public radio documentary," describing it as a compilation of over 200 messages that "collectively depict a rich and complicated place."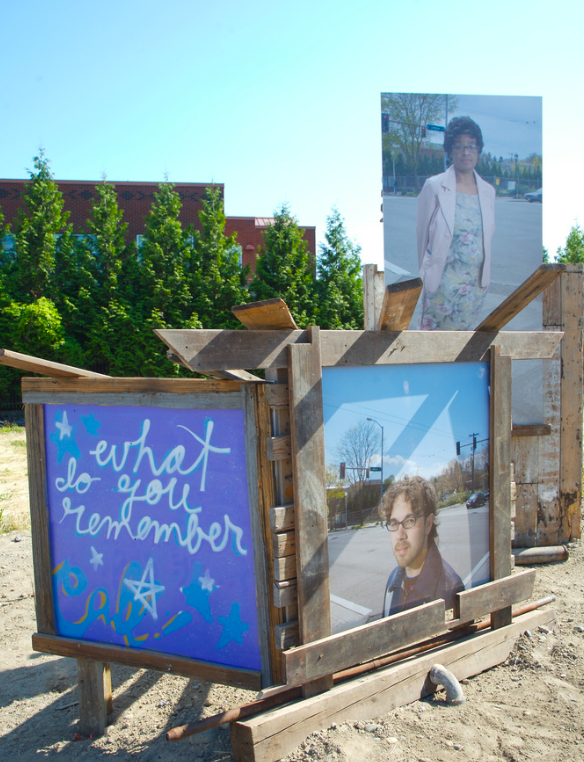 These messages transport listeners back to a time before Uncle Ike's Pot Shop's neon lights and billboards dominated the corner's evening landscape. When 23rd and Union was known more outside of the neighborhood for street crime than a battle over the opening of a gourmet grocery chain criticized for bad labor practices.
Just a year before the installation of The Corner, Philadelphia Cheese Steak restaurant owner Degene Barecha was gunned down in his business at 23rd and Union during the daytime. It was shocking crime with a tragic twist; Barecha had been running the business for nearly five years on his own after the shooting death of his business partner, Troy Hackett, which also occurred in the Central District. Both of the men had been well-known and liked in the neighborhood.
Listening to messages form "The Corner," it is clear that the Barecha's murder was still on the mind of the callers, as were drug sales and other crimes. A particularly incendiary editorial in the Seattle PI from this period describes 23rd and Union as a place "where drugs and cash change hands out in the open, protesters take to the streets for justice, and bullets too often fly."
These days the atmosphere is very different at 23rd and Union. Developer Lake Union Partners have already built three major projects at the site, The Stencil, East Union, and The Central, all of which are market rate apartment buildings with commercial space at the ground floor. These three developments have greatly changed the corner. Uncle Ike's, while still a visible presence, no longer dominates the business corridor. On any given night a passerby is as likely to be headed to 23rd and Union in search of tacos as weed.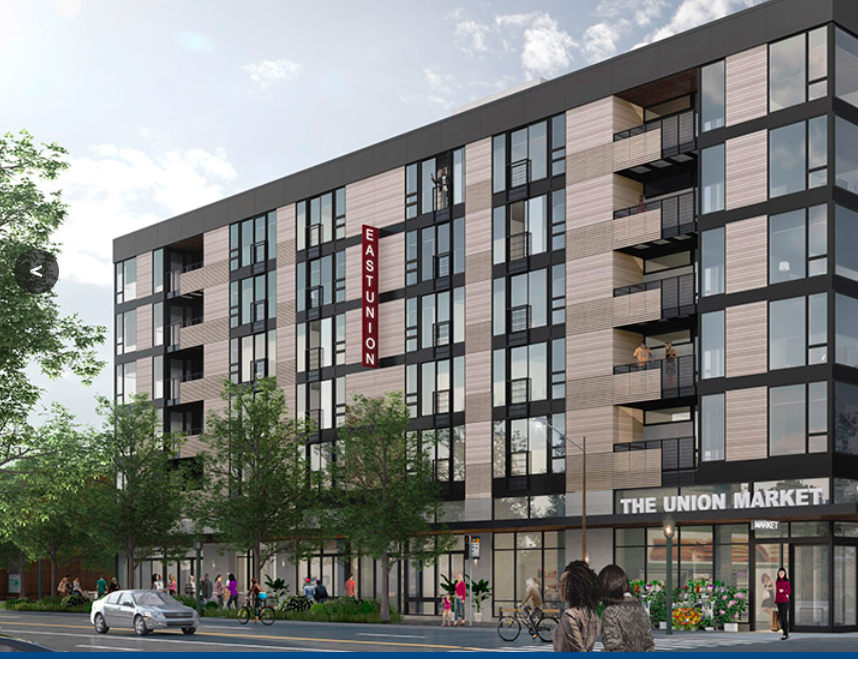 But while new development has flourished, small mostly African-American and immigrant owned businesses have shuttered and disappeared, and the question of who this corner belongs to looms larger than ever.
During the recent ribbon cutting for the Liberty Bank Building, which honors the first African-American owned bank opened west of the Mississippi, speakers like Dr. Marcia Tate Arunga referenced the history of the area and called for reinvigorating 23rd and Union as a hub for Black culture.
While developments like Liberty Bank Building and the Africatown Community Land Trust have focused on preserving the business corridor's African-American heritage, it is unknown at this point much impact they will have in the face of other larger developments, Midtown Commons in particular.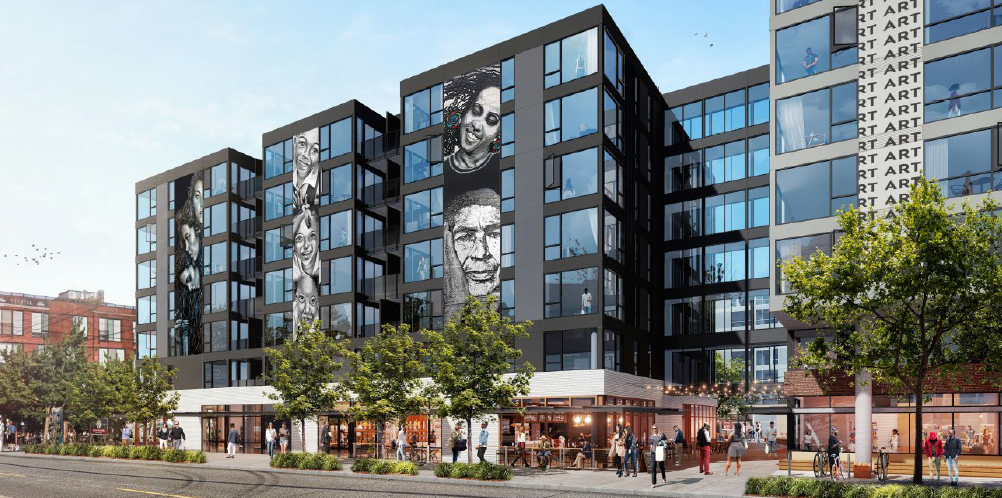 What is Midtown Commons?
Spanning an entire city block, the Midtown Commons project is one of the largest, and most ambitious new developments slated for construction outside of Seattle's downtown core.
The project includes 432 apartments, 30% of which (130 apartments) will be relatively affordable units, 25,000 square feet of retail space, 227 below grade parking spaces, and a 16,000 square feet publicly accessible square in the center of the project.
To put the square's size in content, it will be similar in size to Occidental Square in the Pioneer Square neighborhood. According to Lake Union Partners, "The square will be lined with retail shops and is intended to be an active community gathering space from day to night." However, while the Midtown Commons square will be accessible to the public, it will still be under private ownership and management, raising questions over who will be able to use the space and how it will be used.
Perhaps in recognition of the minority owned businesses were displaced from the site when the existing Midtown Center was closed, Lake Union Partners has made a commitment to prioritize African-American small businesses in the retail spaces along the square, and is currently conducting outreach to business owners.
Lake Union Partners also undertook an extensive neighborhood engagement effort during its design process. It was a sensitive project that attracted a lot of community attention. Midtown Commons actually went through full design review twice before finally being approved the third time around.
According to their media release, "substantial changes to the design of the buildings" were made so that the project would be "more reflective of community input and preferences."
However, the bulk of the changes made in response to community feedback have been focused on the incorporation of artwork into the development, rather than adjustment to building and landscape design. Eight different pieces of art will be installed on site. These artworks will be connected to themes of "Reverence and Discovery." According to Lake Union Partners, the article will be reflective of " the community's desires for a project which functions as a community space that is friendly, representative of an aesthetic that recognizes the area's rich heritage, and welcomes multi-generational interaction."
Midtown Commons will be sharing space with the Africatown Community Land Trust, which aspired to bring permanently affordable rental and ownership housing to the corner of 23rd and Union. This project is being completed with assistance from Capitol Hill Housing; however, design plans and an estimated timeframe for completion have not been released yet.
Midtown Commons will break ground in July of 2019. Construction is anticipated to take about two years to complete.
Standing at the future Midtown Commons site today, it is hard to imagine the scale of the changes to come. In future years, what will Seattleites think of when they hear of the corner at 23rd and Union? Will Midtown Commons be seen as a high-water mark for gentrification, or the beginning of a more inclusive approach to development that recognizes the history and significance of the land that lies beneath it and the people who have made that land their home?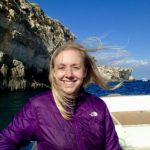 Natalie Bicknell Argerious (she/her) is a reporter and podcast host at The Urbanist. She previously served as managing editor. A passionate urban explorer since childhood, she loves learning how to make cities more inclusive, vibrant, and environmentally resilient. You can often find her wandering around Seattle's Central District and Capitol Hill with her dogs and cat. Email her at natalie [at] theurbanist [dot] org.