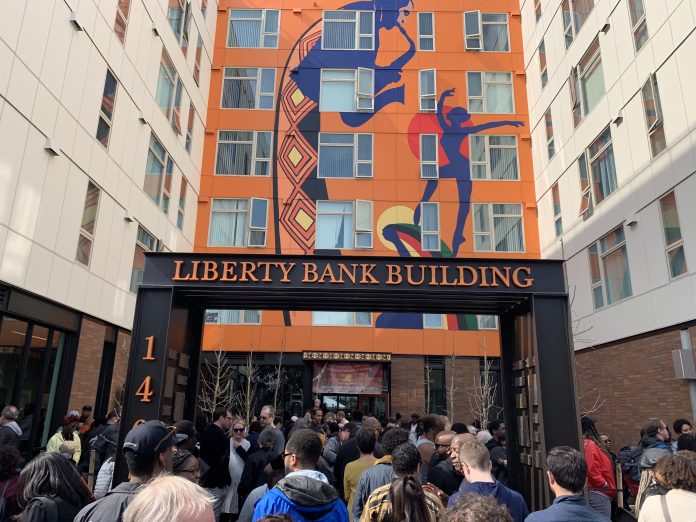 Supporters hope that the building represents a future in which the African-American community can heal from losses suffered during the controversial "Weed and Seed" years.
Last week's ribbon cutting for the new Liberty Bank Building in the Central District featured an impressive list of influential Seattleites as speakers. Even so, fourth grader Jet Evans managed to steal the show.
A natural public speaker, Jet Evans captured the crowd's attention with his description of the many early mornings he had spent sleepily waiting in the car while his father, Ted Evans, painted the building before taking him to Madrona Elementary. However, now that Evans family is among the first group of residents to move into the new Liberty Bank Building, all those early mornings have proven to be worth the wait.
"I'm going to be living in a place that his fingers touched already," said the young Evans of his father's work on the building. "I'm looking forward to living here- it's just a great area with great vibes."
Ted Evans, an activist who grew up in the Central District, is thrilled to have the opportunity to raise his son in the neighborhood's redevelopment.
Growth and redevelopment were frequent themes invoked by speakers at the ribbon cutting ceremony. Former State Representative Dawn Mason likened the new Liberty Bank Building to a "phoenix rising out of the ashes," and Evelyn Allen of the Black Community Impact Alliance called it "tangible evidence of progress and change."
Once the site of Seattle's first African-American owned bank, the new Liberty Bank Building will provide 115 apartments for individuals and families earning 30% to 60% of the Area Median Income (AMI). It also offers retail space for three small businesses. The first tenants will be Earl's Cuts and Styles, That Brown Girl Cooks, and Cafe Avole–all of which are African-American owned.
Because of the success of affirmative marketing policies that reached out to people of color with connections to the Central District, 87% of the building's new residents are African-American.
While that represents a significant number, especially since the Central District's African-American population has shrunk in recent decades, plenty of reason exists to believe that the level of demand for affordable housing from the community far outpaces current supply.
"When the phone lines opened on November 1st, thousands of calls came in and the lines shut down," said K. Wyking Garrett, CEO of the Africatown Community Landtrust, which is also in the process of developing Africatown Plaza as part of the Midtown Center block across the street.
Garrett believes that the redevelopment of 23rd and Union as a hub for Seattle's African-American community will create a village-like atmosphere in which people can heal from the "trauma of displacement."
"When a plant is uprooted from its environment, and it struggles to grow, we call that root shock," said Garrett, making the reference to pain he has observed as many African-Americans have been forced by rising costs to move farther and farther away from their family, friends, and cultural institutions.
What was "Weed and Seed"?
However, for those who are familiar with the US federal governments urban renewal tactics of the 1990's, Garrett's remarks have an added significance.
Operation Weed and Seed was a multi-agency effort led by the US Department of Justice that aimed "to prevent, control, and reduce violent crime, drug abuse, and gang activity in designated high-crime neighborhoods across the country."
Beginning in 1991 with three sites, the controversial program quickly grew to include over 200 sites nationwide. It was first implemented in Seattle's Central District in 1993.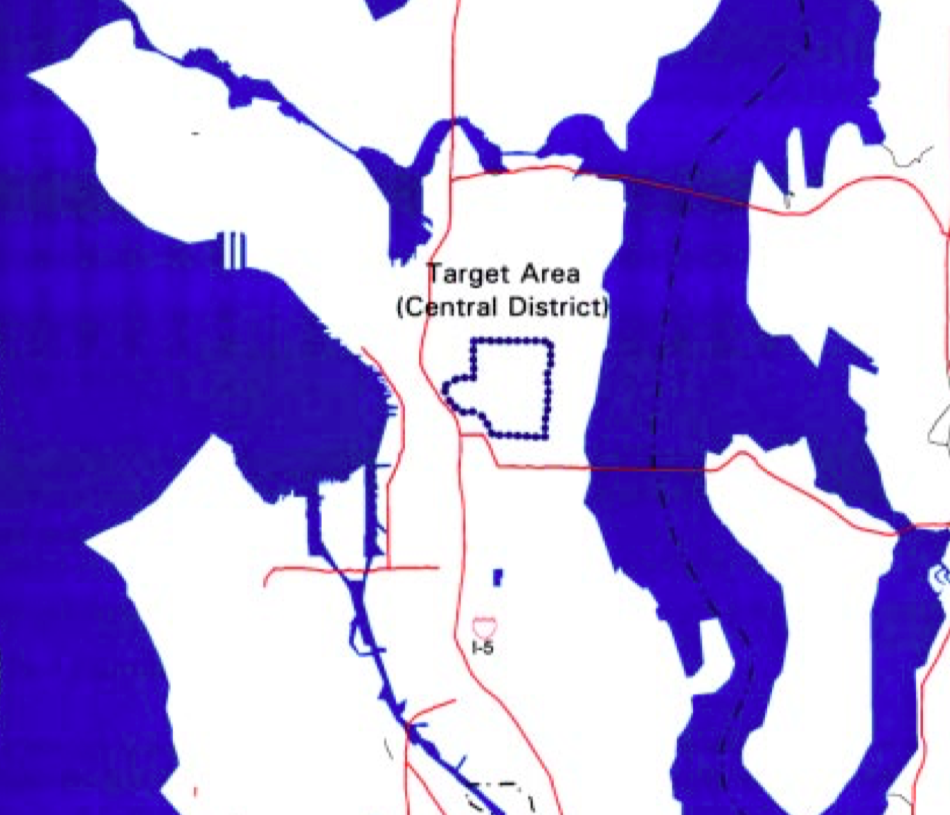 High crime rates in the Central District were stated as the reason why then Mayor Norm Rice–Seattle's first and only elected African-American mayor–advocated for the program to be implemented only in that target area, while other cities like Atlanta, Denver, and Cleveland implemented Operation Weed and Seed citywide.
According to the Seattle Case Study, the Central District's average crime rate prior to the start of Weed and Seed was approximately 1.5 times greater than the entire city of Seattle and approximately 2.5 times greater than the United States.
Crime in the Central District was connected to an increase gang-related activity, which was "associated with the influx of gang members from California who move to the Seattle area and continue their criminal activity." (In case you thought blaming Californians for civic ills–like driving up housing costs and clogging I-5–was just a new phenomenon.)
According to the report, these gangs were involved in the "street-level sale of narcotics," particularly on Cherry Street, where a range of narcotics were sold to both neighborhood residents and people who traveled in from other parts of the city and surrounding suburbs to make their illicit purchases. As a main east-west arterial, Cherry Street was identified as a convenient stop off location for drug buyers who "commute to downtown Seattle for work."
Did "Weed and Seed" uproot a community?
Operation Weed and Seed focused its strategy on two efforts:
Weeding—Concentrated and enhanced law enforcement efforts to identify, arrest, and prosecute violent offenders, drug traffickers, and other criminals operating in the target areas.
Seeding—Human services—including afterschool, weekend, and summer youth activities; adult literacy classes; and parental counseling—and "neighborhood revitalization efforts to prevent and deter further crime."
Seattle differed a bit from the national averages in its distribution between these two areas of activity. While nationally most Operation Weed and Seed programs spent far more money on law enforcement oriented "weeding" activities, in Seattle "approximately 70 percent of the grant funds were allocated to seeding activities, and the remaining 30 percent were allocated to weeding activities in the Central District," although to be fair some of the "seed" funds actually paid for community police officer positions.
Nevertheless, the choice to only implement Operation Weed and Seed in the Central District was very unpopular with residents, who quickly sprung to action, forming the Coalition to Stop Weed and Seed. In his book The Politics of Community Policing, William Lyons wrote that members of the coalition were concerned that Operation Weed and Seed would lead to a "more powerful, but less accountable, federal policing presence in their communities." They rightly noted that federal laws of the era issued much stiffer penalties and sentences than Washington state law did.
Thus, in their point of view, the choice to only implement Operation Weed and Seed in a majority African-American neighborhood subjected African-Americans to a harsher form of justice than white neighborhors experienced.
Despite criticism, implementation of Operation Weed and Seed in the Central District moved forward and was even spread to locations in Southeast Seattle in subsequent years, tracking with Black migration patterns.
Even today, whether or not Operation Weed and Seed was effective in reducing crime in the Central District remains open to debate. While it is known that "total levels of homicides, robberies, and assaults have dropped substantially" between 1992 and 1997, an accompanying decrease in population in the area was said to "preclude the ability to make any definitive conclusions about the overall risk of crime…"
Additionally, while violent crime decreased, the number of property crimes remained "relatively constant."
According to police anecdotes, the decrease in violent crime was largely attributed to two factors, one being that increased police patrols in the Central District simply shifted crime further south. Additionally, police observed that customers stopped traveling in from different areas to buy drugs in the neighborhood.
Many African Americans felt harassed and unfairly targeted by the increased police presence in the neighborhood. In a recent reflection War Against the Poor and Weeding of the Emeralds, Villiainus wrote:
"Incarceration Station" is the only way I can describe my teen years. It was clear to our whole community that we were targeted by the police, politicians, government, and those of high economic status. They would use multiple unprincipled tactics to drive our communities out of our homes.
While the effectiveness of Weed and Seed on reducing crime remains controversial, it is clear that many African Americans left the Central District during this same time period. In fact, the number of African Americans who participated in community surveys dropped from more than one-half in 1995 to just one-third in 1997.
This data is supported by the US Census, which found that the number of African American residents in the Central District decreased from 55 percent in 1990 to 36 percent in 2000.
One frequent criticism of the after effects of Operation Weed and Seed is that is fueled gentrification in the Central District by creating conditions in which homeowners felt pressured to sell their homes or even had their homes taken away by the state. Civil forfeiture laws allow for police to seize property that is associated with criminal activity, and homes associated with the drug trade or sex work were frequently seized. Washington State has earned "D-" from Institute for Justice for what have been described as lenient and frequently abused civil forfeiture laws, raising big questions about the ethics surrounding such seizures.
In her article, Landscaping Neo-Liberalism: The Weed and Seed Strategy, Julie Garfield described how Operation Weed and Seed originated under President George H. W. Bush, but was first implemented under the Clinton administration. The policy sprang up shortly after the government adopted legislation created Enterprise Zones, in which tax breaks and other financial incentives were provided to businesses and investors in order "to encourage entrepreneurial development in poor neighborhoods."
Some critics viewed Operation Weed and Seed as a strategy by which poorer communities could be removed from valuable urban land. Supporters of this theory, such as Garfield, cite the fact that "[t]arget neighborhoods for Weed and Seed implementation were selected based on indicators of underdevelopment and economic promise." The Great Recession continued this pattern of uprooting Black households and seizing their land. The 2008 Housing Crisis hit Black households hardest since they were often unfairly targeted for subprime mortgages–and thus felt victim to huge losses in home equity and to foreclosures as the government bailed out banks but not mortgage holders.
While not ascribing to the belief that Operation Weed and Seed was fueled by an urban land grab, the Urban Institute has argued that "placed based approaches" to reducing crime and other indicators of poverty have both "promise and limitations," and should be implemented alongside more comprehensive reforms.
Regrowing African-American community in the Central District
According to K. Wyking Garrett, after his father, activist Omari Tahir Garrett, learned of the closure of the Key Bank branch on the Liberty Bank site, he quickly swept into action, pulling the old Liberty Bank sign out from storage and mowing the grass on the property. It was the Garrett family's vision that the land would be returned to the African-American community.
Thanks to the efforts of a strong coalition of partner organizations and a historic Memorandum of Understanding, that vision is becoming a reality.
Not only have partners Capitol Hill Housing, Africatown Community Land Trust, Byrd Barr Place, and the Black Community Impact Alliance committed to making the project a model for equitable and inclusive community development, they have also created a plan in which the land can be secured permanently for the good of the African-American community.
According to the language the historic Memorandum of Understanding, in fifteen years, nonprofit developer Capitol Hill Housing will offer first right of refusal for the building's ownership to Byrd Barr Place (formerly Centerstone), which was renamed in honor of Roberta Byrd Barr, a prominent African-American educator and journalist.
The Rise Together capital campaign is currently seeking donations to ensure that the Liberty Bank Building's vision succeeds. Donors who give $25 or more by April 1st, will have their names written on the wall of "a living monument to community and cultural resilience."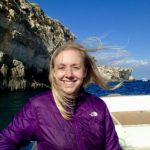 Natalie Bicknell Argerious (she/her) is a reporter and podcast host at The Urbanist. She previously served as managing editor. A passionate urban explorer since childhood, she loves learning how to make cities more inclusive, vibrant, and environmentally resilient. You can often find her wandering around Seattle's Central District and Capitol Hill with her dogs and cat. Email her at natalie [at] theurbanist [dot] org.