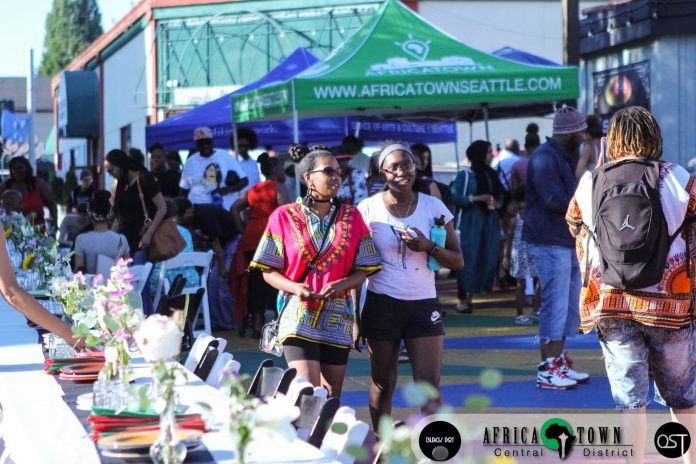 A year has passed since Africatown Community Land Trust acquired a twenty percent ownership stake of the land parcel at 23rd and Union in the Central District, and during this time Africatown has been busy designing its future.
Fundamental to Africatown's design approach is the creation and facilitation of a distinctive process that works hand-in-hand with community members, while also drawing on technical assistance from professional designers. The result is an intentional approach that honors the CD's past as a vibrant African American community and keeps an eye firmly on the future.
"That's something you see in a lot of historically black neighborhoods," Sara Zewde said. "The future is rooted in the past. As a designer that's an element of black urban culture that I have focused on and pushed for. We want community designers to articulate that vision."
Zewde, a landscape architect, urbanist, and board member of Design in Public, has been involved with Africatown since serving on a speaker's panel with K. Wyking Garrett at the Seattle Design Festival. Debra Webb, Director of Design in Public, said Zewde has been instrumental to forging the partnership between Africatown and Design in Public. "We want to amplify our mission of building bridges through design," Webb said.
In response to the current political and social climate, this year Design In Public has chosen the theme of "trust" for the Seattle Design Festival.
"I think there is great mistrust among African Americans and the African diaspora in our city toward designers and the built environment," Webb said. An underrepresentation of African Americans in design fields and past abuses ranging from widespread demolition of African American neighborhoods for interstate construction, to national policies such as Weed and Seed, have all contributed to this climate of distrust.  
Africatown, however, seeks to redefine how African Americans think about urban design in Seattle by eschewing the conventional "paternalistic" model of community engagement for something much more radical. "Usually what happens is the architect and developer propose something and the community is for or against their proposal," Zewde said. "Instead we wanted the community to make a proposal. What we want is to get people actually designing. We also want to force designers to design in front of other people."
Given the boldness of Africatown's approach, the impact of their work could result in paradigm shift in how design is approached not only in the CD, but also throughout Seattle as a whole. In a city where rapid development has resulted in new buildings that critics, such as The Stranger's Charles Mudede, have labeled as bland and ugly, widespread implementation of the Africatown design process could represent a different future for the city. In its most utopian form, it could mean the restoration of communities fragmented by displacement and the creation of architecture, landscape, and urban design that celebrates history, diversity, and identity. At a moment in which some longtime residents feel like the city is spinning out of control around them, Africatown's vision for a city of distinctive, community focused spaces should have broad appeal.
Echoing the sentiments of many Seattleites, Webb captures the fears that many feel as they watch new the developments rising around them. "Everything can't look the same," Webb said. "Everything can't be budget driven."
Design Ciphers
For professionals and design enthusiasts, the term "charrette" is a common parlance, a term that refers to an interactive session in which community members engage with design experts, often providing feedback and raising issues with proposed designs.
The term, which comes the French phrase "en charrette," first arose in Paris at the École des Beaux-Arts, where architectural students were known for frantically working on designs even after carts arrived to take them away. It is a term that is steeped in the same Eurocentric tradition as most of the design fields. Even in an era of increased globalization and multiculturalism, design around the world remains stubbornly Eurocentric in its outlook.
"Are architecture students in Africa studying the design contributions of African architecture? No they are not," says Nmadili Okwumabua, founder of Community Planning and Design Initiative Africa (CPDI Africa) and keynote speaker at the Imagine Africatown Design Town Hall. "Most design schools around the world do not focus on the contributions of Africans. Architects are graduating having acquired the designs and schools of European architecture."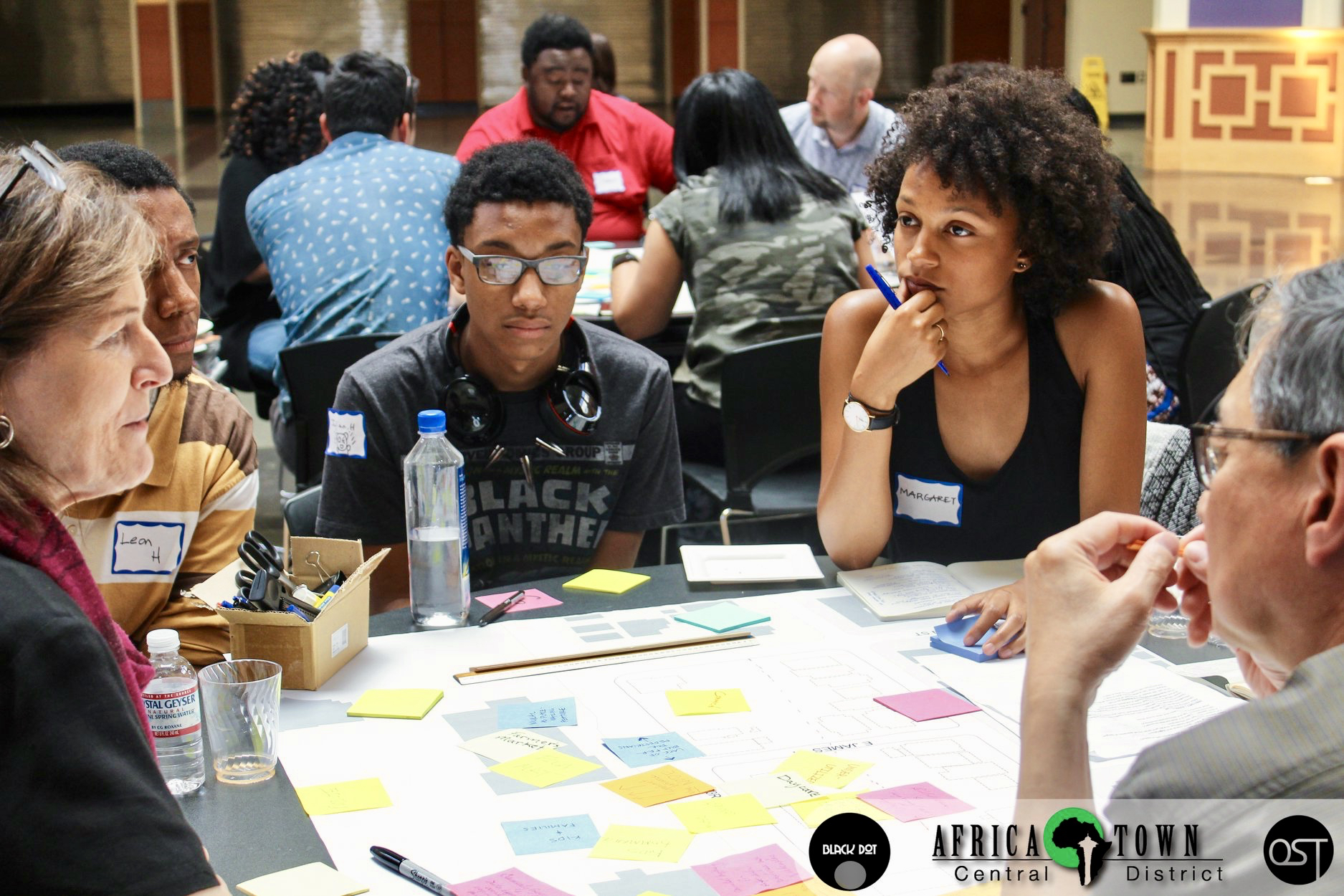 "Designers are trained with a particular set of cultures and histories in mind," says Zewde, "It's rooted in Western European perceptions of space. When you see community members dissatisfied with design that is largely why. There is a gap between design and culture. My role and methods of designing for culture is to try to work within that chasm."
Discarding the term charrette, Africatown instead uses the term "design cipher" to describe its community design sessions. In hip-hop, a cipher, or cypher, is an improvised freestyle cyclical rapping session in which both rappers and the crowd participate. It is more relaxed than most freestyle rap sessions and does not adhere to specific beats.
"Basically the concept is based on a design charrette, but we wanted to reframe it as a cipher because it emphasizes the blackness of the interaction," said Azzura Cox, landscape architect and co-creator with Mark Mappala of the Africatown design cipher concept.
Unlike in a typical charrette, where design professionals often take the lead, Africatown's design ciphers cultivate a more dynamic approach.
"There is not one performer, instead there is a call and response format, a dialogue, which makes more of the dynamics that we want to encourage possible," Cox said. "It's a new way of framing the charrette. The cipher is more culturally relevant."
During his remarks as a keynote speaker at the Imagine Africatown Design Town Hall, Walter Hood, landscape architect, professor, and creative director of Hood Design Studio, made reference to the importance of improvisation in black culture.
"In the cultural arts, particularly from Africa, there is one process that people have written about that is true to the diaspora and it's improvisation. And improvisation, if you define it, is reshaping old into something new. That's all it is," remarked Hood. "Reshaping something that exists so you don't fabricate it. You reshape it through what you see. And that's what black folk do very well."
Over the course of four design ciphers, Cox and Mappala have been perfecting their improvisation based technique, creating a highly structured process aimed at "putting everyone on the same playing field." Cipher groups are mixed between architects, urban planners, developers, and community members with no distinctions drawn between participants.
"The idea to create a balance between everybody," Zewde said. "The vocabulary and language we are using is open so everyone can be involved and learn. We want people to be design literate."
The process uses a range of media and moves from "abstraction to a concrete product." Along the way, groups participate in site walks, engage in discussion, create collages, and finally craft a 3D model of their imaginative vision for the site.
"We think those guided steps really help people from all backgrounds come to the project with their own skills and imagination, and translate them into a real proposal," Cox said.
The products of the design ciphers have been shared with developers and city officials, and they are making an impact. At a design cipher last November, a participant described how essential the corner at 23rd and Union has been for history and identity of the CD.
"He became emotionally moved and teary-eyed. It was a really powerful moment, but it speaks to how space takes on these intensely personal and symbolic meanings to the people who have shaped and lived in it over time," Cox said. "This is why we have to be mindful of these meanings. We have preserve this essence that keeps these spaces sacred."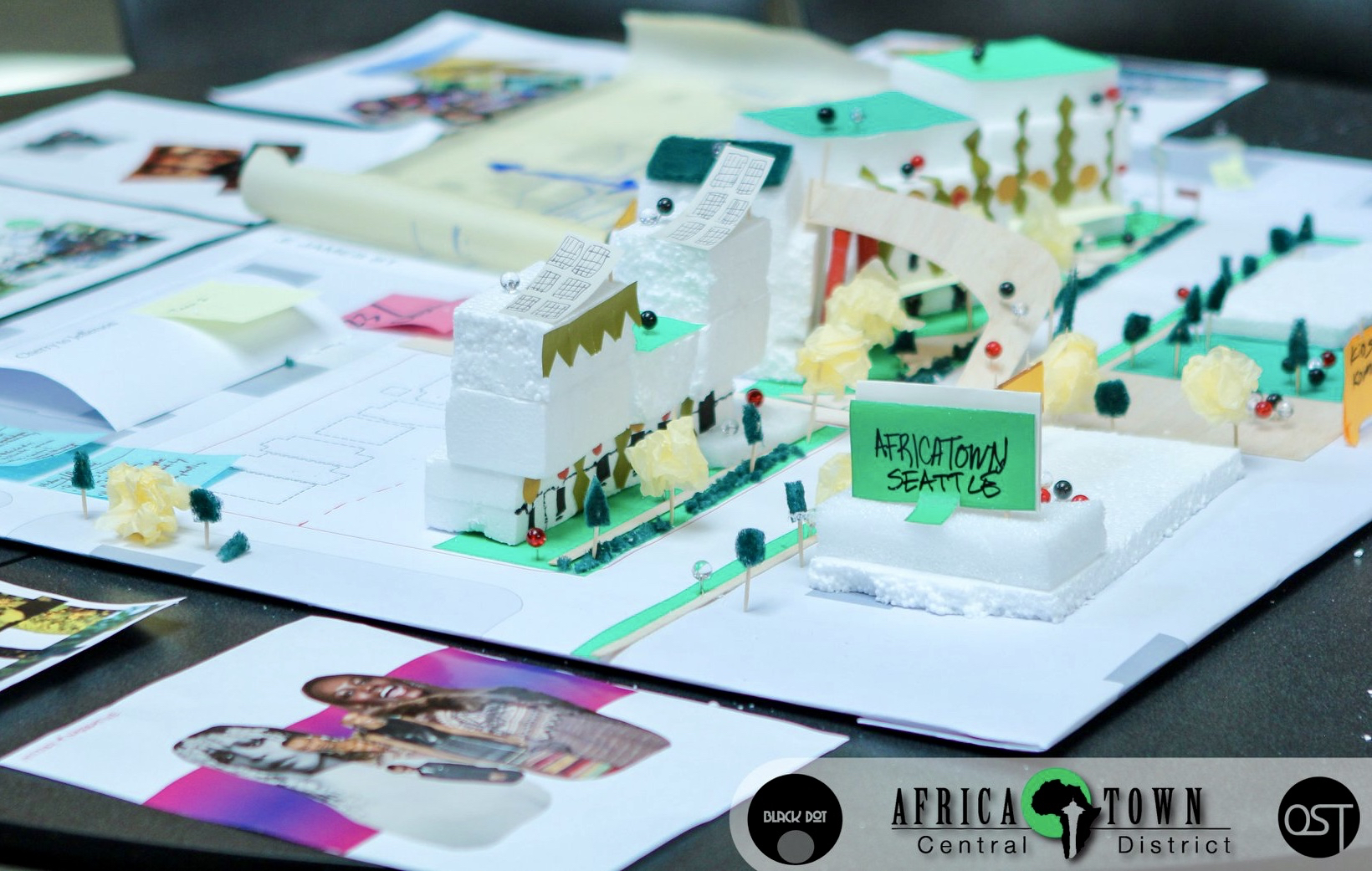 Developer Lake Union Partners and site architects Weinstein A+U are in the process of revising their concept for the Midtown Center at 23rd and Union with a focus on how to design the space so that the corner receives the recognition the community desires.  After their second design iteration was recently met with criticism from community members, they are being called on to make the Midtown Center development less "linear," "Eurocentric," and "South Lake Union."
The theme of sacred space has also been integrated into the core of the design cipher process. Along with paying consideration to practical design features such as street connection, participants are asked to contemplate questions related to sacred space, such as "What is one of your favorite spaces/places that makes you feel special?" and "What activities hold a special place for community and connection?"
Africatown hosted its most recent design cipher on July 14th, and it was the largest yet. The techniques, which had been adapted over the course of the previous ciphers, were embraced by participants.
"I was just so blown away by the level of energy in the room. People were producing, talking, and really diving deep into the sites," Cox said. "What came out of it was really inspiring."
Africatown also currently seeks to influence the design of significant upcoming projects in the CD beyond 23rd and Union, such as the pending redevelopment and expansion of affordable housing at Bryant Manor and the proposed reconstruction or repurposing of the Seattle Vocational Institute. On a smaller scale, Africatown is also committed to helping local churches take advantage of "the opportunity to revise their presence in the neighborhood," Zewde said.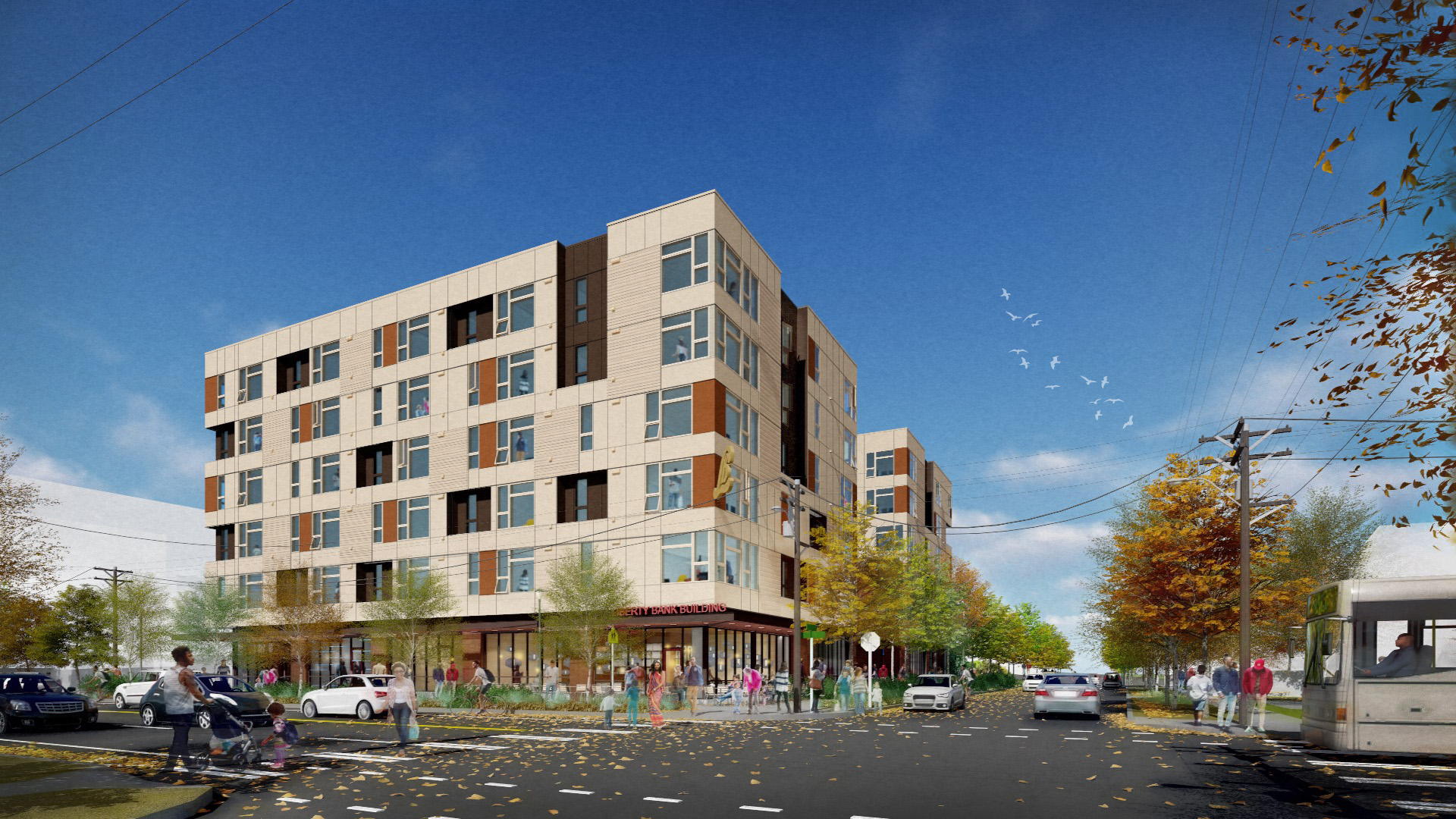 The design ciphers will be an important component of what comes next.
"What is nice about Africatown is that its both this vision, this futuristic vision of joy and expression and identity, but it is also a really grounded strategy," Cox said. "It is equal parts strategy and includes the nitty-gritty parts of getting things done with a city. But it is also proactively advancing a vision for change, an uplifting of the community through imagination and joy."
To be continued tomorrow.
Africatown Organizers See Opportunity With Liberty Bank Site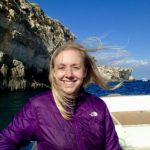 Natalie Bicknell Argerious (she/her) is a reporter and podcast host at The Urbanist. She previously served as managing editor. A passionate urban explorer since childhood, she loves learning how to make cities more inclusive, vibrant, and environmentally resilient. You can often find her wandering around Seattle's Central District and Capitol Hill with her dogs and cat. Email her at natalie [at] theurbanist [dot] org.