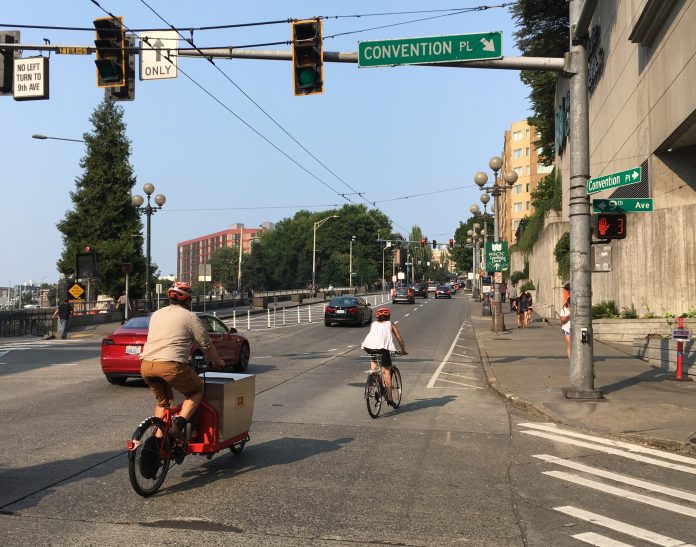 Seattle's approach to building bicycle infrastructure often has the appearance of an earnest toddler desperately throwing spaghetti against the wall. That spaghetti isn't nothing–the Seattle Department of Transportation (SDOT) has built well-designed and protected bike lanes with bright paint buffers or bollards, "cross-bikes" at tricky intersections, bike traffic signals, and other thoughtful applications of bicycle best practices all around the city. Though often unconnected to other bike infrastructure and seemingly randomly placed, these bits and pieces are now numerous enough that each new installation is in itself unremarkable. A confident rider can now move about in a way that is often pleasant and safe, punctuated with rush of adrenaline when the painted lane suddenly disappears and you are plunged into fast-moving traffic.
One of the biggest gaps between our bike lane spaghetti is the gaping chasm between Capitol Hill and downtown. A handful of bridges span I-5 here and not one has an uphill bike lane. Even where bike lanes they are present on surface streets, as on Pine, they disappear on the approaches to the bridge. At Pine and Boren cyclists squeeze in between lanes of traffic, including buses, trucks, and highway bound motorists, while queuing for the stoplight.
Pine Street and Boren Avenue during the morning commute. Photo by the author.
The Basic Bike Network, proposed by bicycle advocates and included in the City's Bicycle Master Plan, would bridge this gap with protected bike lanes (PBLs) connecting two of the best pieces of bike infrastructure in the city, the cycle tracks on 2nd Avenue and Broadway. The first segment of these protected lanes has in fact already been built, between 2nd Avenue and 6th Avenue. However, as anyone who has used these lanes can attest, they thrust the rider right back into danger after just a few peaceful blocks.
Pike & 9th after PBLs abruptly end. Photo by the author.
On Monday, July 30th the Seattle City Council passed a resolution calling for the completion of "all ages and all abilities bicycle route" connecting downtown to Broadway via Pike and Pine, with a timeline for completion and accountability steps to ensure SDOT delivers. These new lanes would connect First Hill and Capitol Hill, two of Seattle's densest neighborhoods, to downtown with a safe, intuitive, comfortable place to ride. They'll also create a more peaceful street environment for pedestrians on adjacent sidewalks and a less stressful environment for drivers who'd rather not hit anybody. All these things are good for businesses and neighborhood residents too. Together they will mark the beginning of a transformational change in our city's bicycle system, from a mess of spaghetti, to a true network in which a person can travel confidently from where they are to where they want to go by bike in a way that is safe, easy to understand, and fun. This is what great cycling cities are made of.
The great news is that the lanes are funded (thanks to the Washington State Convention Center expansion public benefits package), SDOT has committed to building them, and the Council will hold them to it! Interim lanes are to be implemented by December 2019, and they'll be upgraded to permanent infrastructure along with the construction of the Pike/Pine Renaissance project after the convention center construction is complete (probably 2021).
Existing protected bike lane at Pine Street and 5th Avenue. Photo by the author.
We want to see these lanes built well, council does, and lots of folks at SDOT do too. They know as well as we do that safe infrastructure that connects people with places they actually want to go is how you make cycling a viable option in the city. Now it's time for us to do our job to build support, and ensure the interim design is safe, logical and effective. People who bike, walk, own businesses, and drive in the Pike/Pine corridor will all benefit from well-designed streets.
In the next few months Central Seattle Greenways, Capitol Hill EcoDistrict, and other community partners will be conducting outreach to businesses and the public and communicating with SDOT. We'll also be co-hosting a public design charrette with the EcoDistrict in late October to solicit input and sketch out ideas for the bike lane. At the charrette we'd love to hear from street users of all modes as well as businessowners and managers to ensure the design works well for everyone.
If you want to learn more about how you can get involved in making these lanes a reality contact Central Seattle Greenways. It's time!
Council Lays Out Basic Bike Network, Approves Bikeshare Permit, Paves Way for Columbia City Midrise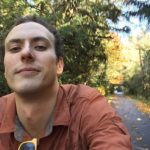 Ian is an urban planner working in Seattle and a member of Central Seattle Greenways. He is passionate about places - from cities to hamlets, islands to mountains - and loves seeing them all by bike.