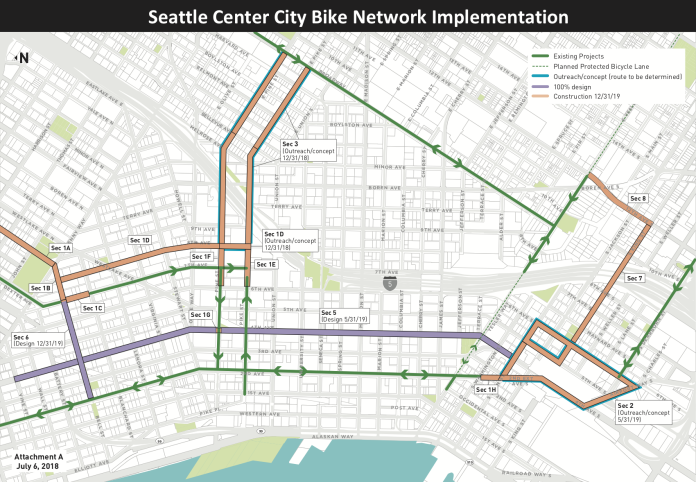 The Seattle City Council had an outsized agenda on Monday passing wide-ranging transportation and housing legislation. Banner legislation to set out a timeline for building the Basic Bike Network in the Center City and a permanent private bikeshare permit program made it out of the chamber, though with some last-minute tweaks. These policies will ensure that more bike lanes come to Center City streets sooner than the Seattle Department of Transportation (SDOT) had in mind and ensure that up to 20,000 bikes operated by private bikeshare companies will be rolling around city streets soon. In Columbia City, the city council rezoned a property allowing more housing, including set-asides for affordable housing. Seattle City Light will also now be responsible for helping to provide affordable housing through revised surplusing practices. Lastly, the city council accepted the 10% design from SDOT for the RapidRide H Line corridor along Delridge and authorized additional funding to get the project to 30%.
Timelines Set for Seattle Center City Bike Network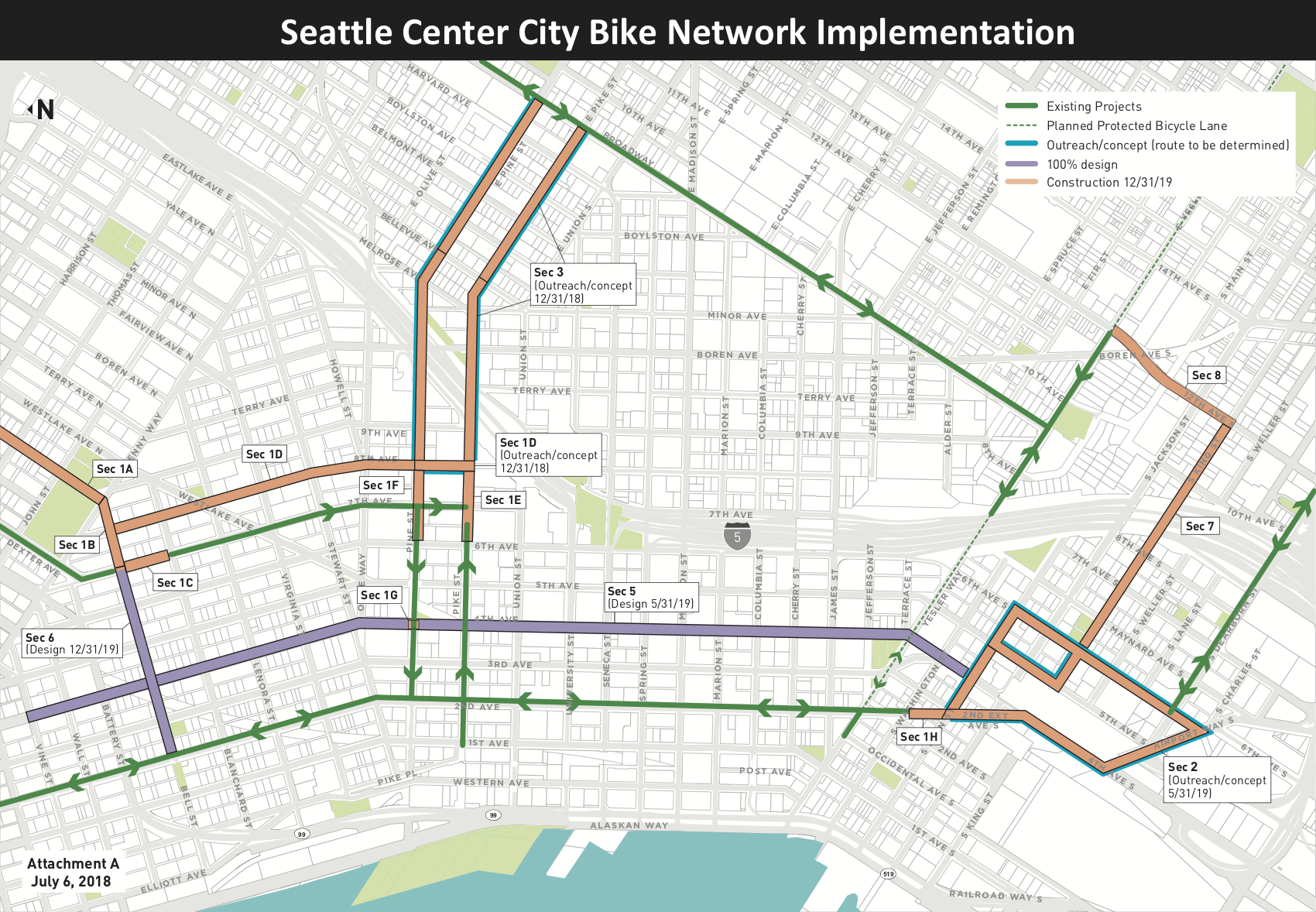 The city council set a 2020 drop-dead date for implementation of Seattle's Center City Bike Network. SDOT will be expected to roll out the network in phases and provide quarterly check-ins to demonstrate that progress is being made–although the timelines are not binding. SDOT has until December 31, 2019 to construct the following bike facilities, according to the resolution:
9th Ave N: Protected bike lanes in both directions from Harrison Street to Denny Way;
Bell Street: Protected bike lanes in both directions from Denny Way to Seventh Avenue;
Seventh Avenue: A one-way protected bike lane (southbound) from Bell Street to Blanchard Street;
Eighth Avenue: A one-way protected bike lane (northbound) from Bell Street to Pine Street with a portion being completed by December 31, 2018 from Pine Street and Pike Street;
Pike Street: A one-way protected bike lane (eastbound) from Sixth Avenue to Eighth Avenue
Pine Street: A one-way protected bike lane (westbound) from Eighth Avenue to Seventh Avenue;
Second Avenue: An extension of the two-way protected bike lane from S Washington St to S Main St;
12th Ave S: An all ages and abilities connection will need to be constructed from Yesler Way to S King St; and
Chinatown-International District: An all ages and abilities connection will need to be constructed from the intersection at S Main St and 2nd Ave Ext to S Dearborn St and Neighborhood Greenway on S King St from 5th Ave S to 12th Ave S;
Capitol Hill: An all ages and abilities connection will need to be constructed from the protected bike lanes on Second Avenue to the Broadway cycletrack.
Councilmembers collaborated on the resolution, which was greatly expanded to include several other special circumstances:
At the intersection of Pine Street and Fourth Avenue, SDOT will need to install signage by December 31, 2018 to help people know how to safely bike through the intersection;
A one-way protected bike lane will need to be constructed on Pine Street from Fifth Avenue to Fourth Avenue by 2021;
SDOT will need to complete design of a two-way protected bike line from S Main St to Vine Street on Fourth Avenue by May 31, 2019; and
Another SDOT-designed plan for an all ages and abilities connection from Second Avenue to Denny Way on Bell Street will need to be completed by December 31, 2019 with a mix of two-way protected bike facilities and traffic calming.
The resolution not only comes with a map of projects to implement, but guidance on best practices for constructing bike lanes for all ages and abilities and requirement that the Traffic Control Manual for In-Street Work be updated to include guidance on safely rerouting bike traffic during temporary construction impacts to bike facilities.
The city council passed the resolution after mounting pressure by bike advocates to complete a minimum grid. Through the One Center City planning process, major new bike infrastructure along Fourth Avenue had been agreed to, but was pushed to 2021 over concerns around transit mobility.
Changes to the Private Bikeshare Permit Program
Seattle's private bikeshare program will become a permanent fixture in Seattle later this summer as the pilot effort graduates into a full-fledged program. The city council approved a narrower program from the one that SDOT sought earlier this month, but SDOT has been authorized to collect permit fees as part the private bikeshare program and retains authority to develop administrative rules to fully implement the program.
The resolution passed by the city council caps the private bikeshare program at 20,000 bikes and allows a further 1,000 alternative mobility devices like tricycles, handcycles, and tandem cycles designed for individuals with mobility challenges. Electric scooters, however, will not be allowed under the program for the time being.
Given the estimated $1 million annual program cost, SDOT sought approval for a permit fee structure that would create a self-sustaining program by charging $50 per bike or $250,000 per bikeshare company, which the city council granted. Under rules to be promulgated, SDOT intends to cap the number of bikes per company at 5,000 each, meaning that four companies will ideally compete in the Seattle market. In addition, each bikeshare company that applies to operate in the city will be subject to basic application review fees ($260 per hour) and permit issuance/renewal fees ($224/$170).
Of the $1 million slated for the private bikeshare program, $600,000 of the program cost will be for basic administration:
$370,0

00 for 1.5 temporary full-time employees per year;

$80,000 for program data collection and evaluation;
$50,000 to conduct compliance audits;
$50,000 to conduct public outreach; and
$50,000 for an adaptive bikeshare partnership.
A further $400,000 will be dedicated to capital investments for bike corrals, bike racks, and designated bike parking areas across the city.
SDOT will need to keep the city up to date on bike parking installation with quarterly reports on progress through the end of 2019. The department will also be responsible for developing a sidewalk management plan to address safety concerns of electrically-propelled devices on city sidewalks. The plan will be due by end of year. Lastly, the city council has directed SDOT to develop an enforcement plan so that vehicles owned by private bikeshare companies are not blocking access to disabled pedestrians on sidewalks.
Following the vote yesterday, China-based bikeshare company ofo officially announced that they would be exiting the Seattle market. The company has been shutting down operations across the country, but laid blame on the new permit program as being too costly to do business as their primary reason for leaving the city. The company had provided the cheapest rates for bikes among their competitors at $1 for up to one hour. However, their allegations of cost seem fairly hollow given mass layoffs within the company recently and decision to leave a limited presence in the American market.
LimeBike, however, appears to be winning the private bikeshare wars in the region with plans to roll out electric-assist bikes to Bellevue today and further expansion on the Eastside. "Seattleites embraced Lime the moment we launched," said Gabriel Scheer, Director for Strategic Development at LimeBike in a press release. "Since then, more than a third of city residents have had rides on our bicycles. We'll absolutely be applying for bikeshare permits when they become available next month, and plan to continue to serve this city and beyond with viable, accessible and affordable mobility options."
In the weeks ahead, SDOT will complete its administrative rulemaking process to establish new program requirements for private bikeshare, such as better coverage and availability of bikes, penalties for blocking curb space, and discounts for low-income individuals.
Columbia City Rezone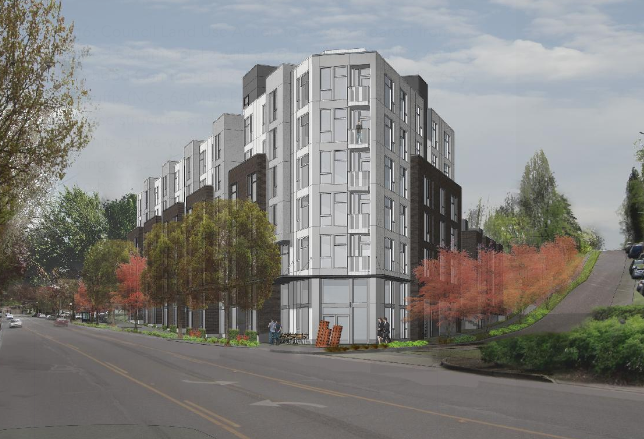 In Columbia City, a 24,000-square foot site located on Rainier Ave S (5201 Rainier Ave S) was rezoned to accommodate two floors of extra building height and additional building square footage. Zoning on the site will go from Neighborhood Commercial 2 with a 40-foot height limit (NC2-40) to Neighborhood Commercial 3 with a 65-foot height limit (NC3-65(M1)) and a M1 suffix, meaning heightened Mandatory Housing Affordability (MHA) requirements.
5201 Rainier, LLC, the applicant, has proposed construction of a six-story mixed-use building on Rainier Ave S with a three-story four-unit townhouse structure tucked behind on S Dawson St. The mixed-use building is planned to include 104 apartment units, three live-work units, and just over 1,600 square feet of ground floor retail space. Despite being on a frequent transit corridor and facing no parking requirement, the applicant intends to construct 52 parking spaces under ground. The site currently serves an automotive repair shop and used car dealer.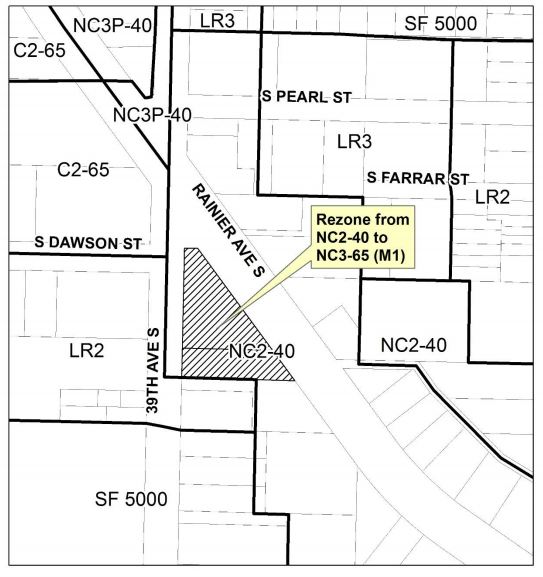 The rezone is an example of site-specific rezones implementing the MHA program. Given the scope of the proposed project, the applicant will be subject to affordable housing payments equal to $20 per square foot of residential space or setting aside 9% of the total dwelling units as affordable (the commercial square footage remains under the exemption thresholds). In this case, the applicant has indicated a desire to construct 10 affordable housing on-site, continuing an early trend seen with similar site-specific rezones with projects participating in the MHA program.
Delridge RapidRide Corridor
SDOT recently presented the 10% design concept for the RapidRide H Line planned on Delridge Way SW. Opening in 2020, the line would essentially replace the Route 120 and run from Downtown Seattle to Burien via West Seattle. As part of a budget proviso, SDOT was required to provide a check-in to the city council, which was given to the Sustainability and Transportation Committee earlier this month.
SDOT is touting a 10% travel time reduction for transit riders by implementing many of the basic elements common to RapidRide corridors (e.g., off-board fare payment, transit service priority, and semi- or fully-exclusive transit lanes). Right-of-way changes envisioned include:
More business access and transit and bus-only lanes;
In-street bike lanes, including some protected bike lanes;
New center lane turn pockets and medians; and
Additional pedestrian crossings.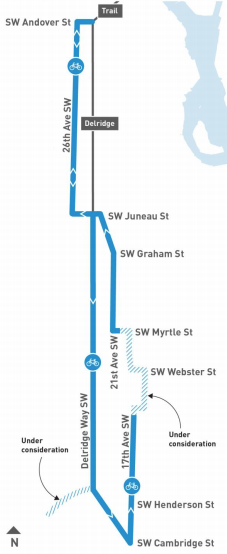 SDOT is trying to use multimodal approach to project design by including bike facilities and Neighborhood Greenways in the project scope. In some cases, those improvements would take place on nearby streets to Delridge Way SW or rely upon existing facilities instead of building new ones. The bike community has been insistent on pushing SDOT to more than has been proposed in the 10% design.
The project budget, however, is still under review (estimated at more than $40 million) and could lead to changes in project scope as the program moves into the 30% design phase. To save in project costs, SDOT hopes to partner with Seattle City Light and Seattle Public Utilities to cost share for lighting upgrade and utility replacement.
In passing a resolution to life the budget proviso on the $1.4 million for the 10% design, the city council replaced it with another proviso capping expenditures at $3.4 million to get the project to 30%. This is similar with a phased-gating approach used by Sound Transit in project design so that policymakers can thoroughly review and control development of a project. The city council issued some directives in the new proviso stipulating "a clear definition of the sidewalk and bicycle infrastructure improvements in the project scope" and requiring SDOT to come back to the Sustainability and Transportation Committee once a 30% design is reached. Under the terms of a grant, SDOT needs to get to 90% design by June 2019.
Surplus of Seattle City Light Property
In response to changes in state law that allow local governments and state agencies to surplus public land for public benefit purposes at reduced prices or free transfer, the city council approved new surplusing procedures for the city-run electricity provider, Seattle City Light (SCL). The electricity provider had been compelled by state law to sell property at fair market value, which meant that other city agencies like the Seattle Office of Housing often decided against acquiring property in very high cost areas.
The new procedures will require that SCL give priority to surplusing unneeded property to affordable housing uses first before any other use. The exact price for sale or transfer could be reduced and conditioned by SCL and subsequently approved by the city council. Properties intended to be surplused for affordable housing could be closed on over a longer period than typically idea by giving up to year for financial partners and affordable housing developers to obtain necessary funding commitments for a project.
With the change of city law, policymakers hope that key properties owned by the electricity provider will become available for much-needed affordable housing development.
Bikeshare Ridership is Up after a Weak Winter, Council Set to Approve Permanent Program

Stephen is a professional urban planner in Puget Sound with a passion for sustainable, livable, and diverse cities. He is especially interested in how policies, regulations, and programs can promote positive outcomes for communities. With stints in great cities like Bellingham and Cork, Stephen currently lives in Seattle. He primarily covers land use and transportation issues and has been with The Urbanist since 2014.