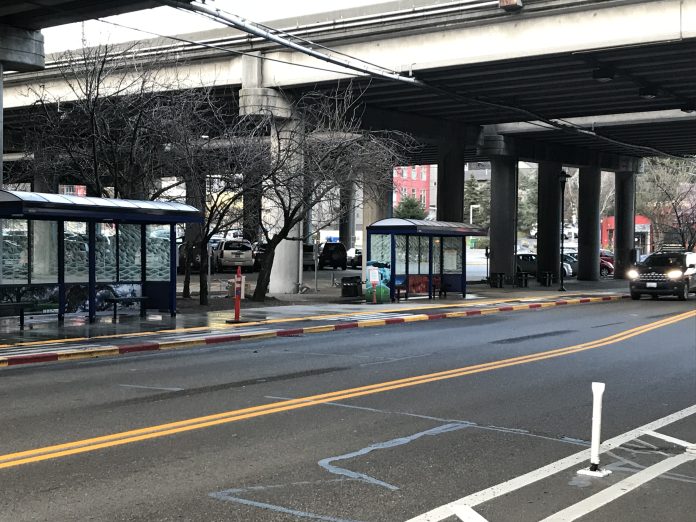 Green Lake and Roosevelt are at the heart of major new walking, biking, and transit infrastructure in North Seattle. The Seattle Department of Transportation (SDOT) recently rolled out improvements on NE 65th St and is poised add new improvements to NE 70th St in the coming months.
NE 65th Street Improvements
Responding to a "Fix 65th" campaign from safety advocates like Northeast Greenways and Cascade Bicycle Club, SDOT has rolled out improvements to NE 65th St by adding bike lanes and in-lane bus stop curb extensions. The bike lanes and in-lane bus stop curb extensions have been installed from NE Ravenna Blvd to 20th Ave NE.
The new bike lanes use a five-foot wide standard with green crossbike markings through intersections and buffers with flexible post delineators for semi-protection. The in-lane bus stop curb extensions differ from floating bus islands like those on Dexter Ave N and Roosevelt Way NE, but still provide a space for people biking to avoid crossing paths with buses in the street, although not so much for people exiting those buses.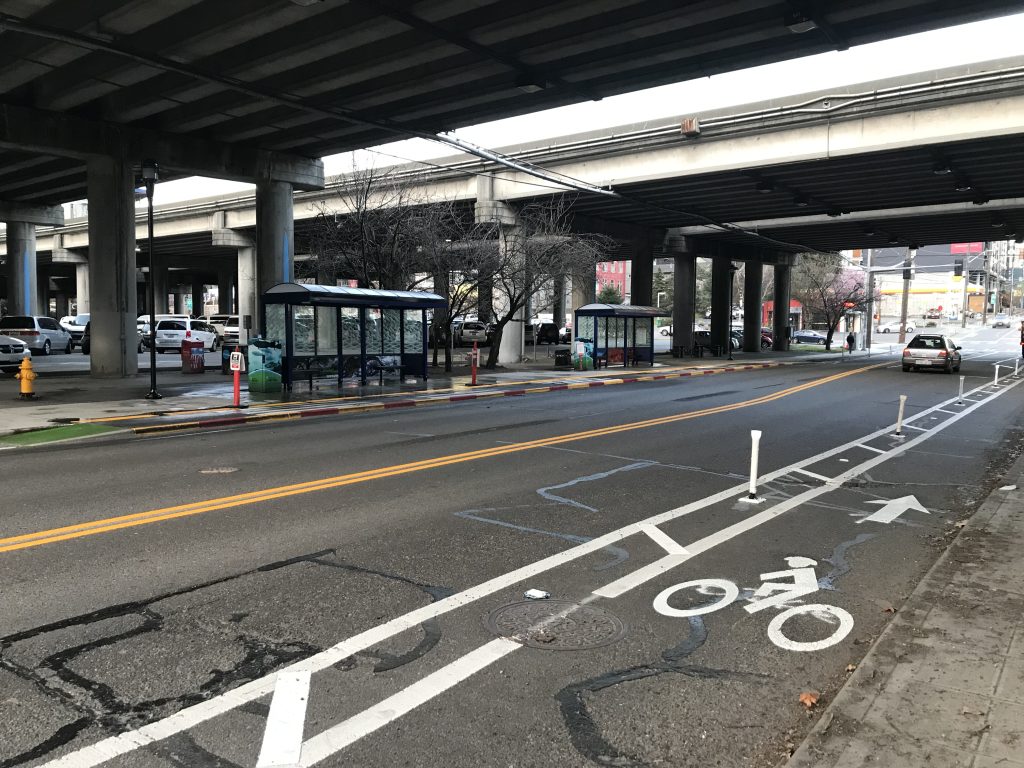 People on bikes approach the in-lane bus stop curb extensions with early warnings to slow as the lane ramps up to the level of the bus stop. Warning markings continue along the path which is shared with bus riders in a mixing zone. Riders are warned of this conflict with rumble strips meeting Americans with Disabilities Act standards.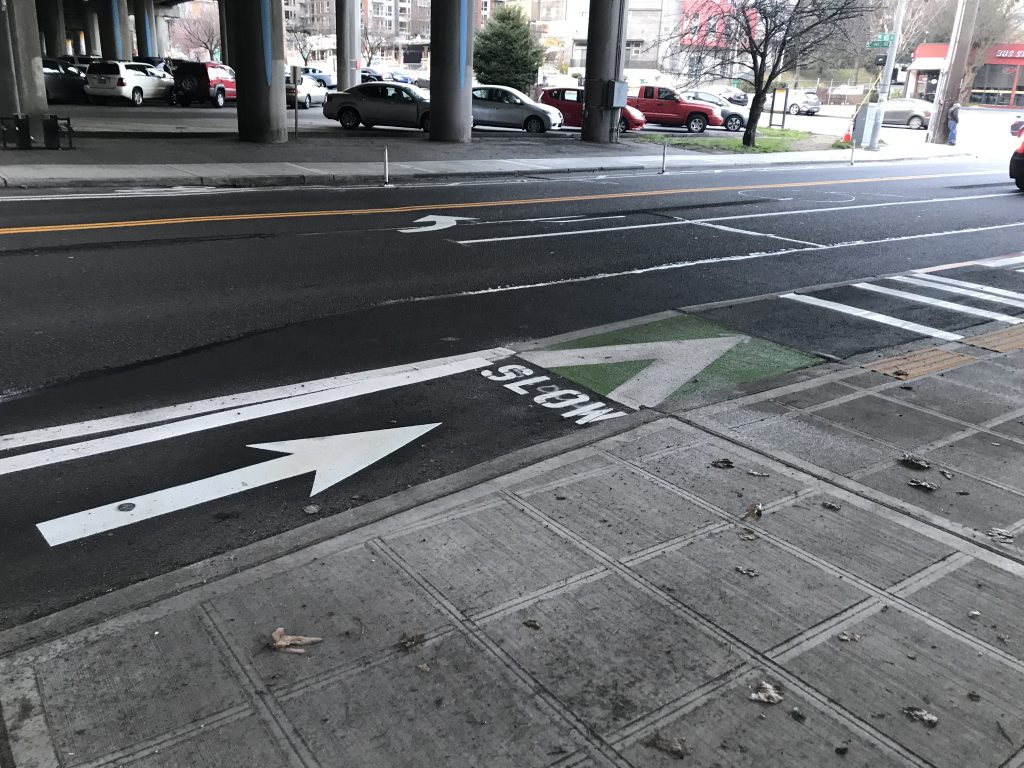 In the past, SDOT has put bike lanes behind floating bus island stops to reduce conflicts with riders boarding. But the department said the circumstances for NE 65th St made meeting the demands of all street users difficult and ultimately led to the compromise solution implemented. It will be interesting to see how this performs in the years ahead.
While the redesign is a step up, more could be done and the opening of Roosevelt Station will put it to the test, stimulating more bike and pedestrian traffic in the area. Some Fix 65th advocates had pressed for safer crossings at dangerous intersections–for example "No Turn on Red" at the hazardous 20th Ave NE intersection. It will also remain for another project to extend the protected bike lanes west of 20th Ave NE.
NE 70th Street Improvements
A key corridor connecting Roosevelt and Green Lake will soon receive several pedestrian and bicycle improvements. The corridor is NE 70th Street, which crosses I-5 and stretches from 6th Ave NE and 12th Ave NE. SDOT selected the project for design in 2016 through the Neighborhood Street Fund program and began construction last fall.
The project adds a new painted walkway on the north side of the NE 70th Street overpass as it crosses the interstate. The south side of the street already has similar painting, which helps trim down the general travel lane widths. The overpass also partially has bike lanes in both directions on the western half and a raised sidewalk on the south side. SDOT plans to install marked bike lanes on the overpass in both directions using a five-foot standard. Flexible post delineators will be paired with the bike lanes to added some measure of safety for people on bike with the south side of the street getting a buffered area from traffic.
A new bike lane will be further extended on the south side of the street using the same standard between 8th Ave NE and 12th Ave NE. To make room for these changes, on-street parking will be removed entirely between Roosevelt Way NE and 12th Ave NE and on the south side of the street between 8th Ave NE and Roosevelt Way NE. East of 12th Ave NE, the corridor turns into a greenway with chicanes.

To improve overall safety at key intersections, SDOT plans to install all-way stops at NE 71st St and 6th Ave NE as well as NE 70th St and 8th Ave NE. Speeds along the corridor tend to be high as motorists maneuver to and from the interstate cut through neighborhoods to go crosstown. Curb bulbs, new marked crosswalks, and lighting standards will also be installed at these intersections to reinforce safety and lower speeds.
This project is important because the corridor helps connect people between urban villages, commercial areas, schools, parks, and the Green Lake Branch Library.
Other Nearby Improvements
Not far from the NE 65th St improvements, SDOT installed a community pavement park and painted curb. This was done at the request of the Roosevelt Neighborhood Association, which led the design effort. The pavement park has fully closed a portion of Weedin Place NE between NE 65th St and NE 66th St.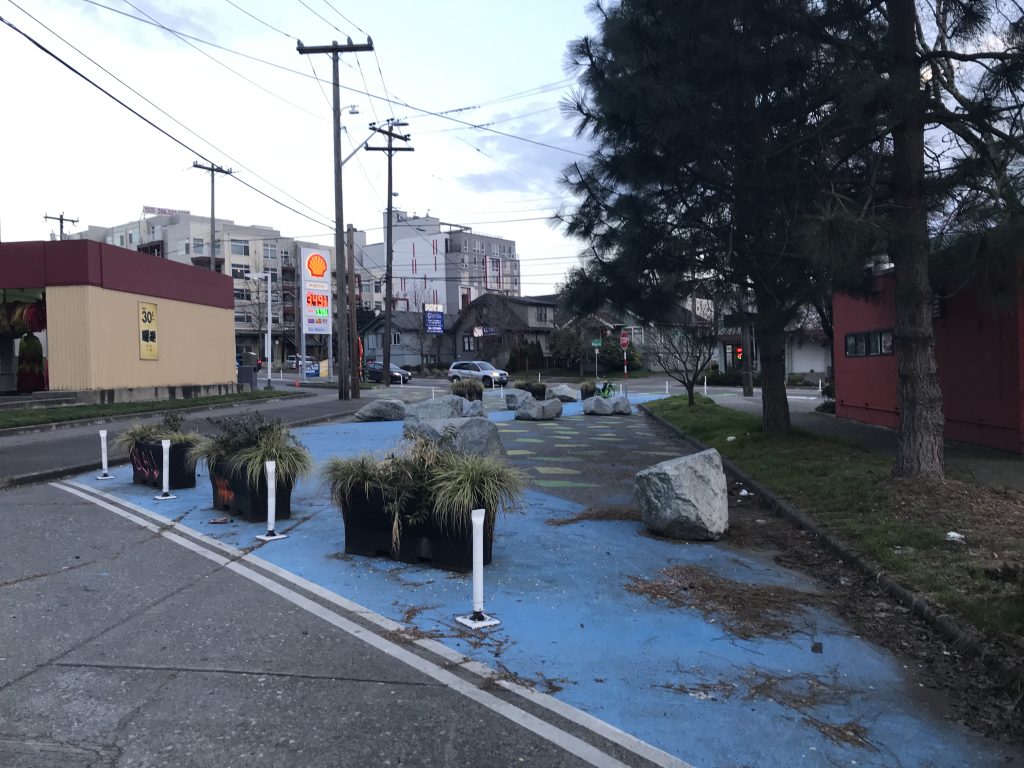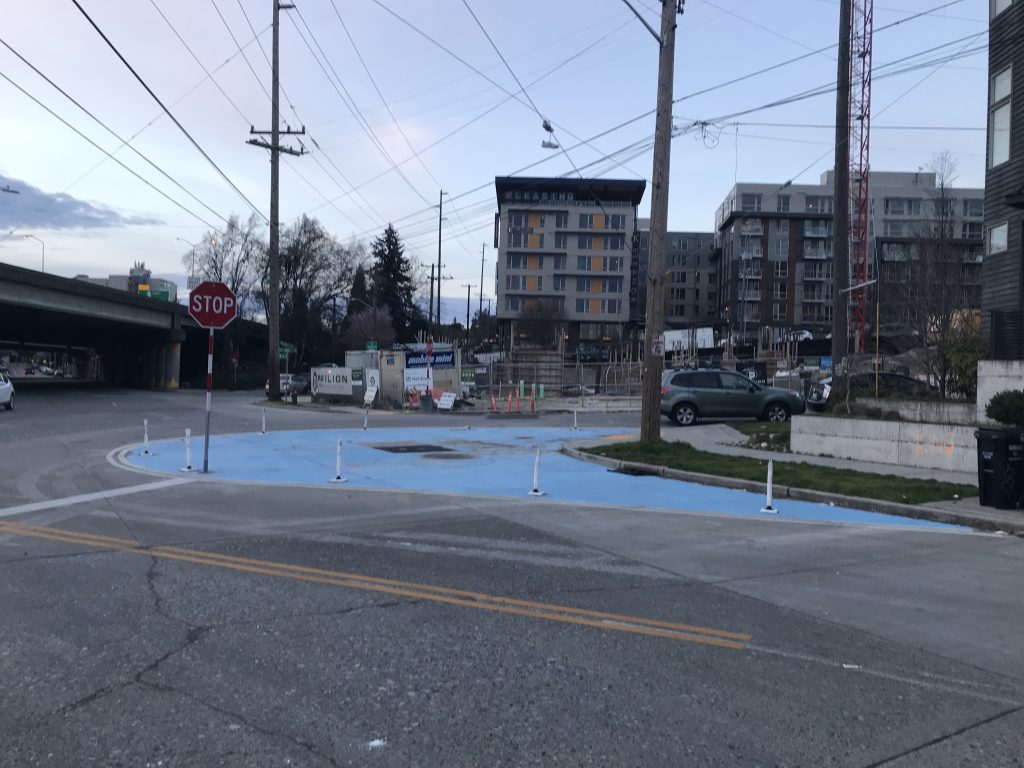 In recent years, SDOT has also added–albeit often belatedly–a mix pedestrian, bicycle, and safety improvements like bike lanes, crosswalks, curb ramps, curb bulbs, and transit facilities on 15th Ave NE, NE Ravenna Blvd, Roosevelt Way NE, and Banner Way NE. On deck are a variety of bike and pedestrian projects along Stone Way N and East Green Lake Way N in Green Lake and Wallingford. Regrettably, bike lanes on 35th Ave NE in Ravenna and Wedgwood will not join the fold any time soon.

Stephen is a professional urban planner in Puget Sound with a passion for sustainable, livable, and diverse cities. He is especially interested in how policies, regulations, and programs can promote positive outcomes for communities. With stints in great cities like Bellingham and Cork, Stephen currently lives in Seattle. He primarily covers land use and transportation issues and has been with The Urbanist since 2014.