This month as part of Seattle Affordable Housing Week we are featuring members of the Seattle Renters' Commission as our guest speakers. The Seattle City Council created the 15-member renters' commission in 2017 to advise the Mayor and council on issues and policies of importance to renters citywide.
In this role they recently urged Seattle City Council and Mayor Durkan to affirm their support of a repeal of the statewide rent control ban and once state ban is lifted, pass an ordinance to implement rent control in Seattle. They have also requested the council to require 180-day notice for rent increases. And that is just the beginning. Come learn about these and other ideas they have to protect renters in our city. They will be discussing the work they do and taking your questions.
We will once again be meeting at the Panama Hotel Coffee and Tea House in the Chinatown-International District–a cool independent cafe in a wonderful historic building in one of Seattle's great urban neighborhoods. They have coffee, tea, beer, wine, and food available. You can find us in the lower room, and our guest speaker starts at 6:30pm. We hope you can join us!
More information about all the Affordable Housing Week and a calendar of events can be found here. Each day has a handful of events. Today's run the gambit from lecture on building community to a tour of the new Liberty Bank Building in the Central District.
A sharable Facebook event and optional registration for our monthly meetup can be found here.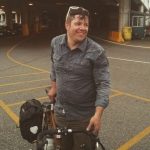 Patrick grew up across the Puget Sound from Seattle and use to skip school to come hang out in the city. He is an designer at a small architecture firm with a strong focus on urban infill housing. He is passionate about design, housing affordability, biking, and what makes cities so magical. He works to advocate for abundant and diverse housing options and for a city that is a joy for people on bikes and foot. He lives in the Othello neighborhood with his fiance and kitty.