Meet Veemo, an electric assist vehicle that advertises itself as "bike share meets car share." From a legal and technical standpoint, Veemo is an electric assist tricycle, or e-trike, but Veemo also includes an enclosure to shield riders from the elements that makes it resemble the tiny car super nerd Steve Urkel drove around in the classic 90's sitcom Family Matters.
Veemo is part of a new generation of velomobiles, or bike cars, that are creeping up in popularity as people have grown increasing concerned about the significant impact of car emissions on global warming.
Currently available as a shared vehicle on the University of British Columbia (UBC) campus in Vancouver, BC, the Veemo velomobile is just one example of the new wave of small electric powered vehicles the City of Seattle is preparing to see enter its streets in coming years.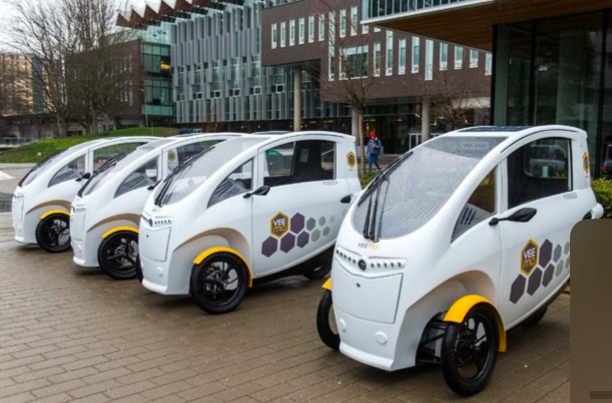 The Emerald City has already had its fair share of emerging transportation technologies hit its hilly and congested streets. Seattle was an early playground for carshare and rideshare, but Mayor Jenny Durkan's hesitancy on e-scooter share has made the city a late arrival to the scooting phenomena that shaken up car-centric cities like Dallas, which already has four dockless e-scooter share companies operating within its city limits. Seattle has the largest dockless bikeshare fleet in the country making it one of the few places in the US where dockless bikeshare has actually flourished.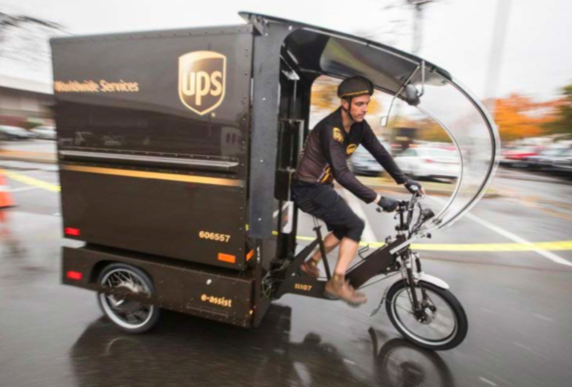 With even UPS already using a fleet of e-cargo bikes to deliver packages across the city, time actually might be running short for Seattle to prepare for emerging mobility options. Last year, the City Council passed a statement of legislative intent requiring that SDOT generate a report of about emerging forms of mobility. That report was published recently and provides a survey of new mobility options the City envisions arriving on Seattle's streets in the next three to five years. It also includes an evaluation of other cities' efforts to address these emerging forms of mobility and strategies for how to integrate them into the transportation network in a "safe and sustainable manner."

Rethinking the right-of-way
During SDOT's recent presentation on emerging technology and mobility, Councilmember Mike O'Brien likened the bike lanes and other safety improvements already made to streets as a potential "warm up" for a coming sea change in transportation as more emerging forms of mobility like Veemo hit the streets.
"We want to build from the successes of the past, but also move swiftly," O'Brien said.
Referencing how the popularity of e-scooters has captured the public's imagination, O'Brien stated that if 10% to 15% of travelers adopt new transportation technologies, the City will be required to make substantial changes to the distribution of right-of-way on city streets. Currently the default for many of these technologies, which typically do not reach speeds over 25 mph, is to be steered toward sidewalks or bike lanes, presenting complications for current users, particularly members of the disability community, and placing further stress on infrastructure that may already be inadequate to safely accommodate travelers' needs.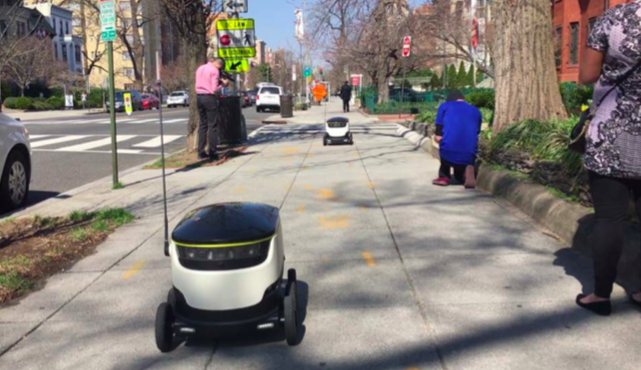 Additionally, automated devices like personal delivery devices and transit pods are poised to present further challenges to the right-of-way landscape. Future pedestrians may be have to steer clear of bots as often as cars. Hundreds of personal delivery devices are currently being tested in the UK city of Milton Keynes outside of London.
Because of the diversity of these technologies, the process of decided where and how to include them in right-of-way will be far more complicated than selecting which corridor functions best as a bike lane. Future transportation planners will have reckon with multiple different types of transportation devices. Anyone who has had to leap out of the way of an e-skateboard on the sidewalk or avoid a near crash with a Class 3 e-bike powering through a bike lane, knows firsthand how challenging and stressful it can be to encounter an unexpected form of mobility.

What are some of the new modes of transportation Seattle could see on its streets?
The emerging forms of mobility analyzed in the SDOT report include many of the standards, like e-bikes, e-scooters, and e-skateboards. The report did not take into consideration car-sharing, ride- hailing, or micro-transit, all of which are currently operating on Seattle's streets, although micro-transit in the form of Via, which transports riders to transit in parts of south Seattle and Tukwila, is still quite new. Aerial drones, which operate in air-space, but not right-of-way, were also excluded from the report.
Among the potentially most disruptive technologies analyzed were velomobiles, like Veemo, and automated transit pods, which can be used for both delivery and transportation purposes.
E-trikes and velomobiles present potential advantages over e-bikes and traditional bicycles because they can be more readily used by people who cannot use a traditional bicycle. In addition, some models provide shelter from the elements, while also being faster and safer to operate on city streets. Newer models run on electricity instead of gasoline or diesel, meaning a much smaller carbon footprint in a hydro-powered city like Seattle.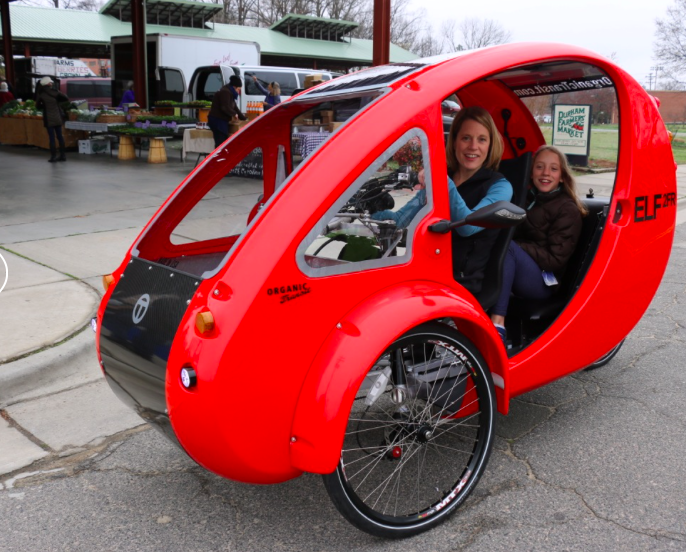 But despite making gains in recent years, velomobiles are still largely used by hobbyists and unknown to the general public. Sometimes baffled law enforcement officers don't even know what velomobiles are, resulting in major hassles for riders.
With the media headlines swirling around automated vehicles like Google's self driving car, automated transit pods may be a bit more familiar to the general public, but even so, transit pods have specific features that make them different than other automated vehicles.
For one thing, they are slow–transit pods are designed to travel at speeds of 25 mph or lower. Like personal delivery devices, some may be used to deliver goods while others are intended to transport people, typically as circulators.
In Denver, a transit pod circulator is being used at the International Airport to transport people from both nearby park and ride and transit stops. The pilot will be free for riders for the first four to six months and is part of the city's Panasonic smart city campus adjacent to the airport.
Future challenges for Seattle
When compared to many other US cities, questions about how to manage right-of-way are trickier to solve in Seattle. Relatively narrow street result in competition in its three defined areas: travel way, flex zone, and pedestrian zone.
Officially in Seattle's Comprehensive plan there is no formal guidance about how to prioritize between traditional modes of mobility like cars, transit, pedestrians, bicycles and freight. However, anyone who has seen how difficult it can be to negotiate a new bike lane or transit only lane is aware of the fact that right of way is heavily dominated by car traffic.
But if a substantial portion of traffic shifts to emerging mobility modes, SDOT will be forced to rethink the distribution of right-of-way as the agency acknowledges in its report:
To realize the potential benefits of emerging mobility devices and minimize negative impacts, however, we must consider right-of-way management more holistically—from allocation of ROW, to curb and sidewalk management, to street design and enforcement—not only for mobility but also in consideration of other essential functions in the right-of-way.

For activists who have fought hard for safer infrastructure for pedestrians, bicyclists, and wheelchair users, it could be a bit disheartening to learn that SDOT is seriously considering creating low intensity travel lanes or other methods for integrating emerging mobility technologies while so much of the city lacks bike facilities or even sidewalks.
At the same time, if these emerging mobility options can provide the last mile solutions needed to get a substantial number people out of their cars who are not currently walking or biking, they could become powerful tools for decreasing carbon emissions.
A well-known set of photographs of 5th Avenue in New York City illustrates how quickly cars came to dominate the city's streets. The first photograph, taken in 1900, shows a single car amid a street full of horse drawn buggies, while the second, taken in 1913, is completely devoid of horses period.
These photographs are often used as an example of quickly transportation can change. Councilmember O'Brien referenced these photographs when making the case for how quickly the transportation and right-of-way landscape could change. Such a dramatic potential shift invites a lot of questions, many of which are welcome for those who feel that right-of-way in Seattle is unfairly monopolized by car traffic.

"I would say that the existing distribution [of right-of-way] is not meeting our needs from a climate perspective, from a mobility perspective, equity perspective, but changing is not an easy thing to do," O'Brien said. "We are capable of these transitions, but it is challenging."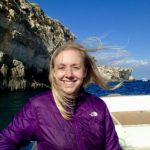 Natalie Bicknell Argerious (she/her) is a freelance reporter and podcast host at The Urbanist. She previously served as managing editor. A passionate urban explorer since childhood, she loves learning how to make cities more inclusive, vibrant, and environmentally resilient. You can often find her wandering around Seattle's Central District and Capitol Hill with her dogs and cat. Email her at natalie [at] theurbanist [dot] org.