With the opening of the Northgate Link extension in 2021, King County Metro is kicking off a bus-to-Link service restructure process. The transit agency wants to make bus connections to three new light rail stations in the University District, Roosevelt, and Northgate seamless for transit riders.
"Our work to integrate light rail and bus service is paying dividends, making our region a national leader in ridership growth," said King County Executive Dow Constantine. "As we prepare to open three new light rail stations for the Northgate Link Extension, we are reaching out to customers to learn how we can make transit service more equitable and improve the customer experience for those who rely on transit the most."
During peak hours, light rail will serve the northend stations every four to six minutes, offering a very high frequency experience and low time penalty for bus-to-Link transfers. The restructure process could affect some 31 different bus routes, including routes operating throughout North Seattle, Downtown Seattle, Westlake and Eastlake, and South Lake Union as well as Shoreline, Kenmore, Lake Forest Park, and Bothell.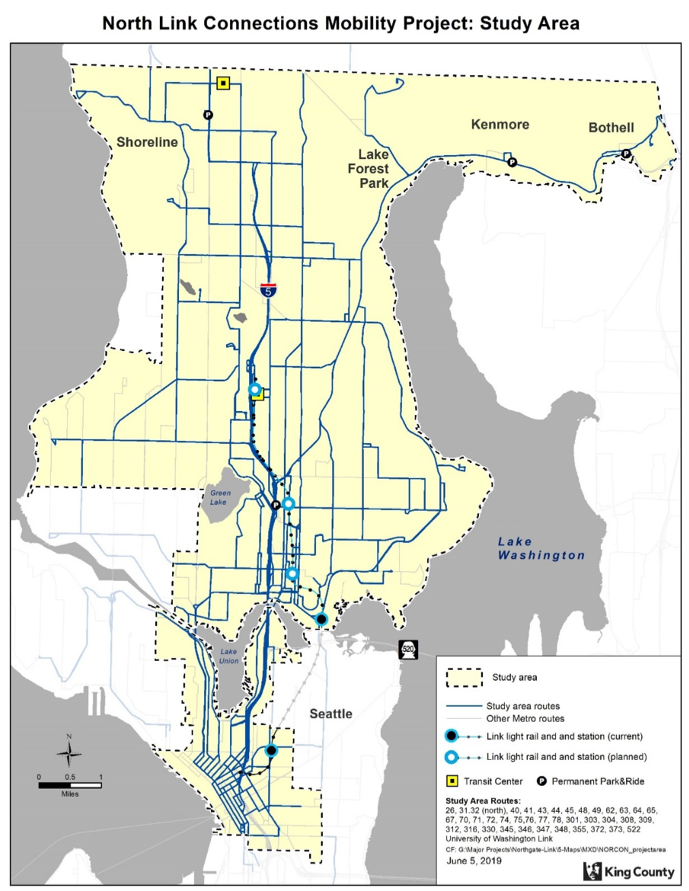 The list of possible affected routes is a numeric pantheon, including Routes 26, 31, 32, 41, 45, 62, 63, 64, 65, 67, 71, 73, 74, 75, 76, 77, 78, 301, 303, 304, 308, 309, 312, 316, 330, 345, 346, 348, 355, 372, and 373. Other routes could also fall within the restructure effort, even for small adjustments.
Metro is primarily coordinating the restructure effort with Sound Transit, Seattle Department of Transportation, and University of Washington. However, the transit agency wants community feedback to guide the decision-making process in restructuring the bus network. Like the last major bus-to-Link restructure process, Metro is commissioning a community sounding board. Board members are desired from the affected restructure areas to provide input on service concepts and engage with the locally affected communities. Members will be compensated for their time, up to $75 per hour and covered childcare.
Metro is already taking online feedback about what considerations should be made in the restructure planning process. An interactive tool is available where riders can drop pins and lines to suggest service improvements, highlight what does and does not work for existing routes, desired connections, and barriers to access.
The last bus-to-Link restructure effort was significantly trimmed down with many cross-lake routes being dropped from the restructure plan. However, many North Seattle routes were adjusted to funnel toward the University of Washington Station. That led to some oddly spaghetti route loops and broken service. Much of the problems in that restructure were the result of the geographic location of the light rail station and construction on SR-520. (A separate Eastside restructure planning process is currently underway.)
This new restructure effort, however, has three very centrally located stations. That means service adjustments could be much more straightforward. The light rail extension triggering this restructure stretches another 4.3 miles northward, making trips south on light rail even more competitive over bus. Route 41, for instance, operates on a large chunk of its service on I-5. That portion of the route will almost certainly be deleted since a transfer to Link at Northgate would be quicker at virtually all hours of the day given traffic congestion on I-5.
Many routes could be reoriented to thread together east-west service at the three light rail stations instead of the prevailing network design that draws routes north-south. For many riders, this could be a boon in a Seattle and other communities where east-west corridors are minimal north of the Ship Canal. Riders could end up reaching neighborhoods by transit conveniently.
Saved service hours by deleting north-south segments could be used in increasing frequency on other corridors north of the Ship Canal, too, or invested in new routes, coverage, and span of service. Often times, routes heading to and from Downtown Seattle spend enormous amounts of time stuck in clogged traffic (which could be partially cut down if the city gave buses priority on more choked corridors). The new paradigm will mean fewer traffic-choked buses, saving even more service hours and reducing the number of buses on downtown streets.
One-seat bus rides to and from Downtown Seattle are not necessarily an efficient means of moving people. Oftentimes, buses empty quickly downtown as they approach Pike/Pine and likewise have very low ridership toward their tails north of the Ship Canal. Light rail's function as the north-south spine can do much of the heavy lifting, increasing connecting bus route productivity and driving much more ridership with an efficient and frequent network.
Extensive work has already gone into community planning for the University District and Northgate light rail stations in particular. Both stations will be vital transfers points in their own right. Northgate Station could continue to serve many buses as a main terminal while the University District's station access situation could mean moving routes off of NE 45th St, 15th Ave NE, NE Campus Parkway, and University Way NE to be more directly served. The Roosevelt light rail station seems poised to be primarily served by pass-by service on nearby streets.
Metro plans to finalize a service restructure recommendation in summer 2020, which would then be transmitted to the King County Council for consideration, possible refinement, and adoption. A final restructure could go into effect in March 2021 or September 2021, depending upon when light rail service to Northgate launches. The latest agency progress report by Sound Transit indicates that the construction process is well ahead of schedule with completion of physical work possible as soon as end of year or early next year.

Stephen is a professional urban planner in Puget Sound with a passion for sustainable, livable, and diverse cities. He is especially interested in how policies, regulations, and programs can promote positive outcomes for communities. With stints in great cities like Bellingham and Cork, Stephen currently lives in Seattle. He primarily covers land use and transportation issues and has been with The Urbanist since 2014.