2019 is shaping up to be a significant year in the history of residential zoning in Seattle, and despite the dramas that accompanied the passage of "citywide" implementation of Mandatory Housing Affordability (MHA) and backyard cottage reform, hang on to your seat, because the most exciting times for land use reform in Seattle might be to come.
In the very near future the City will decide which eligible land use actions to opt into under the recently passed Washington House Bill (HB) 1923. Some of these eligible land use actions, such as allowing duplexes, triplexes, and quadplexes in detached housing zones, could be a significant impact to residential zoning across Seattle.
But in order to take a bold stance on zoning reform, the Seattle City Council will need as much support from the public as it can get.
That's why if you can, you should testify in favor of SEPA reform at the Planning, Land Use, and Zoning Committee meeting on September 4th. Because HB 1923 provides SEPA (State Environmental Policy Act) safe harbor for eligible land use actions, the City has some steps to complete regarding changes to SEPA before it can opt into land use actions under HB 1923.
Members of the crowd that has used or, depending on your viewpoint, abused SEPA lawsuits in the past to slow down MHA implementation, backyard cottage reform, and individual projects, such as affordable housing at Fort Lawton, have already come out to voice dissent against pending SEPA changes. It's important that supporters come out in force too.
However, if heading over to the City Council Chamber for a 9:30am meeting is not something you can squeeze into your Wednesday agenda, there are still other two immediate actions you can undertake to express your support for zoning changes in Seattle.
First, you can take a minute to email Councilmembers Abel Pacheco and Mike O'Brien to thank them for their leadership in pushing SEPA reform ahead and advocate that Seattle opt into bolder land use actions under HB 1923. Then you can head over to the City's new Housing Choices website and take five to ten minutes to complete a survey on the initiative.
What is Housing Choices?
According to the City's website, Housing Choices is an initiative "to create more market-rate housing options, in more places, for more people." At this point actual details around Housing Choices are hazy, but what's important is that housing actions listed under the banner of the Housing Choices initiative are highly compatible with land use actions the City can opt into under HB 1923 that can receive SEPA safe harbor.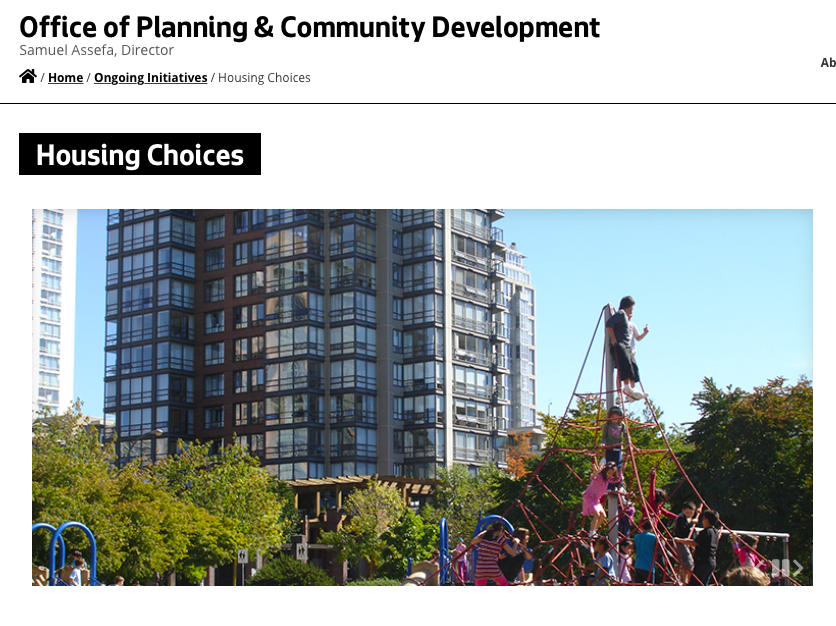 As mentioned earlier, under HB 1923 cities can authorize zoning changes to permit duplexes, triplexes, and courtyard apartments in single-family (detached housing) zoned areas. Well, Housing Choices proposes allowing townhouse, duplexes, triplexes, and cottage housing in more zones and simplifying the rules for smaller projects. Paired together, these zoning and rule changes could be transformative for the City's detached housing zones.
Other ideas floated under Housing Choices include:
Making permitting faster and predictable. Establishing clearer permitting requirements and reducing review times could reduce the cost of construction, particularly for small-scale and lower-cost projects.
Allowing more small apartment units with shared kitchens and common space in more places. The City could allow smaller apartments with shared common space in more areas of the city that have great access to jobs, transit, and amenities.
Encouraging more family-friendly and age-friendly units in multifamily developments in more locations.People in different stages of life have different needs for housing, particularly families with children and older adults. Developing more housing that specifically supports these needs, including larger apartments, co-housing, and one-story flats, could allow more people in these stages of life to find housing options that work for them.
Supporting the development of more accessible housing units. Financial or zoning incentives to retrofit existing units or build new accessible units might help increase the number and types of accessible units that are available.
Strengthening tools to reduce the impact of displacement. Improving tools, such as the Tenant Relocation Assistance program, that help those affected by direct displacement due to the demolitions of existing housing could help reduce the impacts of increasing housing demand.
Exploring ownership and financial models to help residents create new housing while continuing to live on their property. Tools, such as low-cost loans, standard plans, or technical support, could help people add housing units to their property while also continuing to live there. These models could allow people struggling with housing costs to remain in place.
Seattle still needs to do more to address its affordable housing crisis
Despite recent headlines on falling house prices in The Seattle Times and KOMO news, Seattle's housing crisis does not appear to be winding down anytime soon. And as long as so many Seattleites struggle to pay their rents and mortgages, homelessness and displacement will continue to be chronic problems throughout the city and region.

So if you find yourself thinking that perhaps implementation of MHA and backyard cottage reform might be enough to ease affordable housing woes, take a moment register some shocking statistics from the Housing Choices background report.

Remember those "Ballard Welcomes Our New Condo Overlords" bumper stickers that were so stick-a-knife in your gut funny back in 2008? Well it seems like we may have wanted to be a bit more welcoming to the condo set during the last decade—and not just in Ballard. In 2018, Seattle had some of the lowest numbers of condos sales in the country. Only 19% of home sales were listed as condos in Seattle, a number that is significant lower than in comparable cities.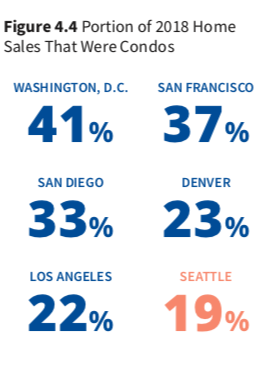 Despite the current stereotype of the million-dollar condo sitting empty, condos, even those built after 2008 offer considerable cost savings for Seattle home buyers. Even the much maligned townhomes are almost a steal when compared to the price of a detached house. The average price of detached houses rose by 67% between 2008 and 2011, meaning prospective home buyers need an annual income of roughly $200,000 to afford the average detached house in Seattle.

And of course renters have not gotten off any easier. To help humanize how the affordable housing crisis has impacted renters, the City of Seattle created an infographic showing how occupations, incomes, and rental costs shake out.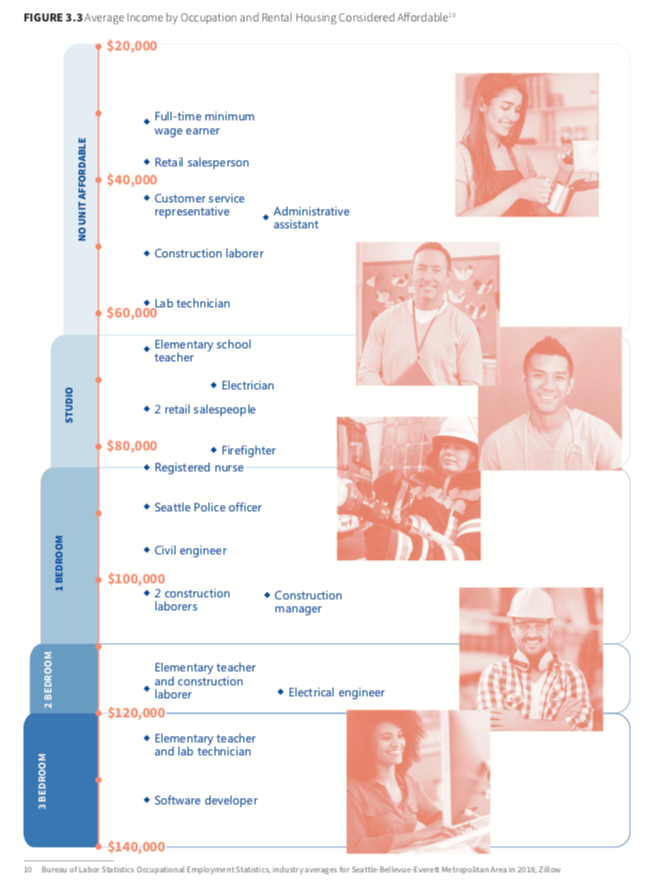 Of particular significance is the category at top of the graphic, which encompasses workers earning up to $60,000 a year. For those workers living alone or with dependents, no average market rate housing in Seattle is affordable.
The Housing Choices Background Report lays out the role that racism played in determining the characteristic features of Seattle's housing market. Racially-restrictive covenants and redlining minority neighborhoods to deny them mortgages are a part of that history. The report stops short of acknowledging that Seattle is built on land stolen from the Duwamish people, but does note that White policymakers initially banned indigenous people from living on land they had seized and forced minorities to reside in limited areas of the city, such as the Central District and the International District. Importantly, the report stresses that racial exclusion continues to this day:
This context is not just a feature of our past. Today's zoning regulations requiring minimum lot sizes and prohibiting denser housing types also perpetuate racial and economic segregation. Before the introduction of zoning laws, Seattle had no restrictions on where different types of homes could be located. Apartment buildings, flats, and boarding houses were allowed citywide. In the 1920s, Seattle adopted its first zoning ordinance, assisted by Harland Bartholomew, a St. Louis planner who in 1919 said his goal for that city's zoning plan was to "preserve the more desirable residential neighborhoods" and to prevent movement into "finer residential districts … by colored people." Adopted in 1923, Seattle's first zoning ordinance outlawed multi-unit structures in much of the city and introduced areas reserved exclusively for detached houses. Over time, subsequent planning increased the extent of single-family zoning in Seattle. While recent efforts like the implementation of Mandatory Housing Affordability have started to change this situation, most Seattle land zoned for housing allows only detached houses unaffordable to the majority of our region's households. Single-family zoning and limits on density encourage large, expensive homes and result in housing scarcity that drives up prices overall. This creates a very high financial bar for entry into many Seattle neighborhoods and disproportionately limits housing access for low-income households and people of color.

Housing Choices Background Report, Seattle Office of Planning and Community Development
So what's the solution?
It is interesting then that Housing Choices, which is focused on building more market-rate housing options, is identified on the initiative's website as a "key element of Mayor Durkan's effort to build more housing for low- and middle-income earners."
While many people would certainly welcome greater diversity in housing choices, it's difficult to envision how the City can create policies that will ensure that such new market rate housing will be available at "various price points," when even the median price point for condominiums cashes in at 169% of area median income for a household of two.
As it stands, it's hard to imagine the market creating enough housing to bring down costs enough to serve low-income households. So if affordability is a major concern for you, make sure to use your responses to open ended questions on the survey to voice your affordable housing concerns.
An end date for the Housing Choices survey has not yet been published; however, the City website states that it will use the information collected from the survey and other other public engagement to create recommendations for improving housing choices that will be released to the public in early 2020.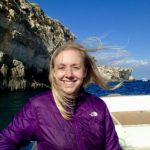 Natalie Bicknell Argerious (she/her) is Managing Editor at The Urbanist. A passionate urban explorer since childhood, she loves learning how to make cities more inclusive, vibrant, and environmentally resilient. You can often find her wandering around Seattle's Central District and Capitol Hill with her dogs and cat. Email her at natalie [at] theurbanist [dot] org.