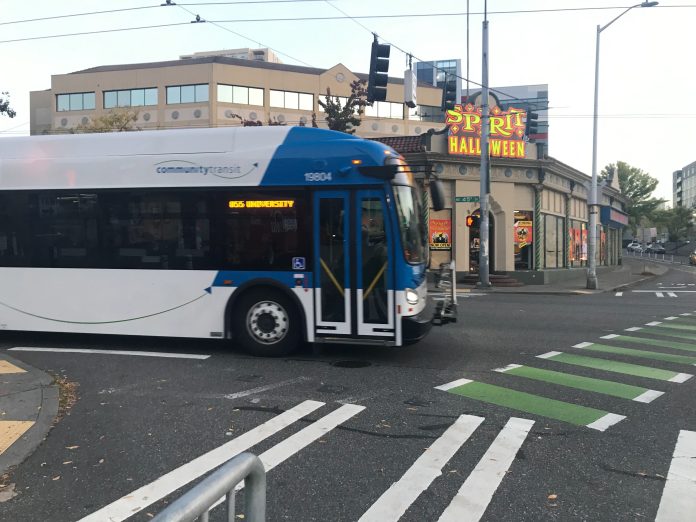 In less than two years, the Northgate Link light rail extension will open creating a significant opportunity to connect existing bus routes with a frequent light rail option. Community Transit, in conjunction with Sound Transit, are proposing a realignment of commuter and regional bus service operating between Snohomish County and Seattle with an eye toward Northgate in 2021, at least until the Lynnwood Link extension opens in 2024. About a dozen different bus routes would be trimmed back to terminate at Northgate rather than run all the way to their current terminals in Downtown Seattle and University District via I-5. Community Transit and Sound Transit are soliciting feedback before finalizing any changes.
The proposal would affect the the 510 series and 800 series routes. Specifically, Community Transit and Sound Transit are proposing to terminate Routes 510, 511, 512, 513, 810, 821, 855, 860, 871, and 880 at Northgate. The benefit is that travel times should often be reduced and reliability of buses should greatly improve. The stretch of I-5 south of Northgate is notoriously unpredictable for congestion, often stranding buses in stopped lanes. The saved service hours will allow the transit agencies to invest in more frequent service, too.
Martin Manguia, communications manager for Community Transit, said that the 800 series was specifically chosen for truncation at Northgate "because those routes cannot travel on the southbound I-5 express lanes in the morning (no UW outlet)." He added, "This makes the entire southbound commute even less reliable than downtown service."
Community Transit is targeting more midday, evening, and weekend service for the 510 series and more midday and evening service on the 800 series. Riders, however, will need to make transfers to light rail to complete their journeys. Travel times on light rail to the University District are anticipated to be six minutes from Northgate; Downtown Seattle is projected to take 14 minutes from Northgate.
The typical time penalty (not inclusive of walking time) will differ between whether a rider swaps from a bus to light rail or light rail to bus. Community Transit and Sound Transit estimate that transfers from bus to light rail will range from three to seven minutes while transfers from light rail to bus will range from three to fifteen minutes.
Community Transit also operates the 400 series from select locations in Snohomish County to Downtown Seattle. Those routes are not planned to be modified, including their service levels. Some of those routes serve unique locations in Downtown Seattle that are not readily accessible by light rail and would require an additional transfer.
Manguia also highlighted several other reasons as to why the 400 series will remain unchanged. "Because Sound Transit is considering taking its 510 series buses out of Seattle, we decided to keep a direct bus ride option for Seattle-bound riders," he said. "In 2024, all Snohomish County bus riders will be connecting to Link at Lynnwood or Mountlake Terrace, so we want to give them a choice for a few years. Another consideration is that there is only so much bus space at Northgate station, so it was never really an option to run all Snohomish County buses there."

King County Metro is expected to propose its own set of bus-to-Link connections for Northgate this coming January. That could result in a notable restructuring of North Seattle, Shoreline, and North Lake Washington bus routes. Major routes that could be altered include Routes 26, 31, 32, 41, 62, 65, 67, 330, 345, 346, 348, and 372 and a multitude of express routes. Sound Transit may also consider changes to Route 522. Metro already sought initial feedback on community priorities for a service restructure this summer. For now, riders can weigh in on the 800 series and 510 series proposals through an online survey.

Stephen is a professional urban planner in Puget Sound with a passion for sustainable, livable, and diverse cities. He is especially interested in how policies, regulations, and programs can promote positive outcomes for communities. With stints in great cities like Bellingham and Cork, Stephen currently lives in Seattle. He primarily covers land use and transportation issues and has been with The Urbanist since 2014.