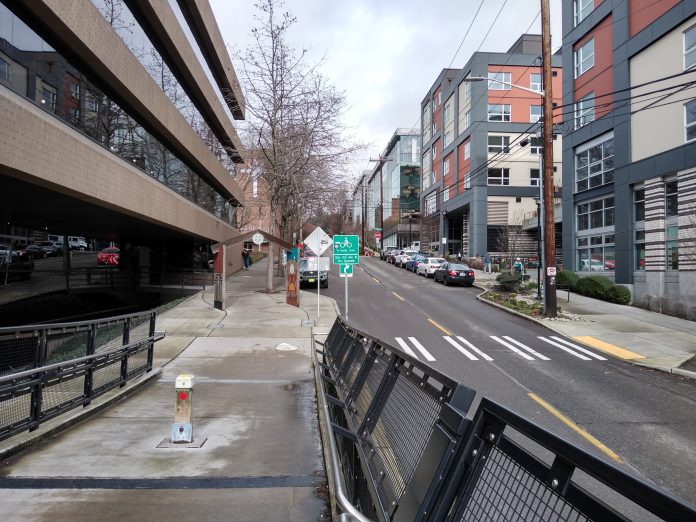 It's hard to believe that before 2012, there wasn't a way to get from Uptown to Seattle's world-class waterfront walking and biking trail without backtracking nearly to Belltown. The Thomas Street Overpass today is a key part of Seattle's transportation network today, bridging the gap over both the BNSF railway tracks and the car sewer that is Elliott Avenue W, connecting 3rd Avenue W with the Elliott Bay Trail.
Yet the Uptown side of the bridge has always dropped people off at a narrow sidewalk or on a narrow two-lane road that many drivers tend to zoom down after exiting Elliott Avenue. As the logical destination-point of someone biking east-west in Uptown, the Seattle Department of Transportation (SDOT) is planning an upgrade to the 3rd Avenue side of the bridge to coincide with the upgrades to Thomas Street planned in conjunction with the renovation to the Seattle Center Arena. We covered the improvements planned for Thomas Street on the east side of Seattle Center last year.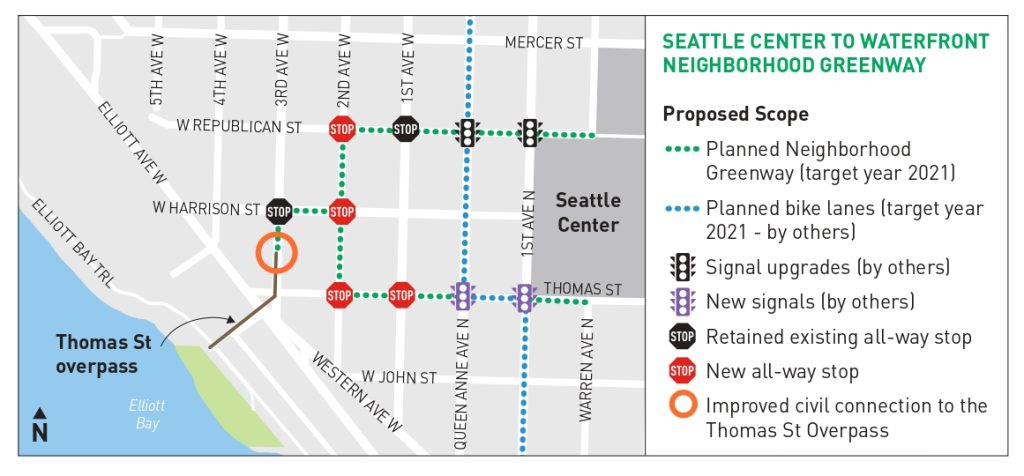 SDOT is considering three different options, which all essentially ramp up how much space is taken from the roadway. Here are bird's eye views of the three designs side-by-side so you can compare them.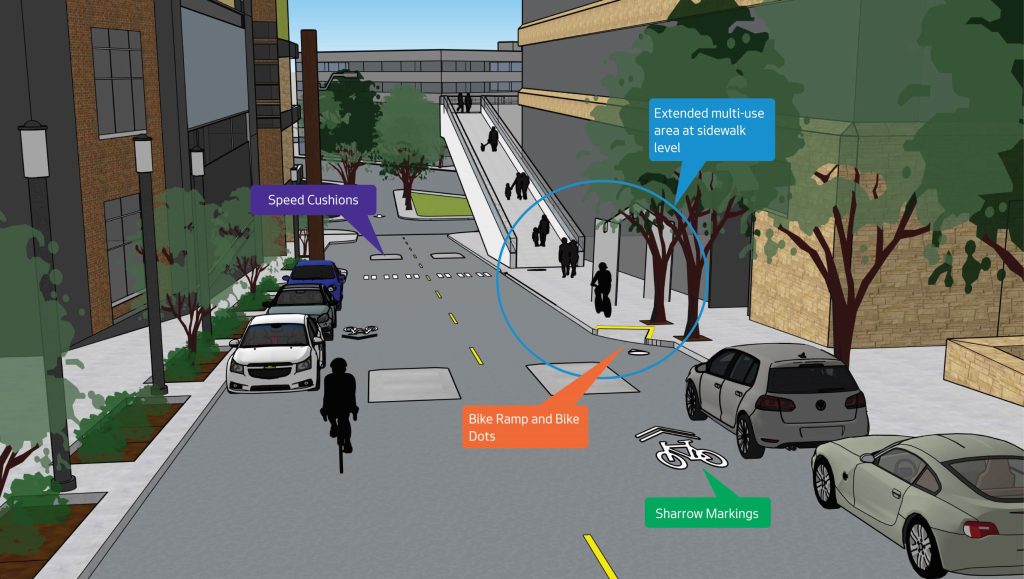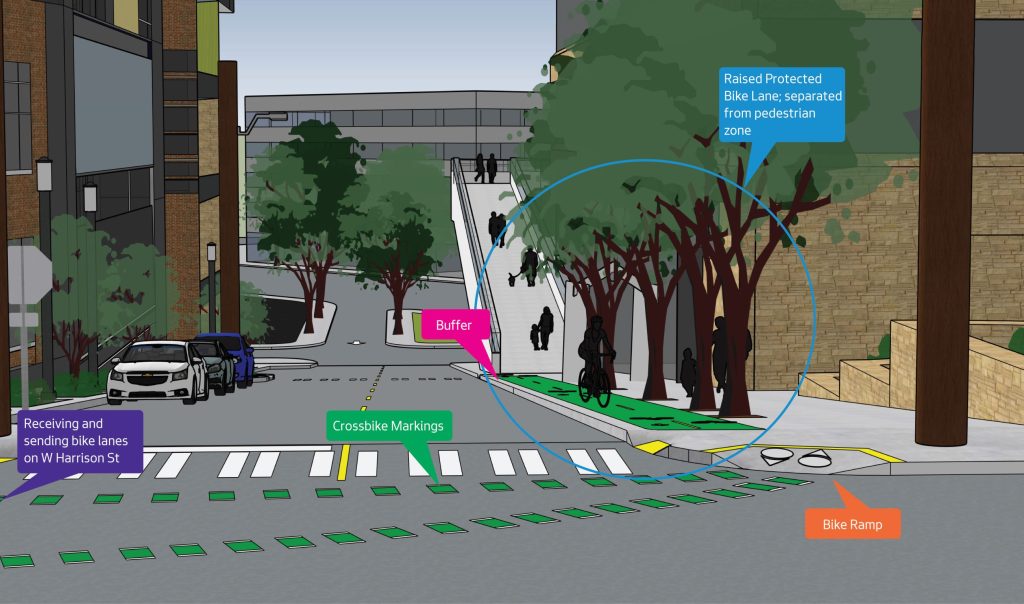 Option 1 assumes people biking will still take the lane on 3rd Ave W. The only changes would be an extended curb bulb and bike ramp for people coming south on bikes and getting on the bridge. Some speed cushions would be added north and south of the midblock crosswalk to slow traffic, but that's it. This option would retain the most parking on the street.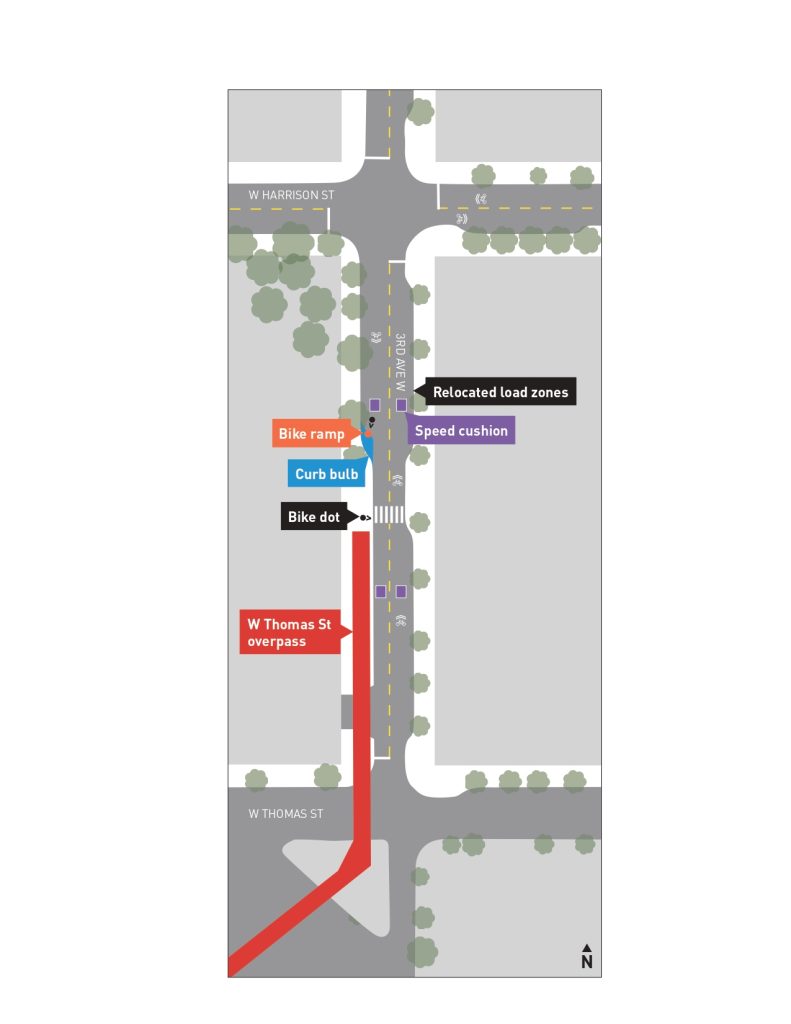 Option 2 would add a dedicated place for people to bike, both north and southbound, on 3rd Avenue W north of the overpass but not provide much additional space for people walking apart from the current narrow sidewalk. A two-way cycletrack would take the place of the parking lane on the west side of 3rd Avenue W, with two-way vehicle traffic still allowed. Green "crossbike" markings on the pavement would indicate that people biking will be travelling diagonally across the intersection, where there is already an all-way stop.
This option drops a piece of infrastructure in that doesn't match anything on any surrounding blocks, and isn't entirely intuitive.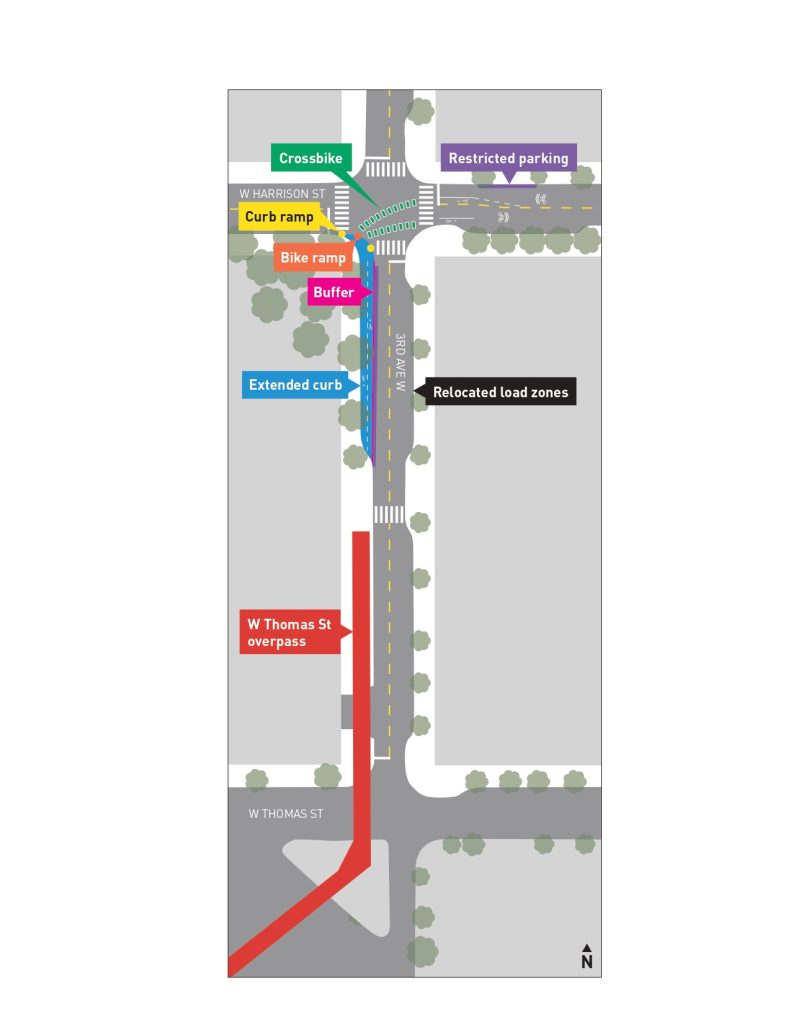 Option 3 is the one that obviously needs to happen. Instead of a cycletrack, the entire sidewalk would be widened north of the overpass entrance, with the parking lane and the west travel lane converted to multipurpose trail, a natural extension of the mixing space that already exists on the overpass itself.
This option makes 3rd Avenue W a one-way street, but it's worth nothing that it essentially already is one. Standing on the street at any given time, you will notice much more northbound traffic than southbound, and for obvious reasons. Drivers cannot turn left onto Elliott Avenue W by heading south on 3rd Avenue W, they can only turn right. And yet since Elliott Avenue is at an angle to the street grid, heading down W Harrison Street instead of 3rd Avenue W gets you to Elliott Avenue W as well, where you can turn right. Turning 3rd Avenue W into a one-way officially makes a lot of sense.
Traffic will be calmed by the narrowing of the roadway for general traffic, and people walking, biking and rolling are given a majority of the roadway space on a main connector to one of Seattle's best pedestrian bridges. It truly is a great option for everyone.
SDOT has a survey that you can take to vote for Option 3–or whichever option you prefer–and is open until February 26. You can read more about the overall plan for Thomas Street west of Seattle Center on SDOT's webpage for the project.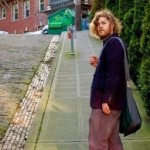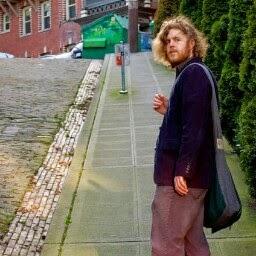 Ryan Packer lives in the Summit Slope neighborhood of Capitol Hill and has been writing for the The Urbanist since 2015. They report on multimodal transportation issues, #VisionZero, preservation, and local politics. They believe in using Seattle's history to help attain the vibrant, diverse city that we all wish to inhabit. Ryan's writing has appeared in Capitol Hill Seattle Blog, Bike Portland, and Seattle Bike Blog, where they also did a four-month stint as temporary editor.