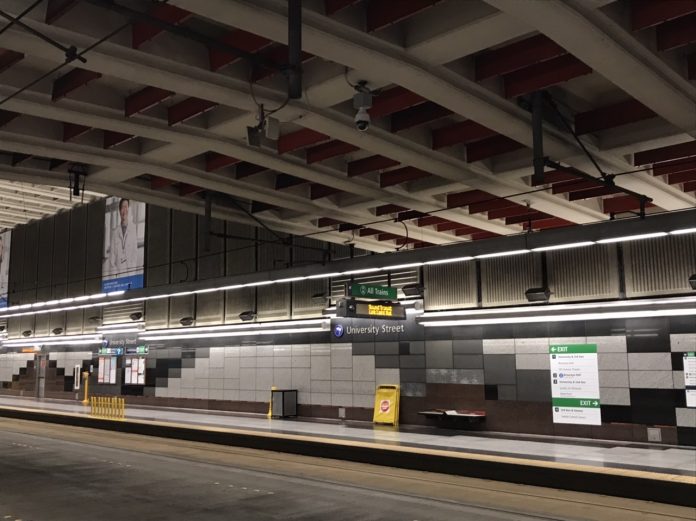 Union Street/Symphony Station? Not so fast, says Sound Transit's board of directors. On Thursday, the board adopted an amendment to its earlier motion to rename University Street Station to Union Street/Symphony Street Station that would keep the existing station name. This comes just a month after the original motion passed. King County Councilmember Claudia Balducci (Council District 6-Bellevue) proposed the amendment, which will keep the existing name and result in no changes until the opening of the East Link light rail extension.
The original motion passed in January would have required Sound Transit to change the station name to the clunky Union Street/Symphony Street Station when the Northgate Link light rail extension opens in 2021. Sound Transit arrived at the name by mixing the preferred Symphony Station name picked by the surveyed public and staff-recommended Union Street name. Agency staff chose the name to keep the "USS" acronym in common parlance for backend systems and emergency services. However, the public never weighed in on the Union Street name and it is technically not geographically accurate for the station, which led many transit riders to pan the decision.
Councilmember Balducci told the Executive Committee earlier this month that she would bring a motion amendment to the full board of directors in light of new information about backend acronyms in use and consideration of the rider experience. "I have come to believe that the Roberts Rules of Order actually contain deep wisdom on the human condition and one of those rules says that if you vote and you feel you've made a mistake, you get to ask for reconsideration," she said.
Citing Angle Lake Station, she explained that the "200" acronym is used alongside with the formal station name. 200 in this case is a reference to the adjacent street "S 200th St", but one would not know that from the actual signposted station name.
Her motion amendment passed meaning that agency staff will have several years to develop a new name in line with "a comprehensive, system-wide plan for naming stations throughout the Sound Transit District and across multiple lines of service to be implemented in coordination with the East Link Extension opening," the amendment reads.
Separately, the board of directors moved forward on authorization for early construction of the 130th Street Station, an infill station in Seattle between Northgate and N 145th Street. The issue rose to the top of board priorities earlier this year in part from community and local advocacy and in part due to the system disruptions that later construction could create. The marginal cost differential between a station opening in 2031 and partial build or full opening in 2025 was determined to be very modest in the overall Sound Transit 3 budget. A bigger issue was the fact that more than 61,000 daily riders would be significantly impacted if construction on the station footprint and shell had to occur in the years after the Lynnwood Link light rail extension opened (that line opens in 2024).
The board of directors have chosen the "advance progressively" option, which means that Sound Transit will need complete a final design for the station and complete a construction package that includes the station foundation and structural supports. An additional $22.1 million was authorized to move the project forward for a total $28.9 million project authorization. In the second quarter of next year, agency staff will need to present financial, operational, and information for the subsequent second and third construction packages for the station to the board of directors. Policymakers will be able to determine at that time if a full build should be completed or partially and later finished.
Lastly, the board of directors signed a system expansion integration agreement with Community Transit and adopted the project list for Kent Station access improvements. The system expansion integration with Community Transit is similar to others that Sound Transit has with Pierce Transit and King County Metro, allowing the transit agency to make task orders for coordinated capital facility planning and service planning for Sound Transit capital investment projects in the Snohomish County service area. Meanwhile, Kent Station is slated to receive about $117 million in walking, biking, transit, and parking access improvements.
Construction of the Kent Station access improvements is still several years away given that a design-build contract is not due until next year and final design is not expected before 2022. But estimated project costs have already risen from the $90.3 million originally planned. The agency financial plan is not anticipated to be affected by the project cost increase. Several line-items are laid out in the authorized station access improvement motion, including:
New pedestrian improvements at Railroad Ave N and W Smith St that include a painted curb extension, rapid flashing beacons, new median with pedestrian refuge, accessible curb ramps, and restriped crossings;
New electronic bike locker and bike racks;
A new sidewalk from the existing parking garage on the south side of E James St from Railroad Ave N to Central Ave N;
A variety of pedestrian improvements, including a new sidewalk, along Railroad Ave N to access a new RapidRide stop;
Conversion of an existing parking lot on 1st Ave N next to the station and BNSF track into a new busy layover facility and future RapidRide stop; and
A new 534-stall parking garage (including replacement of 65 existing stalls) located between the E Pioneer St and E James St next to the existing station and tracks.
Those improvements will undoubtedly be welcome for transit riders in Southeast King County.

Stephen is a professional urban planner in Puget Sound with a passion for sustainable, livable, and diverse cities. He is especially interested in how policies, regulations, and programs can promote positive outcomes for communities. With stints in great cities like Bellingham and Cork, Stephen currently lives in Seattle. He primarily covers land use and transportation issues and has been with The Urbanist since 2014.