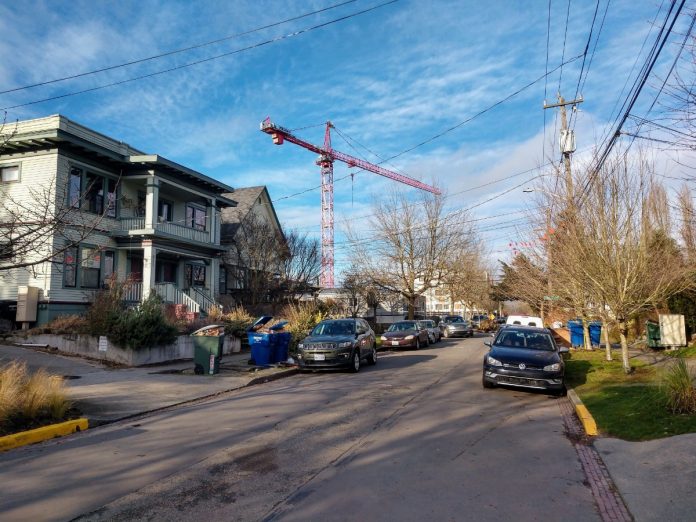 Seattle is joining the list of cities using open streets to help weather the coronavirus pandemic by helping people walking, rolling, and biking safely distance themselves outside.
The Seattle Department of Transportation (SDOT) announced yesterday it was rolling out 2.5 miles of "Stay Healthy Streets" on Saturday with a route in the Central District and another in High Point. "Stay Healthy Streets are closed to through traffic–but not residents or deliveries–24 hours a day, seven days a week for the duration of the emergency or until otherwise noted by the City of Seattle," SDOT's Sara Davis said in an agency blog post.
The agency is also pledging another dozen miles of open streets in coming weeks.
"To support safe social distancing while exercising or walking, rolling, biking to grocery stores or food pick-up, we'll look to convert additional miles of existing neighborhood greenways into Stay Healthy Streets over the next few weeks," said Sam Zimbabwe, SDOT Director. "We hope the effort keeps people moving and enjoying the spring weather during this tough time."
Last weekend, the City took a different tact in balancing the need to socially distance with the need to allow people safe places outside. Mayor Jenny Durkan announced the 15 of the most popular parks in the city were closed last weekend. Perhaps the City heard our complaints?
This weekend, Seattle Parks is taking a more case-by-case approach, with signs reading "Crowded parks lead to closed parks" posted at many parks. It's possible the City will still close some parks hoping to disperse crowds, but at least with the promised rollout of "Stay Healthy Streets" there is more of an attempt to meet people's needs rather than only to chastise them for being outside. It makes the suggestion on the City signs to "walk in your neighborhood" more feasible.
Advocacy from Seattle Neighborhood Greenways and its local volunteer groups around the city certainly helped too.
"I appreciate the Mayor and SDOT taking this smart approach to provide space for people to exercise safely and enjoy the spring weather while the Stay Home Stay Healthy order is in effect, and it's great that this opportunity will expand to other neighborhoods," said Brie Gyncild of Central Seattle Greenways.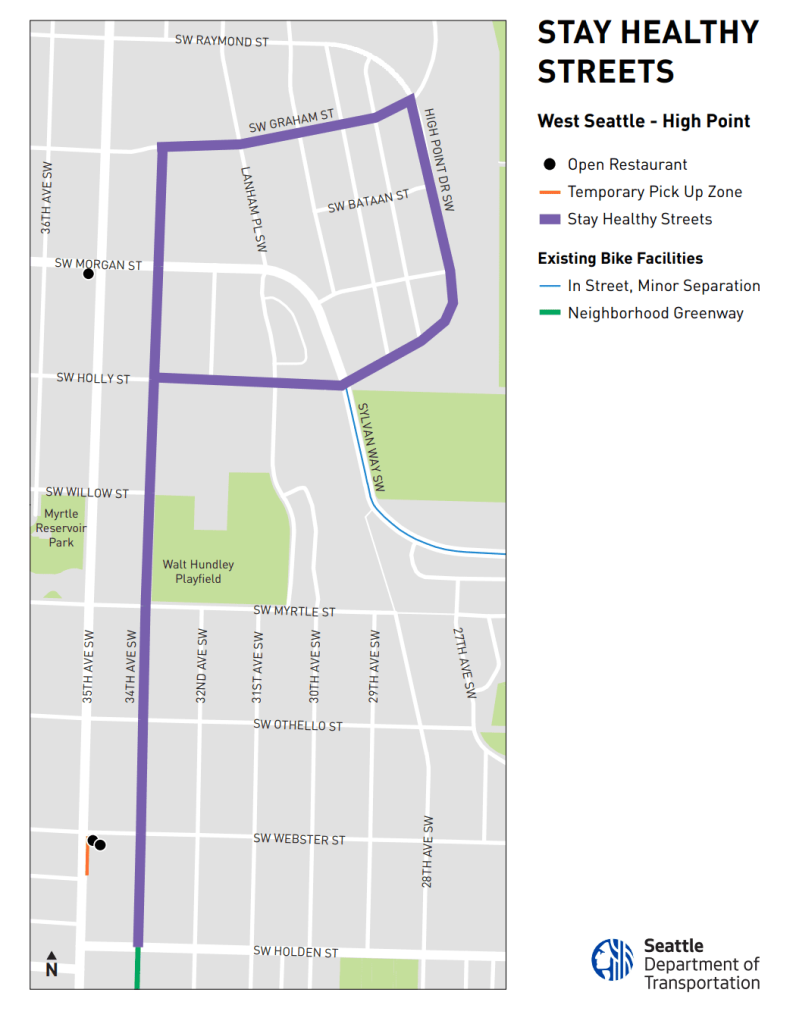 Seattle Greenways Executive Director Gordon Padelford noted safer routes for people walking, rolling, and biking also helps them stretch their budgets during this economic calamity.
"This is important for both our physical and mental health, and to help save money when things are tight for so many right now (transportation is a major household cost, second only to housing). We look forward to seeing these streets expanded to neighborhoods across the city," Padelford said. "If you want to give suggestions for where these streets should be expanded to, please let us know by filling out our survey or by getting involved with one of our neighborhood groups."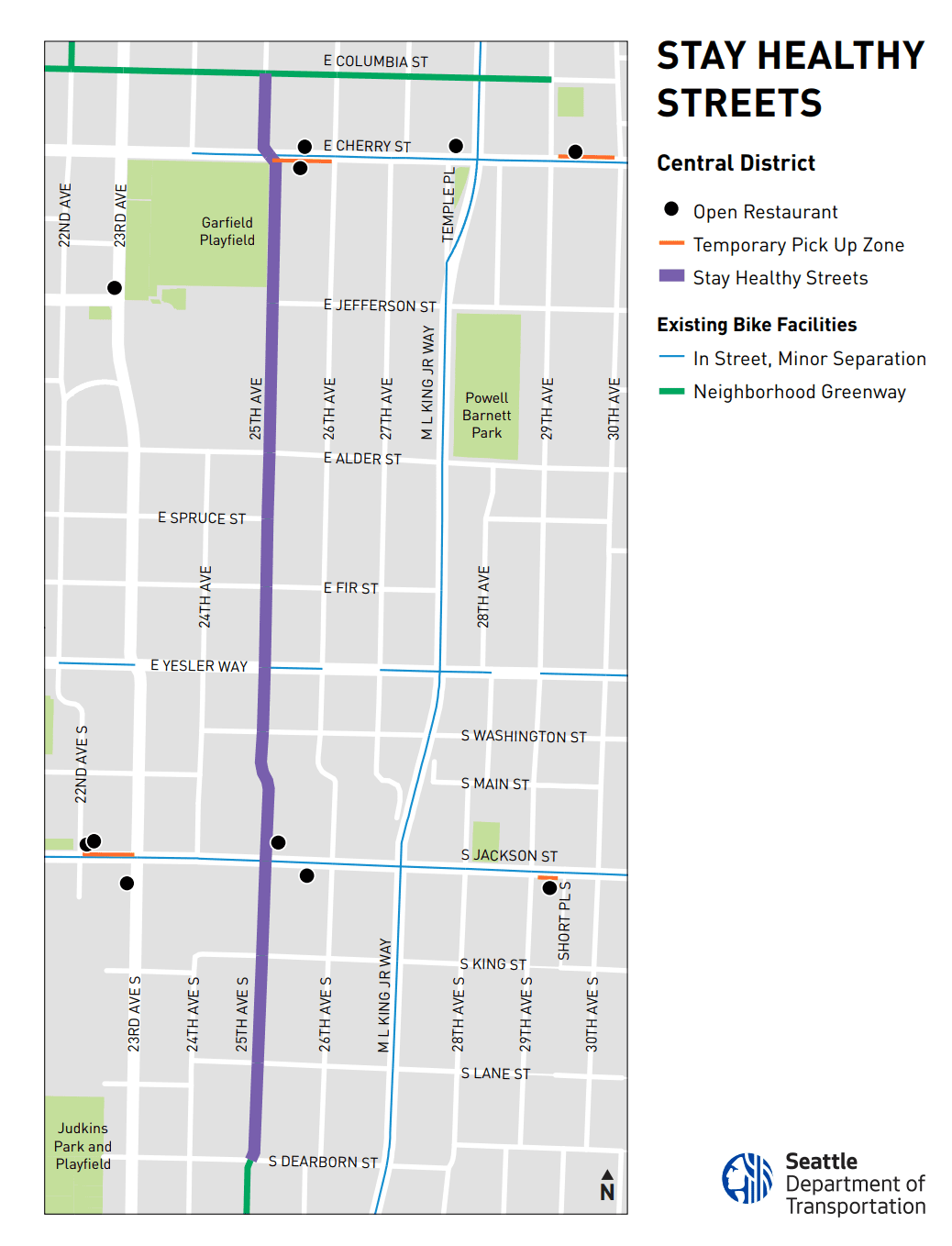 Just which streets will be next for open streets treatment isn't known, but some of the proposals in Seattle Greenway's campaign may well be included.
"After an initial evaluation, SDOT will aim to convert approximately 15 miles in the coming weeks," the Mayor's Office wrote in a release. "SDOT will continue to re-evaluate after this weekend's pilot and work with community and stakeholders on additional suggestions and recommendations. Additional closures will be subject to change based on additional orders, construction, and availability of SDOT crews and signs."
It's a far cry from the 74 miles of open streets that Oakland is rolling out, but it's a start.
The City also indicated they were selecting the streets with equity and gaps in access in mind: "These car free streets were selected to amplify outdoor exercise opportunities for areas with limited open space options, low car ownership and routes connecting people to essential services and food take out." There's less of an equity of access case for closing parks and the City's signs make the assumption that people have backyards to recreate in as an alternative. Half the city, however, is renters–many of them with building amenities shut down during the Stay Home order.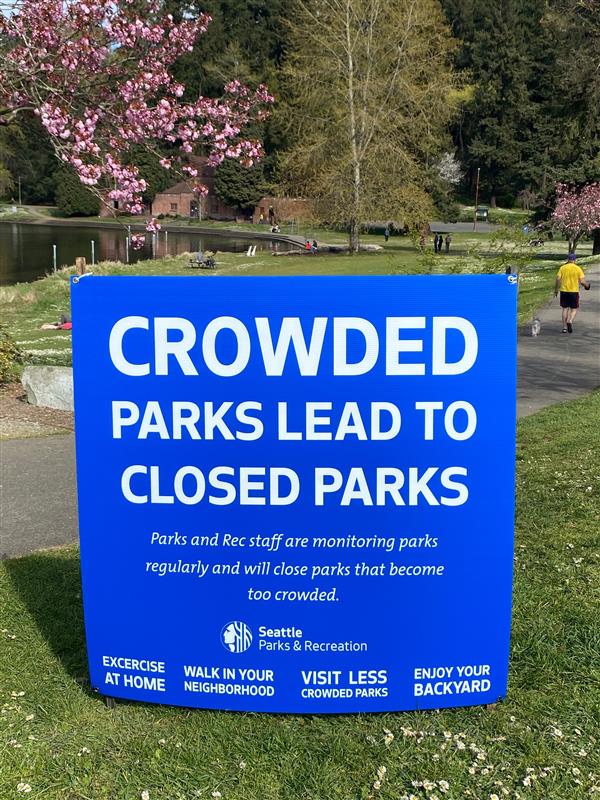 While car traffic is down, emptier streets have encouraged motorists to speed–even though the City lowered speed limits last year. David Seater with the Seattle Pedestrian Advisory Board pointed out that the Stay Healthy Streets program meets an urgent need.
"We're excited to see SDOT and Mayor Durkan following the lead of other cities in creating more open space for people to walk and roll safely outdoors," Seater said. "Many neighborhoods have sidewalks that are too narrow, aren't accessible, or are missing altogether, creating challenges that have only been exacerbated by the need for people to stay six feet apart."
Seater noted the Pedestrian Advisory Board is sending a letter to the City requesting more streets be added.
"We hope to see the Stay Healthy Streets program expand to more neighborhoods soon to provide a safe and connected network between people's homes, our neighborhood parks, and essential services like grocery stores, pharmacies, and medical centers," he concluded.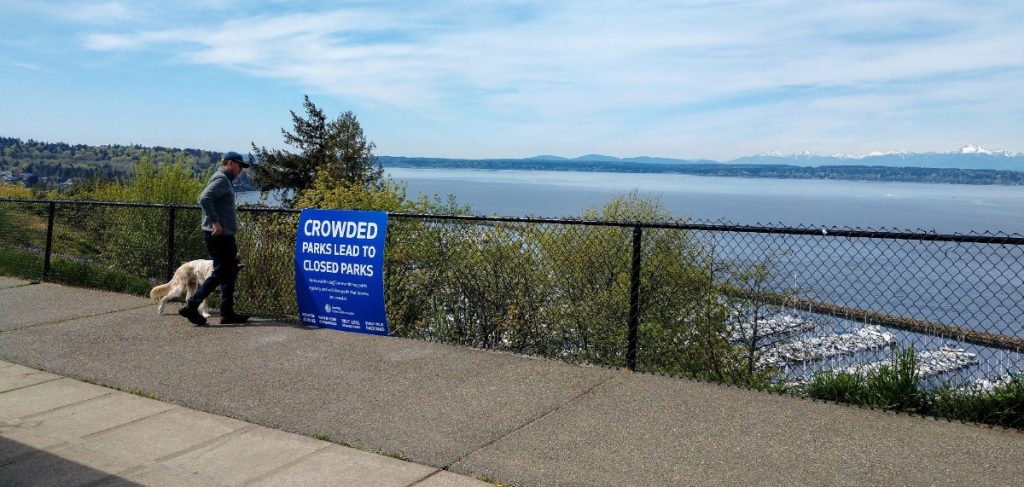 Likewise, Central Greenway's Gyncild pointed out street safety and accessibility issues predated the pandemic.
"Looking forward to the gradual easing of restrictions in May and June, as nonessential businesses reopen and more people head back to work, we'll need to get creative to provide safe space for people to walk and bike for transportation," Gyncild added. "We know sidewalks–and bike lanes–were crowded before the pandemic. While we will need to continue physical distancing, we expect more people to walk and bike to work and shop, and we need to find ways to make it safe for folks to do that."
The Stay Healthy Streets program also found a supporter in Seattle City Council's Transportation Chair Alex Pedersen.
"I appreciate the Mayor piloting a targeted strategy we have seen recently in other cities of temporarily opening carefully selected neighborhood greenways for pedestrians to be outdoors safely, especially in light of efforts to reduce gatherings in major parks during this public health crisis," Councilmember Pedersen said in a statement.
SDOT is partnering with Seattle Greenways to help facilitate the program and the agency is looking for volunteers.
"We're also seeking volunteers to confirm road closure signs are still in place and conduct pedestrian and bicycling counts," SDOT's Davis wrote. "Those interested in volunteering can email NorthSeattleGreenway@Seattle.gov. The counts will be used to monitor the success of Stay Healthy Streets, along with resident feedback, and any traffic impacts where vehicles are detoured."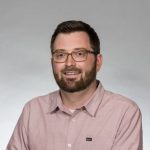 Doug Trumm is publisher of The Urbanist. An Urbanist writer since 2015, he dreams of pedestrianizing streets, blanketing the city in bus lanes, and unleashing a mass timber building spree to end the affordable housing shortage and avert our coming climate catastrophe. He graduated from the Evans School of Public Policy and Governance at the University of Washington in 2019. He lives in East Fremont and loves to explore the city on his bike.