The Washington State Convention Center (WSCC) announced today that it was seeking $300 million bailout from the federal government to stay afloat. The WSCC's ambitious $1.8 billion expansion project is midway through construction but in jeopardy due to the economic crisis. The project will run out of money in 10 to 12 months without intervention, project developer Matt Griffin said.
Local leaders like King County Executive Dow Constantine and MLK Labor Council's Nicole Grant backed the WSCC in their request and emphasized that thousands of jobs were at stake. The estimate cited throughout the presentation fluctuated based on how many indirect jobs were lumped in with figures. Griffin said about 1,000 construction workers would be on site in 10 to 12 months when the funds are expected to run out and force the project to pause.
Executive Constantine seemed to emphasize both regional vitality and strength and the vulnerability that the convention center represents if it was not completed: "There are few [projects] that are more important to the region than the Convention Center Addition."
"We have one of the best economies in the world here. We're a hub of innovation that connects the rest of the region and the rest of the world," Constantine said. "Delaying the project would have devastating effects on the construction industry and the hospitality industry… It would have a ripple effect across the region."
Those ripple effects also include timely payments on the $161 million land sale Executive Constantine authorized on behalf of King County. The convention center is rising from the former footprint of the County-owned Convention Place bus station.
"On behalf of the workers we represent, I want to say the completion of the convention center is a major priority," Grant said. "There is no way to stop this work. We must persevere. That is why I'm appealing, really appealing to our federal delegation…"
While not invited on the call, former Seattle Mayor Mike McGinn criticized the WSCC Addition project and publicly questioned the value of bailing it out.
"Business powerbrokers will claim today in a press conference that a bailout for the Convention Center Expansion is essential to Seattle's economy," McGinn tweeted. "But what if, hear me out, expansion is just digging a deeper financial hole?"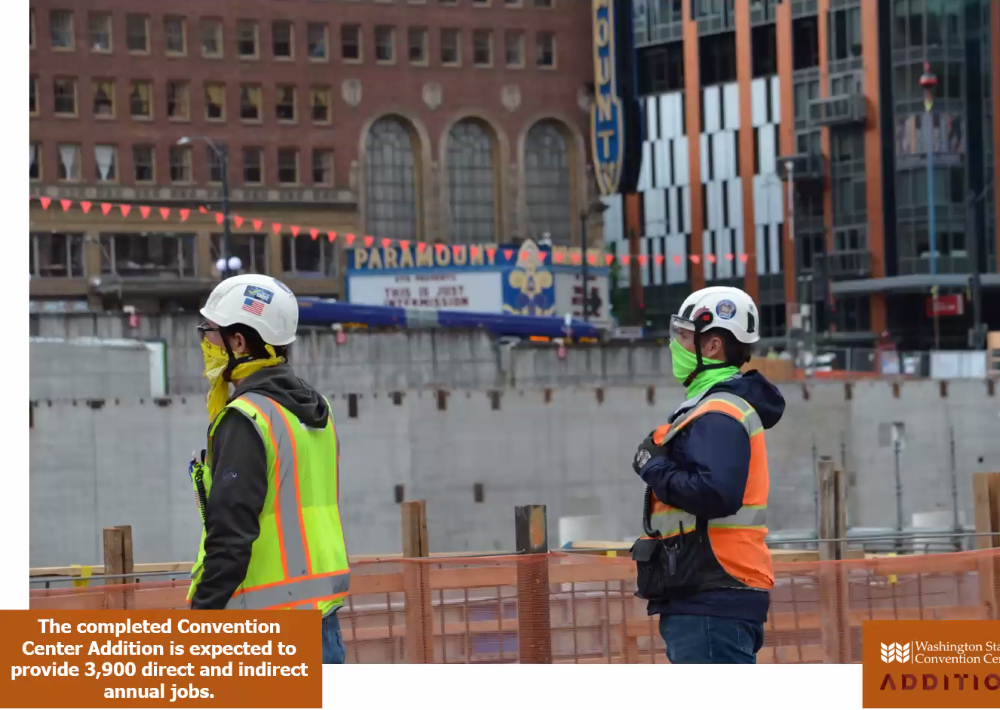 McGinn argued the WSCC should show their math on public returns before receiving any infusion of public funds. The pandemic could sap demand for convention space for years to come, both because people won't feel safe in large gatherings and because the economy may take a long time to recover.
"With hotel occupancy at 20%, and airlines travel plummeting, is now a good time to expand the convention center?" McGinn mused. "Do you believe airline travel and conventions are just going to 'bounce back'? If they don't, and there is a permanent reduction in demand, what then?"
While convention center backers are forging ahead with making it a bailout priority, we really are in a time of glaring needs on many fronts. National unemployment is above 15%, millions are struggling to make rent and pay their bills, and many public transit agencies face financial crises of their own. McGinn made the case that the hundreds of millions needed for the WSCC Addition could be better spent elsewhere, with essential services being top priority.
In contrast to McGinn, attendees portrayed the convention center as an economic cornerstone for the region, temporarily brought low by the pandemic but ready to come roaring back and serve as an economic catalyst during the recovery.
Griffin and Visit Seattle CEO Tom Norwalk emphasized that they expected the convention business to rebound quickly. Norwalk said they had sold 22 pieces of business for the WSCC Addition ahead of its 2022 opening. However, the WSCC lost 26 national conventions to cancelations this year, he said. "Most of the groups are looking at future dates," Norwalk said. "It's another sign of the optimism and future planning that still takes place."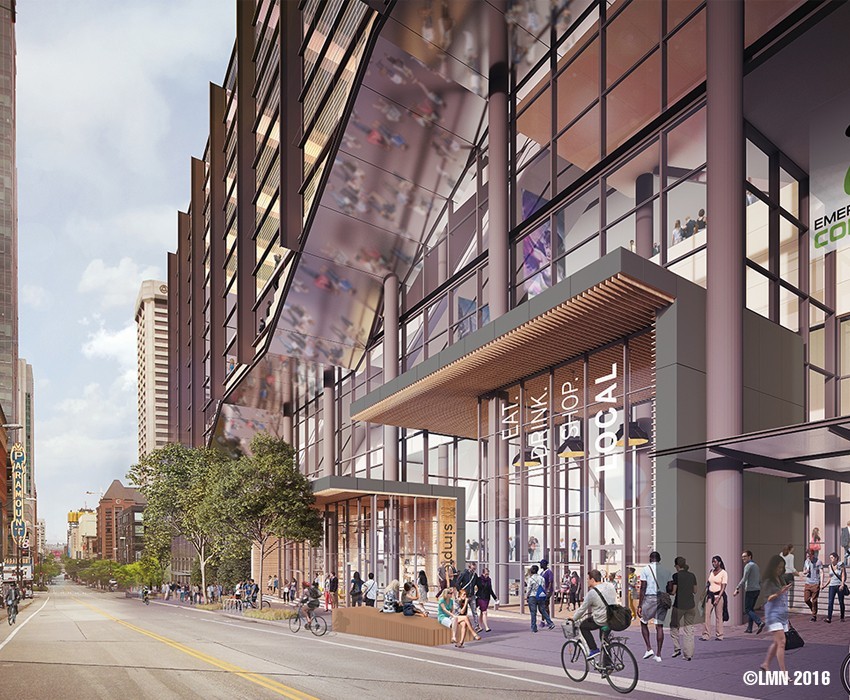 Downtown Seattle Association President Jon Scholes said on the call that delaying the project would be a "triple whammy." It would lead to fewer visitors, tax revenues, and jobs.
Thus far, the WSCC has issued about $1.3 billion in bonds off future hotel tax revenue to fund project costs. Griffin said the WSCC had planned to issue more bonds this year before Covid hit and made that untenable due to cratering hotel tax revenues and a loss of interest from lenders, hence the appeal to Congress. Construction is about 30% done.
Feedback from Washington's Congressional delegation has been positive, Griffin said, namedropping Senators Patty Murray and Maria Cantwell and a handful of Representatives. Going public with the request was intended to underscore how big of a priority the convention center is across industries and in local government, he said.
Time will tell if that call for help will translate into federal aid. For now, federal lawmakers seem far from a deal and quibbling over whether Democratic or Republican states would stand to benefit most from the next bailout package.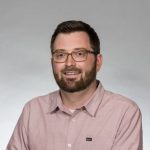 Doug Trumm is the executive director of The Urbanist. An Urbanist writer since 2015, he dreams of pedestrianizing streets, blanketing the city in bus lanes, and unleashing a mass timber building spree to end the affordable housing shortage and avert our coming climate catastrophe. He graduated from the Evans School of Public Policy and Governance at the University of Washington. He lives in East Fremont and loves to explore the city on his bike.