As a result of the mandatory stay-at-home orders, fewer people are flying, fewer people are commuting to work, and fewer people are using their cars for recreational purposes. Seattle experienced a noticeable reduction in emissions, as stay-at-home orders led to 40% fewer car trips. The congestion that plagues the entire region has been on the minds of many locals and legislators for quite a while. If you're enjoying the speedy freeway travel times right now, you may want to check out Washington State Deprartment of Transportation's Cascadia High Speed Rail project. 

On a typical day, the average traffic delay in Seattle rush hour is 40 minutes, the equivalent to a 34% increase compared to free flow rates. The state of Washington estimates that congestion costs over $3.2 billion annually. High speed rail in the Pacific Northwest would absorb at least 20% of intercity trips including auto, air, and bus travel. That means reduced congestion, and faster travel times for both high-speed rail passengers and those using the highway, including freight. The project is also expected to reduce the region's carbon emissions by six million metric tons.
With the help of a 2019 business case study released by the Washington Department of Transportation, we can start to imagine our cities in the Pacific Northwest connected by high speed rail, perhaps by incorporating tracks along highway corridors in Seattle, Portland, and Vancouver, British Columbia. A high-speed rail line can transport 32,000 people per hour, which is more efficient and economically sustainable than expansion of highway infrastructure. 
More Trains, Less Freeways in Portland
In Oregon, Portlanders are experiencing traffic and environmental impacts from regional growth. The Oregon Department of Transportation (ODOT) has been considering expanding Portland's downtown stretch of I-5, hoping that more interstate lanes will ease congestion. At the price of $795 million to expand 1.7 miles of road, the Rose Quarter Freeway Expansion has had project costs increase by 66% in three years, according to No More Freeways, a grassroots organization opposing the expansion. ODOT's reasoning was that if there are more highway lanes, travel times would be shorter, and cars would have lower emissions. Studies show, however, that highway expansions lead to increased car usage and increased emissions.
What if there was a more affordable solution? For the Cascadia corridor, highway expansions would cost three times as much as building high speed rail. The Washington State Department of Transportation (WSDOT) estimates building high speed rail along the I-5 corridor to cost $24-42 billion, while adding one lane of highway along the same route would cost $108 billion.
In a presentation at the 2019 USHSR Cascadia Rail Summit, Roger Millar, WSDOT Secretary of Transportation, compared the cost of adding one lane of highway to I-5 to the cost of building high speed rail.
"It would cost $108 billion to add one lane in each direction on I-5, it would take just as long to build as high-speed rail, and by the time we open it, those lanes would likely be full," Millar said. "Highway expansion cannot and will not keep up with growth, but we can make investments that can be gamechangers, like high-speed rail."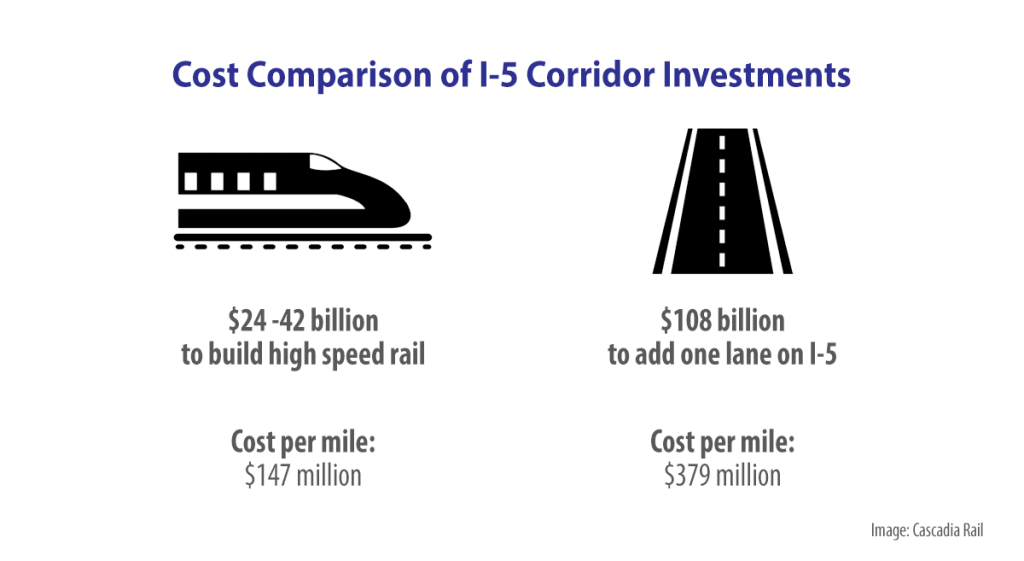 In addition to higher construction costs, driving is the largest contributor to our region's carbon emissions. 65% of the Pacific Northwest's emissions come from transportation, with personal-use vehicles contributing to 43% of Portland's transportation emissions. Bottom line, the Rose Quarter Freeway Expansion would be literally paving the way for vehicular emissions to rise.
Instead of continuing to invest in infrastructure that encourages driving, Portland could consider reallocating funding proposed for a highway expansion to build a high-speed rail line. A high-speed rail project for the Pacific Northwest could shrink commute times for Portland: one hour to Seattle, two hours to Vancouver, British Columbia, and nearby cities like Salem, Kelso, and Albany would be only a 30-minute train ride away.
Fast Trains along I-5 in Seattle
Meanwhile in Seattle, the Lid I-5 project has gained public support for its highway capping plan. With growth happening in the city's core, Seattle's densest neighborhoods are faced with less land to build housing, designate inner-city parks, and land for commercial use. Lid I-5's plan includes the capping of the interstate from Capitol Hill to First Hill (Denny Way to Madison Street).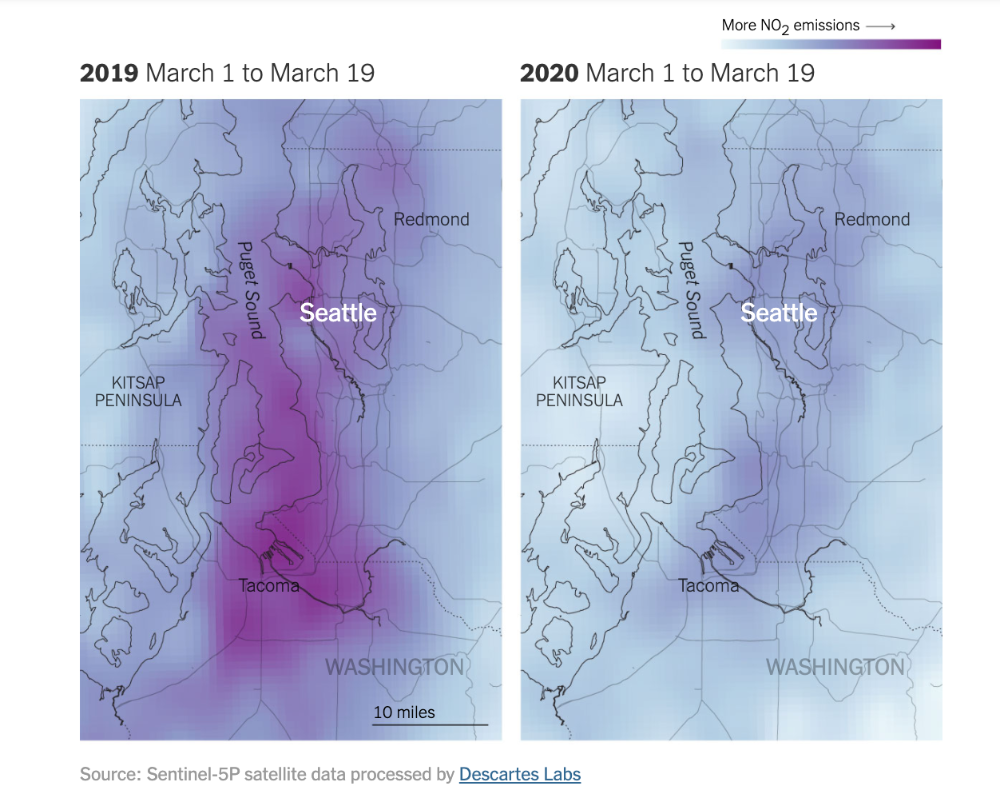 The project began as a grassroots organization led by residents who believe that an I-5 lid would be the best way to address equitability, sustainability, and connectivity issues associated with the intrusive interstate. Lidding I-5 could be a solution to some outstanding safety issues, containing emissions from highway vehicles, providing public land for much-needed housing, and creating connectivity between residential neighborhoods of the city and the downtown commercial district. To note, we've done this before: Freeway Park is an interstate lid that connects downtown to the Washington State Convention Center and First Hill. Neighboring Mercer Island has a I-90 lid that supports part of Aubrey Davis Park.
The Lid I-5 project could also alleviate congestion impacting the urban core by providing an alternative commuting option for drivers. One option is including high speed rail infrastructure on an elevated track along the lidding right of way. Imagine a high speed rail station conveniently located in Downtown Seattle–the convention center and tech offices in South Lake Union would both be closeby. People would be able to walk from Capitol Hill to a restaurant downtown through a park, or zip home by train to Tacoma or Everett in just 15 minutes, and to Portland or Vancouver, British Columbia in one hour.
While North America rebuilds itself from the economic setback of the pandemic, we must look to the recovery option that will create jobs and result in the most sustainable economic growth. As Representative Seth Moulton (D-Massachusetts) stated in a recently proposed stimulus bill, high-speed rail is a bipartisan win for both Democrats seeking new infrastructure and Republicans seeking private sector investment.