About 2.3 million Americans live in food deserts, places where people lack access to affordable, healthy foods options, but did you know millions more Americans live in childcare deserts?
In fact, according to the Center for American Progress, roughly 51% of Americans live in childcare deserts, identified as "any census tract with more than 50 children under age 5 that contains either no childcare providers or so few options that there are more than three times as many children as licensed childcare slots."
For Washingtonians, the picture is even a bit bleaker. 63% of Washington residents are estimated to live in areas defined as childcare deserts, with the odds increasing to 67% for residents of the state's lowest income neighborhoods.
For people who have not had to search for childcare before, taking a moment to plug in your address and identify the what licensed childcare options are available within your census tract is an enlightening experience. I discovered that where I live in Central Seattle, there is a single licensed provider with an estimated 40 slots available for young children—all this for a census tract with an estimated population of about 140 children under the age of 5. While I can't write with complete authority on the subject, lived experience, plus a bit of internet sleuthing, leads me to believe it might be easier to locate doggie daycare in Central Seattle than licensed daycare for children.
In no small part because of the tight squeeze on childcare services, Washington ranks ninth nationally in child care costs. The Economic Policy Institute estimates that Washingtonians can expect to pay more for childcare expenses than many other major life costs, including in-state university tuition. For dual income couples, the high expense of childcare is often burdensome, but for single parents it can be prohibitive, leading to difficult and conflicting choices for family well-being.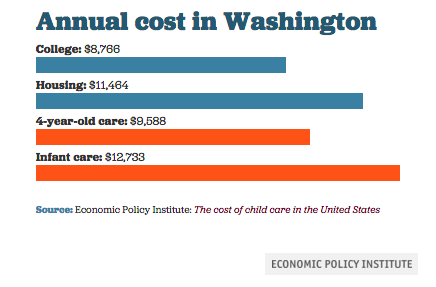 How Can Seattle Increase Availability of Childcare?
On June 24th, the Seattle City Council Committee on Land Use and Neighborhoods will hold a public hearing on a proposed "Child Care Near You" ordinance to loosen land-use restrictions on childcare centers in order to allow more of them to be built throughout the city. While there has been a lot of buzz around the fact that both at-large Councilmembers M. Lorena González and Teresa Mosequeda gave birth in recent months, neither of the two new moms put forth the ordinance. Instead, it is the brainchild of Councilmember Dan Strauss (District 6) who hopes to join their ranks as a Seattle parent sometime in the future.
"It's no secret many families are struggling to find accessible and affordable childcare in Seattle. Many of my peers with kids experience long waitlists to access childcare, often are only able to find childcare far from where they live and work, and some even begin securing their spot on waitlists before becoming pregnant," said Councilmember Strauss. "I am bringing this forward as my first bill because I know so many parents, including future parents such as myself, want to have affordable and accessible childcare, and we need to change our policies now to make that happen."
Currently land-use restrictions bar childcare centers from many Seattle neighborhoods. The proposed Child Care Near You legislation would:
Remove limits on childcare centers in home occupations;
Allow childcare centers as an outright permitted use in single-family zones;
Remove dispersion requirements for childcare centers in multifamily areas;
Exempt childcare centers from floor area limits in multifamily and commercial zones;
Remove maximum size limits for childcare centers in some commercial zones;
Add code flexibility for childcare centers in Seattle Mixed zones; and
Make technical corrections and clarify provisions of the Land Use Code related to childcare centers.
According to Councilmember Strauss, the ordinance "will remove barriers to siting childcare facilities, allowing more childcare opportunities across our city near where people live and work." He also added, "There are many interconnected reasons why there aren't enough childcare centers in Seattle and our permitting process shouldn't create additional unnecessary barriers."
In a time when we are observing how commuting patterns have major influence on the health of our environment and circulation of transportation, providing the opportunity for more Seattle parents to reduce their commutes by accessing childcare near where they live and work feels like a no-brainer. Additionally, many childcare providers are currently under threat of closure due to the Covid epidemic, and with this essential service in such short supply losing even a few centers could be disastrous. Thus it might now be more important than ever for Seattle to open more neighborhoods to childcare centers and loosen restrictions in existing areas.
If you are interested in providing public comments on the ordinance, you can submit written comments, which will be accepted through 5pm on June 23, 2020. Please send comments to Noah An in Councilmember Dan Strauss' office, via e-mail at: noah.an@seattle.gov, or by mail to:
Councilmember Dan Strauss
Seattle City Council
600 4th Avenue, 2nd Floor
PO Box 34025
Seattle, WA 98124-4025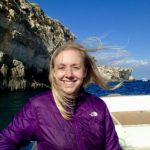 Natalie Bicknell Argerious (she/her) is a reporter and podcast host at The Urbanist. She previously served as managing editor. A passionate urban explorer since childhood, she loves learning how to make cities more inclusive, vibrant, and environmentally resilient. You can often find her wandering around Seattle's Central District and Capitol Hill with her dogs and cat. Email her at natalie [at] theurbanist [dot] org.