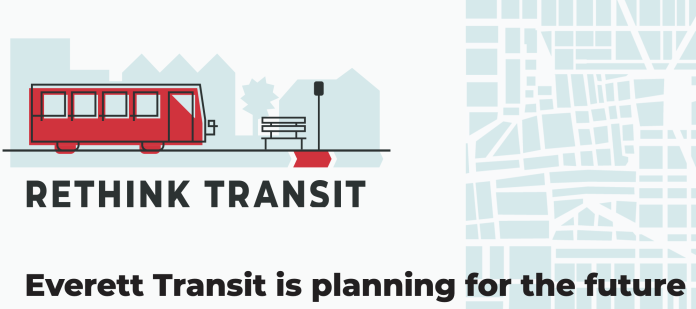 Everett has struggled for years to provide a basic city-operated transit system under the banner of Everett Transit. Due to declining sales tax revenues and legacy costs, the city went through the motions to develop a long-range plan setting it on a path to improve transit in the distant future, but ultimately settled on an immediate plan to consolidate and cut service and dramatically raise fares.
Then last year, the city was briefed on new revenue problems that have led administrators to reconsider the delivery of service, including merger with the countywide transit operator Community Transit. All of that was before the economic blow that the Covid-19 pandemic is dealing to the city, which has no doubt worsened the financial situation since about 80% of revenues come from sales taxes.
For years, there have been swirling proposals to make such a merger happen, including during the Great Recession when Everett Transit went through a similar shrinking and rethinking process. In the decade since, the agency has largely been a political token of city administration and sacrosanct tool of transit unions, but the quality of service is substandard. With a population of 111,475, Everett is the largest city and county seat of Snohomish County, which has about 822,000 residents in total. Had a merger–or even some hybrid model like Seattle's service purchasing approach–occurred, Everett transit riders would have seen a marked improvement. Service could be more than double what there is now, providing more frequency, span, and coverage to communities in the city.
Everett Transit treats the bus system as a bizarre anachronistic fiefdom. Riders know when they have arrived in Everett, where overlapping Community Transit's operations within the city's corporate boundaries are decidedly limited, with the exception of the jointly funded Swift Blue Line, and Everett Transit service is sparse. Routes have traditionally and routinely bended to the whims of the loudest constituents over rational system operations. Basic rider-demanded amenities have been denied because of influential lobbying groups. And the scope of bus service has been somewhat inequitably distributed across the city, even after the latest consolidation reforms.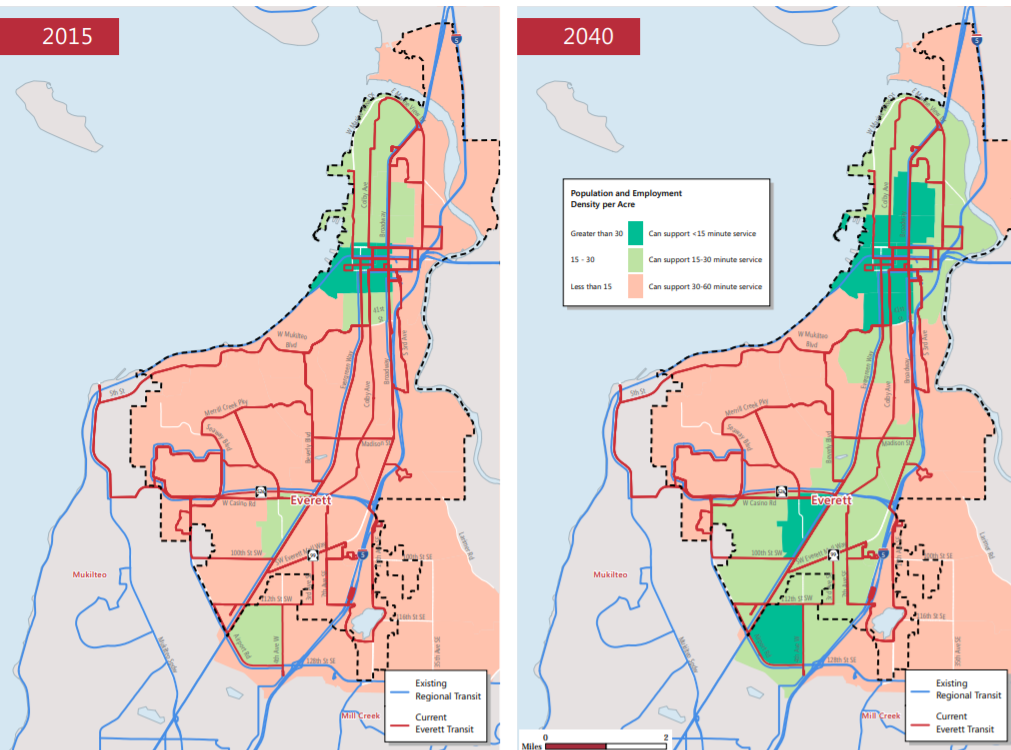 The agency has said there is no clear path to achieve system growth within existing revenue sources. City administrators have refused to take even the most basic actions since the last recession to move serious tax and fee proposals that could grow revenues and service. Aside from remaining authority to increase the sales tax by 0.3%, the city could have sought transportation impact fees for capital transit improvements, imposed special taxes on ridehailing services, increased business license fees, raised commercial parking taxes and on-street parking fees, and levied additional vehicle licensing fees before Tim Eyman took a swipe at them. Yet, none of those options were sought despite the very clear need for better transit.
Transit service was slashed 7% as part of the consolidation and system restructure process that was approved in 2018 and implemented in 2019. Meanwhile, Community Transit took a completely different approach after countywide voters approved a 0.3% sales tax increase in 2015, allowing the system to grow incrementally every year since. Service was poised to grow 36% between 2018 and 2022 alone, but those hopes have been somewhat diminished under the pandemic. Nevertheless, the system is on an overall trajectory of growth whereas Everett Transit is well on its way on a downward trajectory.
With hat in hand, the agency has embarked on a "rethink transit" effort, which lays out three possible options, two of which pursue future system growth:
Option 1 would partially help realize the "Growth Option" laid out in the approved long-range plan for Everett Transit by increasing the sales tax. The city would present a ballot measure where voters could choose to approve an increase up to 0.3%. That would move the transit sales tax from 0.6% to 0.9% in the city.
Option 2 would abolish Everett Transit and result in the transit system being annexed into the Snohomish County Public Transit Benefit Area. Community Transit would then become the sole countywide operator, allowing for substantially better service quality, enhanced integration into the regional transit system, and more efficient use of staffing and equipment. The city would need to present voters with a ballot measure to allow the annexation and approval of a transit sales tax replacement. The sales tax for transit would rise by 0.6% so that Community Transit collects a 1.2% sales tax in the city, which is common in all other areas of the public transit benefit area.
Option 3 would maintain the existing system with no new revenue. That would mean the city would retain a very poor quality transit system for the foreseeable future.
As has been stipulated though, these options continue to show a total lack of vision and creativity by city administration in raising revenue to fund transit. Only now coming forward with a plan to raise the sales tax by 0.3% to attain an inferior service to Community Transit really begs the question of where officials' minds have been for a decade. Communities in Everett have been in need of quality transit for much longer and it is not clear how Option 1 will truly get them where they need to go anytime soon. Even a presentation from December shows that:
Under the best case scenario of a revamped Everett Transit, there would be shorter span of service and lower frequencies all days of the week and virtually at all times than under a merger scenario. The biggest supposed strike against a merger is that special shuttle service, like that of Sorticulture during the spring, might not happen since Everett would not have direct control. Nevermind that is something Everett could negotiate or simply pay Community Transit to provide.
For its part in a merger, Community Transit would be able to provide a streamlined, integrated service that adds routes, provides a 19.5-hour span of service per day, and offers 10-minute peak and 20-minute off-peak frequencies on weekdays. On weekdays, 20-minute and 30-minute frequencies would be possible. The earliest that a merger proposal could come before voters is November 2021, if city officials act to put it on the ballot.
The timeline for evaluating options charts a process that could wrap up next year. This summer city staff will proceed through the public engagement process on options and conduct technical analysis on the three options. City officials will then be briefed on community feedback and options analyses. Then in the fall, city staff will check in again with the public on the results of the future transit options and city officials will get to decide what to do about them in 2021.
A survey to steer Everett Transit's future is open through July 13th and feedback will be critical to putting feet to the fire to finally make needed reforms. Those reforms should absolutely include the abolition of Everett Transit and annexation into the Snohomish County Public Transit Benefit Area so that Community Transit can take over the reins. Everett deserves much better than what Everett Transit can deliver and what city officials are willing to bankroll, which is why a merger is a necessity as soon as possible.

Stephen is a professional urban planner in Puget Sound with a passion for sustainable, livable, and diverse cities. He is especially interested in how policies, regulations, and programs can promote positive outcomes for communities. With stints in great cities like Bellingham and Cork, Stephen currently lives in Seattle. He primarily covers land use and transportation issues and has been with The Urbanist since 2014.