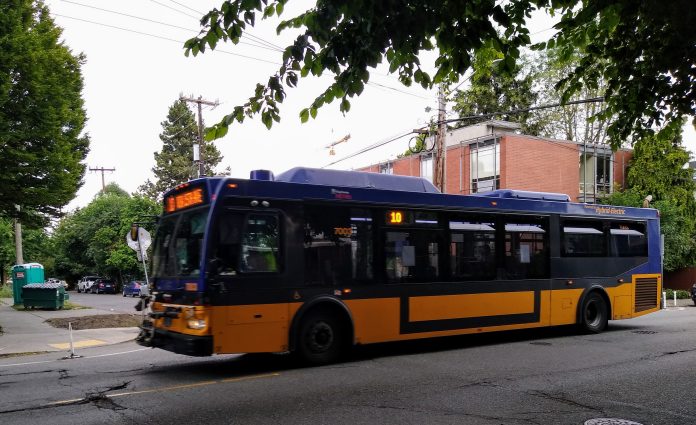 On Monday, Seattle City Councilmembers will decide whether a 0.1% or 0.2% sales tax goes before voters in November. Their decision will impact transit service in Seattle for years to come.
Even though the stay-at-home order might feel like it has dragged on for an eternity, the truth is that we are still only experiencing the beginning of the impacts wrought by the Covid-19 pandemic on our lives. Intellectually, we might be aware that deficits caused by the pandemic are cratering city and state budgets, but most of us have yet to really experience what that loss of public funding will mean on a personal level as we move deeper in a recession.
For many Seattleites, the moment that reality crashes in might be a simple, but fundamental one: a late bus that transforms into a bus that never arrives. Or a reduction in service announcement posted on a route that provides essential travel to work or medical appointments.
While for some Seattleites, a loss of transit service might spur irritation for a variety of reasons, for people who are transit dependent, a community that disproportionately includes many members who low-income, disabled, or people of color, loss of transit service is devastating. For people who are transit dependent, service reductions can equate to job loss, and they also increase the challenges around finding housing. Imagine how difficult it is to find an affordable place to live right now in Seattle. Now imagine you are transit dependent, and need to find housing near transit that you rely on for access to work. A reduction in transit service would negatively impact your life on so many levels.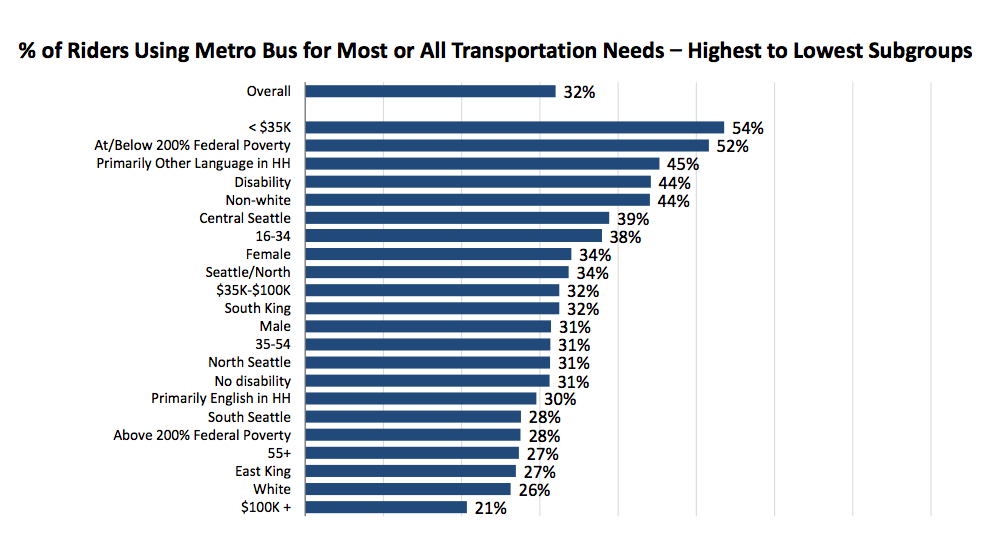 These potentially devastating impacts on many Seattleites is something the Seattle City Council will need to consider as it moves to approve either a 0.1% or 0.2% sales tax funding Seattle Transportation Benefits District (STBD) on Monday. The STBD has been a vital source of transit expansion in the city since 2010, adding tens of thousands of hours of additional service and furthering Seattle's progress toward attaining the status of a "10-minute" transit city.
Pre-Covid-19 local transit advocates and government leaders were optimistic that the STBD could be improved upon by transforming it into a countywide measure funded on progressive revenue. Unfortunately, budget losses sustained by the Covid-19 crisis, pushed King County to back off from supporting the measure leaving Seattle to continue on alone.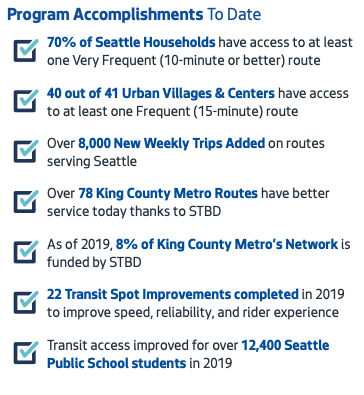 The Covid-19 recession is placing the City of Seattle in all kinds of difficult situations, and determining how much to fund the STBD as it comes up for renewal is no exception. When Mayor Jenny Durkan first put forth her proposal for the STBD, she acknowledged that maintaining the 0.1% sales tax for the next six years will result in a loss of transit service because it does not replace the lost $60 vehicle license fee while sales tax revenue has dipped during the recession. Calling it "the hard, but fiscally prudent decision," in an SDOT blog post, the Mayor tried to frame her STBD proposal as part of an "equitable recovery."
But can a decision that so disproportionately impacts transit dependent low income, disabled, and people of color communities really be framed as "equitable"? And while the Seattle City Council has registered concerns over the regressive nature of the sales tax, is it truly accurate to frame a tax whose funds are disproportionately invested in improving the lives of low-income Seattleite as regressive?
On July 17th, Councilmember Tammy Morales (District 2) introduced an amendment raising the sales tax from 0.1% to 0.2%. "This amendment is intended to buy back as many hours as possible. If we raise the rate then we can buy back over 100,000 hours of transit to prevent the kind of enormous cuts we are looking at," said Morales. "We have to do everything we can to maintain the routes, to support low-wage workers, and preserve as much transit as possible."
Is the STBD sales tax hurting low-income Seattleites?
Research does support the conclusion that sales taxes are inequitable, and that state and local governments' over-reliance on sales taxes has contributed to widening income inequality across the United States. But surprisingly, evidence shows using taxes, even sales taxes, to fund public transit presents more of a benefit than a burden to low-income people.
Consider for a moment that according to the Institute for Transportation and Development Policy (ITDP) the average American household pays about $9,737 or 13% of household income on transportation costs annually. Unlike some household costs, transportation costs are difficult to reduce because of the expensive nature of car ownership, and studies show that lower income households pay a far greater share of their income toward transportation expenses.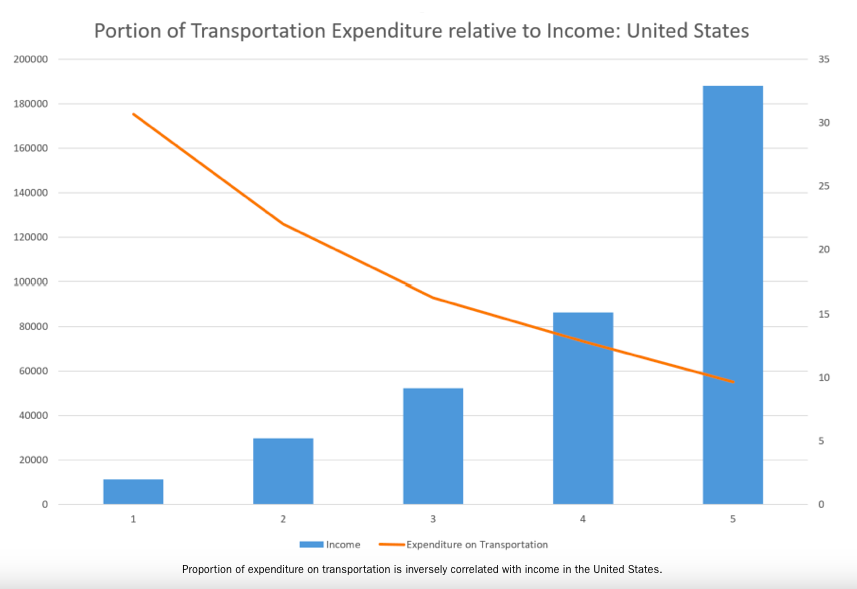 The same study found that only about 5% of transportation expenses, or $487, was spent annually on public transit. While part of this low number can be reflected by low usage in parts of the country, it is undeniable that public transportation offers considerable cost savings to low-income communities, something that is especially true in the case of Seattle, where low-income residents have access to programs like ORCA Lift, which offers reduced transit fares for people who are low-income. Moreover, ORCA Opportunity–which is funded by the STBD–covers the entire cost of fares for public high school students and Seattle Housing Authority residents, the latter via a pilot program.
Along with access to affordable housing, providing people with access to affordable public transportation is essential for making cities more inclusive. Studies show that access to affordable public transit is one of the best ways to widen opportunities for people who are low-income or disabled.
When considering the value presented by affordable public transit, asking someone who is low-income to pay 0.2% in sales tax suddenly does not seem as regressive as it had previously. Of course, in an ideal world, funding for public transportation in Seattle would come from progressive sources, but for now, cutting access to transit service appears to actually pose more harm for low-income community members than a small sales tax paid by all residents would.
Why should Seattle pay for empty buses?
Transit use has been down during the pandemic; however, the very nature of the pandemic itself actually increases the need for service even if there are fewer riders. Maintaining social distancing practices on buses that help ensure public health is vital. Reductions in service hours would mean fewer, and potentially more crowded buses, posing risks to riders.
Katie Wilson, General Secretary of the Transit Riders Union (TRU), said changes put into place by the loss of funding will result in create a situation in which service is "grossly insufficient to the need."
"Anyone who can drive a car will choose to do so and anyone without that option will be left stranded," Wilson said during public comment at the Seattle City Council's July 17th meeting. "This will impact low-income and disabled riders and Black and brown communities the most."
Data provided by SDOT shows that even with Covid-related capacity restrictions, busses are doing a lot to ease congestion in Seattle, while also providing safe, affordable transportation to the people who need it most. It will also ensure that when the Covid epidemic ends, we can continue to build the transit system our region needs to ease congestion, decrease carbon emissions, and create a more economically inclusive and diverse city.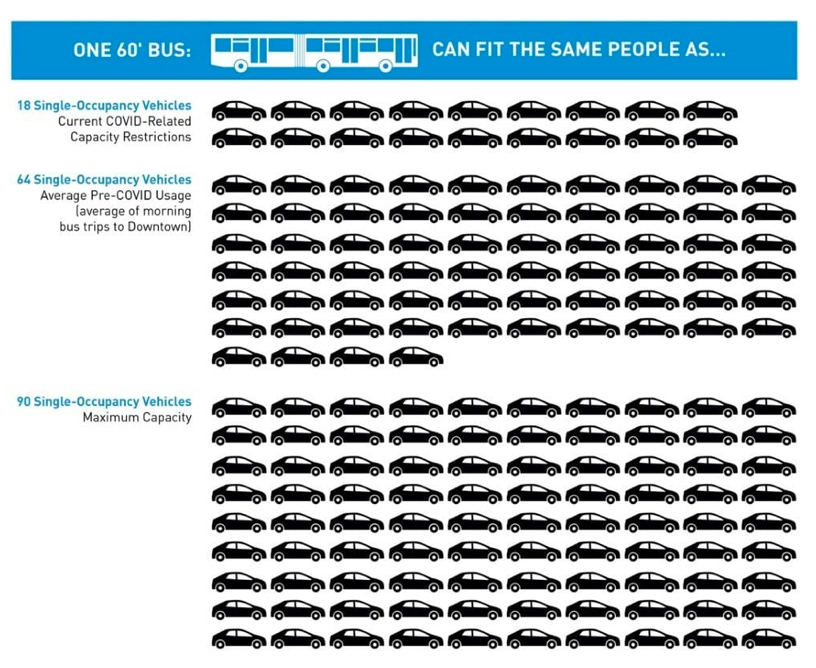 The fact that most of the councilmembers appear to be committed to reducing the the STBD measure to four years may lessen the sting of the sales tax. An amendment passed last week doing just that, although Councilmember Dan Strauss expressed interest in switching his vote, which may bring the issue back up on Monday. Alex Pedersen (District 4) also proposed a five-year "compromise" from the Mayor's six-year proposal for what it's worth. However, it appears less than certain that that a majority of councilmembers will support Morales' 0.2% sales tax amendment.
On the July 23rd local politics television show City Inside/Out, City Council President M. Lorena González alluded to the councilmembers supporting a "right-sized transportation benefit proposal to garner the greatest support from those who are going to be voting for it." She went on to describe that proposal as being "slightly smaller and shorter with the hope at the end of four years we will be able to partner with King County to have a more regional approach around continued expansion of transit."
Meanwhile Councilmember Teresa Mosqueda has introduced a resolution pledging to work with King County on a countywide transportation benefit district with an equity focus and progressive funding. There doesn't seem to be any reason to wait four years to pass a countywide measure–unless the King County Council is simply dragging their feet and waiting out the recession. In fact, the countywide measure could allow Seattle to draw down its sales tax if a superior funding source is identified–Central Staff confirmed that the STBD measure gives the authority to collect the sales tax but does not require the city to do so. For now though, not passing the funding Seattle needs would risk a major gap in service.
For the sake of Seattleites who are transit dependent, let's hope that it means the city council will support a 0.2% tax with a four-year sunset clause. That decision will offer Seattle voters the chance to decide if they want to preserve transit in November. While there is still a risk that Seattle voters will not approve the increased STBD ballot measure in the fall, it is better to leave voters the option to vote in favor of preserving an essential service for thousands of Seattleites.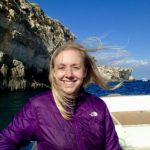 Natalie Bicknell Argerious (she/her) is Managing Editor at The Urbanist. A passionate urban explorer since childhood, she loves learning how to make cities more inclusive, vibrant, and environmentally resilient. You can often find her wandering around Seattle's Central District and Capitol Hill with her dogs and cat. Email her at natalie [at] theurbanist [dot] org.