As a part of Seattle's voter-approved $930 million Move Seattle Levy, the Seattle Department of Transportation (SDOT) has been planning design updates to Routes 40 and 44. Both route updates have already gone through their first rounds of community surveys, and SDOT has been steadily adding bus lanes and pedestrian improvements.
While the Move Seattle campaign had pledged RapidRide+ updates to both corridors, the City downgraded Routes 40, 44, and 48 to lesser upgrades as part of the Move Seattle Reset. Each is now known as a "Transit-Plus Multimodal Corridor" (TPMC) corridor rather than a RapidRide line–though Metro's long-term RapidRide plans still include these routes.
Route 44 upgrades
Route 44's design updates are farther along in the process, with 30% designs out since June. Entering its second round of surveys, SDOT has designated nine design concepts for the Route 44 design update. Three of the concepts are in the Ballard corridor, located in NW Market between 26th Ave NW and 24th Ave NW, NW Market St at 15th Ave NW, and NW Market St and 11th Ave NW.
Of the three corridors, the Ballard concepts are the most mild, mostly redrawn and extended lanes to hopefully reduce blockages caused by turning drivers. Additional concept pedestrian crossing and signalling at 11th Ave NW do improve safety for pedestrian and bicyclist.
Two of three concepts by the Aurora and 46th border of Fremont and Wallingford are easily the standout redesigns. The N 46th St lane between Greenwood Ave N and Fremont Ave N is the less impressive one, similar to the Ballard concepts with some redrawn lanes. The N 46th St at Green Lake Way/Whitman Ave N concept installs a dead end on Whitman Ave N and adds a lane to improve traffic flow.
Meanwhile, the N 46th St at Aurora Ave N concept does it all. It consolidates a bus stop, adds a turn pocket, adds stop signs, adds a crosswalk, provides a new location to access Aurora Ave, and removes an on-ramp. SDOT thinks that drastic change could improve traffic flow, transit operations, and pedestal and bicyclist safety and access.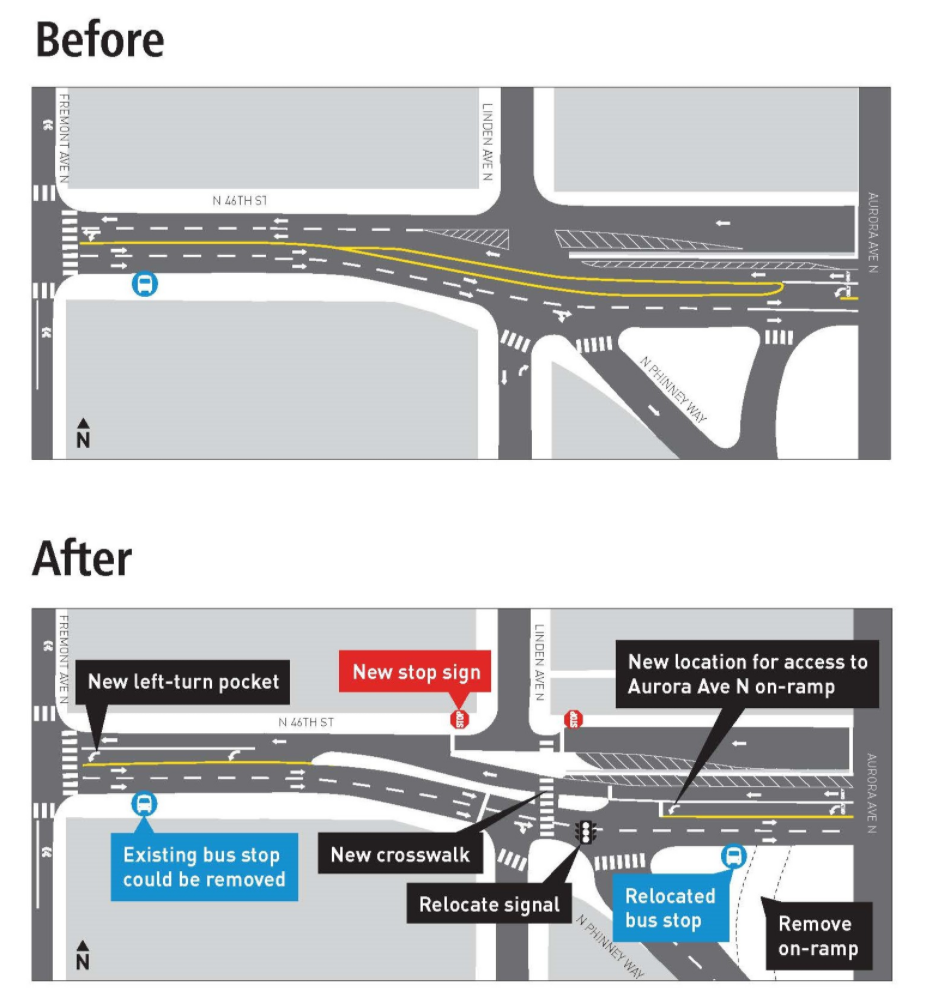 The three concepts in the U District are located at NE 45th St between 9th Ave NE and 15th Ave NE, 15th Ave NE between NE 45th St and NE Pacific St, and 15th Ave NE at NE Pacific St. These new concepts reduce or remove general purpose lanes, in favor of bus lanes. Additional bus lanes were added to the 15th concept, as asked by The Urbanist and the MASS Coalition.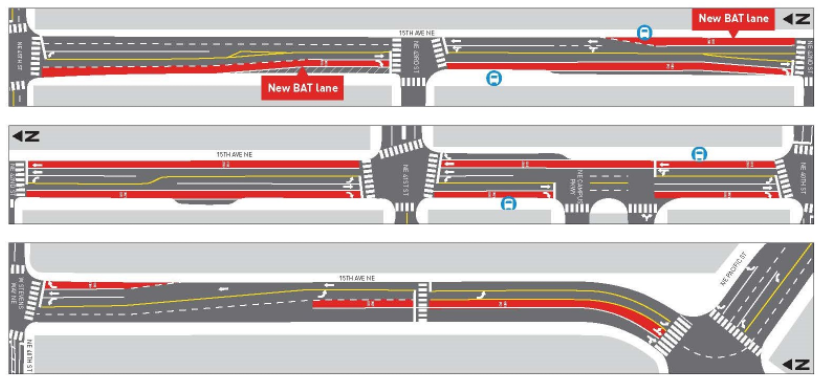 Lastly are the improvements planned for pedestrians. As apart of the Route 44 design update project, SDOT plans on repairing 4,500 linear feet of sidewalk near bus stops and upgrade over 50 curb ramps to meet current Americans with Disabilities Act (ADA) standards.
Especially if you use the 44, be sure to participate in the latest survey, open through August 31st and September 18th. Also, check out the survey and project website for more details and a pre-recorded presentation. SDOT will have an online presentation on Thursday, September 10th from 5:30pm to 7pm.
Construction is expected to be completed in 2022. Note that the project is smaller in scope than the Route 40 design updates, but that by no means is it minor; Route 44 was ranked eighth in ridership among King County Metro's routes last year.
Route 40 fixes
Coming out its first surveys, the Route 40 project team identified priorities and preferred ideas for King County Metro's third ranked route in ridership. SDOT presented their findings and 30% designs during the recent Seattle Transit Advisory Board Meeting on August 26th.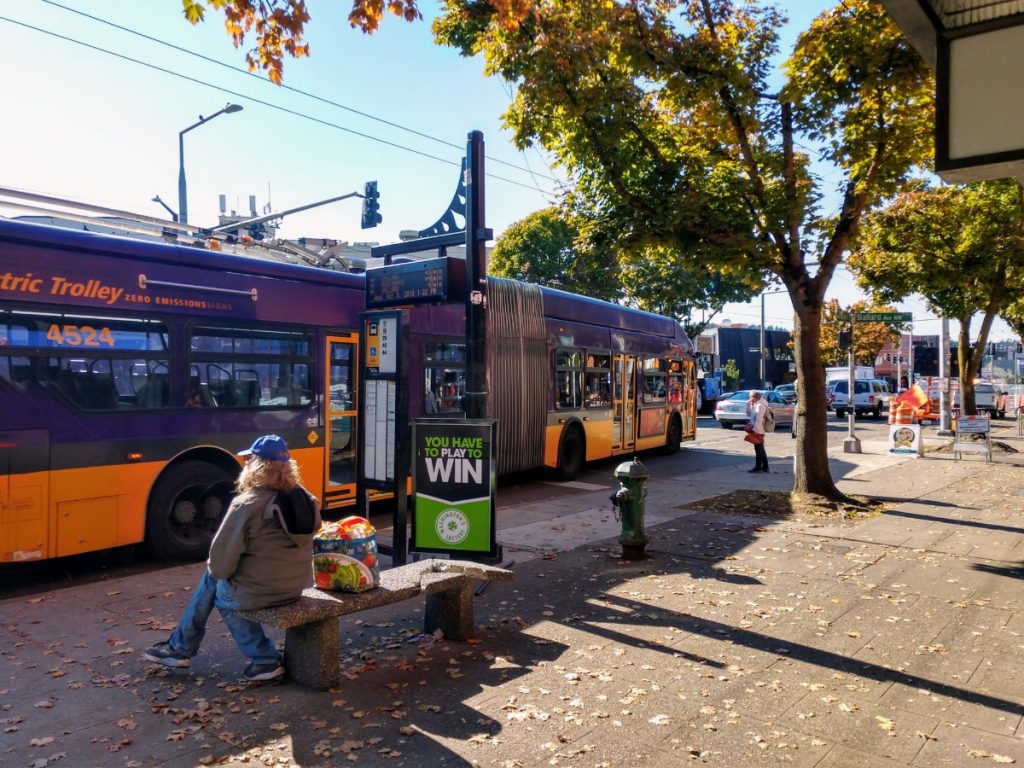 Survey respondents prioritized bus speed and reliability improvements, and walking and bicycle accessible improvements. Designated bus-only lanes and queue jumps were the most popular project ideas. On pedestrian and bicyclist project ideas, improved sidewalks, crosswalks, and accessible ramps and curbs came out on top.
In the board meeting presentation, draft concepts for updates on the Westlake, Fremont, and Ballard sections were showcased. They are packed full with proposals that enhance multimodal transportation through Route 40's corridors.
Bus lanes are fairly ubiquitous, acknowledging the red paint's popularity among those surveyed. There are also bus stop consolidations and relocation, one of the less popular options. Like the Route 44 update, plenty of ramp and sidewalk concept work is included.
Note that Ballard, Crown Hill, Greenwood, and Aurora highlights have no design updates in the most recent updates from SDOT. Especially with the Northgate Link light rail expansion, the northern segments should and are likely going to receive updates.
Bus lanes in Greenwood were presented in a June 30th presentation, they're just absent from in the most recent update and likely still being considered by SDOT. With a roughly 50% bigger budget than the Route 44 Transit-Plus project, Route 40's $23 million budget should be yielding quite a bit more design updates than its sister project.
The agency is still using feedback to shape draft concepts, and performing technical evaluation of concepts. Route 40 design updates are still in the planning phase, so expect options to be eliminated and emerge as the project approaches 30% design.
The Route 40 project's design phase is scheduled to start next year and last two years, so there should be plenty of concepts and feedback opportunities. SDOT is aiming to complete construction in 2024. You can follow Route 40 design updates at the project website.
Shaun Kuo is a junior editor at The Urbanist and a recent graduate from the UW's Jackson School. He is a Seattle native that has lived in Wallingford, Northgate, and Lake Forest Park. He enjoys exploring the city by bus and foot.