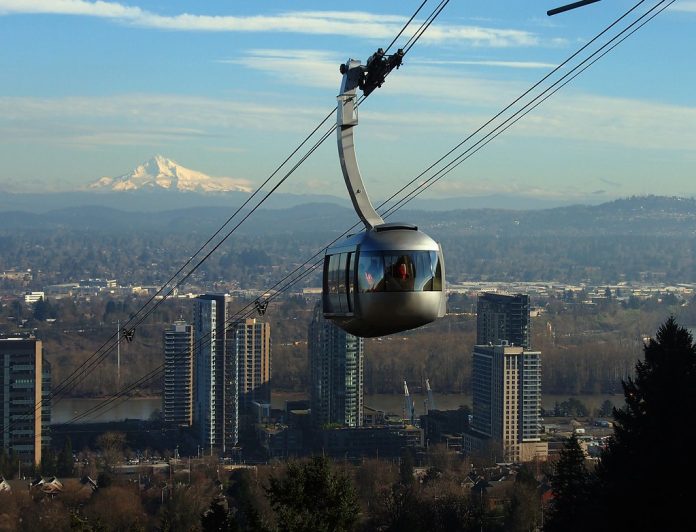 West Seattle activists are advocating for an urban aerial gondola alternative to Sound Transit's planned light rail extension. Will the movement gain momentum?
Imagine for a moment that you're setting off on your daily commute from Alaska Junction in West Seattle to SoDo station, just south of Downtown. You hop on your bike and pedal for a half a mile before approaching the urban aerial gondola station. Because of its relatively compact size, the station is integrated into the surrounding neighborhood, so you grab a coffee from a café near the station entrance before taking an elevator up to the loading platform. As you approach the platform, a gondola is closing its doors in anticipation of departure, but you're not concerned. With gondolas arriving 30 seconds apart, you won't have to wait long for the next one to arrive. Less than a minute later, you have successfully wheeled your bike in the gondola and secured it to the wall. For the next 14 minutes, you sip your coffee as you enjoy the view of the West Seattle Peninsula and Duwamish river below.
Sounds pretty idyllic, right? Now what if I told you that this hypothetical trip could theoretically take place in 2023 or 2024 – several years earlier than the the currently planned 2031 completion date for the West Seattle Link Rail extension? You might also be further intrigued by an urban aerial gondola project's price page. Advocates point to cost estimates pulled from other cities that suggest a gondola line could be built at roughly $64 million per mile, though Gondola Project notes local factors can affect cost (and in Seattle that usually means up, not down). Still, the cost would likely be significantly less than the $600 million per mile forecast for West Seattle Link light rail.
My guess is that after learning this information you would be more receptive to learning more about what an urban aerial gondola alternative might offer West Seattleites, who have proven to be in dire need of mobility redundancy following the failure of the West Seattle Bridge earlier this year.
A group of committed West Seattle neighborhood activists hope that the merits of their proposed plan for a West Seattle SkyLink are tantalizing enough to capture the attention of regional transportation planners and the Sound Transit board, resulting in a pivot away from planned light rail toward an embrace of urban gondola technology. But convincing Sound Transit to reevaluate light rail plans won't be easy, and a skeptical public will need to warm up more to urban gondola technology before regional transportation authorities can put the breaks on longstanding light rail plans.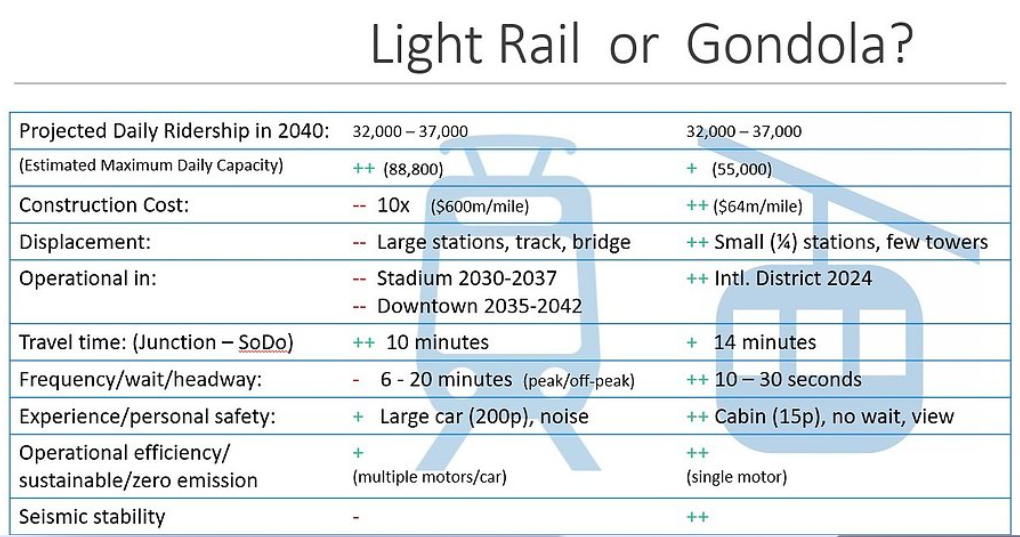 Across the world, urban gondola technology is on the rise.
While Americans tend to be unfamiliar with urban aerial gondolas, such systems already exist around the world and more and more are being built each year. Martin Pagel, one of the founders of West Seattle SkyLink who also wrote a gondoda op-ed for The Urbanist, became acquainted with urban aerial gondolas while growing up in Europe and he is optimistic that Seattleites will catch on to the idea once they learn more about how gondolas work in an urban setting. Such was the experience of fellow West Seattle SkyLink advocate Joyce Hengesbach after a trip to Medellin, Colombia. Hengesbach was converted to the idea that urban aerial gondolas could provide an excellent transit solution for Seattle's hilly topography after experiencing urban aerial gondolas transportation firsthand in Medellin, which has been building and expanding its system since 2004.
Pagel, Hengesbach, and the rest of the West SkyLink team have been spreading their message to West Seattleites by hosting presentations and reaching out to local government leaders. To get a sense of their mission and message, you can watch a 12-minute video on their website, which includes video footage of working urban aerial gondolas. I have to admit that the footage of gondolas in Medellín descending down an incredibly steep landscape might not be the easiest for people who are afraid of heights to watch; however, urban gondolas are reportedly one of the safest forms of mass transit. An internet search focused on urban aerial gondola safety reveals a wealth of case studies on this topic, including a website for the Taipei Maokong Gondola in Taiwan that showcases some of the gondola's safety features, include its seismic preparedness. Additionally, in Busan, South Korea, an urban gondola system has purported been constructed to withstand 7.0 earthquakes, tsunamis, and strong winds.
Once the question of safety is resolved for the public, West Seattle SkyLink is hoping that potential advantages of urban gondola technology will quickly convert people to their cause. In addition to speedy construction and cost-savings, an urban gondola system would result in less displacement of West Seattle homes and businesses than light rail because both the gondola stations and the pillars that anchor the line have a smaller footprint than light rail infrastructure. Like light rail, urban aerial gondolas run on electricity, making them a climate friendly alternative to fossil fuel powered transportation.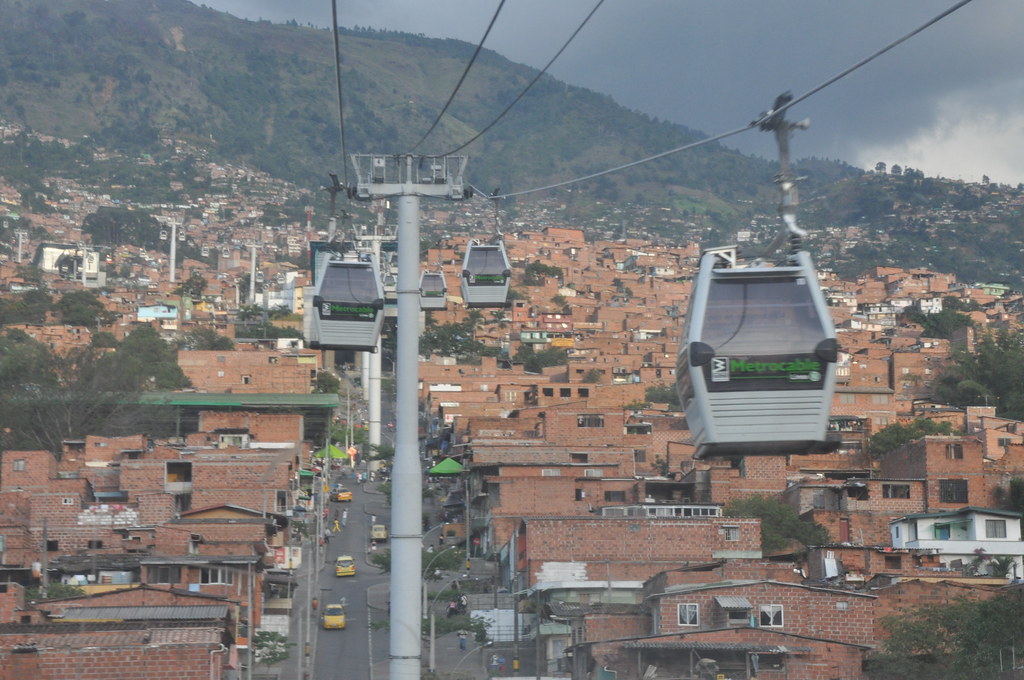 But urban gondolas do have some downsides.
In addition to novelty, urban gondola systems do have some downsides worth considering when compared to light rail, chief among which is carrying capacity. Urban gondola systems transport fewer passengers per hour than other forms of mass transit, including light rail. The West Seattle SkyLink team anticipate that their proposed urban gondola would top out at 55,000 passengers daily. That's about a third less than the nearly 89,000 Link light rail would be able to transport. However, relying on projections for future mass transit use, West Seattle SkyLink believes that actual demand will be closer to 32,000 to 37,000 daily passengers, meaning that the urban aerial gondola would exceed future needs. However, as Seattle's explosive population growth in the last decade demonstrates, it can be difficult to forecast future capacity needs; the 37,000 passenger threshold might not be enough in a decade or two.
The efficiency of gondola transit also decreases the more stations and length you add since the top speed is lower and the stations require vehicles to slow down further. Choosing gondolas instead of light rail would complicate the extension of West Seattle Link southward to Westwood Village, White Center, and Burien.
While mechanical safety concerns might be calmed by the strong safety records of other working urban aerial gondola systems, people might struggle more with perceived safety in the gondola cars. Unlike light rail, where you are usually traveling with multiple other passengers, urban gondolas offer tighter quarters and a more intimate traveling experience. Passengers may be hesitant to board cars with people who they don't know or who make them feel uneasy. Advocates point out that gondolas can be equipped with surveillance cameras and emergency response buttons, and that people can always opt to skip boarding a gondola if they feel uneasy about fellow passengers. However, in practice it could feel rude to refrain from boarding; people also might not perceive a threat until they are already locked into the gondola and sailing hundreds of feet above the ground.
But the fact that urban gondola systems have thrived in South American cities, like Medellín, which was once hailed as the "most dangerous city in the world," suggests that such safety concerns might be overstated. In fact, advocates point to the fact that Medellín's urban gondola system may have contributed to a decrease in crime in the city by opening up new economic opportunities for residents of poorer hillside neighborhoods, which had previously been isolated from the rest of the city.
Even withstanding the disadvantages, the activists believe that the benefits that would result from an urban gondola system, especially faster timeline for construction, would be far more significant.
Can Sound Transit pivot from its light rail plans?
Back in 2005, Sound Transit decided to cut First Hill from its Link light rail line extension, citing constructions risks related to the planned deep bore tunnel. That decision, which set the stage for the construction of the first First Hill line of the Seattle Streetcar, continues to be a major sore spot for some local transit advocates. However, West Seattle SkyLink activists have taken inspiration–and heart–from Sound Transit's change of plans for First Hill.
"The fact that Sound Transit was able to use the funds designated for light rail to build the streetcar provides us with a precedent," said Pagel. Because the West Seattle SkyLink would continue feed into the Link Light Rail network, activists believe that Sound Transit should be able to apply the funds already appropriated for light rail to an urban gondola. The West Seattle line will need to square with different ballot language, however, since it was funded under Sound Transit 3 rather than Sound Move, like First Hill Station was to be.
While the City of Seattle has taken a preliminary look at proposed urban gondolas in the past, it has never seriously studied such an option. However, it's possible that the failure of the West Seattle Bridge might be the catalyst that spurs consideration of transportation planning formerly seen as too far outside of mainstream thinking.
To learn more about the West Seattle SkyLink check out their website, Facebook, or Twitter accounts. Readers who are interested in learning more about how urban gondola technology works may also want to take a look at an urban gondola feasibility study completed in City of Edmonton, Canada.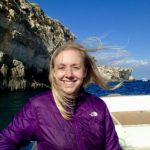 Natalie Bicknell Argerious (she/her) is Managing Editor at The Urbanist. A passionate urban explorer since childhood, she loves learning how to make cities more inclusive, vibrant, and environmentally resilient. You can often find her wandering around Seattle's Central District and Capitol Hill with her dogs and cat. Email her at natalie [at] theurbanist [dot] org.