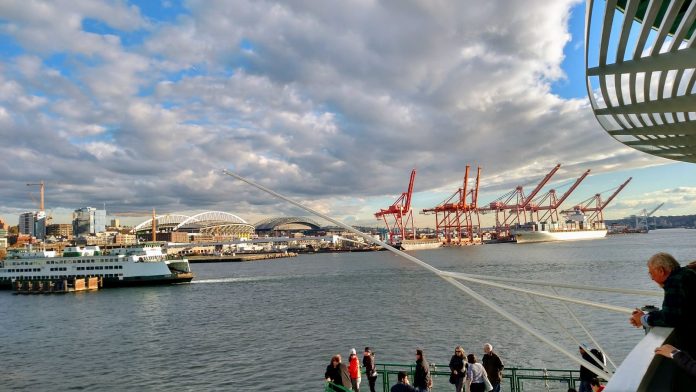 Last week, Washington Governor Jay Inslee outlined a climate policy package to create a comprehensive climate program aimed to reduce the state's emissions 30% by 2030. His office also unveiled its proposed 2021-2023 biennium budget that includes some more relevant climate and transportation dollars, and calls for a 9% capital gains tax to fund his priorities. Together, Governor Inslee makes a necessary but not necessarily bold effort to reduce the state's greenhouse gas emissions and invest in affordabe housing–plus some other urbanist interests.
The recommended climate package proposal offers two pieces of legislation. The first of the two bills is the Climate Commitment Act that would create a cap-and-trade program that funds climate investments. It would cap greenhouse gas emissions for the state's largest industries, and the Washington State Department of Ecology (DoE) would ensure compliance and administration of greenhouse gas credits. Next is the Healthy Homes and Clean Buildings Act that would require new buildings to be zero-carbon by 2030, put the state on a path to remove fossil fuels from existing buildings by 2050, and create a heat pump and electrification program.
On top of those policy proposals, Inslee recommends $428 million of funding that is divided into transportation dollars, capital for energy efficient buildings, and an assortment of energy technology funds. Within the wider budget are additional nuggets of funding for issues on transportation and housing.
Transportation Funding
Center stage of the climate package is the Governor's $190 million proposal to further electrify the state's ferries. Washington State Ferries consumes the most diesel fuel of any entity in the state–also making it a major emitter of carbon and pollution. The push also doubles as an ecological matter, as electrification of ferries virtually eliminates engine noise and vibration that can harm orcas, a federally-listed endangered species.
Totaling $318 million over four years, the proposal would specifically convert the MV Tacoma to hybrid electric, build a second Olympic-class (144-car) hybrid electric ferry, begin investments for a third, and construct three terminal charging stations. This investment builds upon 2019 funding for electric conversion of a Jumbo Mark II vessel, construction of a new Olympic class vessel, and authorization for the MV Tacoma conversion.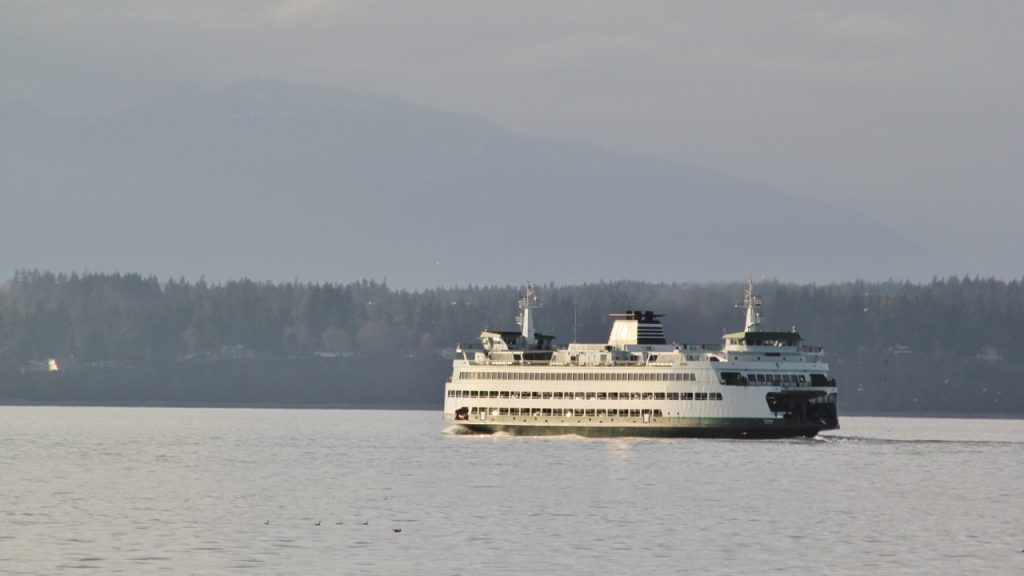 Next, $3.25 million is suggested to forward a Pacific Northwest high-speed rail line. The funding will go toward establishing a coordinating entity with representation from Washington, Oregon, and British Columbia. This is in line with recommendations from a Washington State Department of Transportation (WSDOT) report, laying out the framework for a regional high-speed rail authority that The Urbanist reported on.
Other transportation funding with the climate package includes electrification of land and water vehicles with $35 million for transit electrification, $5 million for maritime decarbonization, and $1.5 million for promoting electric vehicle (EV) benefits and incentives. Transit electrification and EV dollars will be prioritized to low-income communities that suffer most from air pollution, and additional dollars establish an Environmental Justice Task Force. There's also a $2.85 million proposal for the DoE to implement a clean fuel standards program.
Outside of the climate proposals that Inslee distinguished, there are recommendations for $20 million for bicycle and pedestrian infrastructure, bike and pedestrian safety grants, and safe routes to school. There's an additional $5 million for the Regional Mobility Grants program. Part of a $160 million bond investment is recommended for the Public Works Assistance Program to provide low- to no-interest loans to local governments to repair, repair, or rehabilitate bridges and roads. Lastly, $724 million of continued support of culvert removal is put forward. This is a part of the estimated $3.3 billion estimate to meet a court order that requires 90% of potential fish habitat open by 2030, another joint transportation and environmental project.
Housing
Just short of a fifth of Washington's carbon emissions are from residential and commercial buildings, so significant dollars are being invested to reduce this energy usage with energy efficiency investments. Last week's climate brief notes $141 million for cleaner buildings in the proposed capital budget. The brief highlights $55 million to weatherize and support energy efficiency investments for 7,000 low-income residences, $66 million to retrofit more than 200 public buildings, and $20 million to shift fossil-fueled equipment to heat pumps and other electric equipment.
Additional housing investment proposals in the recommended budget include:
$240 million in bonds for the Housing Trust Fund to build around 3,390 affordable and low impact housing units. It also includes rehabilitation loans that would help preserve around 1,000 housing units for low-income, vulnerable, and/or rural individuals and families.
$30 million in bonds for the Housing Trust Fund/United States Department of Agriculture-funded preservation to preserve 1,500 aging affordable housing units, including units at risk of returning to market-rate prices.
$70 million in bonds for the property acquisition flexible fund dedicated to eligible entities to acquire property like hotels for quicker conversion into shelters, permanent supportive housing, or transitional housing.
$50 million in bonds for enhanced shelter capacity. This would convert basic shelters to or create enhanced shelters. This could also be used for facility improvements such as laundry and bathrooms.
$10.2 million in bonds for the Health Housing Remediation Program to clean low- to mid-level hazardous sites to expand buildable land footprints and give develops more incentive to develop affordable housing.
$328 million for rental assistance. Half for the current biennium, and the other half to continue federal CARES Act rental assistance.
$17 million for foreclosure assistance. This would serve an increased number of homeowners expected to seek relief from foreclosures once federal moratorium on foreclosures and CARES Act protections expire.
$8 million for anchor communities to continue and boost investment into the program that aims to reduce youth and young adult homelessness to "functional zero".
Clean Energy Investments
The last assortment of climate investments in the Governor's proposed budget make up the $100 million in bonds for the Clean Energy Fund to support the 2021 State Energy Strategy. The fund program capitalizes the development, demonstration, and deployment of energy projects that support zero-emission technology. Nearly half of that funding has already been mentioned in this article with the proposed funding in next-generation clean buildings, transit electrification, and maritime sector decarbonization.
The energy strategy also funds $15 million of grid modernization projects to help implement the Clean Energy Transformation Act, a 2019 law that commits the state to a zero greenhouse gas emission electricity supply by 2045. The funding will help deploy distributed energy resources and smart grid technologies like microgrids that will help integrate those renewable and distributed resources.
Fifteen million dollars could go to research and development for new and emerging energy technology. Twenty million dollars is proposed for grants to nonprofit lenders to support clean energy projects by small businesses, nonprofits, multifamily homebuilders, and homeowners. The last $5 million of the fund is proposed for dairy digesters that capture methane emissions for natural gas and biofertilizer production.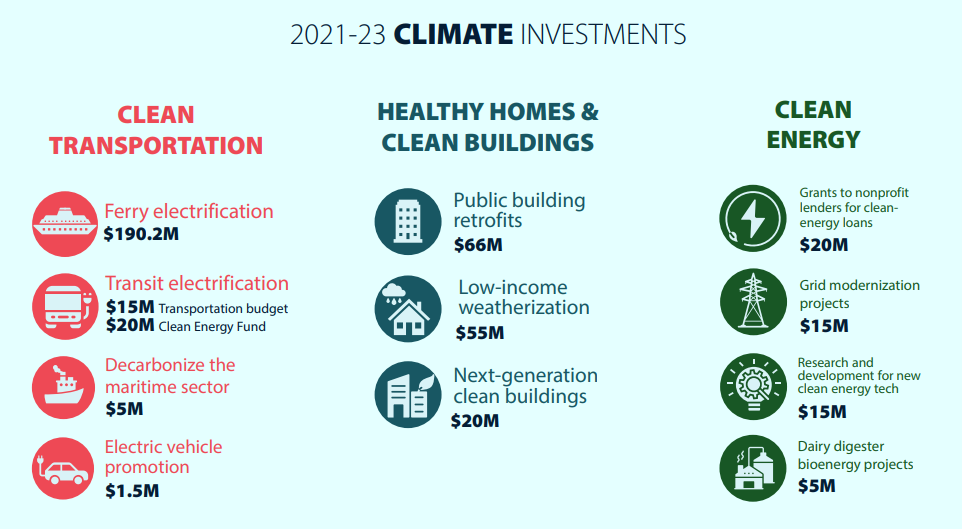 Funding and What's next
To fund his climate and housing suggestions, Governor Inslee is calling for a capital gains tax and a narrowing of a tax loophole for existing bad debt deduction. Hoping to reduce the state's regressive tax code, the proposed capital gains tax would apply a 9% tax to capital gains earnings above $25,000 for individuals or $50,000 for joint filers when it takes effect in 2022. The Governor's Office estimates that it would primarily affect the most wealthy, and 1.9% of households in the first year.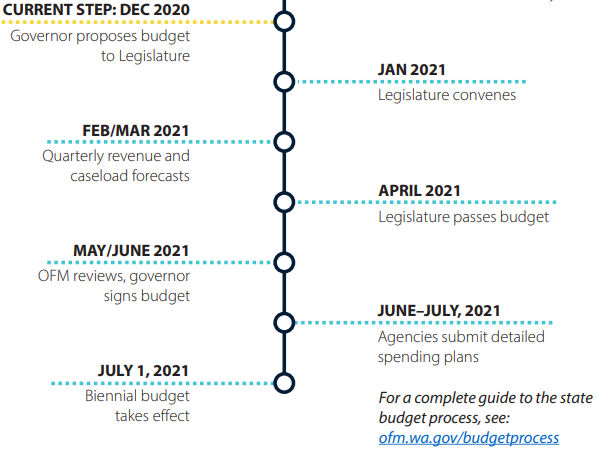 Now it's up to the legislature that will start meeting in January to develop and pass a budget. After it's signed by the Governor, the 2021-2023 biennial budget will take effect in July 2021. Now that it's in the legislature's hands, let your representatives know what you think of the budget and what you'd like to see in it.
Shaun Kuo is a junior editor at The Urbanist and a recent graduate from the UW's Jackson School. He is a Seattle native that has lived in Wallingford, Northgate, and Lake Forest Park. He enjoys exploring the city by bus and foot.