After a year of pandemic lockdowns, it's hard to think of anything that we can't do in our homes. Work, baking, exercise, school, hedgehog ninja warrior courses. Homes that were just sleeping stations on our way back to work have become, surprisingly, places to actually live.
But Seattle does have an extensive list of things that you are technically not allowed to do in your house. The zoning code excludes all sorts of uses throughout the 75% of the city that's strictly zoned for single-family detached homes. Those rules came crashing down on a local cidery in recent weeks as Yonder Bar was forced to shut down its garage-based bottle shop in Greenwood. For many, this is the first time they heard of the concept of home occupations.
Home occupations are an old part of zoning, one of the original release valves from when cities started putting hard and fast restrictions on what people could do with their properties. There are some occupations that people need to do from their homes and zoning grew to reflect that. But the list of allowable home occupations, and the way it's enforced, shows how out of place the law is today.
Seattle's current controversy stems from neighbors trying to take away one of the few good things that popped up during this past hell year. Starting last fall and ramping up in December, Seattle's Department of Construction and Inspections (SDCI) received complaints about a cider bar operating out of someone's garage. Bemoaning the home's location in a residential neighborhood, blocks from schools, "in plain sight of any child nearby," these scolds called the city down upon their neighbors.
The particular garage belongs to Caitlin Braam, founder and president of Yonder Cider. She was indeed selling alcohol from the garage as a retail-only tasting room (there was no brewing or distribution out of that location). The tiny early 1950s era garage would be a snug fit for most modern e-bikes, but is a pleasant size for a counter and a couple of display fridges. It also stands on the block between the 1st Avenue NW Stay Healthy Street and Wing Dome on Greenwood Avenue N.
The Greenwood Urban Village is one of the neighborhoods that show just how broken Seattle's zoning can get. Slightly higher density and commercial uses are allowed only on the single lots that line Greenwood Avenue N or N/NW 85th Street. It's a crucifix of apartments and shops carved into a sea of single-family detached homes. Had they been on the other end of the same block, Yonder would have no problem selling cider.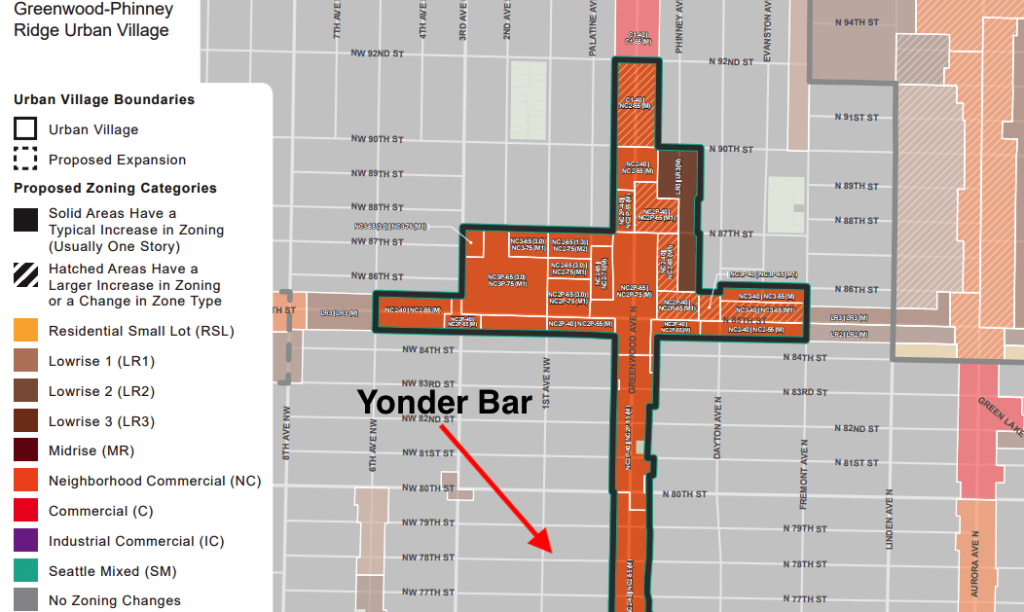 Based on the complaints, and over the vocal support of many others in the neighborhood, SDCI closed Yonder Bar in early February. To reopen, Yonder Bar must restore required off-street parking, limit the size of a sign advertising the business to 64 square inches, and restrict customers to appointments only. These are the requirements for home occupations, which must innocuously and invisibly disappear into the quaint residential fabric of its surroundings.
An Old Way of Doing Things
While it may sound like a business is taking over or "occupying" a house, a home occupation is about the job, not the building. "A home occupation of a person residing in a dwelling unit is permitted outright in all zones," Seattle's Land Use Code states. It's the person's occupation. That distinction gives us some insight to the roots of the rule.
The idea of occupations appropriate to be done at home is an old one. In a 1953 report, the American Planning Association surveyed zoning laws about home occupations. They found, "those occupations which customarily have been given approval when conducted in the home are the professions, chiefly doctors and lawyers, and certain feminine occupations such as dressmaking and sewing." Sorry that doctors and lawyers don't fall into the feminine category.
Seattle's current code isn't quite as misogynistic, but it does specify jobs that it views as appropriate for home occupations. Childcare (where over 90% of the workers are female) is specifically permitted. Also, the Seattle Residential Code, includes: "offices, mercantile, food preparation for off-site consumption, personal care salons and similar uses which are conducted primarily by the occupants of the dwelling unit and are secondary to the use of the unit for dwelling purposes."

The rules for opening a home occupation emphasizes what, to some, is important for such a dwelling. Deliveries are limited to once a day. Customer visits are by appointment only. No evidence of the home occupation may be visible from the exterior, including signs. And parking, which is always paramount, must be preserved. Keeping the neighborhood quiet and uncrowded.
Home occupations are the parts of zoning that really shine the light on two things about the ordinance. First, it's arbitrary. Houses get deliveries and visitors all day. People can put all sorts of nonsense in their yard and hand beers out of their living room window. And folks can run anything from a bat cave to a smelting forge in their home, so long as it's a hobby. Once it makes you a wage, those things are forbidden.
And second, the ordinance is absolutely exclusionary. While we think about protecting neighborhoods from turn-of-the-last-century slaughterhouses, it's mostly about preserving a very specific image of wealthy White neighborhoods. You're allowed to work from home so long as you have a job that can be done without visitors or upsetting neighbors in any way. Sort of like working in a pandemic.
The experts who spent the early 20th century developing zoning didn't come from working in slaughterhouses. They were designers trying to noodle out the ideal city. Folks they knew (or aspired to be) like lawyers and doctors could work from home without offending that ideal. The exceptions carved out by home occupations weren't about flexibility in zoning. Zoning is those wealthy enough to write zoning deciding that the best way to deal with the worst of industrialization is to section it off. We've kept that exclusion around, without the industry.
Imminent Legislative Fixes
Yonder Bar's tussle with Seattle's home occupation rules has caught the attention of the City Council. Council Bill 120001, drafted by Councilmember Dan Strauss and co-sponsored by Council President M. Lorena González, provides interim regulations for home occupations. For the next year, the restrictions on parking and exterior appearance would be suspended, as well as the appointment-only visitors rule.
This update to the home occupation rules is very much in the wheelhouse for both councilmembers. Strauss, chair of the City Council's land use committee, drafted legislation last year dealing with that dominant type of home occupation–childcare.
Daycares operating out of homes faced city rules about home occupations on top of county and state childcare provider rules. The councilmember's Childcare Near You ordinance removed a number of restrictions on childcare facilities, including the limits placed on childcare home occupations. The legislation passed unanimously in August.
For González, the issue is about lowering barriers. "Access to capital or commercial affordability keep many women and BIPOC entrepreneurs in particular, from starting a business," she said. "The Bringing Business Home bill will strengthen neighborhoods and get us closer to complete neighborhoods with amenities–including childcare–for Seattle residents and families."
At its first hearing in the land use committee, the bill received resistance from Councilmembers Debora Juarez and Alex Pedersen. Both councilmembers expressed concern for existing small businesses competing with upstarts that did not have to pay rent. Pedersen saw the potential of unmitigated impacts in residential areas. Juarez stated an interest in opening a fry bread establishment in her driveway.
For neighborhoods suddenly becoming business districts, "I believe that is simply not true," González said. "Businesses must still meet every requirement by the many layers of government like the state, public health, and the City of Seattle to operate," including sanitation, restrooms and food handling.
During that first hearing, Strauss pointed out the number of very famous businesses that started in garages. Similarly, González sees updating home occupation rules as a developing bench of businesses to move into space vacated during the pandemic. "The kinds of businesses that would benefit from this change already naturally fit into their neighborhoods; and when their business outgrows their space at home, they'll be taking their business to a storefront to expand and that's a good problem to have," she said.
Opposition to interim home occupation rules is very similar to the opposition to food trucks from a decade ago. Brick and mortar restaurants saw a threat from those not paying rent and there was worry about mobile food spreading through the city. But what has evolved in Seattle's food truck scene is very similar to what González is speaking about. Just this week it was announced that the Cycle Dogs food truck would be opening a brick and mortar location. It will be taking over the old No Bones Beach Club, itself once a food truck.
Such transition comes from a low-barrier business scene that may help Seattle emerge stronger from this pandemic. As González points out, "I believe this bill is going to be one strategy that will help us with our economic recovery from COVID-19; we need flexibility and innovation, and this is local government meeting innovation happening on the ground by our entrepreneurs who want to try out ideas and provide needed income for households."
We've tried pretty much everything else in our homes this past year, so maybe it's time to add scrapping antiquated, exclusionary home occupation rules to the list.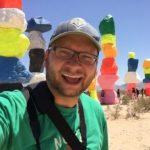 Ray Dubicki is a stay-at-home dad and parent-on-call for taking care of general school and neighborhood tasks around Ballard. This lets him see how urbanism works (or doesn't) during the hours most people are locked in their office. He is an attorney and urbanist by training, with soup-to-nuts planning experience from code enforcement to university development to writing zoning ordinances. He enjoys using PowerPoint, but only because it's no longer a weekly obligation.