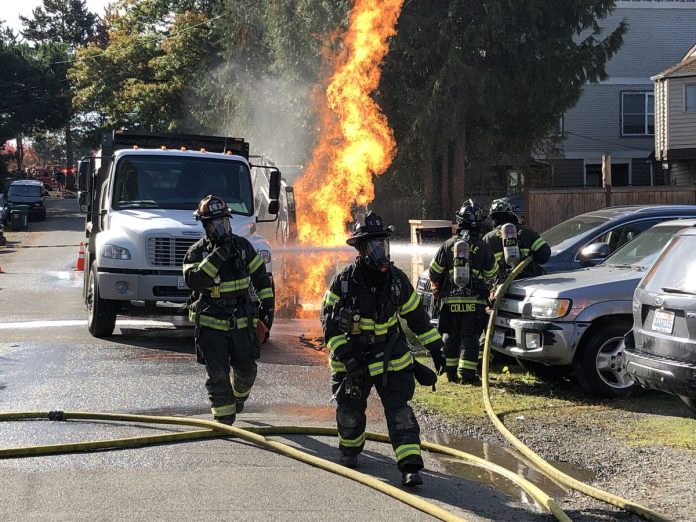 That freakish gas flare erupting from the sidewalk in the Central District on February 24th was an ominous double-warning about the danger of relying on fossil fuels and specifically depending on Puget Sound Energy (PSE), a private, for-profit gas company whose owners have repeatedly shown that they are more interested in their wealth than in the safety of our community or the planet.
This latest PSE fire shows why the Amazon Tax working people won last year was only a start, and why we need a massive program to fund Green New Deal renewable energy projects, paid for by big business, and take PSE into democratic public ownership, so that working people can reorient the company away from fracked gas and toward clean, renewable energies.
Thanks to the expert intervention of union workers from the Fire Department and Puget Sound Energy, the Central District fire was extinguished.
But it could have been much worse. This was just the latest in a string of gas fires and explosions involving pipes controlled by PSE.
In 2016, an explosion in PSE's gas lines leveled a city block in Greenwood, injuring nine firefighters, destroying three small businesses, and damaging dozens of buildings. The state Utilities and Transportation Commission (UTC) found that PSE broke state law and put the public at risk by failing to deactivate an old section of gas piping. The agency concluded that "the leak and explosion would not have occurred but for PSE's improper abandonment of the service line." It ultimately fined PSE a whopping $1.5 million for this neglect. 
In 2019, due in part to incorrect mapping information about the location of underground gas pipes, construction workers in North Seattle inadvertently severed a gas line, causing flames to shoot up from the ground and sending three workers to the hospital.
Then last July, road repair crews in West Seattle who were provided misinformation from PSE about the location of its underground gas pipes accidentally broke gas lines twice. PSE is supposed to maintain up-to-date maps of its underground piping system, but apparently those maps were defective.
These PSE mis-mapping incidents are unfortunately not isolated cases. Following the Central District fire, a worker for one of the companies responsible for locating PSE's underground facilities for construction and excavation projects wrote to my Council office to note that "the mapping system for the power and gas facilities hasn't been updated for over a year, and there are several facilities that are mis-mapped, as well as numerous areas where gas services and mains are faulty and unlocatable. Given all this, I'm not surprised by [the Central District] gas leak and am grateful that no one was hurt. Due to faulty infrastructure, I expect such issues as seen in [this] leak are likely to happen again with more frequency."
It should surprise no one that PSE's owners seem to care more about financial returns for their shareholders than they do for the safety and security of workers, our community, and the planet. At the time of the Greenwood explosion and fire, PSE was owned by the Australian-based Macquarie Group, the world's largest infrastructure asset manager. Today, PSE is owned by a group of global investors including the Alberta Investment Management Corporation.
In addition to operating gas lines in western Washington, PSE provides electricity by burning fracked natural gas in power generators across Washington, and by burning coal in Montana. It is in the process of completing a massive, and hugely controversial, liquid natural gas plant in Tacoma.
When it comes to climate justice, PSE is a major problem. Fully 66% of PSE's power generation comes from coal and gas, both of which are major contributors to greenhouse gas emissions. Only 33% of PSE's power generation comes from hydro, wind, and solar power generation, compared to the 88% carbon-free energy production at Seattle City Light, a public utility.
Gas may be good for PSE shareholders — the company boasts of nearly $1 billion in profits between 2016-2019 — but those profits are destroying the planet. Gas is "the fastest-growing source of climate pollution in Washington," according to a recent report by the Sightline Institute.
After the Central District fire, I called on the state Utilities and Transportation Commission to launch a full-scope investigation into PSE. 
The state UTC must go beyond examining the Central District neighborhood incident to undertake an immediate, comprehensive investigation into risks of future leaks, fires, and explosions involving PSE gas pipelines in our city. It is shocking, reading about other gas leaks and fires, to learn that PSE can't even tell contractors, other workers, or the public where all of its pipes are.
The UTC must look into whether PSE has at any point neglected or short-staffed maintenance, monitoring, and safety programs, exposing workers and the public to risk. The UTC also needs to report on the economic, safety, and environmental risk to the region of continued reliance on PSE gas instead of converting to clean renewable energies.
But we must do more than simply call for an investigation, because we can't trust state regulators, who are required by state law to give companies like PSE "a chance to cover legitimate costs and earn a fair profit." And PSE executives will never abandon fracked gas and coal because those planet-destroying fossil fuels are what feeds the company's profits. We need to build a local and national movement to bring PSE and other major fossil fuel and infrastructure corporations under democratic public control of working people, so that we can reorient these companies towards clean, renewable energy, and serve people and the planet, not profits.
This demand must be a central part of any Green New Deal program. Workers and communities, not private investors, need to own the resources democratically if we are to begin the transition off fossil fuels.
Last year, our movement fought for and won the Amazon tax to fund Covid relief, affordable publicly-controlled housing, and Green New Deal projects. Beginning next year, this progressive tax on Amazon and the other top 3% of businesses in Seattle will fund $20 million more per year in retrofitting working-class homes to clean energy. 
That is a start, but moving our city off PSE's fracked gas will require a far larger investment in electrification infrastructure and renewable energy production. This also will create thousands of good union jobs.
That is why our Tax Amazon movement is demanding an increase in the tax to fully fund Seattle's Green New Deal. Big companies like Amazon can well afford to pay more. Amazon executives and major shareholders reaped a record $21.3 billion in profits in 2020, and other major Seattle companies like Starbucks and F5 Networks, and corporate mega-landlords, also recorded huge profits.
We cannot afford to wait for the Democratic political establishment to do this. Democrats dominate the Washington State Legislature, but they just failed to advance out of a House committee the Healthy Homes and Clean Buildings Act, which would have required gas companies to set measurable reductions in greenhouse gas emissions and would have supported job creation in renewable energy fields. 
Guess which leading company figured among those the Democrats capitulated to? PSE, which has spent a staggering $3.3 million in lobbying the Democratic-controlled state government over the last five years, and this year boasts no fewer than eight lobbyists in Olympia, including the chief of staff to former Democratic Governor Christine Gregoire.
PSE also contributed a stunning $2.4 million in political donations in local and state races and another $360,000 in federal campaigns in the last decade. PSE knows how to spread its money around, giving to both Democrats and Republicans, but overwhelmingly favoring Democrats since they have held political power in our state over that period. With all that corporate cash, it's no wonder that PSE gets its way with the Democrats. (PSE also made a $20,000 donation to the local Chamber of Commerce PAC in 2019, joining Amazon in an unsuccessful attempt to defeat me and other progressive City Council candidates.)
That is why we have to build an independent, democratically-accountable movement of workers, students, retirees, union members, communities of color, small business owners, LGBTQ community members, immigrants, socialists, progressive rank-and-file Democrats to demand climate justice, including an end to PSE's profiteering and an increase in the Amazon Tax to fund Green New Deal energy conversion projects.
That flare on the sidewalk on February 24th was a call to action for our movement. As the worker who wrote to our office stated, "I personally look forward to the natural gas systems to be safely deactivated so that the region can move towards cleaner, more efficient renewable energy sources. The sooner the better, and safer for all of us."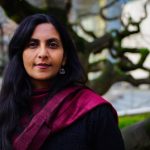 Kshama Sawant has been on the Seattle City Council since 2014. She represents Council District 3, which encompasses Capitol Hill, the Central Area, Judkins, Madison Park, and Montlake. She is a member of Socialist Alternative and holds a PhD in economics. Follow her on Twitter at @cmkshama.