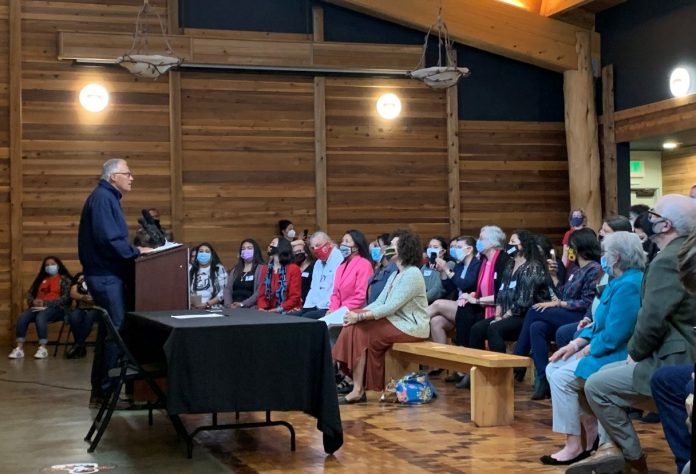 Today, Washington Governor Jay Inslee signed the Climate Commitment Act (CCA) and Clean Fuels Standard passed by the Washington State Legislature, but vetoed provisions delaying implementation of either law until passage of a statewide transportation package. Inslee also inked a bill limiting use of certain plastic products with Seattle Aquarium as the backdrop and Senator Rebecca Saldaña's HEAL Act at a signing ceremony held at the Duwamish Longhouse before heading to Shoreline Community College to sign the CCA.
"[T]here never was a grand bargain, as far as the Governor's role in the process is concerned," the Governor's Office said in a statement released Monday. "Even without a veto, a bargain that potentially delays urgent action on climate change and still not guarantees a transportation package is no bargain at all."
Climate journalist David Roberts has called the cap-and-trade and industrial regulatory system that the CCA sets up the most comprehensive and effective carbon pricing system in the United States. With the veto, CCA and Clean Fuels Standard implementation begins immediately rather than waiting on some future compromise transportation package.
We at The Urbanist have been highly critical of tying a marquee climate bill to a transportation package still mostly focused on highway building in its latest drafts. Our editorial board even suggested a "no new highways" pledge was in order to shake state legislators out of their highway expanding habits, which have delayed climate action and locked in tons of greenhouse gas emissions. My legislative roundup highlighted adding the transportation package poison pill to key climate bills as one of the more regrettable and sinister maneuvers of the session. Governor Inslee's line-item veto seems to nullify this critique in the stroke of a pen.
Still, some advocates argued the Governor had made the wrong move. Transportation Choices Coalition (TCC) favored the linkage as an incentive to a pass the package and issued a statement lamenting the veto.
"Given Washington's clear and pressing need for comprehensive transportation revenue, I'm surprised Governor Inslee would remove a deadline for action. Transportation Choices Coalition came into session with passage of a transportation package as our top priority and we will continue to push for one regardless of this veto," said Alex Hudson, TCC Executive Director.
TCC remained optimistic that the transportation package would end up focusing on safety and maintenance in its final version, despite warning signs so far. Senate Transportation Chair Steve Hobbs has continued to emphasize highway expansion, especially with regard to a $2 billion Highway 2 trestle in his district and the $5 billion reanimated corpse of the Columbia River Crossing I-5 expansion and bridge replacement project in Clark County. While claiming to be about safer bridges, both projects manage to add a lot of lane miles and beefed up interchanges. Those two entrees were joined by a smorgasbord of highway widening projects across the state adding up to billions more.
"This veto does nothing to change Washington's urgent need for multimodal transportation investments and infrastructure maintenance to keep goods and people moving," Hudson wrote in TCC's statement. "Washingtonians still need accessible transportation options that are safe and reliable. Today's veto doesn't change the opportunity and obligation in front of decision-makers to meaningfully address the transportation needs and invest in the future of transportation."
Much remains cloudy even with the veto. For one, someone could appeal the veto and the courts could strike it down as an executive overreach. Perhaps even without the linkage, the legislative coalition will form to pass the transportation package anyway. On the other hand, maybe the linkage wasn't even going to be enough to bring together the highways-or-bust crowd with progressive legislators focused on transit, safety, and environmental justice. Senator Hobbs has failed in three straight sessions to pass his highway-centric transportation package (see the 2019 and 2020 efforts).
"Today, Washington State made history. The bills signed into law today signal our strong commitment to environmental justice and making the necessary investments to reach our goal of net-zero emissions by 2050," said Representative Debra Lekanoff, the only Indigenous member currently serving in the state Legislature, in a statement. "It was an honor to collaborate with my colleagues to integrate parts of the Washington STRONG Act into the Climate Commitment Act to build a foundation for the best policy for today and for the future. As we continue to recover from this pandemic, these policies will help us build back more resilient than ever before. We can invest in critical projects for our transportation system, infrastructure, carbon reduction, and protection of natural resources all while creating living wage jobs and economic prosperity."
The climate package could also inspire bolder action from the Evergreen State's peers. Representative Joe Fitzgibbon, who was prime sponsor on the Clean Fuels Standard, said it and the CCA "provide a road map for what robust climate action looks like at the state level for other jurisdictions in the United States and around the world."
Still, when asked by The Seattle Times, Rep. Fitzgibbon seemed to acknowledge the veto could rock the boat: "The vetoes introduce new issues that we have to resolve in the Legislature in the future, but I don't think that they detract from this day."
Hopefully, the state legislature addresses those issues by getting off the highway-widening hamster wheel, committing fully to transit and people-centered mobility justice once and for all.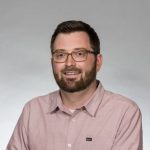 Doug Trumm is publisher of The Urbanist. An Urbanist writer since 2015, he dreams of pedestrianizing streets, blanketing the city in bus lanes, and unleashing a mass timber building spree to end the affordable housing shortage and avert our coming climate catastrophe. He graduated from the Evans School of Public Policy and Governance at the University of Washington in 2019. He lives in East Fremont and loves to explore the city on his bike.