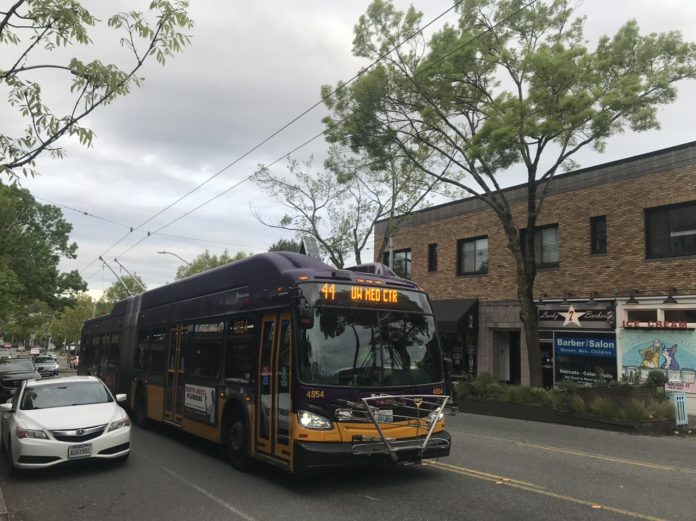 Puget Sound transit agencies have announced an end of pandemic-era capacity limits on buses, trains, and ferries. In a joint notice, the agencies said that regular capacity will return as soon as July 1st for most and July 3rd for others as ridership has started to rebound in earnest and Covid vaccination rates top 55% in the state. The announcement had been hinted at last week by King County Metro staff.
On July 1st, capacity limits will end on all services provided by Community Transit, Everett Transit, Kitsap Transit, Pierce Transit, and Washington State Ferries. Sound Transit will also end capacity limits on Tacoma Link, Sounder, and all ST Express bus routes with exception of Metro-operated Routes 522, 542, 545, 550, and 554. Then on July 3rd, King Metro and Sound Transit — on the agency's all the remaining services — will end capacity limits. Ending of Metro capacity limits will also affect non-bus service provided by the agency like Seattle Streetcar, Via to Transit, and King County Water Taxi.
Washington State Ferries will cease its protocol requiring people who boarded by car to say in them for the duration of sailings. Community Transit has advised riders concerned about capacity to use its bus seat available tool, though it's not real-time. The Transit app, however, has a crowd-sourced tool that is providing live capacity information as reported by riders. Additionally, Kitsap Transit has warned that removal seat cards restricting use won't be completed prior to July 1st.
Capacity limits were put into place as a measure to mitigate the spread of Covid on transit vehicles, though studies have shown that transmission of the virus has been fairly uncommon. At times, the capacity limits have led to transit riders to being left at the curb. Some agencies tried to mitigate this problem with additional trips on higher demand routes. Reducing capacity limits like Metro has done in recent months, however, has meant that more regular service can be deployed elsewhere in the system. Restoration of service on Eastside routes this past weekend is one example of that.
Since mid-April, Metro has used a 50% seated capacity limit as its crowding control protocol. On 40-foot buses, that has meant capacity limits of 20 passengers while on 60-foot buses the limit has been 30 passengers. Prior to this, the limits were even lower with 12 passengers on 40-foot buses and 18 passengers on 60-foot buses.
Though the capacity limits are ending, the federal mask mandate by the Centers for Disease Control and Prevention will continue to remain in place. Local transit agencies intend to enforce this order at all transit facilities and onboard vehicles. Violation of the order is a federal crime.

Stephen is a professional urban planner in Puget Sound with a passion for sustainable, livable, and diverse cities. He is especially interested in how policies, regulations, and programs can promote positive outcomes for communities. With stints in great cities like Bellingham and Cork, Stephen currently lives in Seattle. He primarily covers land use and transportation issues and has been with The Urbanist since 2014.