Last week, Sound Transit released a survey on the U District Transit-Oriented Development (TOD). The parcel at 1000 NE 45th Street is in question, an undoubtedly highly valuable property with amazing transit access due its placement on NE 45th St and Roosevelt Way NE, with excellent bus access and immediate proximity to the incoming U District light rail station. The 18,034-square foot parcel is also zoned for 320-foot tall mixed-use towers, giving the agency and whoever it partners with a wide range of options to slot into a resulting building.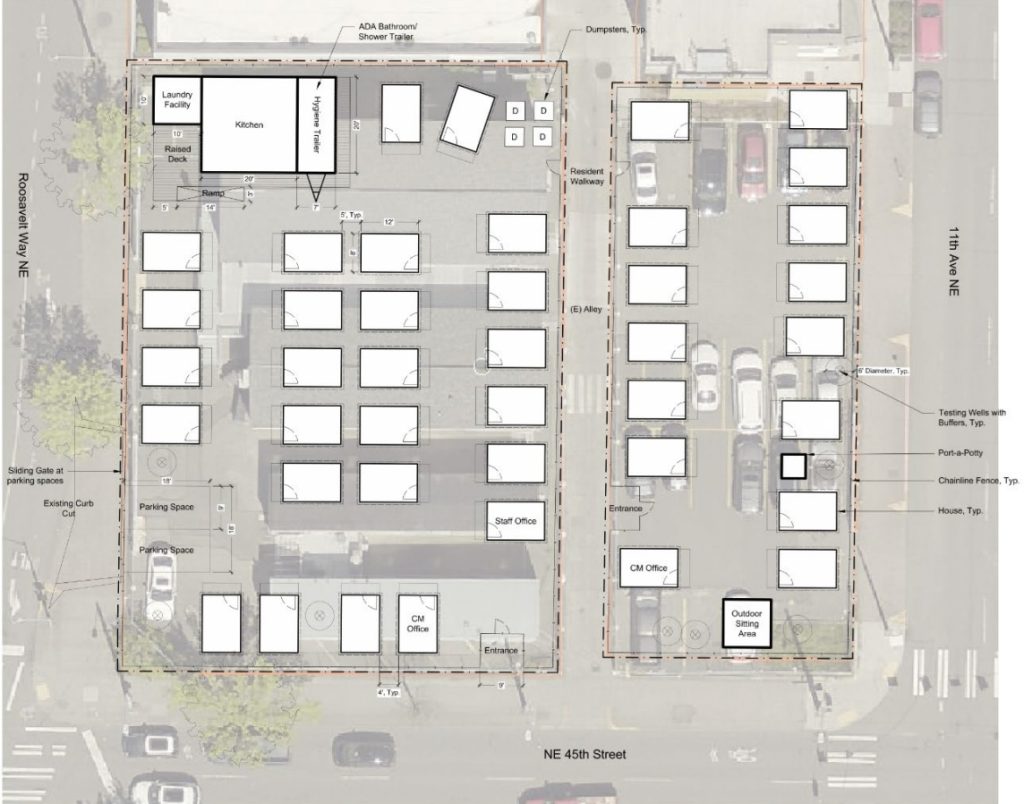 In recent history, the parcel has played home to a drive-through bank and Sound Transit's construction staging. It'll soon be a tiny house village with a two-year lease on the parcel. Rosie's Tiny House Village, according to numbers recently reported by news outlets, will have 36 units to serve up to 50 people with 24-hour on-site staffing. Like the other tiny house villages, it will have restrooms, showers, laundry, dining, a community kitchen, spaces for meeting, and community gatherings. So far, it looks like Sound Transit's U District planning will also help the region address the housing crisis with new residential units. How many of them to make affordable housing is among the questions surveyed by the agency.
A look at the survey
Sound Transit introduces its survey with a brief explanation of what's going on, what could be included in a development, and when these changes could be coming. The agency details that when it has leftover land from construction, it partners with private and nonprofit developers to build transit-oriented development. This development can include affordable housing, commercial space, and public community spaces. Now through early 2024 will be a period of planning and maybe design to determine the nature of the future development.  
After a demographic sampling, the survey asks a handful of more substantive questions about a potential building. Sound Transit first asks about principles. A solid six and an "other" options are given for survey takers to pick (up to three). Affordability quantity and depth, environmental friendliness, maximized housing capacity, pedestrian experience, space for commercial uses are among the named principles that the agency is weighing. Participants are later asked about the mix of commercial and residential uses, and the size of each unit.
The agency probes in detail about specific uses and pedestrian amenities that participants might want to see in a development. The same select up to three method is given to participants to consider arts and cultural space, childcare/pre-school, small or medium retail, space for small scale or emerging business, community meeting/event room, public open space, fresh food or grocery market, medical and health services, and "other" as use options. To improve the pedestrian experience, Sound Transit asks their participants to evaluate street trees, bike racks, setbacks for seating and tables, landscaping, green stormwater features, buffers between traffic and pedestrians, and wider sidewalks.
Before South Transit asks about whose needs the affordable housing the development should address, they do appear to draw the line between affordability and size of the development. In a bubble, this line of questioning makes some sense. Sound Transit and their development partners will need some way to subsidize a very affordable tower, if they were to pursue one. The Northgate Commons project will sell off much of its acreage to at least double the number of existing affordable units on site. However, unlike Northgate that has around 600 affordable units planned, the context of the U District is very different. Hardly two digits of affordable units will be provided in the neighborhood in the next few years according to filed plans.
Current and Incoming Context
I tracked down all the Mandatory Housing Affordable (MHA) choices that developers in the U District have made — that are their own articles. The vast majority have decided to pay into the Office of Housing's affordable housing pool. Only a few have chosen to provide affordable performance units, none of them are in the highrises coming to the U District. It might make sense for the Seattle Office of Housing (OH) to invest in affordable housing in the U District, but neither they nor their nonprofit partners haven't invested any there and the U District has contributed the most to the fund.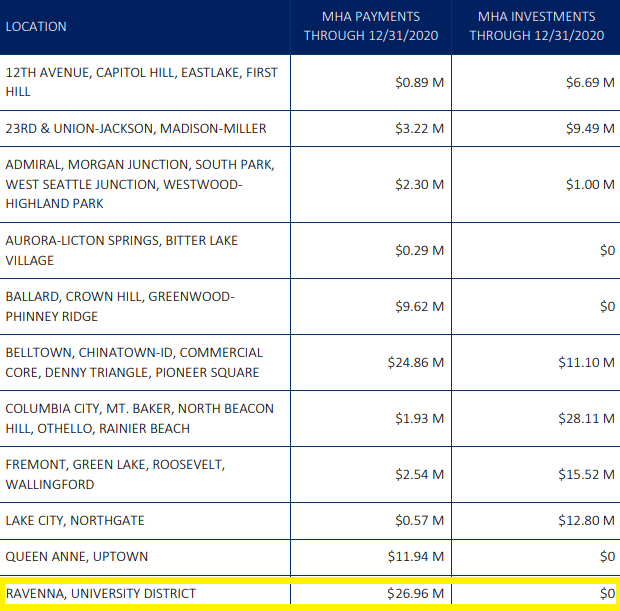 Of the new housing inventory of thousands of units coming to the neighborhood, only maybe 20 of those are so far guaranteed to be truly affordable. Sound Transit and whoever it chooses as its partners should work to rectify this imbalance of market rate housing. For me, this means a mixed-use residential tower with many if not mostly affordable units. Partnering with the Office of Housing to make use of U District MHA contributions on a U District project seems sensible, if possible. Assuming land costs are a barrier to OH's possible investment into the U District, that problem doesn't exist if Sound Transit owns the land already — which is thanks to the agency's equitable TOD policy that allows them to offer land for free for social housing developments.
Then there's the context of the highrises being planned around the parcel. Several towers are in the process of planting themselves close to the TOD site. One is even being planned across the street. 1013 NE 45th St, a potential 25-story tower, could be across the street where the gas station is today. Then there's four other 24- to 33-story towers either with permits or in planning that could be within two blocks of the site. There's no argument that a midrise would be appropriate for the site context, if anything only a highrise would be appropriate for the project given the generous zoning and neighboring towers in development.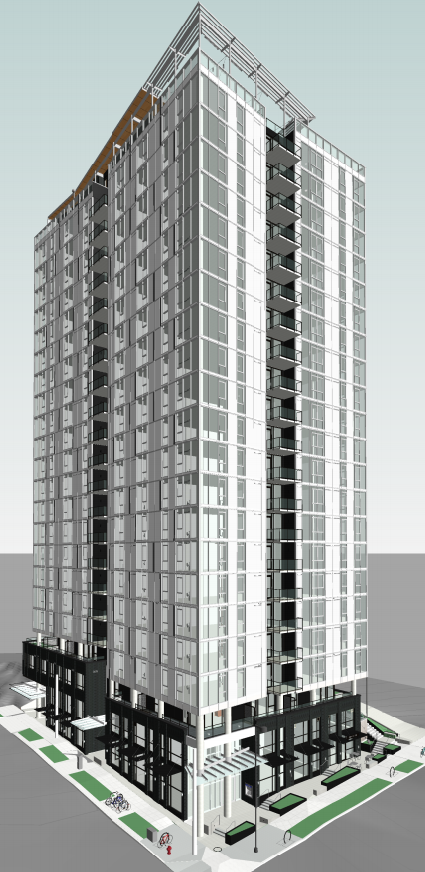 If you're concerned that Sound Transit might be a bit too conservative with their U District TOD project, then let them know in their survey. Tell them that they should bring the wealth of affordable options that others couldn't bring to the U District. Sound Transit's development should at least strive to surpass the tiny house village's contribution — of which it will replace with its TOD — to solving the affordability crisis. The survey closes after July 5th. If you live in Seattle, let the Mayor and the City Council know that you support an affordable tower at the U District TOD site.
Shaun Kuo is a junior editor at The Urbanist and a recent graduate from the UW Tacoma Master of Arts in Community Planning. He is a urban planner at the Puget Sound Regional Council and a Seattle native that has lived in Wallingford, Northgate, and Lake Forest Park. He enjoys exploring the city by bus and foot.