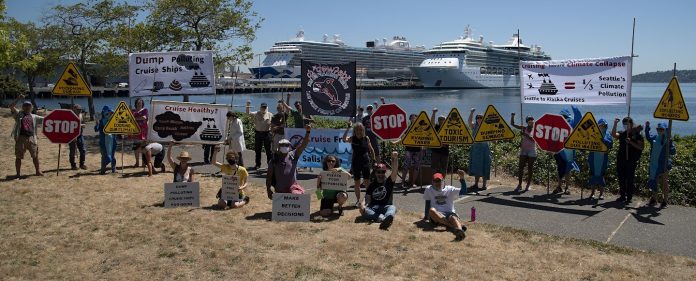 Rally for a "Cruise-Free Salish Sea" 1pm to 3pm Friday, July 23rd at Pier 66.
Set against the backdrop of massive cruise ships idling in Elliott Bay, speakers from environmental advocacy groups 350 Seattle, Seattle Cruise Control, and Extinction Rebellion called on the Port of Seattle to limit the presence of cruise ships in the Salish Sea.
"It's painfully ironic to see the Port of Seattle's theme for the 2020-2021 season be called 'cruise healthy,'" said Stacy Oaks, a community organizer for 350 Seattle and one of the event's organizers. "Along with the cruise industry's practices being unhealthy for our waters, marine life, and communities, we know they are horrendously unhealthy for the climate."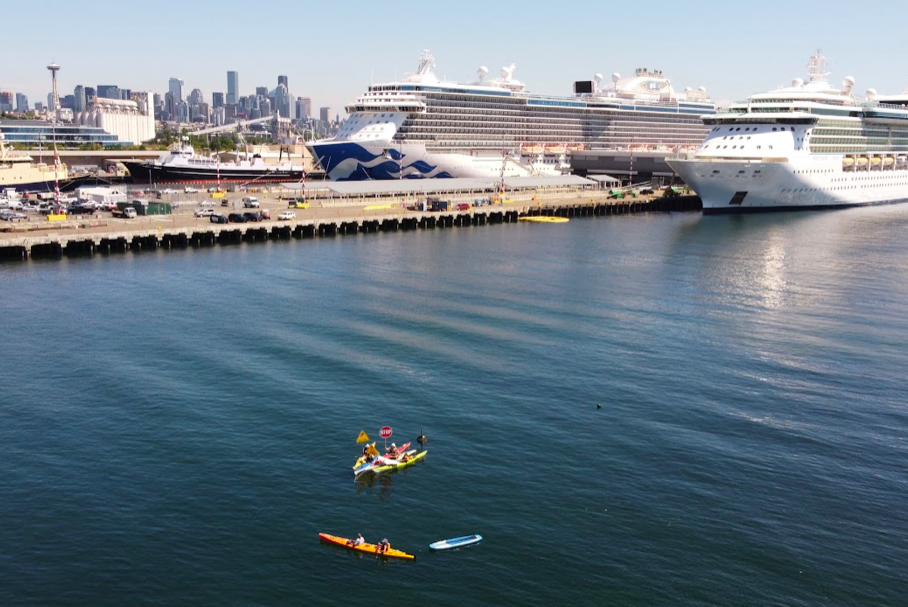 Environmentalists have been decrying the damages caused by cruise ships for years. However, when the Port of Seattle first floated building a third cruise ship terminal on Seattle's downtown waterfront near Pioneer Square, concerned activists launched Seattle Cruise Control in opposition to the proposed $200 million project, half of which would be funded by private investment. Although, the plans for the terminal were halted in July of 2020 as a result of the Covid-19 pandemic, opponents worry that recent glowing remarks about the return of cruise industry to Seattle from Port executive director Steve Metruck and Seattle Mayor Jenny Durkan could mean the terminal may resurface in the future. Additionally, even if a third cruise terminal is never constructed, many see returning to the status quo as unacceptable while the City of Seattle continues to fail to meet its own targeted greenhouse gas emission reductions.
Shocking levels of air and water pollution
While the speakers took to the podium, the first of 83 planned cruise voyages departing this 2021 cruise season from the Port of Seattle boarded passengers onto Royal Caribbean's Serenade of the Sea. While 2021 cruise season will be far shorter than average — in 2020, for example, the Port of Seattle had planned for 233 cruise voyages — each departure is viewed by activists as inflicting unnecessary harm on people and the environment. "Cruises burn the dirtiest fuels, not for essential services but for luxury," said Rachel McDonald, a 350 Seattle boardmember, during the rally.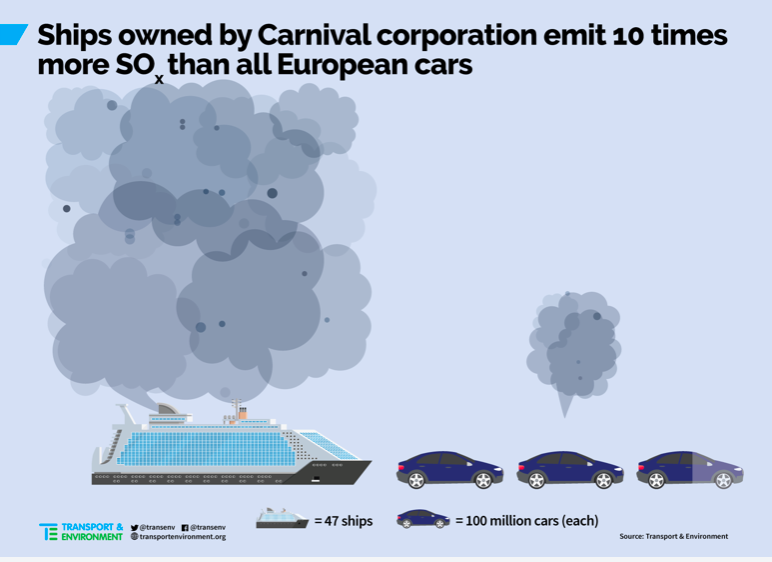 The harms have been well-documented. According to statistics compiled by research group Transportation and the Environment, cruise ships, which are powered primarily by heavy fuel oil (HFO), the dirtiest fossil fuel available, pollute three times as much as airplanes, consuming 30 to 50 gallons of fossil fuels to travel a single mile. HFO also contains high amounts of sulfur oxide — about 3,500 times as much as road diesel contains. In 2017, Carnival Corporation, the world's largest luxury cruise operator emitted nearly 10 times more sulfur oxide than all of the 260 million cars registered in the European Union. Royal Caribbean, whose service recently returned to Seattle, emitted about four times as much sulfur oxide in 2017 as all European cars.
The release of these toxic fumes into the atmosphere has real consequences. "Dangerous climate change is here already, and we have to decide what we are going to do about it. We cannot choose to continue to increase cruise ships and terminals, increasing carbon and emissions in our air. We cannot continue allow cruise ship and marine pollution that in its cleanest form causes 400,000 deaths and six million new cases of asthma globally every year," said Dr. Annemarie Dooley of Physicians for Social Responsibility.
While the cruise industry has touted a recent transition to liquid natural gas (LNG) as a cleaner alternative to HFOs, critics are not impressed. LNG is primarily extracted from the earth by fracking, a technique which releases methane, a potent greenhouse gas, into the atmosphere. Additionally, the construction of a LNG plant in Tacoma, near Puyallup tribal land, has sparked local controversy over pollution and safety concerns.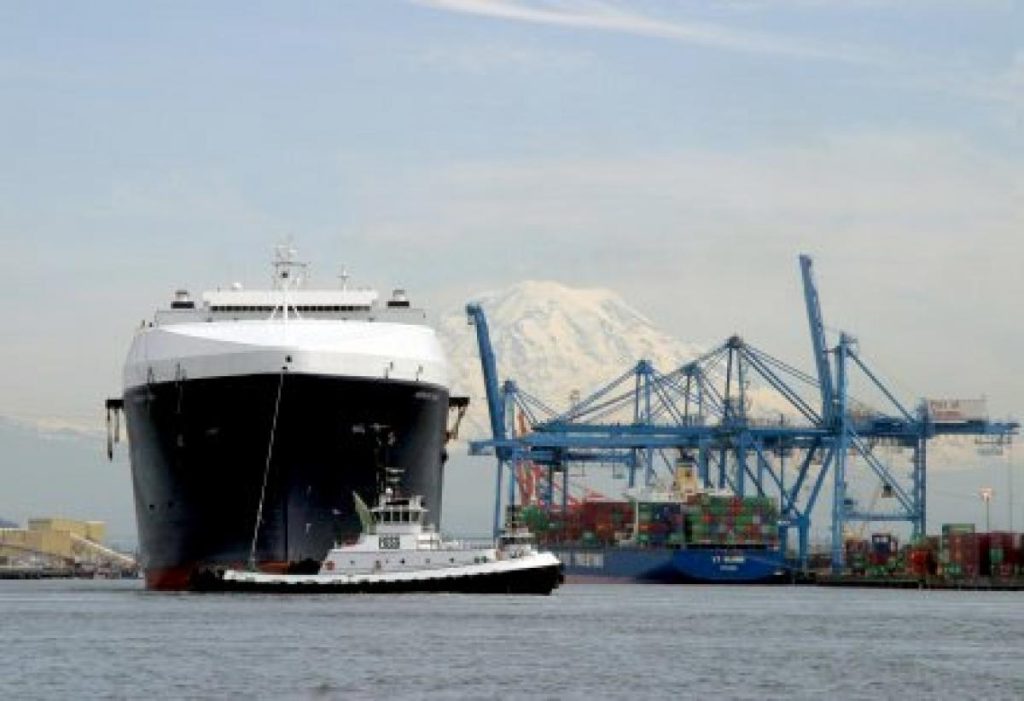 But the environmental havoc wrought by cruise ships doesn't stop there. The vessels produce levels of underwater noise pollution that prevent marine mammals like orcas from being able to communicate and hunt for food; they also dump astounding amounts of trash, sewage, and fuel oil contaminants directly into the ocean. In 2019, Carnival Corporation and subsidiary Princess Cruise Lines were hit with a $20 million fine for dumping waste and debris in the ocean. Prior to that fine, Princess had already paid roughly $40 million in fines over deliberate environmental damages.
According to figures from the United States Bureau of Statistics, in one week a single 3,500 passenger cruise ship will generate:
1 million gallons of "gray water";
210,000 gallons of sewage;
25,000 gallons of oily bilge water;
Over 100 gallons of hazardous or toxic waste;
16 tons of garbage and solid waste; and
Diesel exhaust emissions and ultrafine particles similar to levels in highly polluted urban areas.
When posed the question, "Where does the poop go on cruise ship?" Royal Caribbean blog writers answered in response that the black waste water from galleys and toilets is treated using high-tech filtration equipment that produces water so clean that it is "near tap water quality." Yet, cruise industry executives do not seem to be lining up to take a sip any time soon and ships still have to pull far away from coastlines to legally dump the treated waste water into the ocean.
Abusive labor practices
Flying under "flags of convenience," cruise ships are not beholden to the labor practices of the port cities where they dock. Instead, they can adhere to the labor practices of whatever country's flag they fly, often selecting countries like the Bahamas which have very low minimum wages. This means that even in Seattle where minimum wage is $15 per hour, workers, who often hail from parts of Asia, notably the Philippines, the Caribbean, Eastern Europe, and South America, earn far less. In fact, about 40% of cruise ship workers reported earning $2,000 or less each month according to Business Insider in 2019. While those wages may initially seem low, they plummet when you consider that many cruise ship employees work grueling 12-hour shifts, seven days a week.
According to Bob Barnes, a labor activist, even just making a transition away from a model that permits flags of convenience would substantially raise wages. "Labor costs are approximately about five times higher for ships flying US flags than those flying the flags of convenience," he noted in his remarks. However, such ships are very rare. According to a 2015 study from Cruise Lines International Association, about 90% of cruise ships docking in American ports fly under international flags.
Despite all the negatives, cities across the world have found it difficult to break free from cruise ship traffic because of money. In Seattle, for instance, the cruise industry claims that each cruise departing from Port of Seattle brings $4.2 million into Seattle's economy.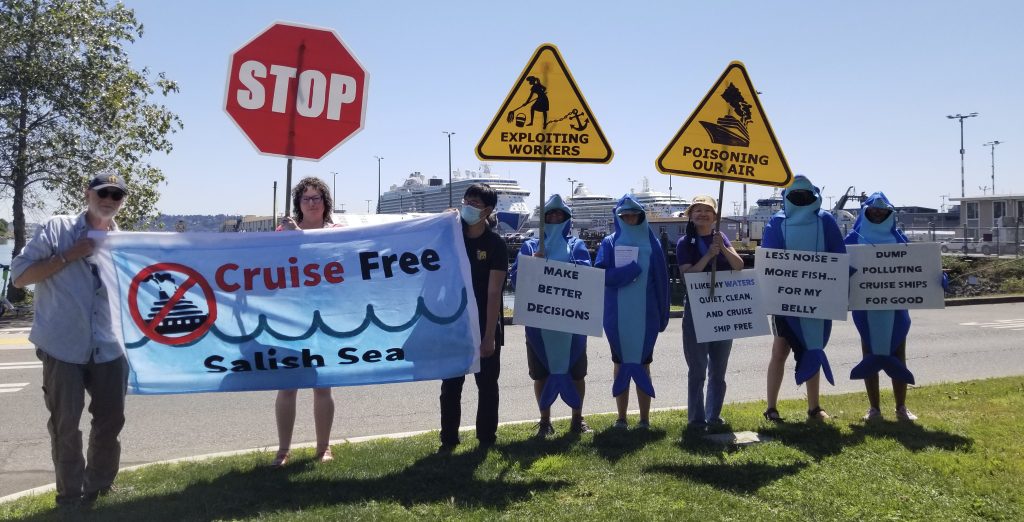 But for critics like Seattle Cruise Control, rather than accepting luxury cruises as a necessary evil, the city should be focused on creating a "just economic transition for workers dependent upon this toxic industry."
To learn more about impact of cruise ships on Seattle and beyond, come out to the rally for a Cruise-Free Salish Sea at Pier 66 on Friday, June 23rd from 1pm to 3pm for a fun and informative event.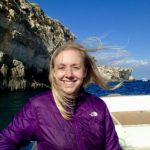 Natalie Bicknell Argerious (she/her) is a reporter and podcast host at The Urbanist. She previously served as managing editor. A passionate urban explorer since childhood, she loves learning how to make cities more inclusive, vibrant, and environmentally resilient. You can often find her wandering around Seattle's Central District and Capitol Hill with her dogs and cat. Email her at natalie [at] theurbanist [dot] org.