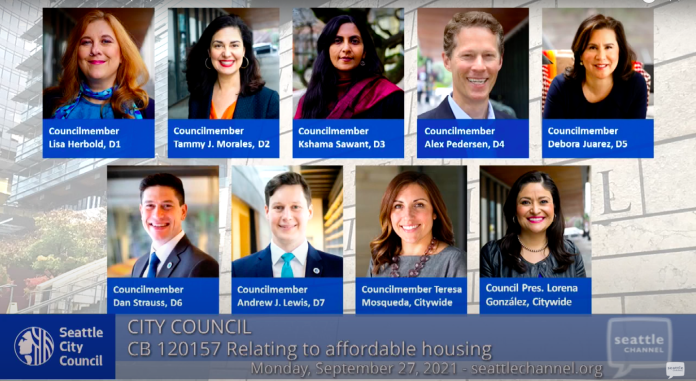 On Monday, the Seattle City Council had a busy — and consequential — day of voting on council bills related to renters' rights in the face of steep rent increases. The Council also voted on an ordinance related to density bonuses for religious institutions building affordable housing. By the end of the session, the Council voted to pass all three pieces of legislation, although not without some discussion and last minute hashing out of details. All councilmembers were present for the votes with the exception of Debra Juarez (District 5) who was absent.
The new renter protection legislation comes at a time in which rental costs for housing in Seattle continue to surge. According to the website Apartment List, which provides information on rents from large apartment buildings, rents in Seattle are up roughly 12% in comparison to last September. However, during public comment period before the votes, some landlords objected to the new rules, arguing landlords need more flexibility to raise rents in order to be able to cover their expenses.
Two bills aimed at decreasing economic evictions passed into law
The two bills related to renters' rights were both proposed by Councilmember Kshama Sawant (District 3). The first was related to rent increase notices. The legislation proposed landlords provide at least 180 days (6 months) notice before raising rents — a major increase from the 60 days previously required by the city, which is also the amount dictated by Washington State law. In her introduction to the bill, Sawant made reference to "skyrocketing rents" leading to "economic evictions" in Seattle, citing a federal study which linked increases in rental costs to higher levels of homelessness.
Councilmember Alex Pedersen (District 4) had proposed an amendment that would have exempted landlords of four units or less, which failed earlier in committee. Councilmember Sawant contested the idea that the legislation would negatively impact small landlords, affirming the opinion that "small landlords are not seeking to gouge tenants."
The proposed bill, which was initially requested by the City's Renters' Commission, passed 7-1, with Pedersen opposed.
The new rental increase notice period might be the longest for a major U.S. city: San Francisco and Los Angeles both require 90 days notice for rental increases of 10% or more, while Portland, Oregon requires 90 days notice for increases of five percent or more. In other cities, like New York and Chicago, notification periods are dependent on the tenant's length of residence in their home instead of the amount of the rent increase; however, at 90 and 120 days both offer notice periods shorter than Seattle's.
The second bill related to rental rights also seeks to assist tenants' facing economic eviction. In this case, tenants faced with a rent increase of 10% and more who earn 80% or less of area median income (AMI) are eligible to receive a relocation assistance payment from their landlord equivalent to three months of their current rent, an amount intended to help pay for first and last month's rent, as well as a security deposit, on the their new home.
Councilmember Sawant offered an amendment that would have removed requirement that tenants provide proof of income eligibility (i.e., means testing) in order to qualify for relocation assistance, commenting that such a requirement could create a barrier for some of the lowest income and most vulnerable tenants who may struggle to produce the needed documentation. Only Councilmembers Teresa Mosqueda (At Large) and Tammy Morales (District 2) voted along with Sawant in favor of her amendment, leading it to fail. Councilmember Andrew Lewis (District 7) commented that he believe the income requirement would be necessary to protect the legislation against future lawsuits, such as those faced by Portland, which also passed tenant relocation assistance in cases of rents increasing by 10% or more and has since been sued by landlords.
However, Sawant's underlying relocation fee ordinance passed 8-0 with no opposition.
"Today's victories demonstrate the growing momentum of our renters rights struggle," Sawant said a press release. "They are a huge step forward in our movement's demand for a full Renters' Bill of Rights. Today's victories will benefit tens of thousands of renters in Seattle, who are facing skyrocketing rent increases from profit-hungry corporate landlords and the venture capitalists and big banks who are fuelling a speculative bubble. We won because renters organized alongside my Council office, unions, socialists, communities of color, the LGBTQ community, and others to demand their rights."
The bill is set to take effect one month after being signed into law by the Mayor.
The relocation fee and 180 days notice bill join a suite of other recent legislation aimed at protecting tenants, including an eviction defense package passed in June, which allows tenants to claim a Covid-related financial hardship to avoid eviction, bans eviction of students and school staff during the school year, and guarantees legal counsel for low-income tenants facing eviction. Facing pressure from housing advocates, Mayor Jenny Durkan also extended Seattle's eviction moratorium though the end of 2021. The extension will allow time for the distribution of rental assistance, which has been lagging in King County. Burien and Kenmore also extended their eviction moratoriums through the end of the year; Governor Inslee has only offered a one-month extension.
A return to state law income requirements for the affordable housing built using density bonuses for religious institutions
The third major piece of legislation passed was related to density bonuses for faith based institutions building affordable housing. Last July, I reported for The Urbanist on how Black faith leaders had opposed an amendment to a religious density bonus bill that decreased the threshold for qualifying affordable housing from households earning 80% of the area median income (AMI) to 60% AMI. At the time Donald King, President and CEO of the Nehemiah Initiative Seattle, which provides technical assistance to Black churches seeking to build affordable housing, penned an open letter to City Council President M. Lorena González (At-Large) calling the switch to the 60% AMI requirement "a poison pill" that would result in the bill excluding "those it's meant to benefit."
Written and passed at the state level with an 80% AMI income requirement for affordable housing, many churches were unprepared financially to meet the 60% AMI requirement for all units in their planned housing developments. In her remarks leading up to the vote on the bill, Councilmember Mosqueda referred to how increasing the 80% AMI requirement would allow for religious institutions to access both public and private funding for affordable housing development, widening their range of options. "We don't want to be in a position where we are even unintentionally reducing the ability for us to build more affordable housing units," Mosqueda said, urging her fellow councilmembers to approve the 80% AMI requirement.
However, some councilmembers, notably Councilmember Lisa Herbold (District 1) who had sponsored the original amendment to reduce the AMI requirement to 60% were still not on board with the switch. Herbold offered up a new amendment that would have kept the 60% requirement in place except for in urban villages assessed as being at high risk of displacement, a category which includes the Central District where many historic Black churches are located. This time, however, Councilmember Herbold's amendment failed in a tight vote with Councilmembers Herbold, Pedersen, and Sawant all supporting the measure, and Councilmembers Mosqueda, Morales, Dan Strauss (District 6), González, and Lewis all rejecting the amendment.
The same five councilmembers who rejected the amendment all supported the ordinance in a vote that landed 5-3. The legislation will come into effect July 2022.
Looking ahead
All together, the City Council session proved to be particularly exciting for supporters of stronger tenants' rights and more financial flexibility for religious institutions seeking to build affordable housing on their property. Councilmember Morales commented during that the session that the renter protection legislation did not amount to rent control, which is forbidden in Washington State under current law; however, the legislation does appear to provide some of the strictest renter protections against cost increases in the U.S., setting up Seattle as a test case for how such protections impact renters and the housing market.
Councilmember Sawant has vowed to put rent control on the docket in an effort to push the Washington State Legislature to remove the statewide rent control ban that has been in place since 1981. "Today's victories add momentum to our fight for a full Renters' Bill of Rights, which includes citywide rent control with no corporate loopholes," Sawant said in her statement.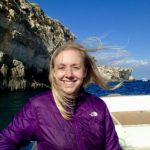 Natalie Bicknell Argerious (she/her) is Managing Editor at The Urbanist. A passionate urban explorer since childhood, she loves learning how to make cities more inclusive, vibrant, and environmentally resilient. You can often find her wandering around Seattle's Central District and Capitol Hill with her dogs and cat. Email her at natalie [at] theurbanist [dot] org.