From ice skating to disc golf, the Northgate Station area offers activities to work up an appetite, as well as globe-spanning cuisine to satisfy it.
So, you've taken the light rail up the new Northgate Station and you're looking for things to explore and do. Well, Northgate has its fair share of options to entertain and The Urbanist is here to provide a guide that will help you make the most out of visiting what at first glance looks like little more than an active construction site. But, for those willing to take a closer look, the Northgate Station area actually offers plenty of fun activities. Additionally, after all that hanging out and exploring, you might want a bite to eat. No fear, Northgate also offers diverse food scene with options including cuisines from around the world.
Places and Green Space
While the Northgate neighborhood is still very much a work in progress for placemaking, it is already home to quite a few unique destinations for Seattle. Northgate's old shopping center, one of the first modern malls to be built in the U.S., has mostly been converted into a construction site with only a few outcroppings and the Seattle Kraken's ice hockey practice facility open to visit. For parks, the Northgate Station area has a handful of smaller parks and other green spaces located mostly outside of the immediate station area and embedded into nearby residential areas.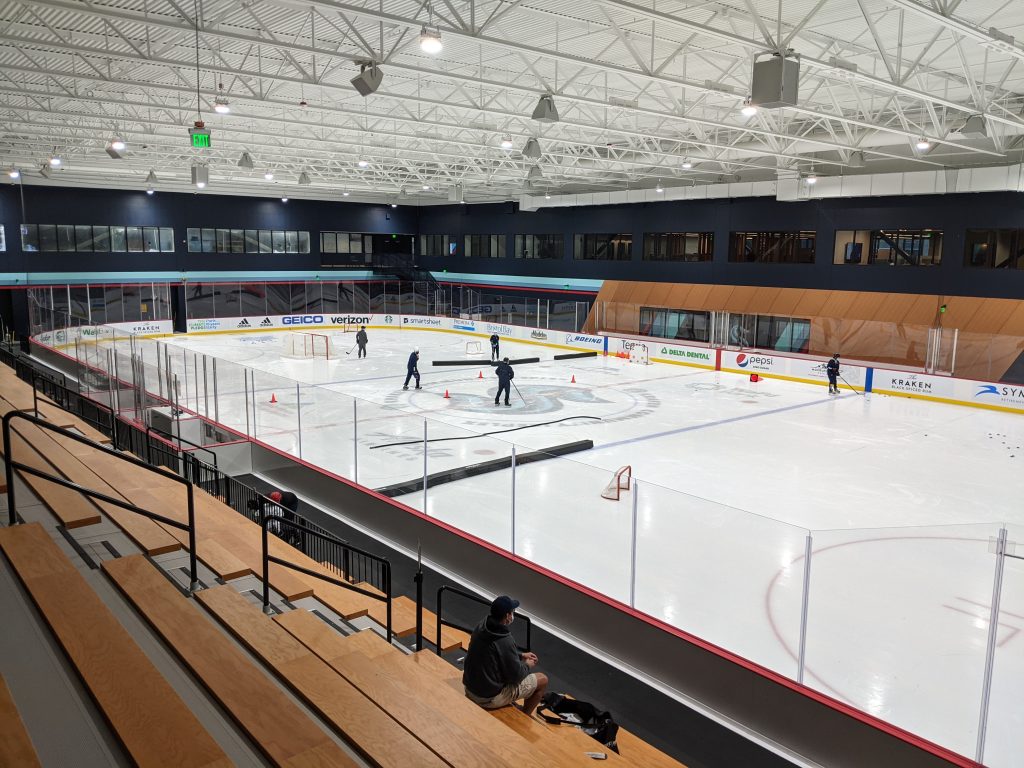 Kraken Community Iceplex – Recently completed, the Seattle Kraken's community ice rinks will likely be the main draw for many visitors to Northgate. The facility hosts three NHL-sized ice rinks, the Seattle Kraken's training facility, a team store, other retail, and a restaurant. The facility is also unique to the city with multiple permanent ice rinks that can be used by the public for ice skating and curling. 1,576 people will be able to be seated in the three ice rinks, while the primary practice facility rink will be able to seat 1,000 visitors.
Thornton Place – The most immediate attraction in the station area is Thornton Place with its theater, restaurants, retail, creek, and pedestrian links. The creekside walkway hovers next to and above a daylit and restored segment of Thornton Creek. The path also functions as a connection between the light rail station and the Northgate Neighborhood Greenway that also neighbors other accessible parts of Thornton Creek.
An entrance to Beaver Pond Natural Area (Photo by Author)

A bridge over Thornton Creek in the Beaver Pond Natural Area (Photo by Author)

Beaver Pond Natural Area by Northgate Manor Apartments (Photo by Author)

A view of the day lit Thornton Creek running through apartment housing. (Credit: Natalie Bicknell Argerious)
Thornton Creek – Throughout Northgate there are a couple narrow corridors and patches of Thornton Creek that the public can access. Right across the street from Thornton's place daylit part of the Creek is the Beaver Pond Natural Area.
Northgate Library, Northgate Park, and Northgate Community Center – Across the street from the Kraken Community Iceplex is the triumvirate of the Northgate Branch of the Seattle Public Library, Northgate Park, and Northgate Community Center. The community center features a basketball court, game room, childcare, teen programs, and fitness facilities.
North Seattle College Campus – On the western side of the John Lewis Memorial Bridge is North Seattle College. The college's campus is home to plenty of green space, with a community garden and Bartonwood Natural Area.
Mineral Springs Park – Northwest of the college is Mineral Springs Park which is home to Seattle's only disc golf course.
Other parks in the area include Hubbard Homestead, Licton Springs Park, Maple Leaf Reservoir Park, and Victory Creek Park.
Food
Northgate and nearby neighborhoods are home to a highly diverse food scene where you'll be able to find cuisines that span the globe. To get to many of these places you'll have to walk north and outside of the 10-minute walkshed of the station, as the immediate station area has yet to adjust to the mixed-use nature of its zoning. In the future, more options will trickle in with the opening of the Northgate Station mall development's ground floor restaurant spaces.
In Licton Springs, Cafe Banh Mi serves fantastic and large banh mi (Vietnamese sandwiches) and fresh rolls, but is still closed for Covid unfortunately. Close by is the highly acclaimed Family Donut Shop, which does your standard donut affair with higher quality than the competition (without higher pricing). You can also find teriyaki, a taqueria, Indian cuisine, and a few national chains on this side of the highway.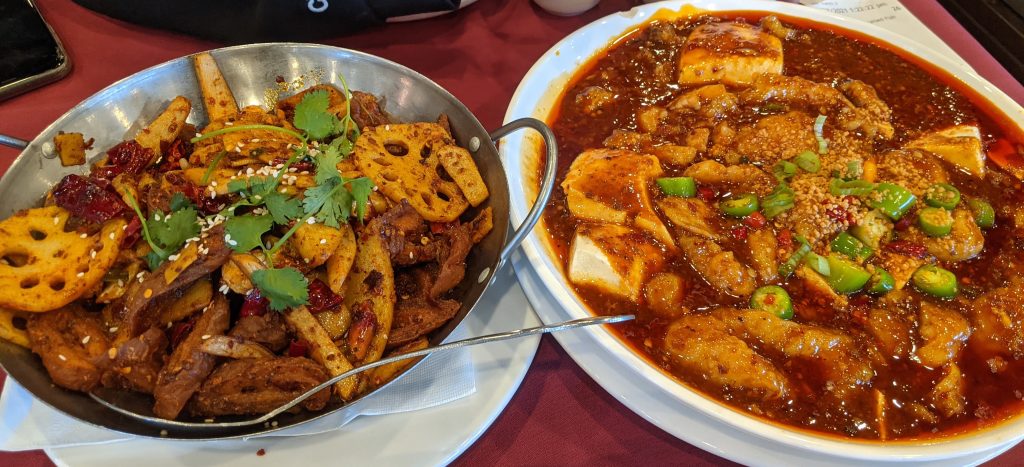 Around the former mall, a personal favorite of mine is Tian Fu. This restaurant serves Sichuan/Szechuan cuisine, any of their dry hot pots or fish dishes will do the trick — but beware if your spice tolerance is low. Thornton Place has sushi, Thai food, ramen, a pub, and national chains. You can also find Mexican cuisine, pizza, poke, Indian cuisine, a gyro spot, and breakfast places.
Pinehurst also has a cluster of restaurants relatively close by that complete the global tour of food that you can do in the Northgate Station area. There's a trio of Ethiopian restaurants, more Mexican food options, and Thai food. El Parche Colombiano has great empanadas and Zylberschtein's Jewish deli makes some damn good pastrami.
A growing neighborhood brings new destinations
While the most immediate thing to do in the Northgate Station area is to get to a parking lot/garage or board a bus to leave the neighborhood, if you stick around a while you'll see there's plenty to do and eat in the surrounding area. More retail, green space, and food will come to Northgate as the remainder of the mall development is completed over the next few years. For now and the foreseeable future, construction — and urban density — enthusiasts will be able to appreciate the progress being made on 4,000 housing units, office buildings, and two hotels.
Shaun Kuo is a junior editor at The Urbanist and a recent graduate from the UW's Jackson School. He is a Seattle native that has lived in Wallingford, Northgate, and Lake Forest Park. He enjoys exploring the city by bus and foot.