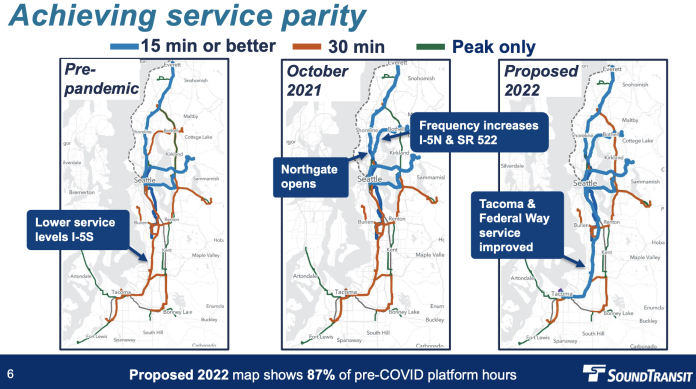 Staffing levels at transit agencies continue to remain a challenge due to pandemic impacts. That could mean parts of Sound Transit's 2022 Service Plan may go unrealized for a period of time next year and possibly longer. That would be disappointing to riders who would otherwise see big improvements to service on the Tacoma-to-Seattle corridor, for instance.
Service improvements are coming, but when is the question
On Thursday, the Rider Experience and Operations Committee was briefed on the full plan, which is seeking to bring service parity across the region with a special emphasis on upgrading and consolidating ST Express bus service in Pierce County. It would also beef up ST Express bus service from Lynnwood to Bellevue. Along with this, frequencies on the T Link in Tacoma would slightly improve and all trips on the Sounder S Line would be restored. Other service would largely remain the same, but this is predicated on local transit agencies staffing back up. That's because Sound Transit largely contracts with Community Transit, King County, and Pierce Transit for service, but the latter two have been facing operator shortages and canceled bus trips.
During the briefing, Sound Transit service planner Michael Couvrette emphasized the challenges and risks that widespread staffing shortages are creating for service. "The recent operator shortages, which are impacting transit agencies across not only our region but also across the country, have impacted ST Express bus service with an increasing trend of missed trips over the past few months that have reduced the predictability of service providers," Couvrette said. In response to this problem, Pierce Transit will temporarily cut back service on some Pierce Transit and Sound Transit bus routes starting on Sunday. This cut back will be strongly felt by Sound Transit riders in Pierce County and South King County as Pierce Transit-operated ST Express bus service will be reduced by about 10% or 61 daily weekday trips.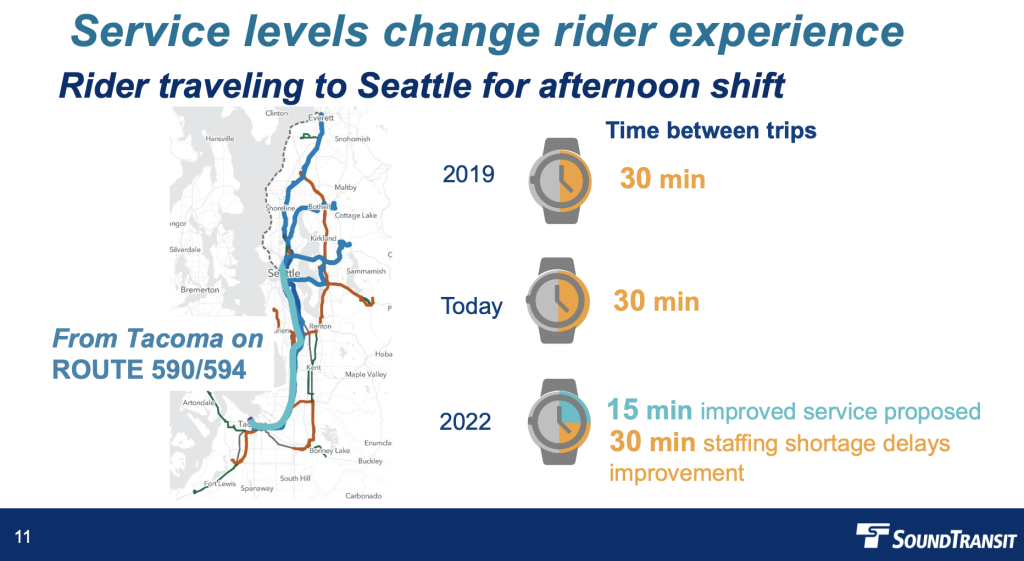 Warning the committee on the fate of the agency's proposed service plan, Courvette added, "The uncertainty and duration of the staffing shortages may require the proposed service improvements…to be partially implemented or deferred into another year." A slide prepared by staff showed exactly the challenge that the service plan faces for service improvements to Routes 590 and 594. Though slated to improve from 30-minute combined frequency to 15-minute-or-better combined frequency at many periods, this could be delayed if staffing shortages persist.
Given this context, Sound Transit still plans to move forward with the 2022 Service Plan and its service revisions and enhancements. However, this year's approach is different and largely without specific timelines for implementation. The agency intends to implement the plan equitably throughout its service area with a focus on Pierce County and South King County that are underserved and have had higher rates of sustained bus ridership. Service improvements will hinge on partner agencies have staffing levels to accommodate the plan, which means there will need to be quite a bit of flexibility in implementation.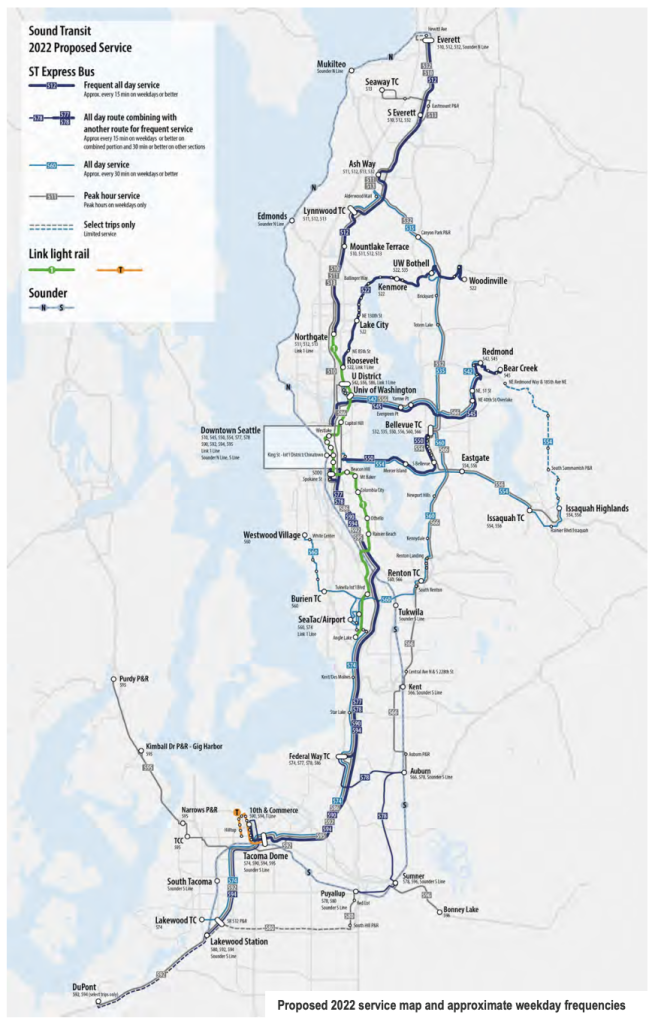 What's in and not in the service plan
In the service plan, there are two buckets of changes proposed: ones that require board approval (major) and ones that are administrative.
As planned, major service changes are eventually expected to shakeout as follows as service provider capacity allows, if board approval is granted:
| | |
| --- | --- |
| Route(s) | Changes |
| 535 (Lynnwood-Bellevue) | Frequency will improve from hourly to half-hourly during weekday middays and Saturday daytimes. Sunday service will also be introduced with half-hourly daytime frequencies and hourly late evening frequencies. |
| 590 (Tacoma-Seattle) and 594 (Lakewood/Tacoma-Seattle) | Combined service improvements on Routes 590 and 594 will deliver benefits to riders between Downtown Tacoma and Downtown Seattle. Frequency will improve from every 30 minutes to 15 minutes during weekday middays and weekend daytimes. Frequency will also improve during weekday evenings from every 30 minutes to every 15 to 30 minutes, depending up time. However, this will require a slight reduction in some afternoon peak-hour trips with frequency going from every six to eight minutes to every six to nine minutes. |
| S Line (South Sounder) | Service will be improved from 10 roundtrips to 13 roundtrips. The improvements will be implemented in September. |
| T Line (Tacoma Link) | Frequencies will improve across time periods once the Hilltop Link Extensions in 2022. On weekdays, frequencies will improve from every 12 minutes to every ten minutes during daytimes, from every 24 minutes to every 20 minutes during early morning and late evenings, and from every 12 to 24 minutes during evenings to every ten to 20 minutes. On Saturdays, frequencies will improve from every 12 minutes to every ten minutes. And on Sundays, frequencies will improve from every 24 minutes to every 20 minutes. |
Also as planned, other service changes are expected to shakeout as follows as service provider capacity allows:
| | |
| --- | --- |
| Route(s) | Changes |
| 550 (Bellevue-Seattle) | Frequency will improve from every 30 minutes to every 15 minutes during Sunday daytimes. However, this will require four roundtrips on weekdays to be removed, reducing peak morning service from every eight to ten minutes to every nine to ten minutes. |
| 560 (West Seattle-Bellevue) | Frequency will improve from hourly to half-hourly on weekend daytimes. |
| 574 (Lakewood-SeaTac) | Some extra trips will be added during early morning and late evening periods to provide better employee access to Seattle-Tacoma International Airport and surrounding areas. |
| 577 (Federal Way-Seattle) and 578 (Puyallup-Seattle) | Combined service improvements on Routes 577 and 578 will deliver benefits to riders between Federal Way Transit Center and Downtown Seattle. This will be achieved by increasing combined frequency during weekday middays and weekend daytimes from every 30 minutes to every 15 minutes. |
Despite all of the planned service improvements, a proposed change to Route 592 (DuPont-Seattle) didn't make the cut and is instead being deferred. Over the summer, staff had pitched the idea of adding a stop at Tacoma Dome to offer a direct connection for DuPont riders to Tacoma. There's no bus service connecting the two cities currently since Pierce Transit does not operate in DuPont. It would have also given riders another option to Seattle. However, staff reported that some commenters on the service plan opposed the change. Opposition came from a minor increased in travel time between DuPont and Seattle that the added stop would have created.
Opposition aside, the agency reported that "some commenters suggested the need to redesign the 592 and 594 to streamline operations, including making service faster on Route 594." This issue will be evaluated further in future service plans.
Other service restorations of suspended bus routes like Routes 541, 544, 555, and 567 (and may remain suspended for quite some time) and reduce service on the N Line (North Sounder) are not addressed by the service plan. Increased service on the Link 1 Line is also not planned, but there is precedent for mid-year changes to respond to demand. Perhaps that could come in 2022 as staffing issues are resolved and rider demand picks up.
Next steps
Going forward, Sound Transit will continue to monitor ridership trends and prioritize investments in all-day frequency over peak-oriented bus service. A final service plan is expected to be published and adopted in December along with a budget to fund it. Then in the spring, staff will return to the board of directors for on update service monitoring and possible implementation plan changes. Sound Transit has also promised to be responsive to the evolving situation, so how that may play out next year remains to be seen, but hopefully it will be good for riders.

Stephen is a professional urban planner in Puget Sound with a passion for sustainable, livable, and diverse cities. He is especially interested in how policies, regulations, and programs can promote positive outcomes for communities. With stints in great cities like Bellingham and Cork, Stephen currently lives in Seattle. He primarily covers land use and transportation issues and has been with The Urbanist since 2014.