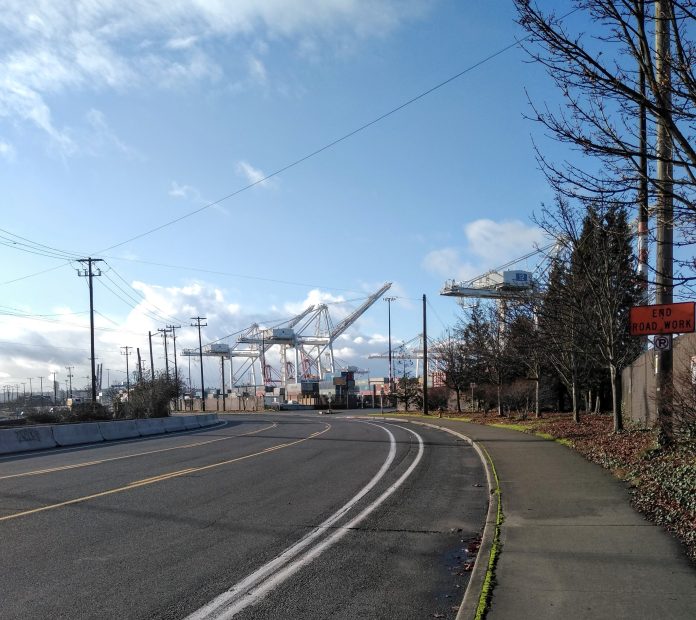 Members of Washington's congressional delegation announced Tuesday that the US Department of Transportation will be awarding a $20 million Rebuilding American Infrastructure with Sustainability and Equity (RAISE) grant to the Seattle Department of Transportation (SDOT) to complete the first phase of its East Marginal Way Corridor Improvements Project. That phase, which is now fully funded, will revamp the corridor between S Atlantic Street and S Spokane Street, providing an upgraded bike facility that will be fully separated from traffic with Jersey barriers.
The project has long been a shared goal of both freight and bicycle advocates. The traffic lanes will be rebuilt to Heavy Haul Network standards, and shifting people on bikes to a separated, two-way cycle track along the east side of the street will improve safety and provide more predictability for everyone using the street. Railroad tracks will be relocated to make space for the protected bike lane, and sidewalks along the corridor will be rebuilt.
The signals along the corridor will also be upgraded to become adaptive signals, a system that has caused significant negative impacts to pedestrian experience after being installed in Seattle's center city but which may be more appropriate for the context of a freight corridor with little cross traffic like East Marginal Way.
This $20 million RAISE grant award will be added to $18.1 million in funding that's already been assembled, which include city Move Seattle levy funds, Port of Seattle funding, and state grants. If that Federal funding had not been awarded, SDOT notes they would have had to complete the project in phases in order to adhere to the terms of the other grants that the project has received. That would have added six months to the project timeline.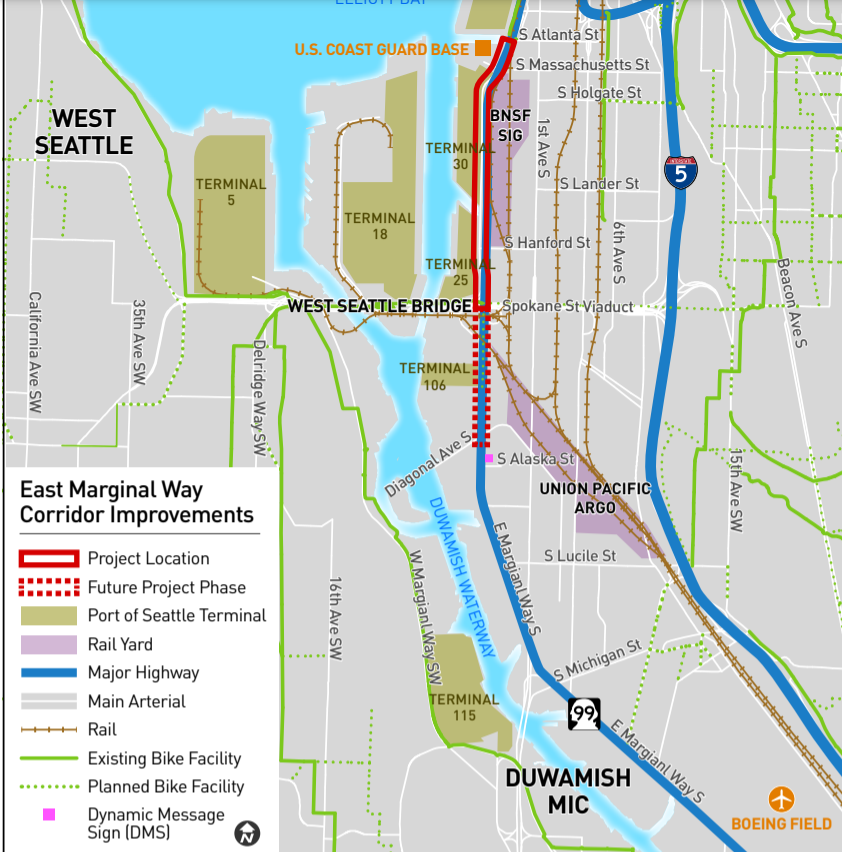 Once the project is completed, people on bikes using the corridor will transition from the Elliott Bay Trail at S Atlantic Street to a two-way protected bike lane along the east side of the street. Travelling south, that protected bike lane will continue all the way to S Spokane Street. But at S Horton Street, people heading to West Seattle will be able to cross diagonally and transition to a wide trail that will enable them to be on the correct side of East Marginal to head west to the Spokane Street swing bridge.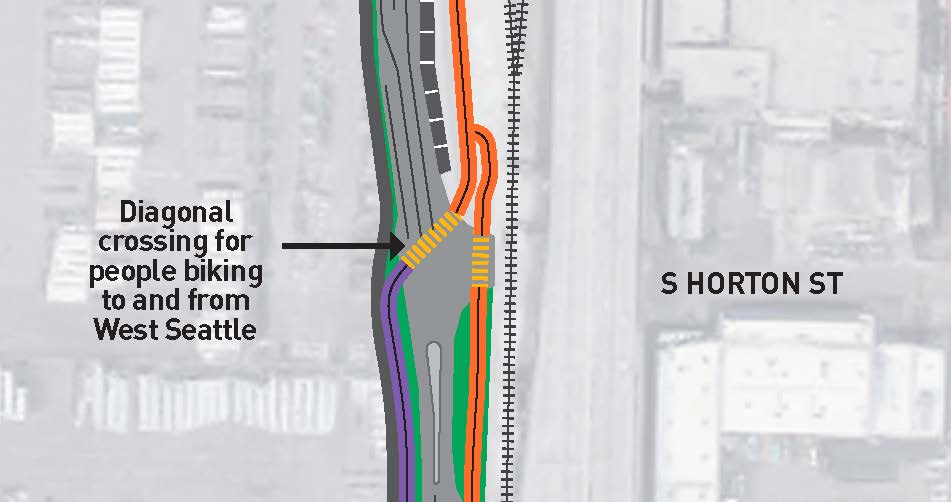 Representative Pramila Jayapal, who had included the project in an earlier iteration of the federal infrastructure package that never passed the Senate, touted the awarding of the grant.
"I am proud to have fought to secure this $20 million RAISE Grant that will improve one of our nation's most important internal transportation centers, which connects seven Port of Seattle terminals with freight rail yards and industrial operations to the national highway system," Jayapal said in a press release.
The project should make the bike facility between downtown and West Seattle much more pleasant, and improve safety at the same time. Over a ten-year period, SDOT reported that there were 15 people riding bikes who were injured along this corridor, including one fatal crash.
The East Marginal Way corridor project also has several unfunded future phases that could move forward after this northern segment is fully completed. One phase would extend the shared-use path along the west side of the street south to Diagonal Avenue S. South of Diagonal, East Marginal functions as a portion of SR 99, and the only bike or pedestrian improvements currently being considered as part of the project would be filled-in gaps that exist in the sidewalk along the east side of the street; the west side doesn't have any sidewalk and that wouldn't change. This segment could provide connectivity to the soon-to-be completed Georgetown to South Park trail, also running on East Marginal further south, but space could not be spared from the seven existing vehicle lanes on the street.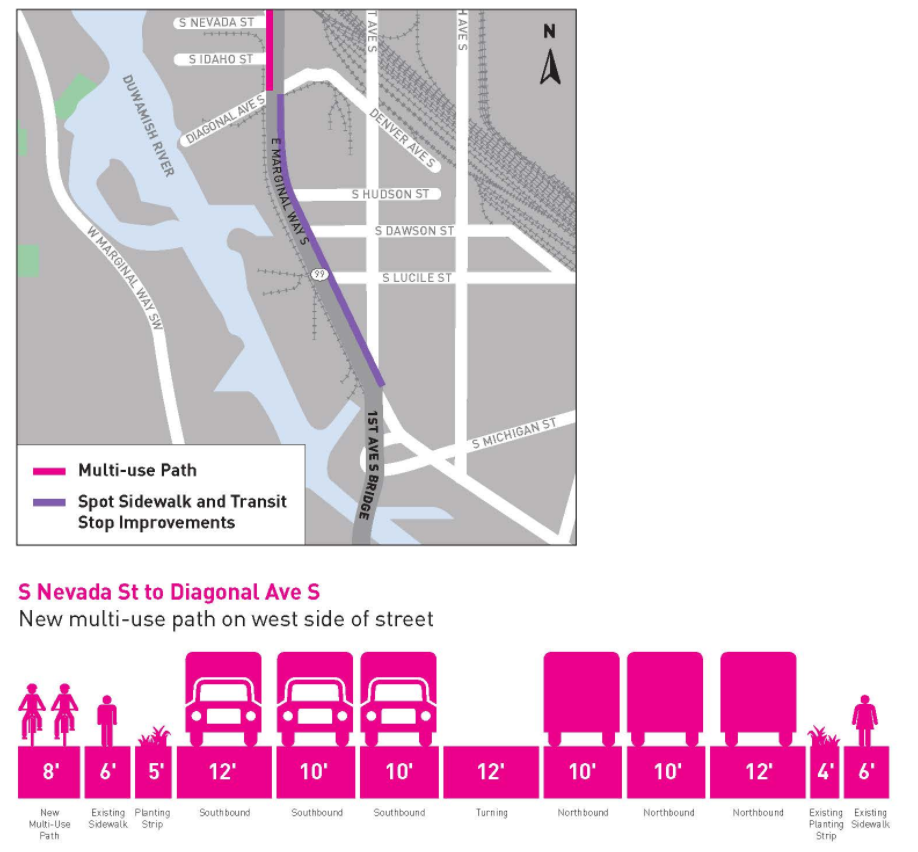 The now fully-funded segment of the East Marginal Way project is set to start construction before the end of 2022, and should take around two years to be completed. Construction will likely prove a headache for freight operators and cyclists alike, but once completed should prove a great asset in the city's bike network, particularly as the new Portside trail provides a safe connection through downtown to Belltown as part of the Seattle Waterfront project.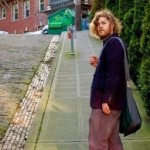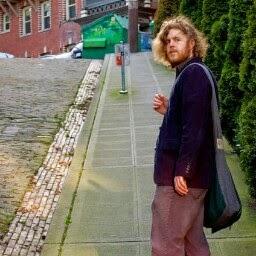 Ryan Packer lives in the Summit Slope neighborhood of Capitol Hill and has been writing for the The Urbanist since 2015. They report on multimodal transportation issues, #VisionZero, preservation, and local politics. They believe in using Seattle's history to help attain the vibrant, diverse city that we all wish to inhabit. Ryan's writing has appeared in Capitol Hill Seattle Blog, Bike Portland, and Seattle Bike Blog, where they also did a four-month stint as temporary editor.