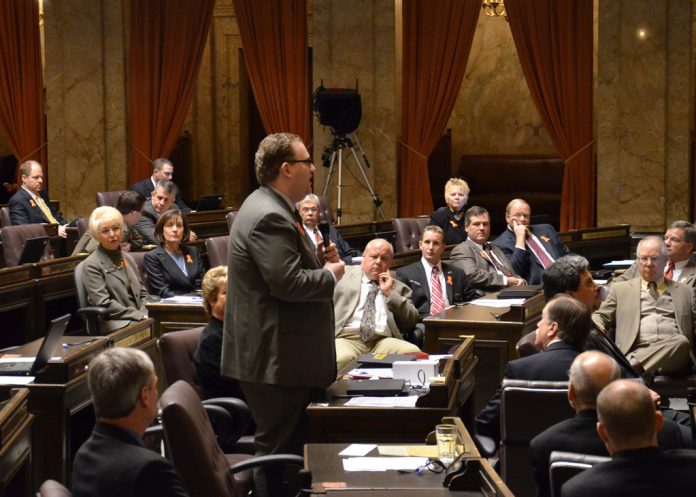 This week's Traspo Notes highlights: schedule changes to Link, statewide transportation package funding policy, a new trail segment in Bellevue, staffing challenges at King County Metro, and key transportation funding requests by Governor Jay Inslee.
Sound Transit making changes to Link schedules
Today, Sound Transit implements a revised schedule for Link 1 Line service. The agency says that the revised schedule will better reflect real-world travel times. However, the schedule revisions should have little impact on span of service and frequency. The changes essentially boil down to the following:
Between Northgate and University of Washington Stations, nine minutes of travel time instead of seven minutes;
Between University of Washington and Westlake Stations, seven minutes of travel time instead of six minutes;
Between International District/Chinatown and Mount Baker Stations, nine to ten minutes of travel time instead of just nine minutes;
Between Rainier Beach and SeaTac/Airport Stations, 13 minutes of travel time instead of 12 minutes; and
Between SeaTac/Airport and Angle Lake Stations, three to four minutes of travel time instead of just four minutes.
On balance, that brings scheduled travel time increases along the line to four minutes with a total run time of about 57 minutes end to end.
Also, Sound Transit plans to temporarily close stations in Downtown Seattle for the weekend of January 15th and 16th for maintenance. That will sever the light rail line in two between Capitol Hill and SODO Stations. Free shuttle bus service will bridge the divide with buses running every 15 minutes and stopping at all stations between the two segments running. This, however, will affect travel times for riders, which may make streetcar and local bus service better options.
Senate Democrats retreat from a gas tax increase
In a statement Friday, Senator Marko Liias (D-21st District) said that he would not include a gas tax increase as part of transportation funding package if he has his way. "As we begin the 2022 session, I want to be clear that any transportation package I introduce in the Senate this year will not include a new gas tax," he said. "We can maintain and fund projects like the I-5 Columbia River Bridge, ensure the timely delivery of Stride bus rapid transit on I-405, and more while investing in accessible and equitable transportation services without a new gas tax." The statement came in a press release from Washington Senate Democrats, which could indicate that the position is widely shared by members of the majority party.
Liias now serves as Chair of the Senate Transportation Committee and controls much of the transportation policy levers in the chamber. Setting aside the gas tax certainly would seem to complicate designing and passing a statewide transportation package. It has traditionally been the easiest funding tool at the state level given that car tab fees and motor vehicle excise taxes are perennially fought as funding sources. Even former Senator Steve Hobbs (D-44th District) planned to significantly bankroll his highway-heavy transportation packages by increasing gas taxes.
In explaining why he opposed using the gas tax as a potential funding source, Liias pointed to supposed economic pressures. "As our state continues to confront and recover from the pandemic, working class families still face the brunt of the economic burden," he said. "In light of these challenging times, it is imperative that we put people first to invest in communities and projects across the state without punting the cost to those struggling the most." It's not clear what funding sources might be used instead, but Democrats have recently been trying to reduce prices at the gas pump. President Joe Biden even tapped the nation's Strategic Petroleum Reserve to flood the market with cheaper oil in recent months. However, higher fuel prices generally reduce consumption and thereby reduce driving and pollution. Proceeds from the gas tax have also taken a hammering in recent years with higher vehicle fuel efficiency and the pandemic both reducing tax collection.
How both chambers of the legislature and governor hash out a deal will be something to watch for this year. If they fail to do so but the legislature succeeds in its lawsuit against Governor Jay Inslee's line-item veto, which severed the Clean Fuels Standard from passage of a new statewide transportation funding package, that could lead to very real environmental harms by delaying implementation of the law.
New Mountains to Sound Greenway trail segment opens
Also on Friday, a new segment of the Mountains-to-Sound Greenway Trail opened in Bellevue. It adds 1.2 miles of trail between I-405 and 142nd Place SE. The segment includes a new tunnel under the I-405-to-I-90 eastbound ramps. There's also a new 12-foot wide pedestrian and bicycle bridge over Factoria Boulevard SE. Together, these improvements help trail users remain fully separated from motorists and intersections. The remainder of the trail extension follows along the south side I-90 to 142nd Place SE. Trail users can also link up to the Lake Washington Loop Trail and Eastrail via 118th Avenue SE west of the I-90/I-405 interchange and continue on the western portion of the I-90/Mountains-to-Sound Greenway Trail.
Two future segments are planned in Bellevue to the east. Those are 142nd Place SE to 150th Avenue SE and 150th Avenue SE Lakemont Boulevard. Urban connector gaps also still remain for the wider trail to the east of Bellevue, including in Issaquah and Preston to Snoqualmie.
King County Metro remains understaffed
King County Metro has been struggling to deliver trips during the pandemic. In the fall, the agency was able to restore service to about 90% of pre-pandemic levels, but daily cancelations remain high and vary day to day because of staffing shortages, particularly because of personnel absences and difficulty in retaining and hiring operators. Most of those cancelations have occurred during peak-hour and express trips, but Metro says that it has been able to operate about 98% to 99% of scheduled services (excluding the recent snow event).
Jeff Switzer, a spokesperson for Metro, told The Urbanist that the agency "saw an uptick on Thursday in our number of canceled trips due to operator availability." Switzer didn't specify the number of staff sick on Thursday because of Covid but was able to provide data on recent Covid illnesses reported by staff. October and November were light with 13 and nine cases reported respectively. However, December saw a massive increase with 39 reported cases of which 37 of those were reported in the December 21st to December 31st stretch. That tracks with general spikes in the region when the presence of the Omicron variant became widespread late last month.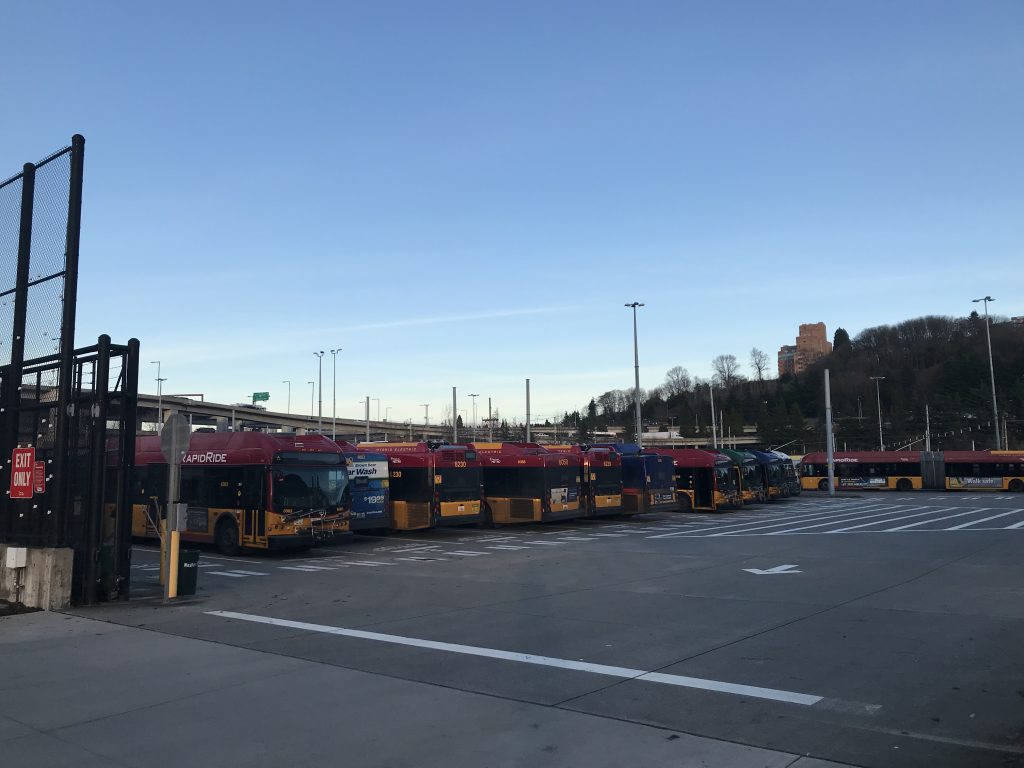 Still, Switzer cautioned reading too much into sick staff affecting service delivery. Pointing to unscheduled leave data in the first two pay periods of December. Operators taking sick leave only accounted for about 25% and 21% of all leave used. That's not "outside of the norm as far as 'share of leave' goes," Switzer said.
A bigger contributor to staffing challenges still falls with overall staffing levels. Switzer provided data since September on full-time and part-time operators. It's vacillated over the months with hires and separations, but generally staffing has been on a slight downward trend.
| | | | |
| --- | --- | --- | --- |
| Operators | Full-Time | Part-Time | Total |
| September | 2,121 | 613 | 2,734 |
| October | 2,097 | 617 | 2,714 |
| November | 2,080 | 633 | 2,713 |
| December | 2,068 | 629 | 2,697 |
| This Week | 2,059 | 621 | 2,680 |
Switzer said that Metro's goal is to hire an additional 50 full-time equivalent operators with 2,723 total (about 2,100 full-time, 600 part-time). Hiring is actively happening and there has been some progress on that with 30 part-time operators graduating in November and seven more graduating this week. A new class is also set to start with 18 part-time and 24 full-time operators. Nevertheless, with Omicron spreading like wildfire, it seems like there is a very real possibility that it could affect service delivery in the coming weeks even with new hires coming online.

Governor's transportation requests increase active transportation and make HSR ask
Earlier the week, Governor Jay Inslee's supplemental transportation budget has been prefiled in the respective Washington State Legislative chambers. It would increase appropriations over the 2021-2023 biennium by $611 million. But the big ticket changes in the budget are around public transportation and state ferries as well as walking, rolling, and biking. The governor has also filed a request to move forward on laying the groundwork for a high-speed rail project along Cascadia corridor.
Top line numbers show an increase of about $87 million for public transportation, $270.5 million for state ferries, $88 million for rail, and $155 million for local programs that mostly benefit walking, rolling, and biking.
Most of the additional funding for public transportation ($73 million) is proposed to come from funding derived by the Climate Commitment Act (CCA) passed last year. Likewise for walking, rolling, and biking, a big share of the additional funding proposed ($45 million) is derived from the CCA, as Ryan Packer recently outlined. Outside CCA-derived funding, an extra $10 million has been earmarked for Regional Mobility Grant programs, another $1.5 million for the Green Transportation Capital Grant program, and $30 million for local walking, rolling, and biking projects. Transit agencies could also compete for a portion of $5 million extra dedicated to zero-emissions vehicle infrastructure under a public-private partnerships program.
For rail, the are several line-items proposed for funding, including $50 million set aside as a state match for pending federal grants, $150,000 to support a study for rail-banking state-owned corridors as trails, an extra $4 million for replacement Amtrak Cascades trainsets, and $4 million to further high-speed rail project development. The latter is a request that the governor has made several times to move forward on coordination with Oregon and British Columbia to support development of a formal project and laying the groundwork for an entity to carry it out.

Stephen is a professional urban planner in Puget Sound with a passion for sustainable, livable, and diverse cities. He is especially interested in how policies, regulations, and programs can promote positive outcomes for communities. With stints in great cities like Bellingham and Cork, Stephen currently lives in Seattle. He primarily covers land use and transportation issues and has been with The Urbanist since 2014.