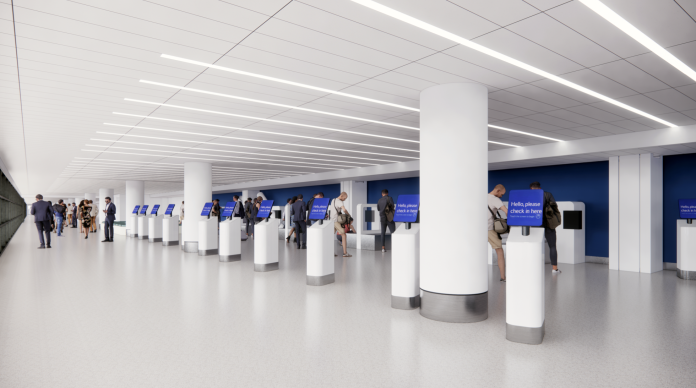 Our second Transpo Notes roundup of the week touches on short newsworthy transportation developments from the Port of Seattle, Community Transit, Everett Transit, and Sound Transit.
SEA airport main terminal modernization work approved
On Tuesday, the Port of Seattle Commission approved $149.5 million in new modernization work at Seattle-Tacoma International Airport (SEA). Modernization work will focus on the north end of the SEA's Central Terminal areas and is expected to be carried out in two phases through 2025. As part of this, the Port of Seattle is partnering with Alaska Airlines, the principal tenant of that portion of the airport, to manage the first phase.
The first phase of modernization work will take hold in the Central Terminal north end ticketing area. This will add about 20,000 square feet for ticket counter and office space in underutilized areas that are currently situated between the skybridges and ticketing/baggage claim levels. By doing this, new check-in kiosks and baggage drop points can be installed, easing congestion for passengers. Design of the spaces will be bright, airy, and contemporary, renderings show.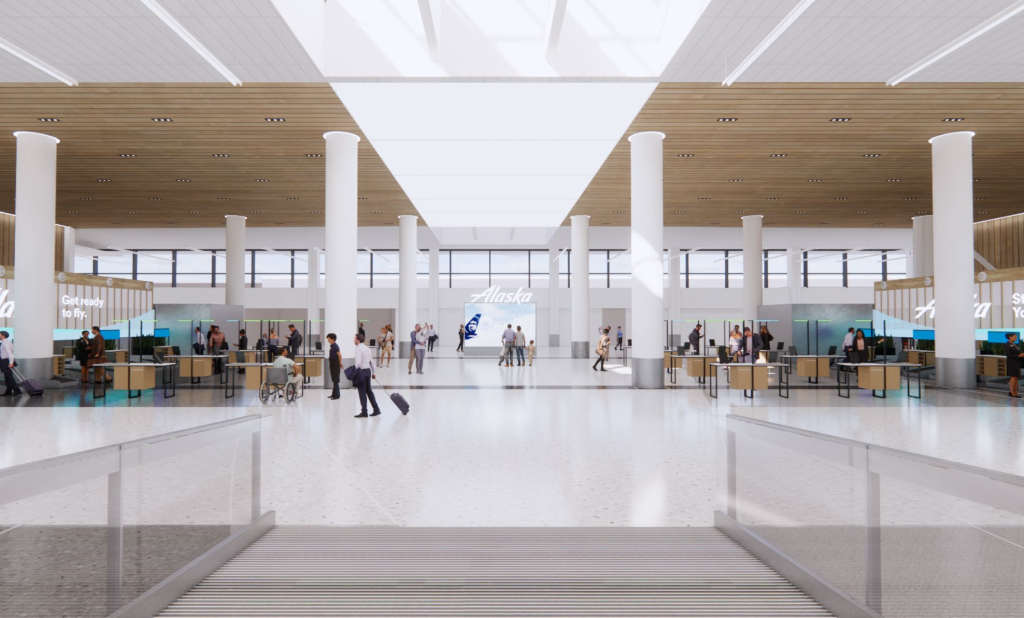 The second phase, which is yet to be funded, will result in even bigger changes for passengers. The Port of Seattle plans to completely overhaul the ticketing level and expand the north security checkpoint, going from five lanes to seven for more processing capacity. The phase will also involve remodeling about 6,500 square feet of the mezzanine level with modern open spaces.
The first phase is set to start in the first quarter of 2022 and wrap up in the first quarter of 2023. At the end of next year, the second phase is also set to start and be completed in the second quarter of 2025. The total cost of modernization work is expected to reach $400 million.
The Port of Seattle also approved a minor expansion of Concourse A to construct new club lounges, which will principally serve Delta Air Lines but also offer shared lounge space. This will deliver about 52,000 square feet of new space just south of the International Arrivals Facility (IAF) and east of Gate A11. Construction will start in the first quarter of 2022 and be completed in two phases in 2023 and 2024. Also next year, the Port of Seattle expects to open the new IAF, possibly sometime in the first quarter if occupancy approvals can be obtained soon.
Shore power preparation actions approved for Pier 66
Also on Tuesday, the Port of Seattle Commission advanced actions to begin implementation of new shore power supply for cruise ships at the Pier 66. The authorization will allow the port to procure a submarine cable, shore power systems, and a service agreement for electricity supply (from Seattle City Light). The project is expected to cost $17 million.
A formal construction funding request is expected to come in the second quarter of 2022 with on-site construction beginning in the fourth quarter of 2022 and wrapping up in the second quarter of 2023 in time for the 2023 cruise sailing season.
Shore power avoids substantial emissions from cruise ships while in port. According to the Port of Seattle, the two shore power-connected cruise berths at Terminal 91 were able to accommodate 89% of shore power-capable ships in 2019 and avoided about 4,300 metric tons of CO2.
Installing a submarine cable from Terminal 46 to Pier 66 will allow the port deliver shore power to the cruise terminal at a much more affordable cost and avoid most construction-related impacts than installing new electrical assets within the city's right-of-ways.
Earlier this year, the port was heavily criticized for allowing shore power-capable cruise ships to idle in front of Belltown, pouring tons and tons of emissions needlessly into city blocks and homes. Fumes from the emissions were readily apparent even as the city was besot with wildfire smoke. Environmentalists condemned the return of cruise ships to port facilities, but the port has so far been unwilling to halt cruise operations. Regardless, the port still has many actions to cleanup vessel operations within Elliott Bay even after installation of Pier 66 shore power.
Community Transit and Everett Transit to partially restore service in 2022
Budgets for Snohomish County's primary transit providers were approved earlier this month, promising restored service in 2022. Community Transit plans to bring back about 22,000 annual service hours (reaching 96% of pre-pandemic levels) while Everett Transit plans restoration of about 11,000 annual service hours (reaching 90% of pre-pandemic levels). Funding for these service restorations partially come from recent federal pandemic recovery assistance for operations.
Through 2026, Community Transit plans to add about 132,000 annual service hours and the agency is poised to exceed pre-pandemic service levels by 2023. The biggest one-year jump will be 2024 when the agency deploys an additional 50,000 annual service hours. This is the year when Community Transit will launch the Swift Orange Line and extend the Swift Blue Line as well as restructure and redeploy service elsewhere in the system because of the Lynnwood Link Extension opening (an earlier phase may happen in 2023, too).
Also funded in Community Transit's 2022 budget is an update the agency's long-range plan. This will look out to 2050 and plan for future of transit service and investments, including transition to zero-emissions vehicles and other transportation options.
Sound Transit board affirms preferred operations and maintenance facility
On Thursday, Sound Transit's board of directors affirmed a site in Federal Way as the preferred alternative for the Operations and Maintenance Facility South (OMFS) project. The decision was nearly unanimous by the board, except for King County Councilmember Pete von Reichbauer who opposed it and represents Federal Way. As we previously reported last week, the decision could avert significant delays to light rail expansions to West Seattle and Tacoma and limit displacements of residents, businesses, and institutions.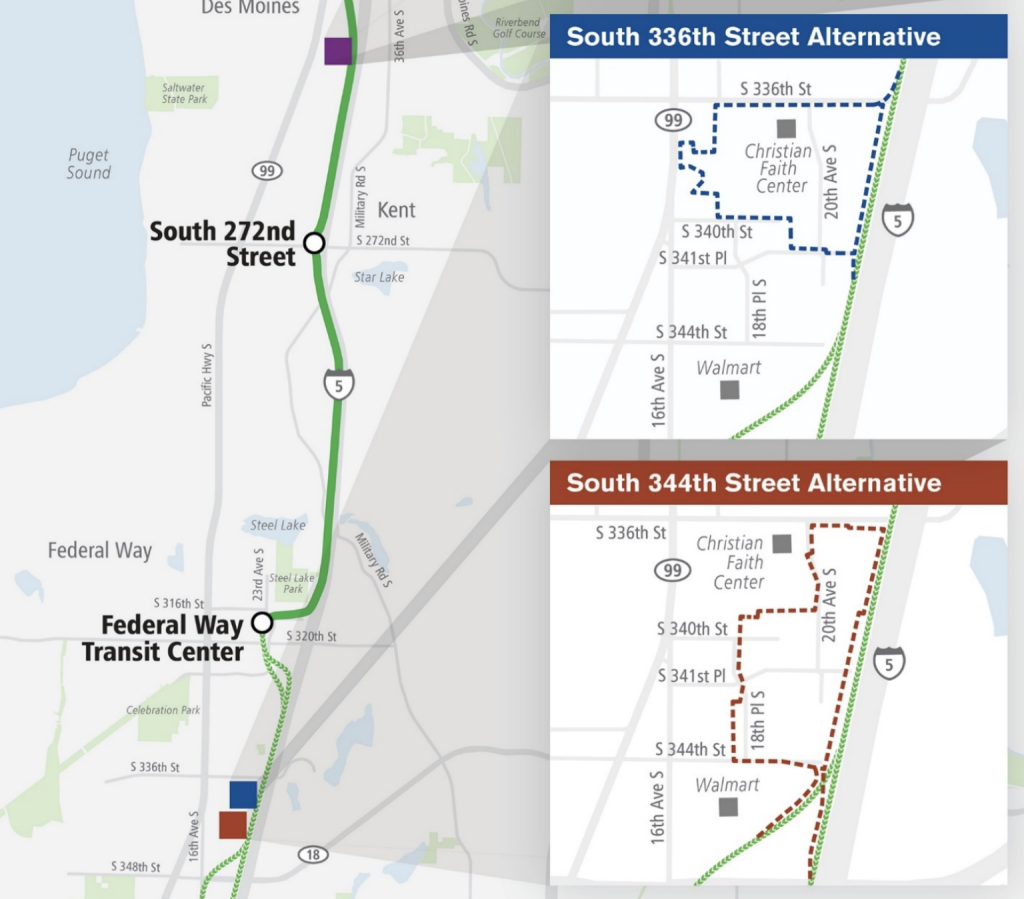 The board has selected a site located near South 336th Street as the preferred alternative for OMFS, which could cover about 59 acres. Another site nearby will still be evaluated as an alternative to it, along with the Kent Midway Landfill site. However, the alternative Federal Way site is unlikely and considered more impactful to the community because of displacements. Additionally, the Kent site remains very unlikely, too, because of the astronomical risks and costs that it presents — it could increase project costs by $600 million to $1.1 billion and delay light rail expansion projects by two-and-a-half to five years.
The the agency will need to complete the Final Environmental Impact Statement (FEIS) next year before the board can make final decision. But a decision could come next year to proceed, which if approved, could allow the OMFS to open in 2029 — three years ahead of the Tacoma Dome and West Seattle Link Extensions.
In addition to the preferred alternative, the board adopted its 2022 budget and transit improvement plan. The budget authorizes just over $3 billion in expenditures for operations, planning, administration, debt service, and capital investments.

Stephen is a professional urban planner in Puget Sound with a passion for sustainable, livable, and diverse cities. He is especially interested in how policies, regulations, and programs can promote positive outcomes for communities. With stints in great cities like Bellingham and Cork, Stephen currently lives in Seattle. He primarily covers land use and transportation issues and has been with The Urbanist since 2014.