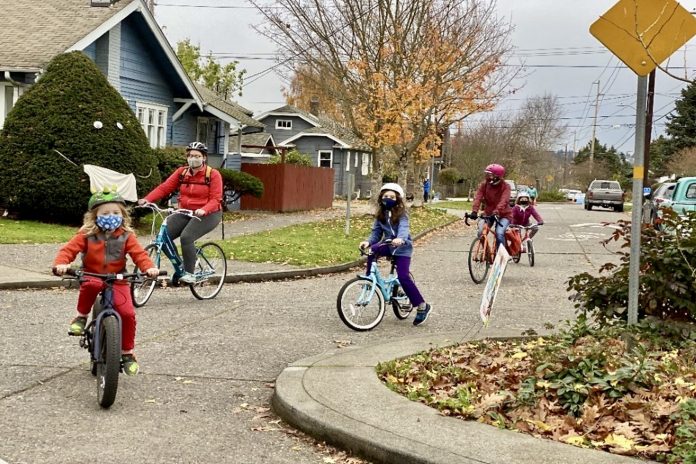 The Urbanist has already reported on how we have officially entered the era of Move Ahead Washington, the state's $17 billion, 16-year transportation package that invests more money into walking, rolling, biking, and transit — and thus sustainability — than ever before. Now Washingtonians are getting their first real sense of what the tangible impacts of the legislation will be. The Washington State Department of Transportation (WSDOT) has officially issued a call for pedestrian, bicyclist, and Safe Routes to School projects to be funded over the next biennium (2023-2025). With $115.7 million up for grabs, more than twice as much funding as was available during the last budget cycle, more projects stand to be funded than ever before.
Last December, WSDOT completed a status report and recommendations for change for its pedestrian, bicyclist, and Safe Routes to School programs. While the agency found that the programs certainly had their share of successes, for instance, a 2005-2019 analysis of all projects found a 36-44% decrease in bicyclist and pedestrian crashes at project sites, it also shed light on areas in need of improvement. One of these was the distribution of projects.
Rural areas and smaller communities were less likely to have these road safety projects completed because of the competitive nature of the application process. The bulk of state funding to bike and pedestrian projects is flowing in the Puget Sound Region, Spokane, or Yakima, with far less in other corners of the state.
Looking back, only about 20% of applications have been selected for funding, and many smaller jurisdictions have been unaware of the opportunity to apply. The maps below put that in stark relief.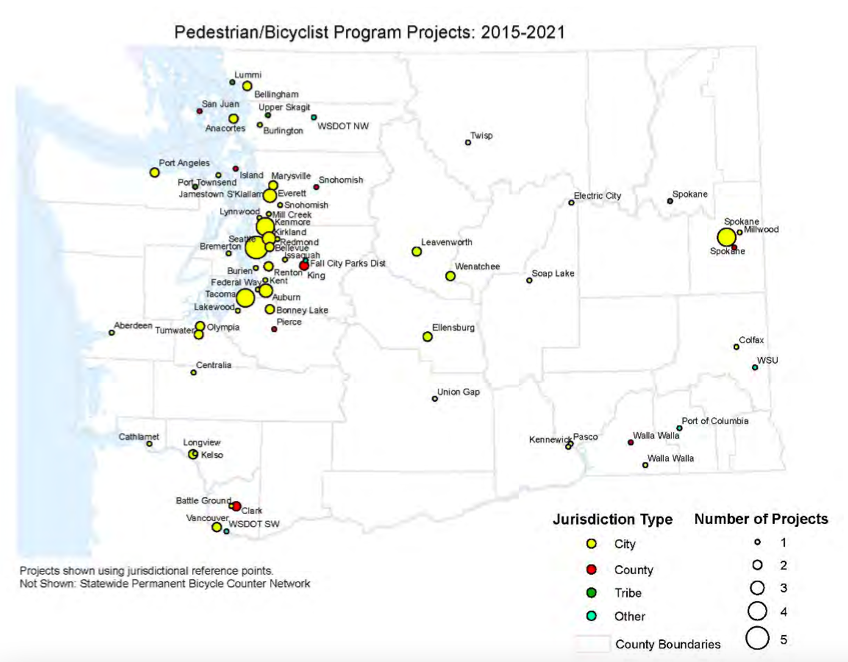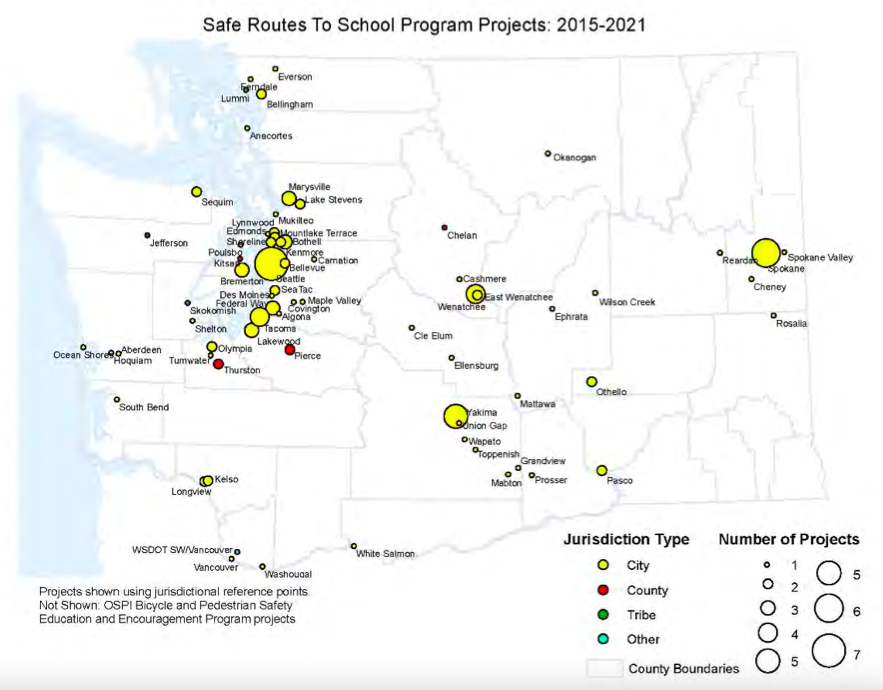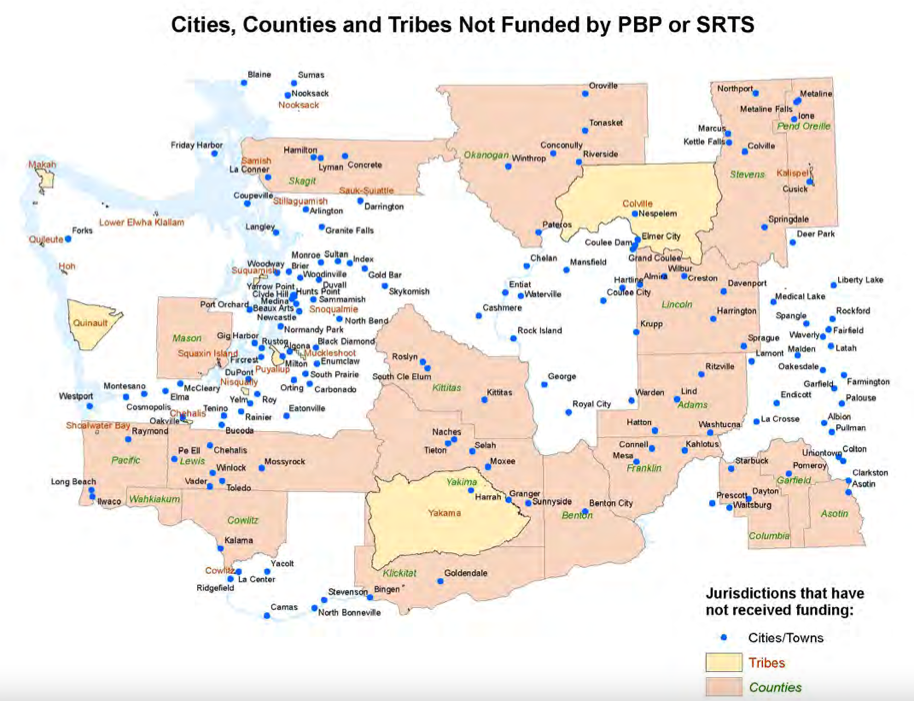 To increase the number and diversity of applications, WSDOT is expanding its outreach process. It is also providing more technical assistance to applicants to help increase understanding of how to prepare an application and what are the best practices in developing project designs. Communities that meet the criteria listed below will be prioritized in the agency's outreach and technical assistance efforts:
Crash history above average for population size.
Equity criteria for race, poverty, or disability above the statewide average.
No history of successful application.
However, while raising awareness and support is certainly important, it will be the funding increases that will have the most significant effect. Between 2005-2019, WSDOT invested $251 million in state and federal funds into pedestrian, bicyclist, and Safe Routes to School projects. In the most recent funding cycle (2021-2023), the state legislature awarded approximately $47.5 million to 51 projects across the state, but that total falls far short of demand, in all 242 applications were made, requesting nearly $190 million in funds, the highest number of applications made to date. While the current $115.7 million budget falls short of this demand, it still represents a significant increase that will result in more projects getting selected and built.
Applying for pedestrian and bicyclist projects
Applications for pedestrian and bicyclist projects are due May 30th and may be submitted by all public agencies in Washington, including tribal governments.
To be eligible, projects must focus on infrastructure improvements (usually including preliminary engineering and right of way) that will increase safety for pedestrians and bicyclists. Applications for development or design only projects that will result in a ready to construct project are also eligible, and funding for these projects may include community outreach and tactical urbanism efforts. (Tactical urbanism general means short-term, low-cost, and scalable interventions that test out an infrastructure improvement under consideration.)
Projects with recurring costs or that involve pavement resurfacing or preservation (unless part of reducing road lanes or road reconfiguration) are not eligible; paying for portable reinforcement equipment is excluded as well, as are any changes that would benefit vehicles at the expense of pedestrians and cyclists.
Applicants are not required to have matching funds on hand, and these funds will not be considered in applications for smaller projects costing $800,000 or less. For projects exceeding that amount, match, cash, or in-kind funding will be considered.
In making decisions on which applications to fund, WSDOT will assess safety (up to 40% consideration), equity (up to 18% consideration), project quality (up to 18% consideration), deliverability (up to 12% consideration), and value (up to 10% consideration).
For information on application criteria, check out WSDOT's website.
Applying for Safe Routes to School projects
Safe Routes to School projects benefit students in kindergarten through 12th grade seeking to walk and roll to school. To be eligible, projects must be completed within two miles of a school. Applications for Safe Routes to School projects may be made by public agencies as well as nonprofit groups responsible for the administration of transportation safety education and walking and biking encouragement programs. Applications are due June 6th, 2022.
In addition to funding pedestrian and bicyclist focused infrastructure improvements within two miles of a school, including project design and development efforts, these funds may also be awarded to education and encouragement only projects. Otherwise the same restrictions that apply to other pedestrian and bicyclist projects apply as well.
Funds cannot be used for recurring costs, including paying for school crossing guards. School bus safety projects and improvements to school bus stops are also ineligible.
Safe Routes to School projects will be reviewed using the same criteria and weighting system as other pedestrian and bicyclist applications.
Webinars are available to help navigate the application process
To help applicants navigate the process, WSDOT is hosting two webinars, one focused on providing an overview of the application process and criteria, which will be held on March 30th and April 12th, and the other will offer information on application review and criteria, which will be held on March 31st and April 13th.
These webinars are open to the public. While applications must be submitted by approved public agencies or nonprofit organizations, members of the general public can reach out to their elected officials, or representatives from their departments of transportation, to advocate for pedestrian, bicyclist, and Safe Routes to School investments they see a need for in their communities.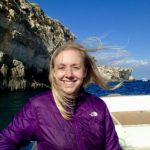 Natalie Bicknell Argerious (she/her) is Managing Editor at The Urbanist. A passionate urban explorer since childhood, she loves learning how to make cities more inclusive, vibrant, and environmentally resilient. You can often find her wandering around Seattle's Central District and Capitol Hill with her dogs and cat. Email her at natalie [at] theurbanist [dot] org.