This week's Transpo Notes is a roundup of safety audit recommendations for King County Metro, King Street Station improvements for Sounder, RapidRide H Line delay, Sound Transit's I-405 bus rapid transit inline freeway stations, and the groundbreaking of the Swift Orange Line.
Metro safety audit issues new recommendations and highlights possible schedule approach changes
A King County audit of King County Metro issued wide ranging recommendations on how to improve safe bus operations. Though collisions are very rare, they do happen across the bus network. Six broad recommendations are outlined in the report, including:
"The Metro Transit Department should identify and address risks for future incidents by formally analyzing and using data from all safety incidents, not just those that result in injuries or damages that the operator may have been able to prevent."
"The Metro Transit Department should provide the Safety & Security Division with efficient access to safety-related data across the organization, including operator safety complaints and traffic offenses, so the division can use that data to identify potential risks."
"The Metro Transit Department should develop and implement annual refresher training on safe bus operations and require it for all operators."
A particularly interesting nugget in the audit is that Metro is exploring potential changes to scheduling, which could mean ditching the fixed timepoint approach that the agency currently uses. "…[T]he general manager indicated that the department is investigating moving away from fixed-time service (e.g., the bus should arrive at exactly 1:32 p.m.) and toward more regular and frequent service (e.g., there will be another bus within the next 10 minutes)," the audit states. "By removing fixed schedules, Metro Transit hopes that operators will feel less pressure to speed up if they are running behind, which will, in turn, reduce the risk of collisions and injuries."
Changing the scheduling approach could have real pluses and minuses. If service is less frequent than every 10 minutes, this could lead to less predictable transfers and arrival times at destinations for riders. That's especially problematic in a regional transportation system where driving often has the upper hand on time efficiency over transit. But if this approach means that Metro will commit to much higher and consistent frequencies across the network, then it could have real benefits over the rigid schedule approach. As it stands, Metro has incredibly low frequencies across most of the bus network with most routes attaining meager frequencies every 15 minutes or worse — these aren't get-and-go-without-schedule frequencies.
King Street Station could get new Sounder concourse level
Circulation to the single Sounder S and N Lines platform at King Street Station is notoriously constricted. Riders have only two choices to reach the platform via entrance from the Weller Street Bridge and S Jackson Street, which can often lead to crowding. That could change, however, under concepts that Sound Transit has put out for a new concourse level above the platform. As part of the concepts, the agency is proposing extension of the Sounder platform to accommodate ten-car trains. All of this is expected to be completed by 2036.
Right now, the platform is long enough for seven-car trains, but the agency is embarking on capacity expansion efforts for the Sounder S Line that would increase the length of trains to carry more riders. The concourse, as conceived, might cover much of the platform length south of the 2nd Avenue Extension S.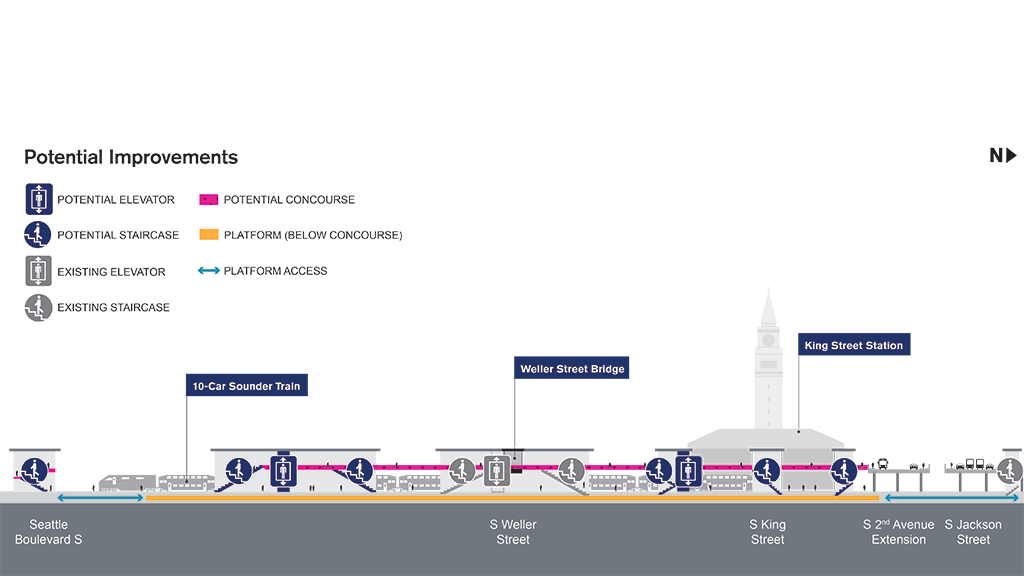 The new concourse might offer two more elevators and five more staircases to the platform. Another pedestrian bridge might also be constructed further south near Seattle Boulevard S and offer a staircase to the southernmost part of the extended platform, but it wouldn't connect to the new concourse. Though not noted in the conceptual plans, the concourse level probably could facilitate other station amenities, such as seating that is sorely lacking on the tight platform level.
Planning this project in coordination with other King Street Hub projects will be critical. Key decisions remain about where to locate a new Link station (either on shallow or deep on 4th Avenue S or 5th Avenue S), a new pedestrian tunnel, replacement of the 4th Avenue S viaduct, the Center City Connector streetcar, and other local streetscape improvements. Aligning all of these will be important and perhaps at some point there will be another try at capping the railway.
An online open house runs through May 10th and there will be two in-person events on April 27th and May 2nd.
Metro H Line is delayed by months
The launch date for the RapidRide H Line has been pushed back months by Metro. The agency said that its opening would slip from this fall to March of 2023. The reason for delay is largely blamed on a labor dispute within the local concrete industry. "Unforeseen construction and materials delays from the regional concrete strike that began in early December 2021 have added several months to the original timeline of the RapidRide H Line project," the agency wrote in status update.
With the new line delayed, Metro will continue to run Route 120 on the corridor with "its frequent and reliable schedule." That schedule is said to operate "near RapidRide service levels with trips every seven minutes during rush hour in the peak direction and every 10-15 minutes throughout the day, plus frequent weekend service," according to Metro.
The agency still has a lot of work ahead of it based upon the status update. "Crews already have completed approximately 40% of the overall construction work, including installing shelters and amenities at 26 bus stations, City of Seattle roadway and pedestrian safety improvements, and roadway speed and reliability improvements," Metro wrote. "Between now and March 2023, construction crews will focus on completing: roadway speed and reliability improvements, pedestrian safety improvements, traffic signalization, sidewalk and pedestrian access improvements, Business Access and Transit (BAT) lanes, technology pylon installations, [and] shelter installations at half of the bus zones."
I-405 BRT inline stations
Last week, the Sound Transit board was briefed on Stride bus rapid transit inline stations on I-405. Three stations on the northern S2 Line are slated to be inline stations and constructed as part of the Washington State Department of Transportation's freeway expansion efforts. Two inline freeway stations are planned for Bothell at Canyon Park and I-405/SR 522 and the other is planned for Kirkland at Brickyard, which will save time by keeping buses within the freeway right-of-way and direct access back to express toll lanes.
The Brickyard inline freeway station would involve construction of a new pedestrian bridge over the freeway with stairs and elevators, including to the bus platforms. This ends absurd cost saving measures that would have involved construction of a partial pedestrian bridge only to the western side of the freeway, which would have killed off a massive walkshed and bikeshed and blocked a vital trail connection. Overall, the design seems practical and will benefit more than just the transit function.
The Canyon Park inline freeway station would essentially replace an existing pedestrian bridge across I-405 by adding separated pedestrian bridges, bus platforms, and a new direct access ramp to the park-and-ride facility. Riders would be able to reach either side of the bus platforms and bridges by walking across an at-grade crosswalk. Sound Transit says that traffic signals will control the crosswalk.
However, this is an incredibly dangerous design for riders that will lead to preventable injuries and deaths since the traffic signals will be controlling fast-moving freeway on- and off-ramp traffic. Motorists are notorious for violating signals around freeways, which is why this design needs a deep rework by trimming down lane widths, adding concrete to divide the general lanes from the bus lanes to restrict car movements, adding speed humps on the off-ramps, adding a median pedestrian refuge, and adding a raised crosswalk.
Between the two aforementioned inline stations, Sound Transit also plans to construct a major transit hub at the junction of I-405 and SR 522 that would allow for transfers between the S2 Line and S3 Line. That would involve construction of an inline freeway station on I-405 for the S2 Line and bus bays for the S3 Line. Other project elements include trail access to the Sammamish River and North Creek Trails and UW Bothell/Cascadia College campus, kiss-and-ride facilities, and layover space for buses.
Under the terms of an agreement with the state, Sound Transit would authorize up to $141.2 million for a design-build contract to carry out the work.
Community Transit breaks ground on Swift Orange Line
This week, Community Transit broke ground on its next bus rapid transit line: the Swift Orange Line. Federal, state, and local dignitaries joined for the groundbreaking, including Senator Patty Murray, Representatives Suzan DelBene and Rick Larsen, Governor Jay Inslee, State Senator Marko Liias, and Federal Transit Administration Administrator Nuria Fernandez.
In 2024, the line is slated to open and will run from Edmonds College to McCollum Park in Mill Creek. Along the way, the Orange Line will serve dense areas like Lynnwood's growing city center, Alderwood, Ash Way, and Mill Creek Town Center. It will also serve the Lynnwood Link station opening in 2024 and directly connect with the Swift Blue and Green Lines and local trails.
"Swift Orange Line represents a significant infrastructure investment in Snohomish County, one that will benefit generations to come," said Community Transit CEO Ric Ilgenfritz. "Our elected leaders recognize the explosive growth in the county, and we appreciate their support and partnership in developing transit service that will meet the evolving travel needs of people in the community."
The new line will have all the accoutrements common to Swift lines like off-board payment, station platforms with shelters and seating, good lighting, and real-time arrival signs. Service levels on Swift lines typically are 10- to 12-minute frequencies on weekdays and 20-minute frequencies on nights and weekends.

Stephen is a professional urban planner in Puget Sound with a passion for sustainable, livable, and diverse cities. He is especially interested in how policies, regulations, and programs can promote positive outcomes for communities. With stints in great cities like Bellingham and Cork, Stephen currently lives in Seattle. He primarily covers land use and transportation issues and has been with The Urbanist since 2014.