On Tuesday June 14th, we are looking forward to a stimulating conversation with Toshiko Grace Hasegawa, who has served on the Seattle Port Commission since 2021. Our June meetup starts at 6:25pm with announcements, and then Toshiko will give a brief presentation at 6:30pm before taking questions from our moderator, including those selected from the registration form and the chat.
A video of the talk will be available after the fact.
There will be a lot to learn and discuss during the event. The Port of Seattle, which encompasses both maritime sites and the SEA airport, is a critical driver of our regional economy. Through the goods and people it moves, the Port significantly impacts our lives by connecting us to the broader world. It is also an important actor in crucial discussions around environmental sustainability and the future of regional transportation.
Toshiko is a proponent of the proposal to build high speed rail to Portland and Vancouver, B.C. and has suggested the Port may be able to help procure land to make that vision a reality. Her biography for the Port notes that "she believes the Port of Seattle holds the key to a robust economy, healthy environment, and thriving communities. She hopes to help the Port be a leader in bringing together stakeholders to build our port economy back to be more inclusive, sustainable, and abundant. Her priorities include addressing supply chain issues, expanding economic opportunities, and reducing pollution."
A self-described "daughter of the labor movement," Toshiko grew up in the Beacon Hill neighborhood of Seattle, where she lives today with her husband and young daughter. Her father is long-time Teamster organizer and State Senator Bob Hasegawa, and she is a descendant of World War II incarcerees. Before joining the Port Commission, Toshiko was appointed by Governor Jay Inslee as executive director of Washington State's Commission on Asian Pacific American Affairs in 2018.
Toshiko earned The Urbanist Elections Committee's endorsement during her campaign, and you can learn more about her positions and ideas for the future of the Port in the questionnaire she completed for us.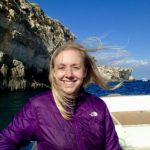 Natalie Bicknell Argerious (she/her) is a reporter and podcast host at The Urbanist. She previously served as managing editor. A passionate urban explorer since childhood, she loves learning how to make cities more inclusive, vibrant, and environmentally resilient. You can often find her wandering around Seattle's Central District and Capitol Hill with her dogs and cat. Email her at natalie [at] theurbanist [dot] org.