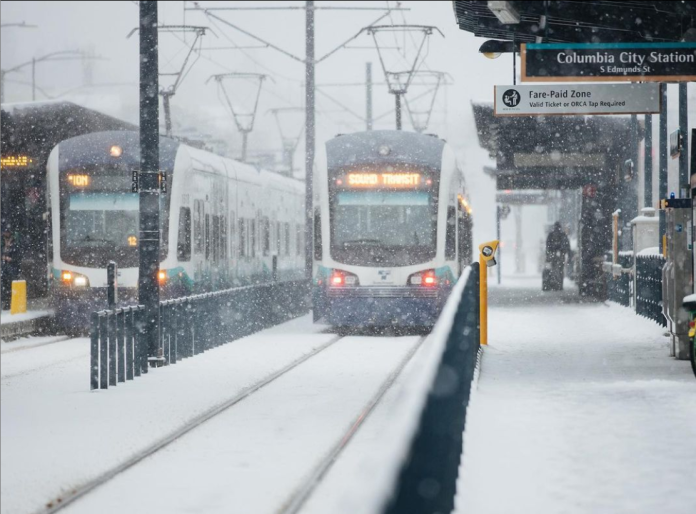 On Tuesday, Sound Transit made a surprise announcement that the agency would be embarking on months of maintenance work on the Link 1 Line in a project dubbed "Future Ready." Riders, however, may dub the disruption "tile-mageddon," as relatively mundane maintenance work, like replacing tile pavers, leads to major service reductions, which would have local media conjuring Armageddon if it was primarily motorists affected rather than transit riders. Work is planned to begin in July, which would kick off the first of five projects causing severe service disruptions to riders.
The planned service disruptions in July and in the fall will reduce Link frequencies to 20 minutes. This equates to a 53% reduction during peak periods and about 50% during off-peak periods. Infrequent light rail will make connecting to and from bus service a drag as well, with greater transfer penalties stealing more time from riders.
Sound Transit has said that the Future Ready projects are important to complete in the next year because future extensions are opening to Lynnwood, Redmond, and Federal Way in just a few short years. Getting maintenance out of the way before the system grows does make sense since service disruptions would be even more deeply felt once the extensions open. However, it's clear that the service disruptions do not need to be as severe as the agency is planning, and that raises the specter of major service disruptions for modest maintenance work becoming routine.
Planned service disruptions in the months ahead
According to Sound Transit, service disruptions are planned for the following dates and reasons:
| | | |
| --- | --- | --- |
| Dates | Reasons | Service Impacts |
| Monday, July 11 to Sunday, July 24 and Monday, August 22 to Sunday, September 4 | The agency plans to replace tactile tile pavers on the Columbia City Station platforms due to failing mortar beds and other tiles with better quality ones that are easy-to-replace. | Service will be reduced to 20-minute frequencies throughout the system and closure of one track at a time between Mount Baker Station and Othello Station. |
| Friday, October 21 to Sunday, October 23 and Friday, November 11 to Sunday, November 13 | The agency plans to repair and replace the overhead catenary wire system in the Downtown Seattle Transit Tunnel (DSTT) because components are naturally wearing down. | Service will be reduced to 20-minute frequencies throughout the system daily until 11:00pm; a shuttle bus service will then be provided as a bridge between Capitol Hill Station and SODO Station until the end of daily revenue service. |
| Five days in the third quarter of 2022 | The agency plans repair and replace the overhead catenary wire system in the Duwamish Valley for the same reason. | Service will be suspended between Rainier Beach Station and Tukwila International Boulevard Station; instead, a shuttle bus will bridge the service gap. |
| A period of at least three weeks in fourth quarter of 2022 | The agency plans to repair and replace the overhead catenary wire system in the DSTT for the same reason. | Service will be reduced to 20-minute frequencies throughout the system and trains will operate on one track through the DSTT. |
| In the first quarter of 2023 | The agency plans to complete connections between the existing 1 Line and new 2 Line tracks for Eastside service. | The agency has yet to determine exact service impacts. |
Big questions on planned service disruptions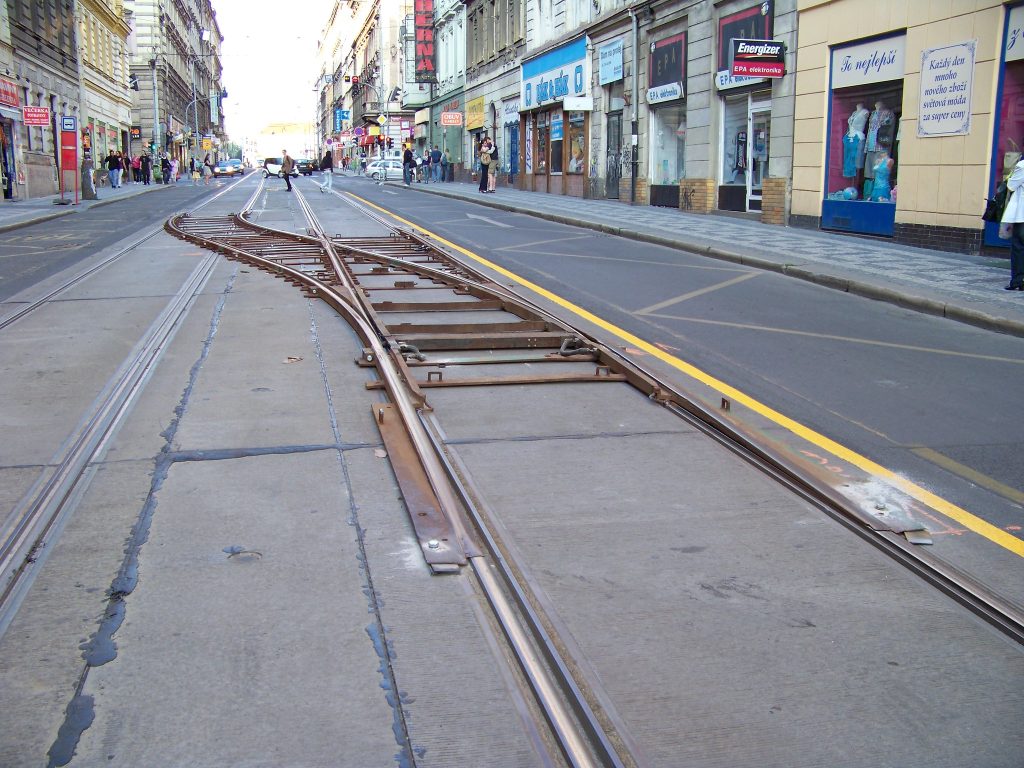 This packed schedule of service disruptions raises many questions. The Urbanist's questions to Sound Transit got some answers, but most of the answers raise more questions than they even answer. Let's tick through some of the big ones:
For Columbia City Station, why must the system go single-tracked through the station while tile replacement work is conducted? Sound Transit says that they'll be replacing tiling, including portions near the platform edges. Trains running through could obstruct and be a hazard to workers and construction near the platform edge. But the agency failed to justify why it's necessary to go single-track for the whole duration of this work since not all of the work will be at the platform edge. The agency could implement a mix of mitigation measures to keep workers safe (e.g., using track flaggers, warning alerts, and logically staging work to minimize track closures) while largely keeping both tracks open (though skipping the station in one direction). Transit agencies the world over use temporary barrier walls as a common safety strategy during platform work to maintain train service, so it's unclear why they won't be used here.
Also for Columbia City Station, why can't system operations be modified to navigate around chokepoints? Sound Transit has crossover tracks just north and south of Columbia City Station. The agency responded that the crossover track locations, normal operating speeds, and train movements meant that "normal service was not possible," but normal service isn't exactly what riders are asking for, just not 20-minute frequencies across the system.
Related to the previous question, why can't Sound Transit provide split service for some projects, such as 20-minute frequency at Columbia City Station and 10-minute frequency between Mount Baker and Northgate Stations and between Rainier Beach and Angle Lake Stations, or other clever service variations? Running more service on some portions of the system and using crossover/turn-back tracks as necessary, conceivably the agency could salvage as much capacity and frequency as possible on the 1 Line. Agency staff said they did consider this, but they worried that having mixed headways could pose risk to schedules, train management, train crowding, and platform crowding at transfer points, thus a "single seat ride provided the simplest solution for passengers." Those are all valid risk concerns, but the current plan poses the absolute greatest risk for severe crowding at the busiest stations in Downtown Seattle, Capitol Hill, and University District by cutting capacity in half and actually leaving riders behind. Most riders would likely welcome a more frequent but complicated service operation than a punishingly infrequent but simple one.
For the Downtown Seattle Transit Tunnel (DSTT) work, why can't Sound Transit take cues from Europe where temporary crossover tracks (called "California Switches") are commonly installed during utility or other track work to navigate trains around work zones? These types of crossover tracks are usually employed in similar circumstances as Link's tracks, which are embedded in concrete. Metal crossover tracks saddle into existing tracks and slightly elevate the tracks such that they can cross the concrete between (see image above). While there certainly are some considerations (e.g., speed restrictions, train management, staging, and energizing) in doing this in a work zone, especially one where overhead catenary wires are being worked on, the solution could be easily deployed and moved as needed. Ostensibly, Sound Transit says that this is not possible due to the tracks embedded in concrete.
Generally for projects, why can't Sound Transit limit disruptive maintenance work to certain hours, such as at night or off-peak hours? The agency gave several reasons for this: it could cost more, it would extend project timelines, and for some work it's not reasonable to mobilize, perform work, and then demobilize. While the latter may be problematic for some work, many riders would likely support extending project timelines and spending more money to minimize rider disruptions. Moving people frequently should be a top priority for the agency.
Last week's announcement was peculiar and so were board interactions
Sound Transit's public announcement of the Future Ready program last week was unsual. First off, the rider community was not meaningfully engaged with and considered in planning the work. Secondly, the agency's boardmembers didn't receive notice until Friday, May 27th — just four days before the public did.
The agency's approach to Future Ready couldn't be more different than Connect 2020. Just before the pandemic, Sound Transit was preparing for East Link integration into the mainline around International District/Chinatown Station as part of Connect 2020. That period in 2020 was certainly trying for riders as service had to be modified, but the agency had communicated its plans well ahead of implementing Connect 2020 and even deployed mitigation measures prior to service disruptions that split the 1 Line into two at Pioneer Square Station. The agency went as far to construct a $20 million center platform at the station to allow for timed transfers for trains meeting at the station. This allowed for single-track operations and turning trains back while the agency closed one track at a time for East Link tie-in work. It was a delicate and elegant dance despite a little lower service levels.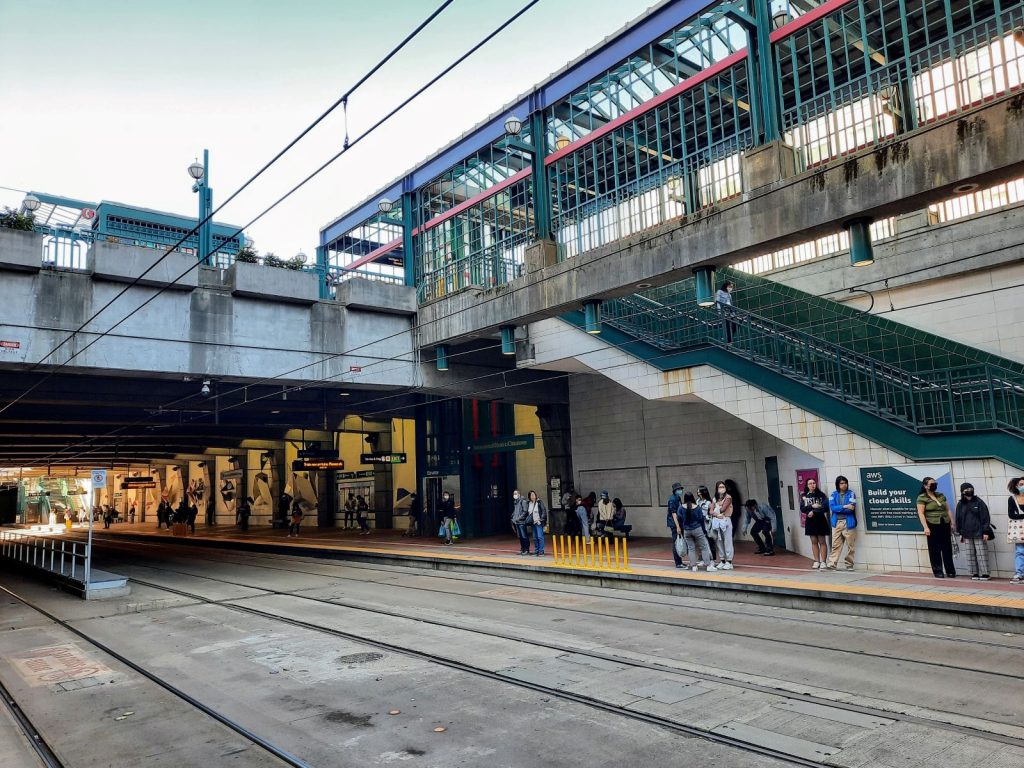 In last week's Rider Experience and Operations Committee meeting, Committee Chair Kristina Walker said that boardmembers received a "detailed" email the week prior explaining why the Future Ready projects were happening. The Urbanist obtained a copy of the notice that boardmembers received and it apparently lacks any additional details beyond what went out in a press release, so it's not clear that boardmembers have any pertinent understanding of why any of this work is really happening and why it's being done in such a painful manner.
During last week's meeting, agency staff also provided a very surface level briefing of the Future Ready program, which was nothing more useful than the press release itself. Following the briefing, Interim CEO Brooke Belman asked if there were any questions and zero boardmembers raised any.
Ryan Packer, our intrepid reporter at The Urbanist, pointed out in their public commentary the lack of interest by the board to investigate the service impacts and how that "further compounds the increasing public perception that this committee is completely checked out on rider experience and that the agency's leadership as a whole doesn't care about its riders." It was only after public comment in the meeting decrying service disruptions that agency staff bothered to mount any semblance of justification for the service disruptions and still no boardmember mustered the appetite to investigate the explanations offered.
Additionally, in communications to the public and the agency board last week, Sound Transit did oversell some information in justifying the Future Ready program.
The agency said that "at the same time Future Ready projects get underway, Sound Transit will continue working to replace virtually all of the escalators and elevators in the DSTT" and that "the bulk of the $96 million budgeted for DSTT capital improvement projects through 2025 is dedicated to funding the assessment and design of the replacement vertical conveyance assets." Despite dates and figures provided, the operative words are "assessment and design." Sound Transit has told The Urbanist that completion of DSTT vertical conveyance work is targeted for 2031 — not 2025 — and that the earliest replacement project might come next year at International District/Chinatown Station.
Additionally, while Interim CEO Belman has repeatedly claimed "disruptions that this work will cause are unavoidable," the agency has yet to substantiate that claim or truly vet their plan with the public. The alternatives mentioned earlier would reduce service disruptions, but the agency has apparently ruled them out without a discussion and labeled their plan as inevitable.
This plan is bad for the future and it ought to be scrapped
If Sound Transit does proceed ahead with its current plan for service disruptions, it sets a very poor precedent for future maintenance projects. The agency has already indicated that other stations will need tile replacement in the near future. When that might occur and the full extent of work needed has not exactly been determined yet, but if it happens after the Federal Way and Lynnwood Link extensions open, it could affect an even larger segment of ridership. More importantly, however, the system is growing and if Sound Transit cannot use serious practices to minimize service disruptions to riders, it will continually be discouraging people from using the region's single-most important transportation lines. Imagine a light rail system that carries 600,000 daily riders (as the agency projects the fully built out Sound Transit 3 system will) utterly gridlocked and brought to its knees because the agency never bothered to learn how to do tile work or mend catenary wire without shutting down tracks for weeks at a time.
Ultimately, Sound Transit's Future Ready service disruptions are the result of agency staff deciding in favor of a blunt tool of simplicity to complete maintenance work, not one of necessity. Riders don't have to endure these catastrophic service disruptions if the agency chooses to implement more thoughtful, rider-focused strategies. If the Sound Transit Board has any care for riders, they won't let the agency proceed with its current plans.

Stephen is a professional urban planner in Puget Sound with a passion for sustainable, livable, and diverse cities. He is especially interested in how policies, regulations, and programs can promote positive outcomes for communities. With stints in great cities like Bellingham and Cork, Stephen currently lives in Seattle. He primarily covers land use and transportation issues and has been with The Urbanist since 2014.