Light rail disruptions in Downtown Seattle are only a few weeks away. Sound Transit plans to begins construction work near International District/Chinatown Station in early January to tie-in track connections for the East Link light rail extension. This work–dubbed the Connect 2020 project–is vitally important so that trains can branch off the mainline and head toward Mercer Island, Bellevue, and Redmond. However, it will take approximately 10 weeks to complete. Sound Transit will operate modified light rail service during this timeframe.
From January 4th through January 5th, there will be no light rail service in Downtown Seattle. Riders will need to take a free shuttle bus between SODO Station and Capitol Hill Station, which will make stops at surface level where stations are located. Light rail will operate normally south from SODO Station and north from Capitol Hill Station with no fare required. Unfortunately, rides between places like University of Washington Station and Beacon Hill Station will require a three-seat ride if using light rail, which may mean using alternative transit options between destinations may be more time competitive. Sound Transit has also indicated tentatively that this type of full Downtown Seattle closure will be in effect on the weekends of February 8th through February 9th and March 14th through March 15th.
January 6th through March 13th Sound Transit will effectively operate a two-line service, splitting it at Pioneer Square Station. Riders seeking to continue travel through Pioneer Square Station will need to swap trains at the station using a newly created temporary center platform, which was completed early in October. (We previously detailed the intricacy of train operations and why the temporary center platform was installed.) This will allow Sound Transit to operate on one track north and south of Pioneer Square Station on opposite sides so that construction crews can work on the track tie-in where the track is closed near International District/Chinatown Station.
Trains will will operate at a lower frequency during the construction period. Sound Transit plans to run them every 13 to 15 minutes (originally scheduled to be every 12 minutes) at all hours, but trains will consist of four cars, increasing capacity per run. The transit agency has stressed that riders should budget extra travel time, particularly during the first week, by as much as 30 minutes. To make the service disruption a little smoother, additional signage will be added to control crowds and staffing will be at the Pioneer Square Station platforms to direct people. Riders should note that only one platform will be in use at Westlake, University Street, International District/Chinatown, and Stadium Stations due to track closures.
Sound Transit also plans to prohibit the use of bikes at Pioneer Square Station during the construction period to reduce crowding issues. Riders with bikes will need to exit the system at International District/Chinatown Station or University Street Station, depending upon which direction they are coming from. However, just in time for the temporary service disruptions, Sound Transit is installing new on-demand bike lockers. These will be located at University of Washington Station, SODO Station, and Rainier Beach Station. The latter two stations will have existing bike lockers replaced and the number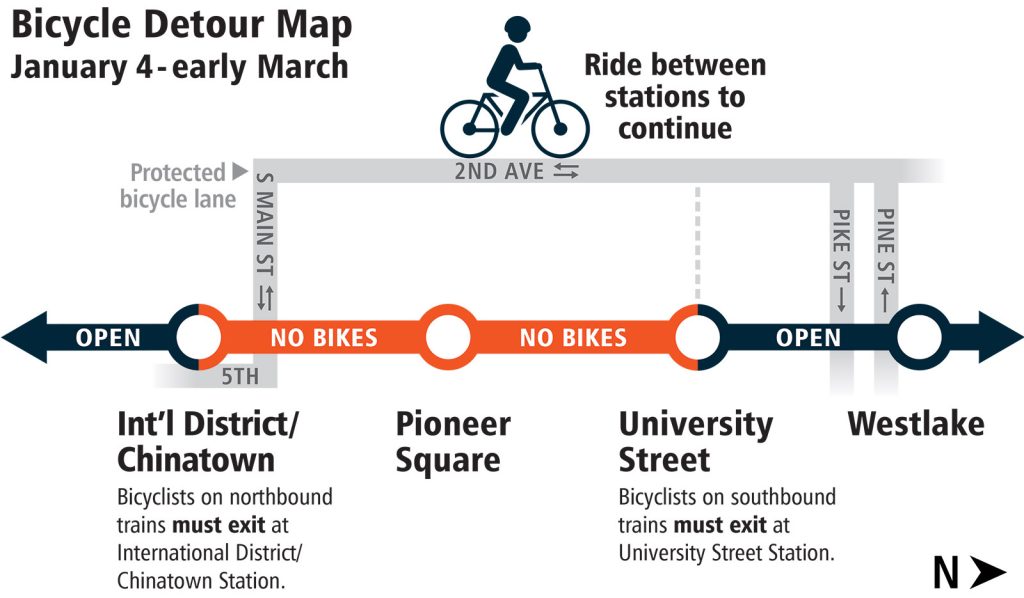 University of Washington Station currently has 286 bike rack spaces, but this will be reduced to 234 bike rack spaces and 60 new bike locker spaces, which is an increase on balance. For the other two stations, Sound Transit says that SODO Station will go from 13 to 32 bike locker spaces and at Rainier Beach Station from 16 to 34 bike locker spaces.
While the lockers are more secure than storage at norm bike rack spaces, they cannot be reserved and will operate on a first-come, first-served basis. Riders can use the bike lockers by the hour at a cost of five cents per hour and will need to purchase a BikeLink card to use them. These cards initially cost $20, but come with an equivalent $20 in usable credit. Other transit stations across the region use the BikeLink bike locker system, so the credit can used be at other locations.
The 10 weeks of service disruptions will undoubtedly be inconvenient and painful for riders, but Sound Transit has done a lot work to do pre-plan operation and do it during a lower ridership and constrained period. In the end, it will be worth the disruption to facilitate expansion of the East Link line. But hopefully construction crews will wrap up work ahead of schedule like they did in October with the temporary center platform.

Stephen is a professional urban planner in Puget Sound with a passion for sustainable, livable, and diverse cities. He is especially interested in how policies, regulations, and programs can promote positive outcomes for communities. With stints in great cities like Bellingham and Cork, Stephen currently lives in Seattle. He primarily covers land use and transportation issues and has been with The Urbanist since 2014.