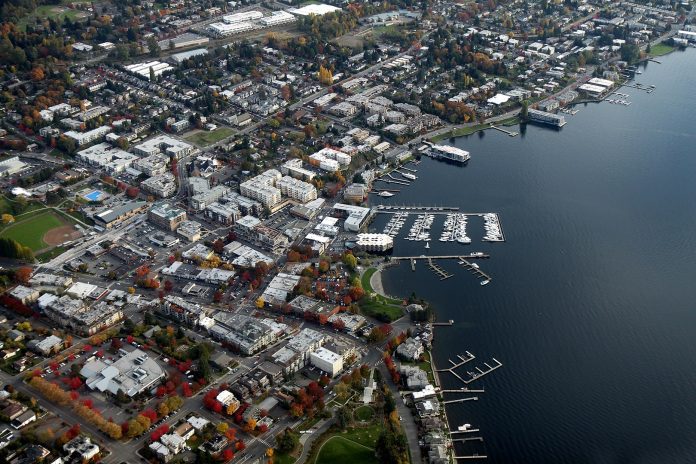 Kirkland is all but assured that its city center will be designated as a Regional Growth Center. In November, the King County Council took action to approve and ratify the designation, which means that it is now a recognized Urban Center in the Comprehensive Plan and will be incorporated in the Urban Growth Boundary map alongside 18 other countywide Urban Centers. As part of this designation process, however, Kirkland is also seeking formal consent from the Puget Sound Regional Council (PSRC) as a Regional Growth Center. Approval of the application by the PSRC could come early next year and make the city eligible for a greater share of federal transportation grants to support Downtown Kirkland.
Kirkland is somewhat unique among its peers. Its first Regional Growth Center was Totem Lake, an area about two miles from the city center. Most cities in King County that have only one Regional Growth Center chose their traditional city core for that designation, but Kirkland took a different path to focus investment in what has long been a suburban shopping, business park, and garden-style multifamily area. Totem Lake was formally designated as a Regional Growth Center in 2003 and spans about 860 acres. In 2010, it had 5,487 residents and 11,782 jobs, but those numbers have risen as infill development has blossomed in the area in the past few years.
Kirkland's city center has also been a hotbed of dense mixed-use development in the past decade. New projects like the Voda Apartments, Merrill Gardens, The 101, and Kirkland Urban have been significant investments for housing and job growth. According to Kirkland, the city center now has approximately 6,700 residents and 17,000 jobs, and through 2035, the city anticipates that the city center will continue to rapidly grow with population doubling and jobs increasing by another 9,000.
If approved by the PSRC, the city's new Regional Growth Center designation would be somewhat smaller geographically than its existing one and be the first such Regional Growth Center since the Regional Centers Framework was updated in 2018; the PSRC currently recognizes 29 other Regional Growth Centers. The downtown Regional Growth Center would comprise some 519 acres and extend from the shores of Lake Washington to just east of the I-405 interchange at NE 85th St, largely on the blocks surrounding NE 85th St, Kirkland Way, Lake Street, and 6th Street.
Kirkland has taken several steps in garnering approval from the PSRC. The first step was conferring with a coalition of city governments in King County as well as King County (known as the "Growth Management Planning Council" or GMPC) in July. The city briefed the GMPC on its intent to seek an Urban Center designation from King County and Regional Growth Center designation from the PSRC. In August, the Kirkland City Council passed a resolution allowing the city to move forward in its effort to gain approval from both King County and the PSRC. Then in late September, the GMCP formally expressed support for the designation. Fast forward to November, the King County Council ratified the Urban Center leaving the PSRC the last entity to review the proposal.
The impetus for Kirkland to move so quickly on the Regional Growth Center designation is that the PSRC had set a temporary moratorium on new Regional Growth Center applications after 2019. The next opportunity would have been in 2025. In supporting its designation application, Kirkland produced a new subarea plan for the city center, dubbed the "Greater Dowtown Urban Center Plan".
The subarea plan takes stock of existing conditions across the city center, such as the condition of sidewalks, bicycle facilities, open space, and zoning. It also outlines policies on urban design, neighborhood objectives, economic development goals, and transportation priorities.
From a transportation standpoint, there are some interesting details in the subarea plan. Sidewalks are relatively complete across the city center, but block sizes vary greatly and some streets lack sidewalks entirely, especially outside of the central core and off of arterials. In fact, I-405 is essentially a barrier to the two sides of the city center for people walking and rolling.
The condition of sidewalks is also reflected in the quality of walkability. Kirkland hopes to improve walkability in the years ahead and has specific polices that walking should be safe. "Pedestrian routes should have equal priority to vehicular routes in Downtown circulation," the subarea plan states. "Pedestrian amenities and routes should continue to be improved, and should be given equal priority with that of vehicular routes for circulation within the Downtown. Modifications to the street network and traffic patterns should not be allowed to disrupt Downtown pedestrian activity and circulation."
Kirkland also has a patchwork of bicycle facilities in the city center. These are largely located on Market Street, Kirkland Avenue, State Street, Lake Street, and 4th Street. The Cross Kirkland Corridor Trail also technically counts and is partially paved. Many other streets are planned for bicycle upgrades with either new bike lanes or greenway improvements. In the most core of the city center, Kirkland plans to do nothing for bicycles, which is perhaps acceptable given the slowness of the streets and regularity of stoplights. What happens on NE 85th St, however, is largely at the mercy of the Washington State Department of Transportation, which is not known for producing many good outcomes for people on bikes.
Another transportation feature of the subarea plan is transit priority corridors. Kirkland has recognized two levels: primary corridors and secondary corridors. Central Way, NE 85th St, Kirkland Avenue, and 6th St S have all been designated primary corridors, which essentially reflects the current hierarchy of significant transit service for the city center.
Zoning in the city center is varied with mixed-use being a primary feature in the core area and east of I-405. Industrial, multifamily, and office and multifamily zoning are stitched together throughout much of the remaining areas, though there is some single-family zoning (e.g., RS 7.2 and RS 8.5). Allowed building heights in the core area range from 28 feet to 67 feet, depending upon zone and use, whereas the Rose Hill area east of I-5 ranges from 30 feet to 75 feet.
To support the city center's growth, there are several significant transportation projects on the horizon. King County Metro will unleash its bus restructure in March, which will provide better connections and more frequent transit. Then in 2024, the Metro's RapidRide K Line will launch providing a very frequent and faster service between both of the city's Urban Centers and Bellevue. That same year, Sound Transit will launch its Stride bus rapid transit line, stopping at NE 85th St and Totem Lake, and run from Lynnwood to Bellevue. Further on the horizon in 2041 will be the South Kirkland-Bellevue-Issaquah light rail line, but perhaps that will be expedited and reach the city center.

Stephen is a professional urban planner in Puget Sound with a passion for sustainable, livable, and diverse cities. He is especially interested in how policies, regulations, and programs can promote positive outcomes for communities. With stints in great cities like Bellingham and Cork, Stephen currently lives in Seattle. He primarily covers land use and transportation issues and has been with The Urbanist since 2014.