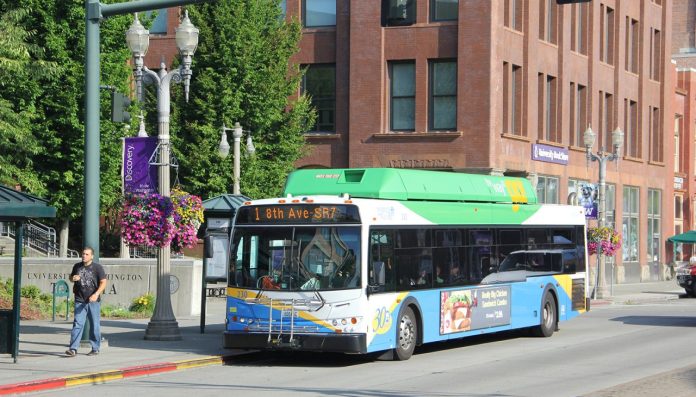 This is the first of three vignettes depicting possible conversations between imaginary people in Tacoma as the city grapples with growth, densification, and other forms of change.
A common topic across all of these stories will be Home in Tacoma, an ambitious plan to overhaul Tacoma's zoning laws to allow denser and more affordable housing to be built in our neighborhoods. In previous coverage, while we have lauded the plan, we have pointed out deficiencies in equity for both residents and workers. Recently, the City of Tacoma completed the full "Scope of Work" for Home in Tacoma and will soon begin implementing the plan into city policies.
To support and enhance the narratives, we've included maps derived from real data. Through these characters, readers are invited to listen in as people in their community deliberate and make determinations within a shifting urban landscape.
What effect would free transit have on ridership? Around the world, the verdict is still out on whether going fare free substantially changes people's travel choices.

What we heard is that most low-income bus riders rate lowering fares as less important than improving the quality of the service.

The idea of making transit "free" turns out to be less appealing to the public than making improvements to transit.

What are superior and sustainable ways to move the needle on ridership? Making transit fast, frequent, and reliable.

Should Transit Be Free? Transit Center, 2019
Frequency Is Freedom: A Vignette with Maps
Linda stands back to look over the plants she's put down in the gap between the sidewalk and the fence. Tufts of succulents and sedum that she hopes will grow and expand to cover the bare ground.
A woman, mid- to late-twenties, approaches. "Hi, I'm Molly. I live just across here." She points to the new apartment building across the street that was just finished. "The ground floor unit," she says. "The one with the hummingbird feeder."
Linda introduces herself and shares that she's new to the neighborhood too.
"I bought this house just two months ago," Linda says. "It's a good neighborhood… so far. Although I know not everyone is happy to see your apartment go up. My realtor said that there's been pretty vocal opposition about it. Apparently there was similar pushback when those four townhomes went up, the ones around the corner up that way. People in this area don't seem to want it to change."
Molly, who hadn't quite made it onto the sidewalk, takes a step forward when she sees that a driver intends to park right where she's standing. An older man, somewhere in his 60s, emerges from the car.
"Hey there," he says, to the two women. "I've seen you before," he says, nodding towards Linda," but you're new."
"I live across the street," says Molly. "Just moved in."
"I'm there," he says, pointing to a modest house two doors down from the new apartment building.
Turning back to Linda, he asks, "How you make so much money you can pay for that house?" Then to Molly, he asks, "And you, for the rent on that apartment?"
Neither Linda nor Molly respond, exchanging a knowing look instead.
"I looked up what that house went for," says Marco. "And how much they're charging for rent."
Marco whistles as he removes his cap and wipes his brow.
"That's a lot of money," he says. "Lot more than what I paid for that when I bought — what — 34 years ago," he says as he gestures towards his house.
"Must be worth a whole lot more now," says Linda.
"Yeah, that's true," says Marco.
"Well, I just got a new job. Pays well enough to live here," says Molly.
"Oh, that's great," says Linda. "Where are you working?"
"I start as a nurse tomorrow at Tacoma General," says Molly.
"Really?" says Linda. "What a coincidence. I'm the head of HR there."
"Wow," says Molly. "Yeah, what a coincidence. I'm sure you've been seeing all my paperwork come in, then."
"Yours and that of about 60 others," says Linda.
"So where you gonna park your car?" Marco asks Molly.
"Actually, I don't have a car. I'm hoping I can take the bus to work. I might even walk. It's not that far away."
"I've been taking transit," says Linda. "Though it's been too rainy for me to consider walking. Maybe once summer arrives."
"I can't believe they included no parking for these apartments," says Marco. "I don't know what we're going to do around here once more people move in."
"I hope I don't have to get a car," says Molly. "I guess it'll depend on how late and how frequent bus service is. The neighborhood seems to be pretty busy with lots of shops, bars, and restaurants, so I imagine there's options and good frequency."
"Actually, no," says Linda. "Only one bus line runs through here, the number 1, every half hour. I don't know how late it runs, though. I work a pretty typical 9-to-5 and have a flexible work schedule, so it's worked fine for me. But I expect you'll be working lots of uneven hours. I would double-check."
"I hope I can make it work," says Molly. "I don't know if I could afford both rent and a car on my salary."
"We can probably get you a subsidized bus pass," says Linda. "Let's check tomorrow."
"That'd be great. But it wouldn't do me any good if buses can't get me to and from work when I need it to."
"I'm worried about parking," says Marco. "This new law, 'Home in Tacoma,' makes it so they can build more of these apartments, which is good, I guess, but why they aren't putting in any parking?"
"I actually prefer to not have a car, so it's okay that this apartment building doesn't have any parking. I prefer that apartments don't just assume that their tenants will have parking. They usually add it into the price of rent."
"Well, how you going to get around then? There's only one bus that comes through here, and from what I can tell, not often enough. They are putting in that light rail, which I guess is good. But I don't know if it's going to come up this way."
"On that," says Linda, "it's something to consider. It'd be different if everything you needed was nearby, but there isn't a grocery store in this neighborhood. Not even a corner shop, so you will have to get creative about getting food."
"I really hope I don't have to get a car," says Molly. "I picked 6th Avenue because it seems like a busy and dense area in Tacoma. I guess I'll have to see."
"You might need a car," says Marco. "And when you get one, you better not come for my parking." After a pause, he says, "I'm kidding, I'm kidding."
"Well, from what I can tell, you take up plenty of it. I didn't know you also had this car," says Linda, pointing at the car Marco pulled up in.
"Yeah, this is the one that gets me around. I got that truck, which doesn't really run, and the Chevy in front of it. That one runs a little better. I suppose if I really need to I can move those two to the back with the other junker."
"And you're coming after Molly for the car she doesn't have yet!" says Linda. "Anyway, nice chatting. I have to get inside."
"Yeah, me too," says Molly."
"See you around," says Marco.