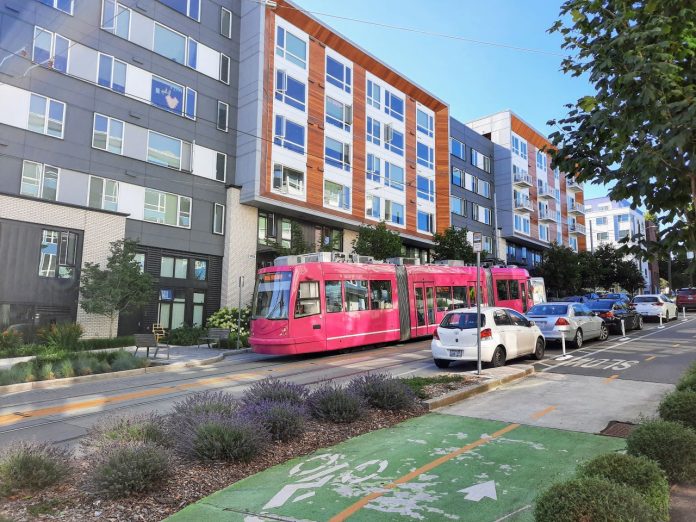 Magnolia is getting split in two in the first official proposal (interactive map here) from the redistricting commission deciding the borders for Seattle's seven City Council districts. Splitting Magnolia between District 6 and District 7 in turn allows District 2 to remain a majority-minority district, with many key Black and Asian communities, including the Chinatown-International District and Yesler Terrace, together.
The map largely follows the framework put forth by Redistricting Justice for Seattle (RJS), a coalition focused on promoting racial equity, and earned the group's praise. Commissioner Neelima Shah put those ideas into her map, and her fellow commissioners largely went with her map.
"After five months of organizing across Seattle, our coalition is happy to see that Commissioners listened to our city's historically excluded residents," wrote the RJS coalition in a statement. "We are thrilled to see Commissioners themselves voice the importance of keeping historically redlined and disproportionately impacted communities intact and empowered."
The Magnolia Community Council and Magnolia Chamber of Commerce, however, have pushed back against the proposal to divide the neighborhood, as The Stranger's Hannah Krieg reported. Despite the pushback, the proposal does keep much of Magnolia together in District 6, and the portion that remains in District 7 includes the Thorndyke Avenue corridor that shares more in common with Interbay than Magnolia, given prevalence of attached housing and proximity to the railyard. Still, they are fighting the idea with everything they have.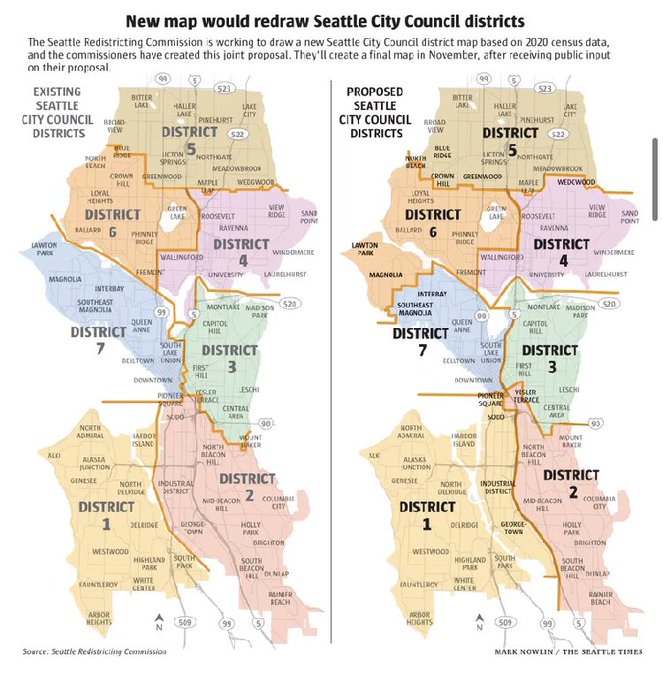 The Seattle Redistricting Commission is accepting comments on its proposal via a survey open through November 8.
Comments may lead to minor adjustments in the district boundaries, but it's likely the commission will follow this general framework. Nonetheless, with the onslaught of comments likely from Magnolia and other White homeowner-dominated neighborhoods upset at the changes, it's important other groups like tenants, members of historically disenfranchised communities, and people who support the changes make their voices heard too.
However the borders are set, the redistricting commission is required to balance out each district's population. Since the parameters are determined by the 2020 census, which pegged Seattle's population at 737,015, each district must have roughly 105,300 residents. Those census figures shows that District 7 was extremely overpopulated based on a decade of very strong growth, while Districts 1, 2, 5, and 6 were underpopulated after growing slower than the city average. The census determined District 3 was fairly overpopulated, and District 4 was slightly overpopulated.
| Council District | 2010 Census | 2019 Estimate | 2020 Census | Growth rate | Difference from mean | 2019 Difference from mean |
| --- | --- | --- | --- | --- | --- | --- |
| 1 | 86,785 | 99,700 | 99,698 | 14.88% | -5,590 | -7,029 |
| 2 | 87,268 | 101,900 | 99,163 | 13.63% | -6,125 | -4,829 |
| 3 | 86,558 | 113,200 | 106,845 | 23.44% | 1,557 | 6,471 |
| 4 | 87,677 | 109,000 | 106,103 | 21.02% | 815 | 2,271 |
| 5 | 86,950 | 98,300 | 99,102 | 13.98% | -6,186 | -8,429 |
| 6 | 86,771 | 101,100 | 102,753 | 18.42% | -2,535 | -5,629 |
| 7 | 86,651 | 123,900 | 123,351 | 42.35% | 18,063 | 17,171 |
| Total | 608,660 | 747,100 | 737,015 | 21.09% | 105,288 | 106,729 |
As many predicted, Crown Hill is changing hands. Under the commission's proposal, District 6 cedes Crown Hill to District 5, which in turn forked over its chunk of Wedgwood to District 4. As a result, the new District 5 would be more progressive and renter-oriented, which could present a pick-up opportunity for the progressive wing, with centrist-leaning Council President Debora Juarez of District 5 expected to retire after her second term.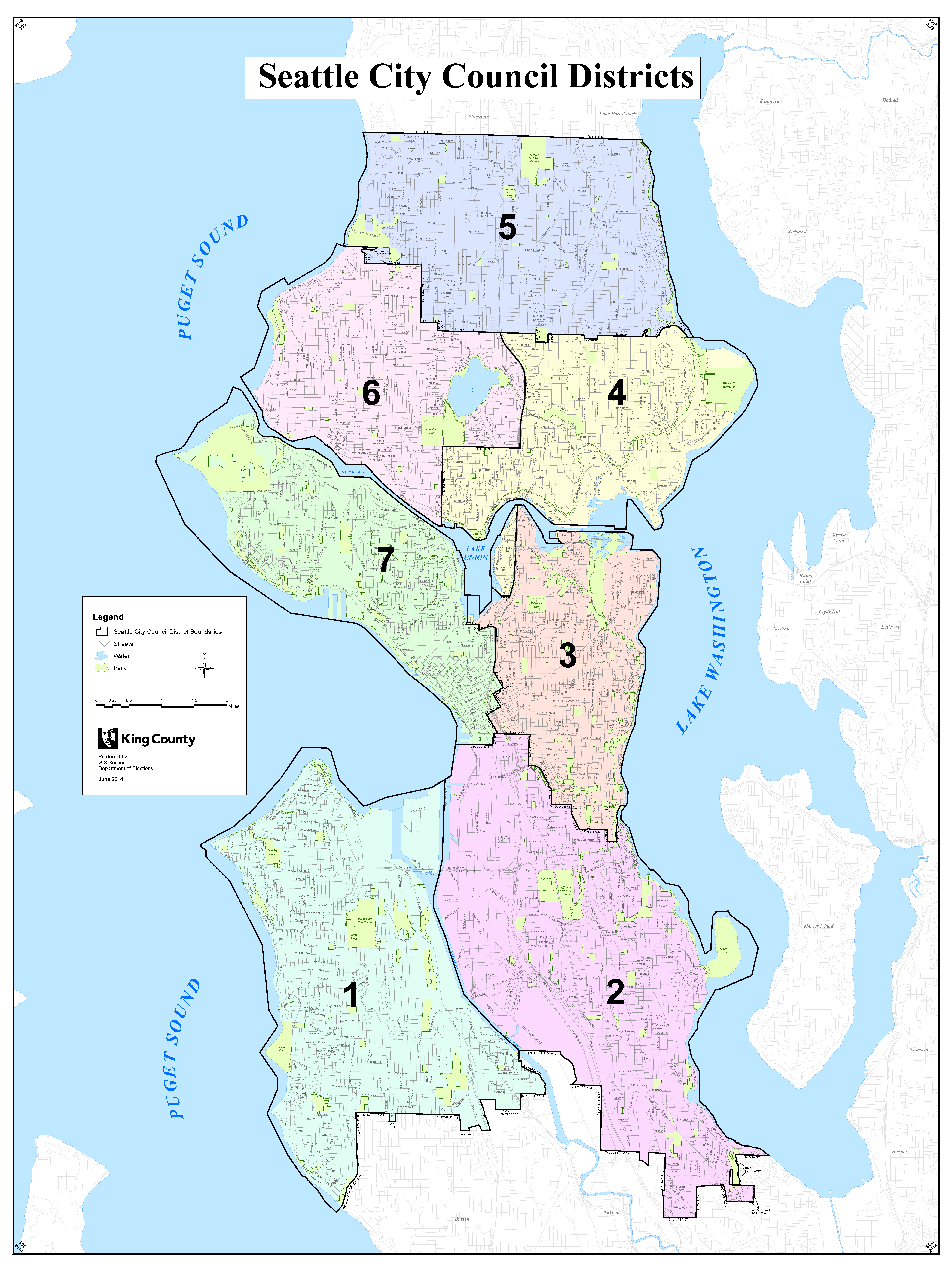 Gaining Wedgwood and losing Eastlake to District 3, meanwhile, could make District 4 slightly more conservative, but perhaps not enough to change the political outlook much. The torrid pace of apartment construction in the University District, Roosevelt, and in the Stone Way corridor could ultimately pull the district toward progressives as younger people move into the area. And progressives could look back at Alex Pedersen's four-point win over socialist Shaun Scott and conservative voting record once on council and see an opportunity.
With the addition of much of Magnolia and loss of Crown Hill, District 6 would likely swing toward homeowners and centrists, as I projected last year. But after his double digit win in 2019, Councilmember Dan Strauss may still make a tough target.
Losing most of Magnolia will make District 7 more progressive and renter-dominated. The proposal also adds a chunk of Eastlake to District 7 while giving Pioneer Square to District 1 and lower First Hill to District 3. These changes seem likely to boost the reelection prospects of Councilmember Andrew Lewis, who won by 6.4 points in 2019. That said, Downtown tenants tend to have more conservative voting habits that their counterparts elsewhere, and many Downtown precincts have supported Jenny Durkan and Bruce Harrell — both business-backed centrists — in recent Mayoral elections.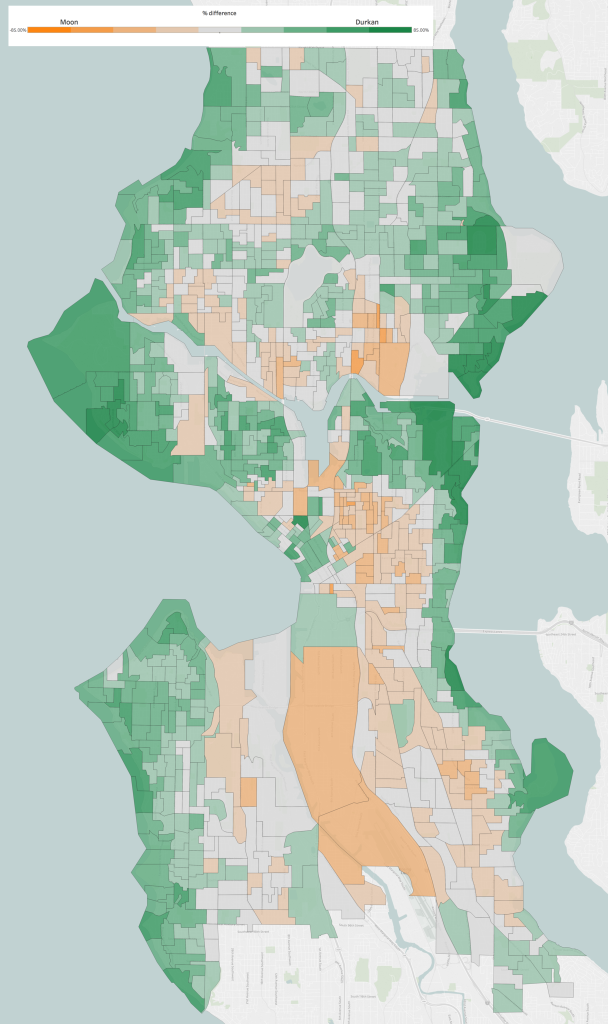 District 3 would gain much of Eastlake and lower First Hill, but would lose Mount Baker and Yesler Terrace. That should keep it a decidedly progressive leaning district, but Councilmember Kshama Sawant still might be vulnerable after winning by just four points in 2019 and narrowly escaping a recall campaign in 2021.
Under the proposal, District 2 appears likely to remain very progressive and likely to reelect Councilmember Tammy Morales. District 2 loses Georgetown and SoDo to District 1 and gains more of Yesler Terrace, Mount Baker, and the Chinatown-International District.
Picking up Georgetown, SoDo, and Pioneer Square — generally apartment-heavy progressive precincts — appears likely to improve Councilmember Lisa Herbold's reelection prospects in District 1. It was pretty obvious District 1 would grow by expanding eastward given it had not other direction to go.
In advocating for council district maps, the RJS coalition has emphasized racial equity goals and doing right by historically marginalized communities, regardless of political advantage to anyone candidate. That said, it's hard not to take a peek at reelection prospects next year. The initial proposal suggests progressive will have pickup opportunity in Districts 1 and 4, albeit with potentially uphill battles to pull it off. Some progressive incumbents (perhaps Strauss most of all) may face tough races, but Herbold and Lewis's maps in particular appear likely to get easier for them.
Despite his decisive win in 2021, Mayor Harrell could have a tough time extending coattails to elect centrist allies in 2023.
Don't miss your chance to weigh in. Submit comment before November 8th.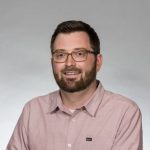 Doug Trumm is the executive director of The Urbanist. An Urbanist writer since 2015, he dreams of pedestrianizing streets, blanketing the city in bus lanes, and unleashing a mass timber building spree to end the affordable housing shortage and avert our coming climate catastrophe. He graduated from the Evans School of Public Policy and Governance at the University of Washington. He lives in East Fremont and loves to explore the city on his bike.